Best Indoor Bike Trainers
If you are like us, a good bike ride can make your day. Getting outside, exploring, and having some sun on your face are all part of what we define as a great ride. One of the problems with cycling, though, is that when the weather gets bad, conditions can keep you off the road or trail. That is where indoor bike trainers come in.
These units go by many names – bike spinners, trainers, smart trainers, brands like Wahoo or Peloton, or you might even hear people talk about old-fashioned rollers. They all do the same thing – let you ride your bike indoors.
| | | | | | |
| --- | --- | --- | --- | --- | --- |
| | | | | | |
| | | | A reliable, basic trainer without smart capabilities | Cyclist who doesn't need smart functions | |
| | | | Lower-priced way to get some smart features, but not the full suite | Cyclist who wants very basic smart features | |
| | | | Very good entry-level access to all smart trainer compatibility | Cyclist looking for smart functions but needing to save money | |
| | | | High-end smart trainer with nearly every feature availabile | Cyclist who can invest in top-of-the-line trainer | |
| | | | | | |
The Indoor Bike Trainer Experience
Maybe it is raining or is too windy outside, or perhaps you need to avoid rush hour traffic or an unsafe dusk ride. This is when you just mount your bike on to a bike trainer and get the exercise that you want, but at home. In fact, if done correctly, workouts on a trainer can be some of the best workouts you get anywhere, and will help you stay on your tri training plan even when cold, rain, or darkness aren't conducive to it. If you have a plan for your 45 or 60 minutes of spinning, it can be just like going to a hard spin class.
Riding on a turbo trainer often gets a bad rap. It can be boring, you don't get the excitement of moving outdoors, and sometimes it is just nice to get out of the house. But trainer workouts can be intense, and give you some of the best cardio work you get all year. In fact, the NIH has found that after 12 weeks of high-intensity cycling training, a measurable improvement in overall cycling efficiency occurs in most cyclist. Start your outdoor season off with a good indoor base, and you will be feeling good by the time you get to your first race.
The bottom line is that high-intensity interval bike training works, so if you are looking to get faster in your cycling, incorporating trainer workouts into your season is critical.
Indoor Bike Trainer Basics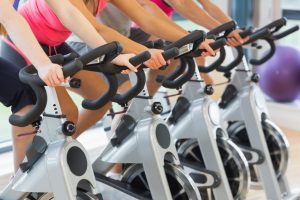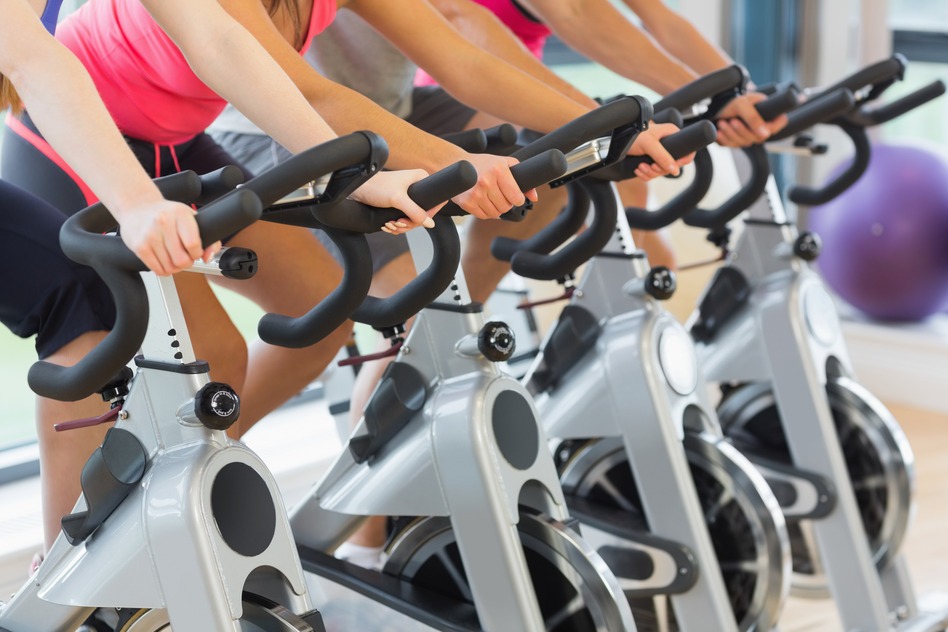 A bike trainer is typically made up of a frame, a clamp with which the bike is held securely, a roller that is pressed up against the back wheel, and a mechanism (whichever sort it may be) that is used to provide resistance (the exception being a more expensive "direct-drive" version, described further below). The bike you plan to use is mounted onto the trainer so you can experience a workout comparable to an outdoor ride, just in a highly-controlled environment.
The smart trainers, which are a higher-end version of the traditional bike trainers, are typically direct-drive (meaning you take your rear wheel off and just hook the bike right up to the trainer). These require just a bit more research, so we put together an in-depth smart trainer buying guide. Check it out.
Some people use bike trainers for practice before triathlons or other cycling races, whereas others tend to use it as a substitute for riding outside if the weather is unfavorable. Either way, a bike trainer can provide a high quality workout, and in many cases providers the rider with a more difficult and challenging ride, than riding outdoors.
What to Look for in an Indoor Bike Trainer
Today, there are a lot of turbo trainers or bike trainers in the market, each more fancy, well equipped or expensive than the other. To decide which one is best for you, keep the following in mind:
Budget / Price
This one is a no-brainer. You obviously need to purchase something that you can accommodate within your budget, no matter how appealing a $900 bike trainer might seem to be. The quality of your workout will more be determined by how hard you work than how much you spent on the trainer.
With that said, my recommendation is to get in to the smart trainer territory if you can, which often requires a cash outlay of $500 or more. Smart trainers really open a lot of doors in terms of app compatibility and training enjoyment.
Trainer Resistance Level
The "resistance" is the amount of power output — wattage — you are able to trainer before it maxes out. If you are a beginner to biking, perhaps a more entry level bike trainer would be best for you. If you are training for more serious races and need precision in your efforts levels, then a more advanced bike trainer with a power meter might be worth the extra investment. Most of us can't get up to 1,000 watts of power, but if you are one of those who can get that high, some of the budget trainers might not be a match for you. You are going to find models that can get over 2,000 watts of power, a level which most of us will never aspire to.
Noise Factor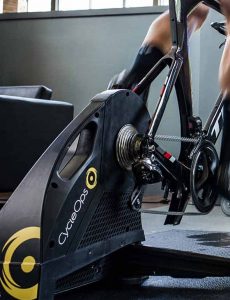 Think about the noise (or quiet) needs of your trainer. Many smart trainers nowadays are direct-drive trainers, which remove the rear wheel entirely from the equation. This makes the whole thing a bit quieter. Cheaper, older trainers that rely on either fluid or wind for resistance are naturally going to be noisier.
Even within the smart trainer world, there is a difference in how quiet trainers tend to be based on how they are built and the internal motor quality. My favorite for super-quiet trainers is the lineup from Tacx. The Tacx Flux models are a good combo of quiet and value.
Trainer Durability
If you are going to be riding long distance or doing intense workouts, don't skimp on the bike trainer. As can be said with many types of workout gear, sometimes spending a little more on quality at first results in spending less in the long run. We have used some well-made trainers for several years with virtually no maintenance required. In cycling circles, it is often noted that the first thing to go is the fluid seal, and you get a fluid leak from a traditional trainer (not a problem with smart trainers). We haven't had it happen to us, though, and have had good success with our Kinetic and CycleOps trainers.
Compatibility with your Bike
This is usually not going to be an issue with most road, tri, and even mountain bikes, but it is good to be sure that the trainer and your bike will work well together. We would say that 90% of road and tri bikes will work well with the trainer — the only issue is if your frame design has some type of fancy feature, especially on rear-most part of your frame and the rear dropout area. Note that some bike manufacturers say that you void the warranty if you break a carbon fiber frame while using a trainer. We have used carbon fiber bikes on trainers for years with no problems — but it is something to keep in mind if you have an uber expensive bike, or if you are a much heavier-than-normal rider. If you plan to use the trainer with any type of power meter, do a little checking to make sure they will work together. They probably will, if both components have been made in the past 3 years.
You may find that, on direct-drive trainers, you need to be sure the setup is compatible with your rear axle. If you have a thru axle, you might need to be sure the trainer comes with the parts to accommodate it. It probably does.
Smart Trainer Technology
I personally think that anyone who has the budget for it should be getting a smart trainer these days, versus the old-fashioned resistance trainers.
For many years, a bike trainer was a pretty simple piece of equipment with a roller, a way to clamp in your bike, and not much else. More and more, however, trainers and spinners are becoming "smart" much like everything else is (which we cover in our smart trainer review). That means you can buy trainers with a built-in powermeter, or that can integrate with streamed workouts from paid online services. Getting this technology will double your price, but for the right person it could be worth it. This review is primarily about the standalone, non-smart trainers (but of course they can be used with streaming videos, they just don't integrate the same way) although we did include the Wahoo Kickr which is in the smart lineup. The world of smart trainers is so involved that we decided not to clutter this piece with all of that info, but be sure to check out our article devoted to Smart Trainers and Apps.
All of these factors, including space to store the trainer, etc., play into your decision of buying a particular bike trainer.
2 Best Indoor Non-Smart Bike Trainers on the Market
Saris Fluid2 Trainer
$$ – moderately priced. Find here.
Best non-smart trainer. A durable, trusty basic trainer (not smart trainer).
Best For: People who want a basic non-smart trainer that can take a beating and last a long time.
The Fluid2 is bulletproof, lasts a long time, and does its job. What more could you want?
Saris, the new branding name for the old CycleOps, is one of the leading bike trainer manufacturers in the world, with trainers being best sellers in the United States as well as being acclaimed by critics. One of their best sellers is the Saris Fluid2 Indoor Trainer, a model that garnered CycleOps a lot of respect, recognition, and revenue over the years. We can speak from experience, the Fluid 2 works and lasts a long time.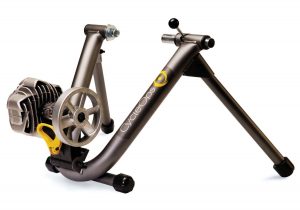 Though the price point may be a bit daunting at first, users claim that it is worth every penny you spend. This particular trainer features a state of the art fluid resistance mechanism that makes riding a bike on this trainer a very 'road-like' experience, and also allows for a lot less noise. For professional and avid cyclists, bike trainers are boring and fake because of how stationary and unrealistic the riding experience is. With this one, however, the trainer offers a road like an experience to make it far more real and a lot more interesting. This allows for better practice as well.
Buying this trainer as part of a kit will give you the climbing block for your front tire as well as a sweat mat to put under the bike. The Saris works well with both road (or tri) and mountain bike designs, but by far the best setup is with a road bike outfitted with a slick or trainer rear tire.
It comes with a "smart-equipped" option, meaning that you have a speed sensor allowing you to connect to apps like Zwift and Rouvy. Make no mistake, though, it is not a smart trainer. But people have gotten many, many great years of quality training without going the full smart route.
The adjustable foot pads, the hydraulic fluid used in the resistance, and the well-made frame all contribute to an excellent riding experience.
The "smart-equipped" option is here, on Amazon.
The basic option is here on Amazon.
Wahoo KICKR SNAP
$$$ – A little more pricey, but with more features. Find here.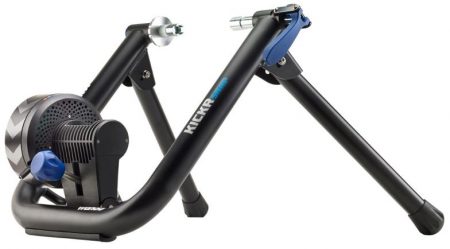 A good trainer that starts to introduce some very base-level smart features.
Best For: Riders who want some smart features but don't have the budget for a true smart trainer.
Wahoo has been making the KICKR lineup for several years, and with the Snap model, they created a version that is a basic trainer with some entry-level smart features. This allows someone to dabble in the smart trainer without shelling out as much as $1,000 or more.
The Snap is a tire-on trainer that is designed like the Saris Fluid 2, but with one very important difference: It is wired to send a basic signal to be compatible with smart cycling app features. While we prefer the direct-drive models if we have the budget for it, the wheel-on model is better than nothing when it comes to smart features.
You use an app on your phone, tablet, or computer to control the resistance on the trainer (On a basic non-smart trainer, the only way to change your resistance is to shift into a more difficult gear). You will be able to adjust for more difficult or easier workouts. You can also easily use the trainer in non-smart mode if you just want to hop on and get a good sweat while listening to music.
If you are someone who plans to do 200 hours of Zwift over the winter, with hard workouts, you may want to go the route of a true smart trainer. Otherwise, this is a good way to dip your toe in the water of the smart-training app world, for not that much more than a basic dumb trainer.
If you have the budget, consider the Tacx Flux 2 (which we feature next), otherwise this can be a nice option. Find here.
3 Best Smart Bike Trainers on the Market
Tacx Flux 2
$$$ – Spendy (but good value)
Best Value Smart Trainer. More expensive, but worth it. A true smart trainer and a lot of fun to ride.
Best For: Cyclists in the market for a true smart trainer, but want to keep their investment at the entry-level of smart trainers.
If you want a real smart trainer, we like the Tacx Flux 2 of this year's crop as a great overall value.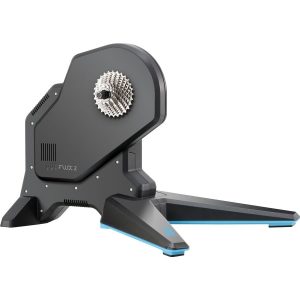 A smart trainer is a game-changer, allowing you to seamlessly integrate with apps like Zwift and Trainerroad, among others. It is a true, interactive experience, allowing you to constantly see your power stats, cadence, and feeling increasing and decreasing resistance as the workout or course changes. In the case of Zwift, you can ride with friends or groups as well.
Saving the most expensive for last, this trainer is specifically for those who can justify spending nearly a thousand dollars on a bike trainer. It falls into the category of smart trainers, where the going price starts at $600 and can go all the way up to $1,500 or more. Considering the features that it comes with, the price tag can be justified. This is a direct-drive trainer with smart technology, a couple game changers in one if you have never used one.
The direct-drive feature is nice because it removes the variability of tire pressure on the overall power transfer, and it also allows you to not worry about using a trainer tire while riding. You literally just pop the rear wheel off, and hook your chain directly in to the unit while mounting on the trainer. The smart features are intended for those who plan to use the unit with an a third-party app like Zwift. A trainer like the Flux will fit perfectly into your overall Zwift setup and you will be smart-riding all winter long.
We have ridden all of the smart trainers out there — CycleOps, Saris, Wahoo, Tacx, etc. Even Peloton. Of the bunch, the Tacx is probably the quietest, but the high-end Tacx is quite expensive at nearly $1,500. This model, the Flux 2, doesn't have quite as large a flywheel as its big brother, but it will be plenty of power and responsiveness for 99% of riders out there. The power ability maxes out at 2,000 watts, more than enough for anyone. Most cyclists have a hard time ever hitting 1,000 watts, even for a few seconds. A power meter by itself would normally cost $600 or more to put on your bike if you did it standalone, so using a smart trainer hits many birds with one stone. On a smart trainer, you track power and other key output stats on any number of apps you can pair with the trainer.
The Flux 2 comes with firmware that automatically and simply connects to the app — not technical expertise is needed. And if you need a recommendation on an app, we like Zwift, Sufferfest, and Trainerroad.
This is a substantial investment, but worth it. Find the Flux 2 here.
Tacx Neo 2
$$$$ – Expensive but worth it. Find here.
Best full-featured smart trainer.
Best For: Someone who wants a quiet smart trainer that is impossible to overpower, and has all the features.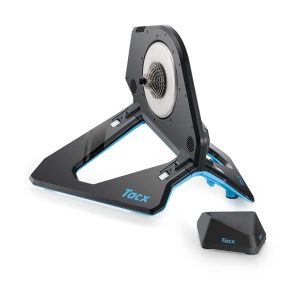 Tacx is one of the most trusted names in smart trainers, and because they are now operated by Garmin, we expect their innovations and digital advancements to continue.
The Tacx introduced lots of new functionality to the market over the years, including seamless compatibility with many different apps, and the ability to have the ride simulate inclines and declines. Its' stiffest competition is probably the Wahoo Kickr, and trusted trainer in its own right, and one that is about $100 less. However, we like the Tacx Neo 2 because it is so very quiet (you will hear your bike's drivetrain much more than you hear the trainer) and because it comes in a simpler package. The trainer is almost entirely enclosed, and we like having few expose moving parts around when toddlers or pets are around.
One downside of the Tacx is that you will need to put your own cassette on. Many find it is easier just to order a spare cassette to leave on the trainer, rather than dismantling your bike when you set it on the trainer. However, it is a small price to pay for the performance and function of the Neo 2.
Saris H3 Smart Trainer
$$$ – Spendy, but worth the investment
Great, durable all-around smart trainer.
Best For: Someone who wants proven technology in a bulletproof, tough package that will last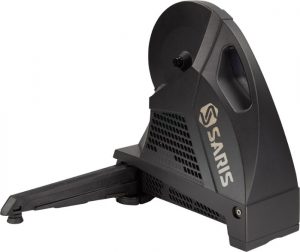 I've been a big fan of Saris (the old CycleOps brand) ever since I chose an early H2 model for my first smart trainer. It was durable, took a beating, and introduced me to the world of smart trainers.
The Saris H3 fixed all the little issues of the old H3, but kept the Saris reliability. It is a quiet smart trainer capable of handling heavier riders. The H3 has a near-immediate setup process and quickly connects to your wi-fi and any apps you are running. Saris found a way to build all of this into a package that is reasonably-priced…. still more than non-smart trainers, but a step below the cost of the highest-end smart trainers.
As for the best value smart trainer on the market today, I'd put the H3 right up there against the Flux models. It is a really good trainer, and I know that from personal experience.
Should I Get a Smart Trainer?
We did an entire piece on smart trainers, here.
One of the most common questions we are getting now is if people should get a smart trainer or a regular trainer. Our answer is usually the same: Make sure you get a good quality trainer of some sort, because even a non-smart trainer will do wonders do your indoor and offseason training and fitness. From there, think about how important the community is to you, as well as how much you are already planning to spend.
In short, we think the upgrade to a smart trainer is well worth it.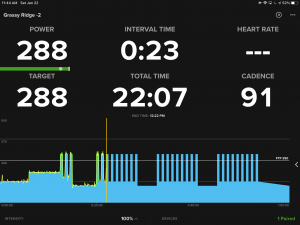 If you are already going to spend $500 or more, consider just moving up to the smart trainer functionality so you have that ability if you want it. If you are someone who really values riding as part of a virtual group or an interactive class, you will want the smart technology. Otherwise, we can tell you that we have been happy for years — actually for a decade — with our regular trainer workouts coupled with the right workout videos for inspiration. Even though the videos might seem very "2000", we are here to tell you that you can get one heck of a workout from them.
One important note – setting up a smart trainer is quite a bit more involved than a traditional trainer. With a traditional trainer, you take it out of the box, stick your bike on the trainer, clamp it in, put your front wheel on a block, and go. With a smart trainer, you are likely removing the wheel and maybe even the cartridge, putting a cartridge on the smart trainer, plugging everything in, and then syncing the trainer to whichever app you are using. If you want something that is really easy to plug-and-play on a random rainy day, a traditional trainer might actually be more your speed.
For the record, besides the Tacx Flux 2 that we write about above, the other smart trainer we really love for the money is the Saris H3. Check out our Saris H3 review, here.
Fluid vs. Magnetic Bike Trainers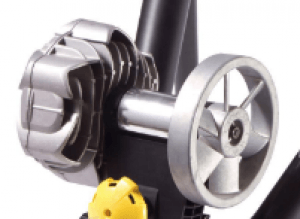 There are two main types of trainer mechanics, fluid or magnetic. This is the core of the trainer, and what provides the resistance for your workout.
Most smart trainers today are magnetic. Many basic trainers are still fluid-based.
In a fluid trainer, the "roller" on the trainer connects to an impeller that rotates through fluid, providing the resistance for your pedal stroke. In a magnetic trainer, there is no fluid involved. Rather, there is a magneto which you can manually adjust to the desired resistance level.
Fluid trainers are typically viewed as the better of the two, when it comes to traditional trainers. It gives you a more road-like feel, and the fluid typically allows you to increase your workouts to a very intense level without maxing-out the resistance. Today's fluid trainers almost never leak, a problem in years long past. Fluid trainers are also quieter.
Magnetic trainers are simpler, and because of that they are usually have less that can go wrong. When combined with an electric motor/brake, like in a smart trainer, they can be really effective. The downfall is that they often are limited in the range they can give you, creating less variance in your workout feel, and a higher likelihood that you could actually outgrow the resistance if you become a very good cyclist. Note that most smart trainers are made with magnetic technology, but it is quite sophisticated and an entirely different category than basic magnetic trainers.
If you are buying a smart trainer, you don't have a choice – it will be magnetic / eletric. If buying a traditional bike trainer (not a wired, smart one), go with the fluid.
What About Bike Roller Trainers?

Old-fashioned roller-style bike trainers are still around, but they are losing market share in a big way to the newer-style fluid trainers and smart bike trainers. "Rollers" as they are often called are more difficult to ride on, require balance and concentration, and don't have the ability to vary resistance as much or as easily as a newer-style trainer. If you are in the market for a trainer, we definitely suggest avoiding the rollers. However, if you like the throwback nature of older-style equipment, we recommend the Saris Roller which is a quality roller-style trainer.
Perhaps we are being a little hard on the rollers, they actually have a few advantages:
They require balance, which for some cyclists is an important part of the training and they feel provides a more realistic working.
They are less-expensive, generally speaking. You are going to find rollers to be the least-expensive option when comparing quality equipment.
They are quite portable. Most rollers weigh less than 20 pounds and can lay relatively flat when in transit.
Most aspiring cyclists should go with a traditional trainer or a smart bike trainer, but there perhaps are some cases when a roller-style bike trainer will fit the bill.
Is a Turbo Trainer the same as a Bike Trainer?
Yes. Turbo trainers are the same as indoor bike trainers. For that matter, spinners and trainers are pretty synonymous. Turbo trainer = bike trainer = spinner.
The most important thing is that you find a trainer that works for you, and is in your budget. Don't get hung up on what they are called.
Does a Bike Trainer Wear Out Your Tires?
Yes, it sure can. The heat created by an indoor bike trainer on your rubber bike tire can be very high, making it wear faster. If you plan to use a bike trainer regularly with your bike, consider a direct-drive trainer, or get a trainer tire for your bike and mount it on a separate rim.
Does a Bike Trainer Damage Your Bike?
If used properly, a bike trainer does not damage your bike. However, I know lots of people who refuse to put their high-end, carbon bike on a trainer in fear that it can get torque damage.
In the past, there was concern that the load put on a bike frame (especially carbon fiber) when mounted on an indoor trainer. In fact, many manufacturers would void the warranty if an issue occurred while using a trainer.
The problem was two fold: Old fashioned bike trainers required lots of torque to mount a bike in them, and the seat stays on carbon fiber bike were subject to busting.
With improved trainers and the proliferation of direct-drive smart trainers, the stress on bike frames is much less, and most manufacturers are not giving warranty headaches for riders using them.
Perhaps the most underrated aspect of how indoor riding can affect your bike is that you will be sweating – alot – and the sweat drips right on to your bike (whereas when riding outside, it evaporates or falls on the road or trail). This means that metal will corrode faster. You will be surprised how much this happens, but just know it is part of getting good, repeated workouts.
What is the Best Trainer to use with Zwift?
I get lots of questions on which trainer to use with Zwift. You will want any of the direct-drive smart trainers for Zwift. The 3 I recommended above – the Tacx Flux, Tacx Neo, and Saris H3, are all perfect for using with Zwift, or for that matter, other riding apps like Trainerroad or Sufferfest.
Other Trainer Accessories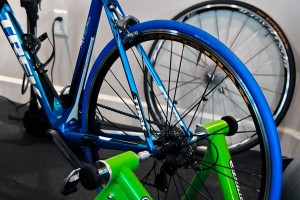 In addition to the trainer itself, you might want to consider a few other accessories.
Training videos. In our opinion, these are indispensable and the reason you get a trainer. There are several series of Cycling DVDs out there that will help you get the most out of our workouts. Having a focused training session will turn your trainer session into a spin class. Done right, these will be incredible workouts. You can usually find ones that are anywhere from 30 minutes to more than 90 minutes long, and they can either be in DVD form or streamed to a device or TV. We recommend having at least 5-6 to choose from, as your available time and desired intensity will vary from day to day. Our favorites tend to be the Spinervals series.
Tire block. Many trainers will come with a front tire block, but some won't, especially if you get one used. A block is key, because without it the rear tire will sit much higher than the front. If you have the option of a new trainer with a kit, always do the kit — that means it includes the block and other accessories.
A mat can be useful under your bike, especially if you are doing workouts that will cause you to sweat. Most mats will run between $35 and $50, like these on Amazon. The sweat, over time, can damage some floors if you don't promptly wipe it up – and after an intense workout, trust us when we say wiping up a pool of sweat is not going to be top of mind. Mats are not rocket science — just get one that will serve the purpose, and don't overthink it.
Trainer tire. The problem with using your bike on a trainer is that it can really wear out a tire. The friction of a tire on the trainer creates a lot of heat,which reduces the life of the rubber on a typical road bike tire. That is why we recommend using a trainer tire for about $35. It can withstand the heat and friction created by a traditional bike trainer.

We like to have a spire rim, cassette, and tire at the ready for a fast swap when we want to go on the trainer.

Spare rim, cassette, and skewer (optional). We often just mount it on an old, used rim and swap the whole wheel out each time we move the unit on or off the trainer. This makes it easy to do a 5-minute change if you see that the weather is bad, or change your mind and decide to run outside. It is much simpler (and cleaner) than the 10-15 minute process of putting the right tire on your rim.
Fan. Nothing fancy here, a basic old room or office fan is all you need. When you are riding in a static position indoors, without the breeze hitting your face, you will get hot faster, sweat more, and need some type of relief. A good fan situated a few feet away can fit the bill. Nothing fancy needed, just a simple one is fine. You probably have a spare tucked away in your closet.
Towel. For the same reason you need a fan, have a supply of small towels ready for your rides. You will sweat, and a towel will help you stay dry. I like to lay mine over the stem and headset bolts on my bike so the sweat does not corrode them.
Water. It may go without saying, but you need plenty of water, and within easy reach, when you are riding inside. Of course, you can put a water bottle on your bike just as you would outdoors. But some like to have a table within reach to keep water, and perhaps a phone, on. Keep in mind that you might need more water when riding inside because the rooms can get warm and stuffy.
Conclusion
With the options being so different from each other, definitely do your research and be sure that your purchase fits your needs. The four we listed above are all ones that we would stand behind.
If we could only pick one, for the regular non-smart trainer we would do the Saris. For the smart trainer, we'd go with the Flux.
Note that demand for bike trainers exploded during 2020 due to the pandemic, and it might take a while for supply to catch back up. Be patient and shop around — we do our best to keep any product links current.
A bike trainer, if used appropriately and regularly, can be worth every penny you spend. After all, you are training on your exact bike, getting used to the saddle, angle, and all of its components, rather than having to get the feel for one bike in the summer and another in the winter. If you are anything like us, you will get to the point where you crave some of your tough trainer workouts in the winter.
If You Found This Useful…..
Check out some of our other, recent cycling-related articles.
If you are Trying to Setup your Indoor Bike Trainer
We like this straightforward, no-salespitch video from South Shore Cycles in B.C., Canada
About the Author
Von Collins is an avid triathlete, cyclists, runner, and fitness enthusiast. He is the author of the popular Your First Triathlon Guide, and several other fitness-related books. Perpetually in training mode, he is constantly testing new gear and talking with other athletes about their observations.
Von Collins is an accomplished triathlete and cyclist, and the author of four fitness and training books: Smarter Running, Your First Triathlon Guide, Fit Foods, and 30 Rut-Busting Workouts.
Von has been cited as a triathlon, cycling, and fitness expert by Healthline, CNET, Forbes, Eat This, Not That and other major outlets.
Von has done dozens of triathlons and endurance bike races, coaches, and is an avid part of the cycling and triathlon community.