Finding the right road bike saddle is extremely important, yet often overlooked. Perhaps your original seat broke or is worn out, or you just don't like how it feels and you want to invest in a better one.  You might invest in a great road bike, but if you are using the wrong saddle with it, you won't really notice much more than how uncomfortable your seat is!
I once had a professional bike fitting where we had dialed-in on everything — adjusting the stem, seat height, body angle.  It wasn't quite right, and then we swapped-out the seat, and immediately everything fell into place.  There is no substitute for getting a saddle that feels right – that pretty much trumps everything else.
With so many options on the market, we decided to comprise a comprehensive guide with some of the best saddles out there. After all, making the right choice means the difference between an amazing ride and the struggle of not being able to sit comfortably on a chair afterward.
Note, however, that saddle buying is highly subjective.  What feels great for one rider will not work for another.  Our oversimplified advice: If you liked the shape and dimensions of your old saddle, try to get one with the same general design.  If you did not like your old saddle, switch it up.
We geared this piece toward good replacement saddles mainly for road, triathlon, and gravel bikes.  If you are riding a pure mountain bike, you may want to do a different search.
Shimano Pro Stealth Saddle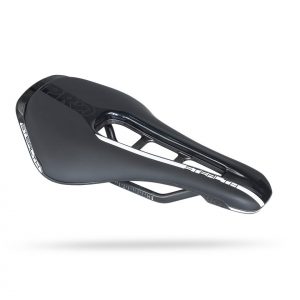 Created for comfort in the drops and on aerobars, the Shimano Pro Stealth saddles cater for efficient, aggressive performance and are ideal for trial uses and road races. Extremely well made, featuring a relief channel, and a wide cut-out, these saddles are shaped wider at the nose, allowing cyclists to use more of the item's front while staying on the TT bars or in the drops for a longer time.
Padding on the saddle is in the sweet spot of what many riders look for.  It it not rock hard, but still firm.  And while it has some cushion, it isn't so spongy that it saps power from your bike motion.  The design is just slightly rounded, when looking at it level from the front or back, creating a nice riding surface.
The Pro saddles are pretty lightweight and renowned for their sitbone top-notch comfort flawlessly paired with distributing pressure whether riding in the drops, on aero bars, or on the hoods. These amazing benefits are made possible thanks to the genius saddles' paddling positioning. Plus, Shimano incorporated reinforcing bridges right into the one-piece carbon-reinforced base helps to maintain the product's stiffness, leading to great power transfer.
The incorporated mounts for the line-up of accessories allow riders to mount race number mounts, an action camera, as well as a CO2 canister on the item's underside or even a clip on the mudguard. Shimano Pro Stealth saddles have a unisex design, which makes it perfect both for men and women.  Some feedback we have heard suggests that the saddle is most comfortable for cyclists who tend to sit back on the middle of the saddle.
Pros:
Minimalist design
Nice padding around the sitbone
Good for aggressive riders
Cons:
Most will love it, but for a few body types it is not very comfortable
Fizik Arione Saddle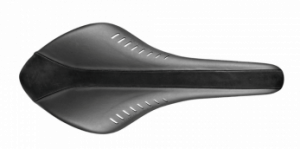 Fizik (pronounced 'physique') has an excellent reputation in the market, because they focus exclusively on making great bike accessories — saddles, bar tape, etc.  Fizik cranks out high-end saddles that are priced all the way up to $400, but the Arione is their entry-level saddle.  We say "entry-level" with a grain of salt, because Fizik really doesn't make a starter saddle.  Everything in their lineup is quality and often and upgrade from what comes stock on some bikes.  The Arione retails for under $100 but is a very good saddle, and we have found that they often are great replacements for the saddles that come on Felt bikes because of the similar overall design.  Triathletes and road cyclists who tend to use their drops or aerobars like the Arione, as its design allows many body types to get into a lower position with comfort.  The padding on the seat is firm, but has just enough cushion to take the edge off on a long ride.  Our 3rd ride on this saddle was about 80 miles, and we had no break-in issues at all.  A good saddle from the get-go.
Pros:
Good for riders who use drops or aerobars
Easy and fast break-in
Great quality
Cons:
Selle Italia SLR Kit Carbonio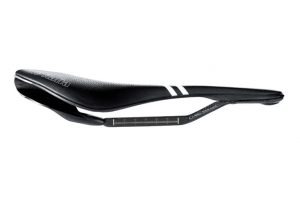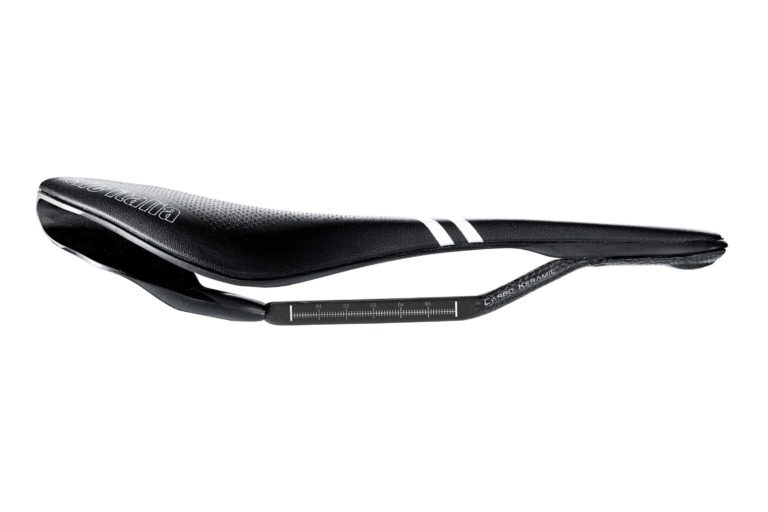 Selle Italia has the distinction of being the oldest saddle-maker on this list — over 120 years in business!  This saddle by Selle Italia is very lightweight (130g), durable, and delivers unparalleled aerodynamics. For gear junkies who insist on having everyone on their bike be uber-liteweight, the Carbonio might be at the top of the list.  This is definitely an "upgrade" saddle for most bikes, and one that a ride who likes a narrow and stiff saddle will enjoy from the start.
The Selle Italia saddle gives you extraordinary comfort thanks to its unique shape and EVA foam padding. This, of course, makes it a catch for both pros and amateurs. It features titanium rails and a high degree of flexibility. The saddle is reasonably flat front-to-back which leads to the anatomic cut-out relieving pressure down the centre.  As with any saddle getting the seat tilt just right is important as this one tends to make you want to slide forward when seemingly flat.  Just a slight tilt-back adjustment will easily fix that.
Pros:
Ultra-light
Strong components
Slim profile
Cons:
Some slide on saddle if tilt isn't just right
Charge Spoon Cromo Saddle

Budget Option.  If you are looking for an inexpensive aftermarket road bike saddle, the Spoon is a good choice.  This is the type of saddle you get if you are trying to replace a stock saddle, versus upgrade to something with higher performance.  That's not to say it doesn't perform — but it is really a stock replacement in our eyes.
Made by the value British bikemaker Charge, it is easy on the budget – usually around $35 – and with some slight adjustments can fit well on most modern road bikes.  It is lightweight for its price, has a pressure relief channel and a shape that works well for riders of all types.  The synthetic fabric does an excellent job of staying dry (not getting damp from rain or sweat) and not showing wear.  One note — this seat is stiff as a rock when you first get it.  Expect it to be a bit uncomfortable for the first 10-15 rides, but after it softens up it will prove to be a seat that is much more comfortable than its price would suggest.  Just don't start using this saddle right before a long century ride, or anything like that.  And we would not consider this to be a saddle that you use to correct a pain or fit problem – more of an "in-a-pinch" replacement.  While the others on this list are considered upgrade seats for most bike, this one is a high-quality, value replacement seat.
Road Bike Saddles Buying Guide
The first thing, and by far the biggest factor to your satisfaction, to keep in mind when searching for the perfect road bike saddle is the comfort. The perfect saddle is the one that you forget about while you're riding. Read reviews, make sure that others built like you enjoy the saddle, and pay attention to which saddles you have liked in the past.  When it comes down to it, there are really 3-4 dominant saddle designs in the market.  Know which work for you, and which don't.
Saddle Shape and Size
Next, let's talk about shapes and sizes. Not everyone is built in the same shape, so you have to pick the product that best supports your sitting bones. If you're sitting in a low, long riding position, with your back flat, then the narrow, flat saddles are great for you. If you sit a tad more upright and prefer to push back on the seat, then wider, curved saddles are the wise option.  Also, for men, it has been known for years that there is a correlation between cycling and sexual health issues. If you are prone to impotence or numbness after cycling, avoid a high-end racing seat with a long nose, and opt for better comfort and broader weight distribution.  A design like the one on Shimano's Pro Stealth, with the relief channel (above), is a good option if you worry about this.
Sit Bone Width
There is actually a measurement you can do, called your "sit bone width", to be sure that the saddle you are purchasing will fit your sitting position, and more specifically your "sit bones."  Check out the excellent video at the bottom of this page by Art's Cyclery on how to measure your sit bone width.  In short, your sit bones (everyone has them) should line-up so they sit perfectly flat on the saddle surface.  Too narrow a saddle, for example, might cause your sit bones to not align comfortably.  Too wide of a saddle, and you might actually have a few millimeters of the seat get in the way of a smooth pedal stroke.
Bike Seatpost Compatibility
Don't overlook the seatpost that you will be attaching to.  Make sure it is all compatible.  Consider little things, like if your seatpost and tube is angled, or if you plan to pull a bike trailer with your bike.  All of those seemingly little things might be a factor in your decision.  Pulling a trailer, in particular, might be a situation that calls for a sturdier seat at the expense of adding a little weight.  Also, anytime you are attaching a saddle to a seat post, use a torque wrench.  Many posts on today's bikes are carbon fiber.  While carbon fiber is incredibly strong, overtightening a seat to it can be a known way to crack it.
The combination of your bike seat post length, saddle type, and saddle positioning will all make a big difference in how the bike feels to ride.
Weight and Materials
As far as the components and weight of your saddle go, our advice is that comfort is more important but we know some folks are really into the construction. Carbon shells are lighter and stronger plastic or polymer ones, and they absorb some road vibration, as well. Rails have to be compatible with your seat clamps, so have this in mind when making your purchase. When you're looking at covers, stay away from those seams and rough patches – these are pretty uncomfortable and can even wear holes in your clothing. Padding is, of course, crucial. Most road bike saddles have thin and complex padding (which is exactly what you need), but there are riders who prefer harder saddles with little padding.
Feel
Finally, remember that the saddle itself is just on part of the comfort equation.  The positioning of the saddle can also have a huge impact on how it feels.  Many people have been convinced that their new saddle doesn't work for them, only to find that the positioning or angle of the saddle install was the problem.  We recommend taking pictures of the saddle you are taking off while it is still on the bike, and from various angles.  That will allow you to mimic its positioning with your new saddle — assuming you were comfortable on the old one.  The slightest adjustment in the seat angle, pitch, or forward/backward positioning can make a gamechanging difference on how it feels.  So before giving up on a new saddle, make sure you adjust, refine, and repeat until it feels good to you.
Measuring Your Sit Bone Width
Jim is an accomplished triathlete and endurance cyclist, and has raced in more than 3 dozen USAT-certified races.  He is also an avid trail runner and gravel bike rider.
His areas of expertise are in endurance training, cycling, triathlon technique, race direction, and training plans.  In addition to writing extensively about the endurance world, he has managed gyms and fitness centers in the US.  Jim is a longtime writer for Complete Tri, Compression Design, and his work can be found on the resource pages of many triathlon and cycling clubs in North America.