You might ask what bike trailers have to do with a triathlon website.  A lot, actually.
The typical triathlete is a male or female in their 20s, 30s, or 40s.  In many cases, they are young parents who want to stay active, but have family commitments, and need to care for their children.  The staff here at Complete Tri has tried to balance the Saturday morning training rides and runs with a toddler who needs to get outside too.
Plus, many folks just tend to be active people with active families. Even if you aren't an avid triathlete, you may cycle with your children in tow for the many health benefits.  Cycling burns, on average, between 400 and 1,000 calories per hour.  If you are pulling a child in a trailer, you are probably toward the higher end of that range.
Bike Trailers – like Burleys – are part of what it means to be a cyclist and a parent.  We wanted to do for bike trailers what we do with tri bikes and other gear – give you a review of our favorite models on the market, but with an eye toward higher-end quality and products that will be durable for someone who really uses them in the way they were meant to be used. After all, today's bike trailers have as much design and engineering in them as entry-level bikes did a few years ago. There is a lot to learn to find the right one.
With that, here are our favorites for 2020.
Burley Bee
This is a double capacity trailer that rolls down the trail incredibly smoothly.  It feels a bit narrow if your children are not small.  For kids aged 3 and above, you might want to treat this more as a single.  As far as Burleys go, this is going to be your no-frills model, but a no-frills Burley is still a big step above the typical Walmart trailer.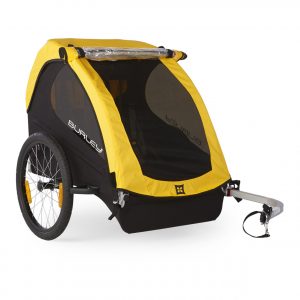 The Burley brand has been around for about 40 years, and has become an important part of the overall cycling culture and community.  It has reached the iconic status where all you have to say is the word "Burley", and people can envision the product.  The best companies in this space are typically borne from someone passionate about cycling, not a company who is trying to exploit a market segment.  The Burley story is one of passion, that started in North Dakota and really grew in Oregon.  You can read it here.
Back to the Bee, we like it because it is well-built but removes a few of the bells and whistles that would otherwise drive the price up.  What is it missing?  Some of the adjustability in things such as the seat recline, a fast way to convert the trailer to a stroller, and a removable seat (which makes the trailer into a cargo or pet trailer), to name a few. It is built of water-resistant fabric, nice for those times when you get caught in some rain when you did not expect it.  You might get wet, but your child won't.
We have dissembled and folded the Bee up, and it collapses quickly, with the wheels coming if with the flip of a switch.  That is also where the Bee's incredible weight comes in – at 20 lbs, it is by far the lightest trailer on the market, of the brands we recommend.  This is a great 2-child Burley that won't break the bank.  We would not hesitate to buy the Bee again, and we if we had to quickly name a "can't ever go wrong with it" product in this space, the Bee might be it — or maybe it would be the Cub……
Burley Encore
The Encore by Burley is the best all-around trailer on our list.  It is not as cheap as the Bee – it runs a full $300 more – but it will give you everything you need for a long, long time.  The Encore has similar dimensions to the Bee – wide enough for 2 kids as long as they are not both big.  Where it differs is on the features, but it is important to note that those additional features also add to the weight and price.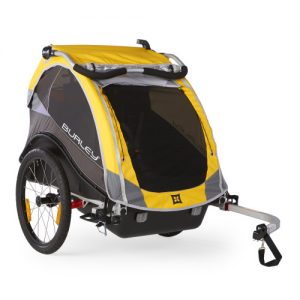 Features include additional padding for rider comfort, excellent waterproofing, and a sunshade that is nice in the event of a napping child combined with an intense sun.  It is always nice to not have to lather your child in sunscreen if there is a way to get around it.
One of the biggest things you get with the Encore that you don't with the Bee is the ability to convert to a jogging stroller.  You can buy a separate jogging stroller, but it can sure be nice to save on garage space and only have one trailer instead of two, and that is where the conversion comes in.  Add a front wheel and a push bar, and you have yourself a high-quality runner stroller.  For the typical triathlete who needs to both bike and run as part of their training plan, this is a nice touch.
For you gravel bikers out there, there is a conversion kit to make the Encore highly-capable on gravel.  Not everyone will need that, but those you do will sure appreciate it.
The Encore is one of the more popular trailers on the market, and for good reason.  Excellent quality and functionality.  It is probably our favorite on the market right now, when factoring-in features and pricing.
Thule Chariot Lite
Thule is probably best known for their bike carriers and racks, but they have been making great bike trailers for quite a while.  They have several models, but we especially love the Thule Chariot Lite. Let's be clear – it is not cheap.  It runs over $700 (but if you want to go down a model, you can get the Chariot Cheetah for closer to $500).  The Chariot Lite is built for cycling, jogging, walking, or skiing – so it truly multi-purpose and all-season.  It can hold up to 100 lbs., but only weighs 27 lbs. itself.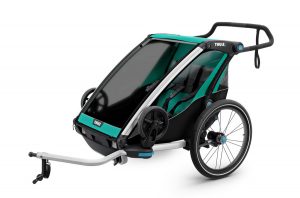 The Chariot Lite has easy conversion to a run stroller from a bike trailer, and it also disassembles easily.  Traveling with it is a breeze.  The screen will keep bugs out and the rain cover works well when it starts to get a little wet outside.
While the Chariot does not convert to a stroller as quickly as the Cub, we think it feels a little more stable once it is converted. But that is marginal, and probably a personal preference thing. Unlike the Cub, the seat back does not recline in the Chariot. Again, it is personal preference and some kids really never use the recline.
Thule backs up their products with a quality, and will warranty the product for as long as the original buyer owns it.  The warranty does not transfer to buyers of the used product.
Schwinn Joyrider Double
We were hesitant to include the Schwinn Joyrider on the list, but our last experience with a Schwinn trailer had been several years ago.  We gave it another good look, and decided it deserved a spot here.  At the same price point at the Burley Bee, we might give the Burley a slight edge, but this Joyrider has a few things going for it.
First, the netting on the front of the trailer is a little heavier than others, so the bugs say out of the kids eyes, as do the rocks.  Second, we like the tires and wheels that Schwinn uses, probably a reflection of the fact that they design bikes for a living.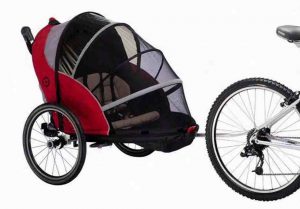 At first glance, the short wheelbase might make the Joyrider seem like it is not an ideal running stroller, but it actually rolls quite smoothly.  As an overall trailer/stroller that is also easy on the budget, the Joyrider is worth a look.
Do You Hook a Trailer up to Your Road or Tri Bike, or Just a Mountain / Hybrid Bike?  How?
The question we often get is if you should attach a bike trailer, like a Burley, up to your higher-end road or tri bike.  Part of it, honestly, depends on your willingness to take a little risk.
We know some people who will only attach their trailer to a mountain or commuter bike.  After all, most mountain and commuter bikes are built with aluminum or steel, and often don't involve the same investment as a high-end road or tri bike.
We have hooked our trailers to a road bike with no issues at all.  If you connect your trailer to your bike, you run the risk of voiding the warranty on a bike, especially if it is carbon.  However, you will probably be OK (but we have to add the disclaimer that we can't guarantee anything).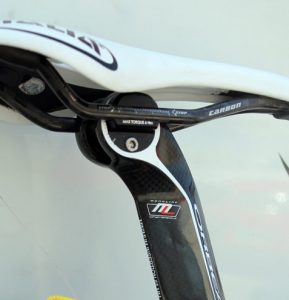 We might suggest that you add some foam or layers of plastic to the seatpost just to cushion against any major shocks or torque.  Where the trailer claims on to your seatpost, a little fudge factor is always nice.  If your seat post is carbon, definitely take extra care.
We know some folks who normally use a high-end carbon post, but swap it out with a more durable aluminum post — with a less-expensive saddle — at times when they are pulling the trailer.  Just take care to use proper torque when removing and installing seatposts on to a carbon fiber bike.
Perhaps the most challenging situation is when your seat post is angled, in a teardrop shape (like the one pictured to the right).  There is a good chance that the trailer simply will not attach to it.  In this case, you will need a plan B, perhaps a cheap commuter bike as a backup when pulling the trainer.
Should You Buy a Separate Run Stroller?
A common question is if you should buy a separate run jogger, or just have one unit that doubles as both.  With the exception of the Bug, all of the models we outline above can do double duty as both a jogger and a stroller.  On the question of having one or two pieces of equipment, here is what we would say:
These double-duty trailers work just fine as joggers. They are smooth, stable, and won't create issues on your run. With that said, we like the idea of a dedicated run stroller if it makes sense to you, for a couple reasons. First, it is nice to not have to swap out the front wheel whenever you want to switch activities. You could even keep the trailer permanently connected to an old road bike you have.  Second, the dedicated jogger strollers usually have a larger front wheel, something that we think gives it better rolling ability and more comfortable  and higher positioning for both you and child.
Of the higher-quality, higher-end stroller market, we like the BOB All-Terrain stroller (find here) if budget is not an issue. Otherwise, if you prefer to save nearly $200, the BOB Rambler (find here) is a very reliable and capable model.  These are not inexpensive pieces of equipment, but our mantra has always been that for something you might use perhaps hundreds or thousands of times, you are much more likely to use it and get your money's worth if you buy quality.
Ultimately, the question on whether to have a bike trailer and a jogging stroller, or just a single piece of gear, will be determined by a few questions:
Do you have the budget for two quality pieces of equipment? Don't skip. We would rather see you spend $400 on one good, convertible piece, than buy two lower-quality pieces.
Do you have the space for two?  Even folded, these things take up a little garage or closet space.
Do you mind changing the configuration of your equipment between each activity?  They are easy to switch nowadays, but it still takes a little time.
Are you a true 2-sport person, or do you tend to spend way more time on your bike?  If you ride your bike 10 times for every time you go on a long run, you may just want to put your money into a bike trailer and convert it when you need to.
Do the two parents have different primary activities?  If dad is a cyclist and mom is a runner, it might be easier for the family to just have the two pieces of gear.
Does a Child Need to Wear a Helmet in a Bike Trailer?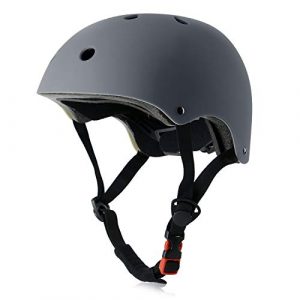 This is a frequent question. We recommend that any child in a bike trailer should wear a helmet. Many states also have laws that state a kid riding on a bike or any vessel propelled by a bike needs to wear a helmet. It is just good sense, for a few reasons:
It will provide safety if you the trailer is hit by an ongoing bike or vehicle
It can provide some protection if there is an accident causing the trailer to flip on its side (unlikely)
It will begin to create a habit for your child to put a helmet on any time they do something associated with a bike
We know from experience that if you want your child to wear a helmet, it needs to be comfortable.  Our suggestion is to get a helmet with a flatter back, so that the child can lay their head back against the back headrest of the trailer, and not have a "neck forward" posture.  We recommend one like this one, instead of a helmet with a back that protrudes and will be less comfortable inside a trailer.
Are Bike Trailers Safe?
While we definitely think that bike trailers are safer than a bike seat, because they are lower to the ground (we are not the only ones), be sure that you use a tall, highly-visible flag on the back of the trailer if you ever plan to use it in a traffic area like a road shoulder or riding on city streets. If you can, try to stick to trails, because it can be hard for cars to make out the profile of a bike and trailer when approaching from behind.
Also, make sure the bike is attached to the trailer per the manufacturer specifications.  This will help in two respects:  It will ensure the trailer stays safely attached to the bike, and it will enable the swivel function of the trailer arm (if available) to work well.  This may prevent the trailer from tipping over if the bike itself were to fall on its side during the ride.
Your bike trailer will probably come with some safety reflectors, or at least reflective fabric. Reflectors on the front, rear, and spokes are ideal.
Finally, we always recommend setting up flashing LED lights on your bike, but if you ever take your trailer in areas of traffic, but one or two on the trailer as well.  LED lights are shown to improve visibility more than anything else out there.
Can I Use My Bike Trailer for Dogs?
Yes. Lots of people do. Granted, a true kids bike trailer is designed for children, so using a trailer for a dog is not its intended purposes, but for small and mid-sized dogs it can work very well.
There are trailers made especially for dogs, like the reliable one made by Schwinn (here on Amazon).  If your main purpose of having a trailer is for your pup, consider a specialized bike trailer for dogs.  A couple features they give you is the ability to enter from the side or front, rather than from the top which is the case for most kids bike trailers; and the bonus of having an open-air peep hold where the dog can stick his or her head out.
If you just want to own one trailer (and if you do, we don't blame you — they take up a little garage space), then a kids trailer can work well for both.
What Else Do I Need to Know About Bike Trailers?
Today's bike trailers are high-end pieces of equipment, with lightweight components and tested materials. If you go with the brands we recommend, we don't think you will be disappointed.
One thing to know is that they come with pneumatic air tires, meaning that you need to check the tire pressure. We recommend doing a quick check on the tires before each ride, which will just take a minute. At a minimum, check the pressure each week or anytime the temperature has changed (tires lose air pressure when the temp drops). You may need to invest in a tire pump for this, but if you have a bike the chances are you already own one.
You don't have to do much maintenance to a trailer, but it is a good idea to check a few things regularly. Making sure that the hitch attachment is secure is important, especially after the first ride or two. If something is going to come loose, it usually happens right after you have set it up.  It is also a good idea to clean and lubricate the axle and wheel hub on occasion, just to prolong the life of the trailer. Again, if you already own a bike, just do it when you think of doing it to the bike.
There will be times when the trailer gets wet. Perhaps you get caught in a heavy rain, or accidentally leave the trailer outside during a thunderstorm. It is a good idea to dry the axle and wheel hub off with an old towel. As for the fabric, we find that the best all-around solution to drying fabric — in order to prevent mold – is simply to leave the trailer in the sun. After the rain has passed, just let nature dry the trailer out for you.
Finally, most trailers can become quite messy inside after a while. Take it from our experience — cheerios and other snacks, spilled juice, you name it. They all gather on the floor of a trailer. Clean it out periodically with a simple rag and water with dish soap. This will keep rodents and bugs from becoming attracted to the trailer in a garage, and will help keep the trailer in excellent shape for resale. The good news is that the four models listed above all have excellent resale potential once you are all done using them.