Sometimes, riding outside on the road or on a trail is not ideal.  Perhaps you are short on time, or it is raining.  For those of us in Northern climates, maybe the cold temps make outdoor biking too uncomfortable and it in time to cycle indoors for the winter.  For such times, the perfect solution is to use a video or DVD to get a great workout.  Cyclists can go to a spin class, move their bike to an indoor bike trainer, or get on a stationary bike for their rides.
If you opt for the trainer or stationary option, having a good DVD to guide your workout can be critical.  Note that many of the same videos are also available streaming nowadays, but for many of us a DVD is the best option given our technical setup and the fact that a DVD works regardless of internet connection.
We are assuming that you do not have access to a smart bike trainer — if so, that is a different ballgame and you can ditch the DVDs and use the app of your choice, ranging from Peloton to Zwift.
For us, the good-old fashioned cycling DVDs have given us some workouts to remember.  We will describe what to look for below, but here are our favorite cycling DVDs.
Best Cycling DVDs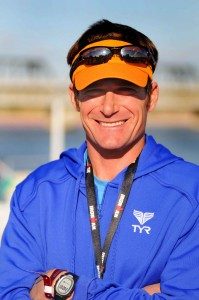 Spinervals Series
Coach Troy Jacobson does an excellent job of providing coaching and motivation to athletes of all skill ranges.  It takes a special coach to be able to speak to the beginner cyclist and the Ironman triathlete in the same video, but he does.  "Coach Troy" as he is known is visible in the videos, walking around the room with a stopwatch as if he were coaching your training session.  Some of the videos tend to be longer and focused on getting a good sweat and fat-burning workout, while others are a bit shorter with the intensity level cranked way up.
One of our favorite features of these videos is Coach Troy's explanation of why you are doing what you are doing, and what benefit you will get from various drills.  That "why" is an important element of coaching that is left out of too many videos and online apps like Zwift.
We recommend that any cyclist has 4-5 of these at the ready, so they will have an option regardless of available time and desired intensity level.  Some of our favorite sessions include the classic intense workouts like Sweating Buckets and No Slackers.  They are among the first videos he did, so while the video quality is not HD, the workouts themselves are timeless.  Among his newer work, the Pain Cave is a very popular 50 minute workout that can be made as intense as you want.  One of the DVDs we reach for the most often is the Time Savers video, with several quality 20-30 minute workouts for when time is limited.  Note, all links in this paragraph are to Amazon
Real Rides Series
Real Rides has a different point-of-view than Spinervals.  Robbie Ventura is the coach, and he rides along with you while coaching you each step of the way.  The perspective in the Real Rides videos has you, as the cyclist, looking at the actual road you are riding on.  This can provide some nice interest on those long, indoor rides.  It is more of a first-person riding experience, where Spinervals is more of a spin class experience.
We like the fact that these rides actually build on the workout before, usually ramping-up over 8 weeks.  The two most popular in cycling communities tend to be the Power workouts, coupled with the Climb workouts (find them here on Amazon).  If you alternate those, you likely will get into good riding shape.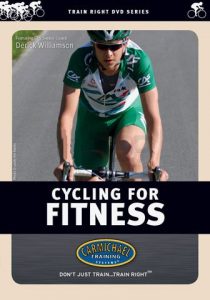 Carmichael Training Series
The Carmichael series is another set of cycling DVDs that offers an array of workouts, several quite intense.  The focus is on interval sets, so you will get a nice high intensity training session.  Video quality is pretty good, and the coaching does a good job.  Among our favorites of the Carmichael series, is the Cycling for Fitness (Amazon) DVD.  This Climbing (Amazon) series also gets good reviews from our cycling network.
What to Look for in Cycling DVDs and Videos
Finding the right cycling video for you is often a matter of aligning its particular content with your goals, so it isn't always a one-size-fits-all type of thing.  Here are a few key criteria to consider when looking for a cycling video lineup.
Session Duration.  Make sure the workouts' duration is in line with your goals.  You can often find everything from 25 minutes up to 90 minutes or more.  These workouts are usually meant to be done as one session, with a carefully-designed warmup, peak, and cool-down, so it is best to do the whole thing and not just part.  Don't buy a 70 minute workout DVD if you want to do 40-minute workouts.
Workout Intensity.  The intensity level should match your workout goals.  Some of these video cycling workouts are among the most intense we have ever done.  Others are good enough to get a sweat going, but nothing extensive.  The Spinervals lineup usually rates its workouts on a scale of 1-10, and most others will tell you clearly in the description who it is designed for.
Coach Compatibility.  If you are not sure what kind of coaching you will respond to, it is good to try a few different ones.  Some have a coach who is very visible and highly motivational, while others are much more focused on the screen information and the coach has less of a presence.
Variety.  We always recommend having at least three different DVDs to choose from, and in many cases we suggest having five or more.  Why?  You want to mix up your workouts, and some days you will have time for longer videos while on other days your schedule will be limited.
Format.  Some companies only have DVDs, some only have internet streaming, and some offer both.  Obviously, make sure that what you are purchasing works with the technology setup you have at home.
Cost.  The price of all things technology has gone down, and you can get some great DVDs for $15 to $25, or on-demand options for under $15.  If you opt for the monthly subscription option that some coaches offer, just do the math and make sure you will use it enough.  Over time, that will cost more.
Other Gear You Will Need
If you are looking at cycling DVDs, you likely already have a base of other equipment needed for home spinning workouts.  Just to verify, you will want a bike trainer, or a stationary bike.  The differences are:
A bike trainer is a device of you set your actual bike in to. You are then riding your own bike, but using the resistance of your tire against the roller to create tension.  (in some more expensive trainer models, you remove your rear tire altogether and connect your chain to the equipment).  The obvious advantage of a trainer is that you are getting better on your actual road or tri bike, something that is good if you've invested in a good bike that fits you perfectly.

A bike trainer allows you to take advantage for your favorite bike, even during winter.

A stationary bike is a standalone, indoor bike like you see at health clubs. You adjust the resistance level with a knob or digital display to vary your workout intensity.  They come in upright or recumbent styles.
You will also want to use cycling shorts just as you would on your outdoor bike rides, and in most cases you will either clip in with cycling shoes or use cages for your running shoes to fit in to.  Don't forget to have water and a towel nearby as well.
Conclusion
Whatever your goals, we suggest you try to keep your cycling workouts going year-round.  Sometimes that means going indoors and doing these videos, and the surprising thing is that you will find these workouts to be every bit as challenging as your good outdoor bike rides.  Any of the ones we recommend above are excellent.  Do them, and you will be able to keep your legs and lungs in excellent biking shape even in poor weather.