There was a time when running or sports watches could only offer time and heart rate, and offered little additional value. Thankfully, those times are long gone. With the proliferation of GPS-enabled devices and better waterproofing, today's best triathlon watches are quite advanced in their offering and can help any athlete train with more precision. These are true multipart watches that can be used in a number of workouts and races.
We will even take it a step further: We think you need a good triathlon watch in order to train effectively. Training precision is key because it helps you train less, but smarter and better.
If you have looked at fitness watches or trackers lately, then you know that one of the problems is the sheer number of choices. It can be paralysis by analysis.
For 2022, the watchmakers have turned the simple watches into complex fitness tracking tools. They can tell you how far you've gone, how fast you are going, the intensity of your overall workout, other key health info, and even integrate with your bike's power meter (if you have one). They can upload data to shared apps (like Strava) to help you share your training with the community. These triathlon watches work in three different modes of swimming, running, and cycling. If you are running a triathlon and looking for a smart watch, you need to look for all these modes. Through comparing different watches available in the market, we have identified our four favorite watches for you. Some are spendy, some are cheaper. All are watches that we would recommend other triathletes in various situations.
You do not need to be a triathlete to benefit from these multisport watches. Why wouldn't you, for the same price, go with an option that can accommodate cycling and swimming, in addition to running. We think it is a no-brainer for anyone who is active.
Spoiler alert: There are going to be lots of Garmins on this list. They are investing the most in designing good multisport watches these days.
5 Best Triathlon Watches
With no further adieu, here are our picks:
Model
Pros
Cons
Best For
Price Range / Check Price
Garmin 955
Many of the features of an Apple Watch, plus all the great Garmin fitness tracking. Ability to stream music. Excellent battery life.
Navigation accuracy might be lacking in some areas and situations.
Best Overall. Great for those who want their fitness watch to really be a smart watch; those who want to listen to music from their watch.
$$$ / Find Here
Garmin Forerunner 745
Evolved from Garmin's long line of capable sport watches
Very sleek given the features.

May not be compatible with the newest Garmin products. Battery life not as good as 955 or Fenix.
Great all-around for triathletes of all skill levels who value a sleeker package.
$$$ / Find Here
Polar Vantage V2
Sleek Design
Excellent waterproofing
Excels in all 3 sports.
On the expensive side, but still a solid value
Serious triathletes and those who want expanded features
$$$$ / Find Here
Gamin Fenix 7
Multi-use as a tracker, sport watch, and dress watch
Includes sophisticated settings for many activities, not just triathlon. Touchscreen.
Expensive. Might feel a little "chunky" than others as it can sit thick on the wrist.
People who have the budget for a high-end, multi-use watch.
$$$$ / Find Here
Fitbit Flex 2
Small and light
Doubles as everyday watch / tracker
Limited functionality for serious athletes
Not as waterproof
Weekend athletes looking for a fitness tracker
$ / Find Here
Garmin Forerunner 955

Buy Directly from Garmin (best price).
Lets us cut to the chase — the 955 is our favorite multisport watch on the market today. Garmins are cranking out the best full lineup of multisport electronics for 2023, as evidenced by them having 3 of the top 5 spots on our list. The 955 took the already-good 945 and 935, and dialed up the functionality, precision, and options in a way that will be intriguing for those who have richer budgets or want to be incredibly scientific about their workout trending. It is an absolute gamechanger in one respect, and that is the ability to stream your music and podcast to your bluetooth headphones. Who ever thought you would be able to listen to music on your run without having your phone or Ipod along (assuming you have bluetooth earphones).
Garmin figured it out with the Forerunner 955. For some, that will be enough reason to upgrade.
There is also a Forerunner 955 mode, but we actually like the 945 better. It isn't as chunky on your wrist.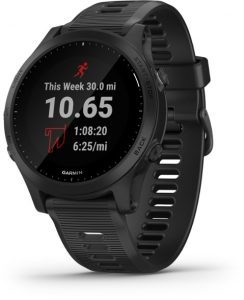 Design
The watch has the nice rounded-face that we are fans of, because it feels less bulky and more like, well, a watch. It comes in just one color — black — and may look more casual than the Fenix which we profile below. It has five buttons around the watch face, so if you are going for the "ultra-sleek" design, just keep that in mind. On the outside, it looks pretty much identical to the 935, and with a depth of 13.7mm, it doesn't feel too "chunky" on most wrists.
But on the inside is where it is really a different device than its predecessors — let's get to that next.
Features
This is a multisport-specific watch, which means it is also great for cycling, running, and swimming individually. The features of the 955 put it in a different category than the 935 and are a slight upgrade from the 945, which for some will make a no-brainer case for purchasing, and for others might be more than you want in a run and bike workout tracker. The watch can hold up to 200 hours of activity data, allowing you to go back and analyze your past several workouts without using an app. A whole slew of sensors gives you everything from heart rate to temperature, barometric pressure to a gyroscope and a compass.
Perhaps the most notable advancement is that you can play smartphone music from the watch, as long as you have bluetooth headphones to pair to the watch. This feature will impact battery life, but may well be worth it to not have to carry multiple devices. Music storage is up to 1,000 songs, which is impressive and on par with early-generation ipods. Pretty impressive.
As for sports, it does everything. Cycling, running, swimming, skiing, golf, elevation, etc. It provides pre-programmed maps of routes as well as ski runs. It integrates with your Strava or other 3rd party apps so you can have the watch be a one-stop-shop. Sleep tracking, heart rate tracking, and VO2 max tracking are all included — but nowadays most Garmins come with those features.
The watch also gives you more of the functionality you find in the Apple watch, such as the ability to pay at a scanner with your watch, as well as some preloaded workout maps. For all this, battery life is pretty good if you are using the basic functionality, but if you are wearing it and using all the functionality all day long, a daily charge will probably be needed.
Pros:
All the best and latest functionality that Garmin offers for cycling, running, swimming, and triathlon
Impressively sleek, although not as sleek as the 745
Crazy battery life. Garmin says up to 2 weeks, and we think they are probably right.
Cons:
Expensive
Most users will use a fraction of the total features
Garmin Forerunner 745
The Garmin 745 provides nearly all the functionality of the 945, but for over $100 less. The 745 is sleeker and thinner on your wrist, has a smaller face, and is slightly lighter. For some, the smaller profile will be a pro, for others a con. We like it, as it feels more like an "everyday watch" for those times when you are not working out. It actually made our list of best running watches because of its relative simplicity.
This is the option if you want a new model watch but don't need to pay for features you might never use.
Like the 945, the 745 offers music mode so you can play your songs and podcasts directly from the watch (although users report that trying to do an audiobook can be a little clunky — but that goes for the 945 as well). Battery life is a good 7 days, shorter than the 955 but good enough for nearly all practical uses.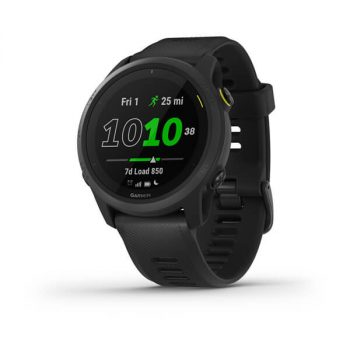 The Garmin 745 lacks a few of the higher-end functionality of the 955, but for that you will save some money. If you are not a golfer, you won't get the golf-specific features. And some functions that are built-in to the 955 require an additional add-on for the 745, such as the mapping creation features which allow you to program-in a preplanned ride. But those features are not going to be something that every person feels the need to pay for.
You will still get the ability to track your cycling, running, and swimming with accuracy, which is really what triathletes and multisport fans need. You will be able to track your sleep, heart rate, and other non-workout vitals, and for many athletes the 745 will be just what you need, in a sleeker and less-expensive package.
Design
The Garmin 745 is sleeker — rounder, fewer buttons, and overall a little slimmer than the 955. We realize that we keep comparing the 745 to the 955, but since they have so much more in common than they have different, it seems to make sense.
For people who might not be able to get used to a larger wearable on their wrist, this can be a good option.
Weighing about 47 grams, and having a thickness right in the 13 mm range, the 745 gives you an impressive package in such a sleek body. While it has the same number of side face buttons as the higher-end models, they are more rounded and subtle, making this watch feel a bit more elegant. If you want really elegant, though, you will need to look at the Fenix which we profile a little later.
Overall, the design is light, smaller, and might be a great fit for those who really want functionality, but at the same time want to minimize the bulk on their wrist.
Features
Any triathlon watch should be able to track your runs, rides, and swims accurately. The 745 goes above and beyond and truly becomes a training and health buddy. It can monitor your average speed, heart rate, and regular alerts to keep your speed up, including predictions on what your finishing pace and time will be (something we don't always use — it can be unnerving). It is also an excellent steps tracker and is smart enough to tell you how much fitter you are getting with time. In the water, it is a reliable partner in swimming with a very delicate GPS tracker, SWOLF tracker, and a length tracker. The 745 has a very capable breadcrumb feature where it will show the route you took on a run, for example, in case you need a little help getting home. This can be useful on trail runs in particular.
Away from the workout, you are going to get all of the sleep, VO2 max, resting heart rate, and other features that Garmin is putting in to all their watches right now.
We like the battery life. As we were using the 745, we could consistently get many workouts in without a charge, and if we were wearing it 24/7, it could go for days between charges, unless you were playing music. For all of these watches, using the music feature is the only real battery-killer. We have always been impressed with Garmin's battery life, ever since we started wearing the early models a decade ago. That is key — a watch that needs to be charged all the time is not feasible for the typical triathlete.
All Garmin products now come with Garmin Connect, the interactive app that allows you to track workouts and share with other users. This is a nice feature if you have training partners who also use it — but for most people, more universal apps like Strava fit better, and are compatible with all kinds of devices. We like Garmin Connect, but it is not a reason we would choose a Garmin. It is a nice-to-have.
One of our favorite features in the new Garmins, though, is a calculator on how much rest time you should have based on your most recent workout — and if we have learned one thing, it is that most triathletes underestimate the importance of rest. Incorporating a rest feature into the watch shows that Garmin truly understands the finer points of training.
Pros:
Excellent profile on the wrist – a bit slimmer than other Garmins
Good battery life
Less-expensive way to get Garmin tech
Cons:
No golf or mapping features
More limited style options
Polar Vantage V2 Watch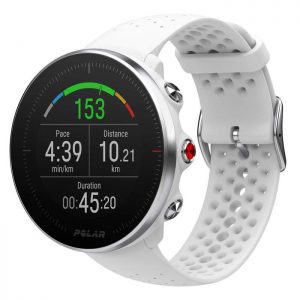 Polar is a Finnish company that might not have the name recognition of Garmin, but they make a really good fitness watch. Polar's late founder came from the EKG world, so he knew a thing or two about monitoring heart rates.
The Vantage V2 is in a new class of fitness wearables combined with simplicity and high performance of expensive watches in a single device. It is surprisingly functional and a great option for a triathlete who is willing to spend a few bucks on a good, accurate, and multi-functional watch. The professional triathlon racers will like the sleek design and the excellent waterproofing. It is a watch that can perform well in all three modes of triathlon.
If you want to save a few bucks, the Polar Vantage M (here) has the same design, but foregoes the run power meter, recovery tracking capability, and includes a battery with 30 hours of life (instead of 40). Otherwise, for most workouts, it will be similar.
Design
Unlike the bulky triathlon watches, the Vantage is sleek, and we like that they broke away from the square or rectangular design that has dominated the market for years. Theirs is a sleek round design, evoking memories of a more traditional wristwatch. Being less obtrusive than the other GPS-tracking watches, it looks perfect even on the skinnier wrists. The buttons are smartly placed so that you can operate the watch without any stress, and it should become second nature to you after a few good workouts.
The V2 model weighs in above 60 grams, about 50% more than the M model, due to the power functionality. It is not really any larger on the wrist, though, and the 20 grams of additional weight really are not noticeable in our opinion, due to the smart design of the watch.
When not in use during your workouts or recoveries, the Vantage doubles as a good-looking wristwatch with a regular (digitally created) watch face. That is a nice touch for folks who only want to own one watch. It has an impressive 2 weeks of battery life when in this smart watch mode.
Features
The Vantage is a perfect workout companion that functions as an activity tracker, precision monitor and fitness band. The watch has different modes depending on the activity you are performing, and while Polars used to be known for excelling on the run leg, we are pleased at the Vantage's performance in all three sports. You can choose from "Aqua fitness" to "Yoga" and even "Classic skiing." The waterproofing appears to work very well.
We like the built-in wrist heart rate monitor, and are big fans of the running power meter. That, and the "recovery mode" feature are the main things that separate the V model from the M. We have not looked in to the engineering on exactly how they accomplish it, but it is impressive nonetheless. One feature we like is the option of free training plans to be download to the watch, making it a true workout buddy.
One downside of the Polar brand is that the native app that goes with it is not quite a built-out as the Garmin. However, many people use these watches with 3rd party apps, like Strava, anyway.
The Vantage V is probably the sleekest watch on our list. It is great to see Polar up their multisport game.
Pros:
Sleeker than some of the competitors with similar features
Excellent functionality across many sports
Ability to download training plans to the watch
Cons:
Polar's app is not as widely used — no network effect
Because they only make watches and HR sensors, no other compatible equipment like Garmin has
Expensive
Garmin Fenix 7
We were eager to try the Fenix 7 after having used the Fenix 6 or nearly a year. We really like the Fenix watch and recommend it — if you have the budget for it. The Fenix 7 takes the functionality that was found on the Fenix 5 and 6 and improves on it.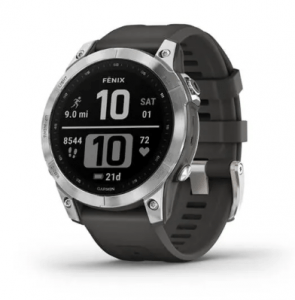 If there is one big thing to know about the Fenix 7, it is that it introduces touchscreen functionality to Garmin's lineup. A big step.
The old Fenix watches were known for having spotty GPS coverage any time the cover became wooded or surrounded by buildings, and the 6 did a better job, and the 7 continues to build on that. If you are one of those cyclists, runners or triathletes who doesn't mind making an investment in high-end gear, this might be the watch for you.
Made by Garmin, one of our favorite makers in the market, the Fenix has a brand standing behind it whose wearables we have been using for well over a decade.
There is also a version 7s — we assume the "s" is for "small", which is a bit more compact but loses none of the functionality. I have actually been wearing that watch personally for a couple months and really like the sizing.
If you are a hard-core triathlete / trainer, you might prefer the Garmin 955. But if you want really good functionality plus a sleeker-looking watch, the Fenix ix a real nice choice.
Design
While the price tag might seem excessive, look at it this way: This is a beautiful watch. It is more than just a watch you might wear on a run or during a race. This is a watch you may find yourself wearing every day, all day, the way that others wear the Apple Watch. We like the size, the design of the watch face, and the color options that make it elegant for a night out. When you start to look at it that way, the price becomes something on par with a nice watch you may buy in a department store. The brush stainless steel case looks more like something you would wear to work than the Garmins of old that were bulky and built-for-workouts-only.
The thickness, at .6 inches, might feel a little "chunky" compared to the older models like the Garmin 645, or even compared to the 945 or especially the 745 (abobve), but will work for most people. It is perhaps a little thicker than the Polar (.5″) but the design of the watch still makes it feel nice on the wrist. The 7s, which isn't thinner but has a smaller face diameter, feels more compact on the wrist than the 7.
Features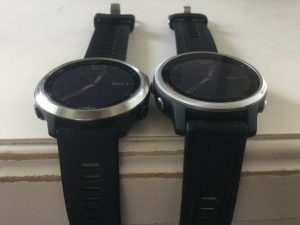 The Fenix 7 has a lineup of features that put it at the top (along with others) of the best on this list. To start, it can handle all three sports with ease — including being able to go 100 meters under water (as if anyone ever needed that capability). The watch includes a recovery advising feature which can allow you to monitor your non-workout time and activity, as well as the VO2 monitor. We like the running features in particular, including the ability to measure stride length and lactate threshold.
We really like the touchscreen – you will get hooked on it quickly. The Fenix 7 also offers more battery management options than previous Garmins.
Very important for many more dialed-in cyclists and triathletes, the 6 and 6s IS compatible with the new Garmin Rally power meter pedals. Older watches from Garmin are not necessarily compatible, so it is something to be aware of. The 7 and 7s also both have the body battery feature which tends to be popular with Garmin users.
Like the 945, you are going to be able to use this watch for everything from golf to skiing as well. And it is just as useful when you are not working out, monitoring everything from your sleep to water intake to resting heart rate.
The watch has a swim lap counter, a nice feature allowing an athlete to not have to count laps in their head. It also includes all the features of a tracker, including daily steps and other metrics. When you appreciate the fact that this is really your dress-up watch, fitness tracker, and workout watch in one, the price tags gradually becomes more digestible.
Many pre-loaded trackers and routines allow the watch to be used in many different settings. It even has settings for golf and skiing.
If you have the budget, and one a high-performing watch that really is several watches in one, give the Fenix 6 a serious look.
Pros:
Functionality for nearly every activity under the sun
Great 24/7 vital stats, such as HR and sleep
Compatible with other Garmin gear, like power meter pedals and bike computers
Touchscreen abilities
Cons:
Expensive
Will have more functionality that some people need
A little chunky if you are used to a slim watch
Fitbit Flex 2
Find here on Amazon.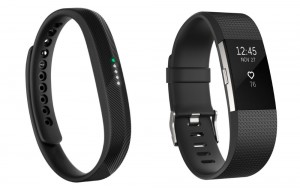 OK, we might get a little flack for this one, but the fact is not everyone needs a decked-out watch that can estimate your VO2 max and tell you how to get home on your 100 mile bike ride.
The Fitbit Flex is not a triathlon watch in the same way that the others are triathlon watches.
This is an option if you do not need to actively monitor each minute of your workout, and can live without some of the data that has become so commonplace with trackers. It is also a good option if you want to save a pile of money, and just track your exercise.
Do not buy this, say as a gift, for that Type A, hardcore triathlete in your life. Rather, this is a nice compromise choice for people who don't want a watchface on their wrist.
Fitbits are not often considered in the same league as Garmins and other sport-specific watches, and that fact is they are not. But sometimes, when it comes to multisport training, watches like the flex are worth a look. Despite having no display and heart tracking, Fitbit Flex 2 is worth the compromise for many, and comes at a significantly lower price. Thanks to its band-like design and effectiveness even in the water, it is a basic tracker that multisport athletes can use for all three sports. It has a long battery life and sleeker design with the ability to track your all the activities and sleep. It is connected to your phone and shows all the activities through an application.
With the strong brand of Fitbit, and the likelihood of the Fitbit lineup growing in the future, it is intriguing for triathletes to think about building their training database on the Fitbit platform. If you simply need something that can track your time and distance in the water, on the bike, and during the run, the Flex 2 fits that bill.
A very important distinction, though, is that the Flex 2 is not meant to be used to glance at your speeds and mileage within a workout — and that is exactly what many triathletes need. Instead, it is a great tool for looking back at your workouts over time and understanding how your training has been trending. Unlike the other options here, it is meant to be worn around-the-clock, so you can track much more than workouts. Such trackers have been shown to make a difference on physical activity and sticking to some regimen.
So think of the Fitbit Flex as a training and performance tracker, not a watch to actively use during your training. If that type of thing is your speed, then the Flex is worth a serious look. It is also not going to be compatible with most power meters, if that is important to you.
Pros:
Slim and skinny. You will forget it is there.
A good latent or passive fitness tracker
A basic fitness tracker for those who don't need all the functionality
Cons:
Not intended to actively manage your workouts (readout is too small)
Limited functionality for people doing many sports
We also did a review on the Wahoo Rival watch, one that we think could be an alternative for many folks.
Non-Swim Multisport Options
The devices listed above are all listed because of their ability to handle all three swims in a triathlon – the swim, the bike, and of course the run. It is always a bit of a debate on if it is necessary to use your watch on the swims, or simply save it for the bike and run. It depends on how serious of a swimmer you intend to be, and how much open water swimming you plan to do (we find GPS watches of limited value in a pool), and it isn't like you are going to glance at your swim pace often as you would during a run. We will say that the one time a watch is kind of nice in the water is for knowing the distance that you swam — open water swims are notoriously "approximate" in their distances.
If you are willing to not wear a watch in the swim and only track your cycling and running performance, your options open up considerably. If you are not taking them in water, you can consider several more Garmin and Fitbit models, including the Fitbit Blaze workout watch.
For years, we have not worried about our swim times and only put the watch on at T1, when we are ready to hop on the bike. It has worked just fine.
Compatibility with Triathlon and Cycling Training Apps
Most watches are now more than just wearables — they also are compatible with some of the better training and fitness apps on the market. That is important if you want to integrate all of your workout information into one, consolidated log.
Major manufacturers have their own platforms for tracking and planning your training, including Garmin Connect, Polar Beat, and Fitbit's popular Fitbit Dashboard. All will help you analyze your workouts, keep track of what you did and when, and help you share the information with others.
Some of the other apps to keep in mind that could be useful include:
Strava – the popular cycling and running workout tracker and community. All of the watches recommended above demonstrate some level of compatibility with Strava. We are huge fans of Strava, mainly because so many people are using it. It is the network effect.
Smart Cycling Trainers – The advent of smart bike trainers has brought a sophistication to indoor cycling that did not exist before. Many third-party apps, such as the one from Zwift, are able to sync with your Garmin, Polar, and other watch data for a complete analysis of your training.
Other Run Apps — Apps like Runkeeper and Runtastic are generally compatible with the data from your watch. However, these apps are really meant to be used on your phone.
Nike+. Nike+ claims to be the most popular mobile fitness app out there, with an estimated 30 million+ users. Luckily, Nike has made the product compatible with many of the watches listed above. They have a special affinity for the TomTom, a product they have co-branded with "powered by Nike."
Other Alternatives to a Triathlon Watch
We love a good triathlon watch because it can be so all-purpose, but there are some other good alternatives, too. It really comes down to your style and personal preference for your rides. Here are two options we see lots of triathlons go with instead of a watch.
A bike computer can be a nice option for cycling-first triathletes because it allows you to always know that you are going to have your stats on the bike, in a way that is conveniently mounted on your cycle. We believe it slightly adds to the bike safety, because glancing down at a well-mounted computer is often simpler than looking at your wrist, and adjusting the read (pressing a button) is much safer on a computer than fiddling with your watch. These bike computers have come a long way in recent years, and are now often GPS units, and very compatible with Strava and other smart phone features. The downside, of course, is that you are not going to use a bike computer on your run or swim.
In the bike computer market, we are anxiously anticipating the next Karoo model, and will write on it soon.
Many triathletes simply use their smart phone while training, where you can download a plethora of apps to help track your mileage, distance, and speed, such as the Nike+ app or Strava (we suggest Strava). This can be a good option, but you can't use it in the swim, and you are not going to have the same battery life that you would in the typical training watch or bike computer.
See the video to the right for a quick tutorial on pairing your heart-rate monitor watch to an app like Zwift. The video is geared for a run, but the concepts apply just as well to the cycling features.
Do you Really Need All of that Functionality in your Multisport Watch?
It depends. For many, the trove of data that a multisport watch can provide is a perfect. For others, it is a little over-the-top. The fact is that if you simply want to know how many miles you ran, and how fast, many trackers can do that.
For people who are trying to add precision to their training, though, these wearables are really pretty impressive. You can track everything from your sleep, to your 24-hour heart rate, to your stress level, to your workout intensity patterns. Heck, you can even track your downhill ski runs next time you are in Aspen.
Some people will want that, others won't. We suggest thinking about how you will use a wearable before buying one. You will pay a little more for every bit of functionality that you add. If personal experience is any indication, there is a pretty good chance that you will find you use more of the functionality than you originally assume, once you start using the watch on a daily basis — and it might not be the features you originally expected to use.
Final Thoughts on Tri Watches

The choice of a triathlon or multisport watch depends on your usage. If you are a professional, elite, or aspiring elite triathlete, or you just like knowing that you have the best gear out there, you should go with Forerunner 945. It has all the necessary features to help you during your training. For all the fitness enthusiasts not willing to spend quite as much, the other three watches are definitely good enough to provide training precision and some motivation on your runs, bikes, and swims. We have to say, though that the Polar Vantage is coming on strong with their latest round of enhancements, especially if you do not need a device that tracks your every way moment.
We should note that once you get used to the software and app that goes along with one brand of watch, there can be some efficiency to staying with the brand — especially if you don't rely on outside apps to analyze and track your data. That would be one reason to simply upgrade within the brand that you already use, if you use a watch already.
Some may ask the question, "why not just use your phone as a tracker?" We prefer a watch for a few reasons. First, it is built-for-purpose, and fits naturally on your wrist during even the hardest workouts. Second, the right watch can be used on your swims — you would never do that with a phone. Third, the battery life on a tri watch is far superior to that of your typical phone — a factor on your longer workouts or when starting out with less than a full charge. Finally, a watch will excel in poor weather — cold winter runs, or a rainy bike ride — when a phone might underperform or even get quite damaged.
This technology is changing so fast, though, and the peripherals you can use with the watches are in such rapid advancement, that we would consider this a ~2 year investment, and at that time you will probably be looking to upgrade.