A good triathlon wetsuit is one of the key investments most triathletes consider making at some point.  You don't have to buy one, but if you are racing in colder water conditions or doing a longer race, a wetsuit can really improve your racing (and training) experience.
Search for 'wetsuits' though, and you will find dozens if not hundreds of options.  Where do you begin?  We wrote this article to narrow it all way down for you.
Perhaps the most important thing to look for when you are shopping for the right wetsuit is to buy one designed specifically for triathlons.  The market is flooded with 'OK' wetsuits that are fine if you just want to snorkel or boogie board.  But swimming in a race is a sustained athletic motion, and triathlon wetsuits are specifically made for that motion.  Using a non-triathlon wetsuit in a swim leg is like riding a kids bike during the bike leg.  Sure, the right gear will cost a little more, but the additional investment is resoundingly worth it!
The Wetsuit Cheat Sheet
For those of you who don't want to read on, we will get right to the point:  Here are our favorite wetsuits by category for the 2023 season.
| | Entry-Level | Mid-Range | High-End |
| --- | --- | --- | --- |
| Top Choice | Blueseventy Sprint (Find Here) | Xterra Vortex (Find Here) (use code 'EBOOK') | Blueseventy Helix (Find Here) |
| Runner Up | ROKA Maverick Find here | Roka Maverick Comp II (Find Here) | Xterra Vector Pro (Find Here) (Use code 'EBOOK') |
| Typical Features | Basic paneling, moderate shoulder movement, built-for-triathlon | More varied paneling, features for Transition and comfort, buoyancy assist | Top-of-market neoprene paneling, excellent range-of-motion, advanced buoyancy |
| Expect to Pay | $250 - $350 | $350 - $600 | $700 - $900 |
Tri Wetsuits – What You Get for the Money
The price range of triathlon wetsuits varies significantly.  You could spend anywhere from $50 to $700 or more for something labeled as a triathlon wetsuit.  While the old saying that "you get what you pay for" holds true, it doesn't necessarily mean everyone should hold out for a top of the line wetsuit.
The model of wetsuit you purchase should reflect your triathlon goals, the level of your triathlon swim technique and conditioning, and how (and how often) you intend to use the wetsuit.
We have done a roundup of the various triathlon wetsuit price points, and categorized them for you.  This is intended to assist you as you determine which level wetsuit to purchase, and exactly what you get for the money.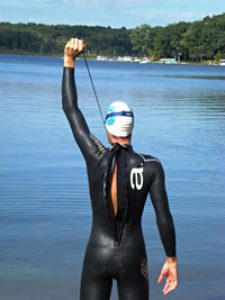 Of course, catching a good deal at the right time of the year can help you "upgrade" to a level above what you pay for, but in general terms, here are the the price points on good triathlon wetsuits.  Keep in mind that we are always on the lookout for great deals on wetsuits, and whenever we find killer deals we link to them from the various reviews we write for you on this site.
Spending More on a Wetsuit Gets You Better Swim Performance
In short, the more you spend on a wetsuit, the more sophistication you will get in a few areas:
Better flexibility at the shoulders, for your swim stroke
More varied paneling to provide the right coverage at the right places
Better buoyancy qualities to keep your body positioned just right
In some cases, improved thermal properties for wetsuits in the thermal category
When it comes to triathlon wetsuits, the various models tend to be more similar than they are different.  With that said, we admire the companies who are spending time and energy on research and development, studying the finer points of neoprene and swimming, in order to bring continually advancing technology to the market.
An Eco-Friendly Wetsuit Trend
It is not just about performance, though — We also like the move by companies to figure out what can be done to make wetsuits more environmentally-friendly, such as the work that we have seen Xterra do.  This is a welcome trend that we hope continues.  The fact is that neoprene is not very eco-friendly. It does not biodegrade, and when a neoprene wetsuit is thrown away, it is not going to break down in a natural way.
One simple thing you can do, in addition to finding eco-friendly companies, is to buy quality and then use the wetsuit for a very long time.  Fewer wetsuits discarded into the trash means that you can make a small dent on the wetsuit industry's impact on the environment.
We are often amazed how much the engineering can advance in just a short amount of time.  Still, we find suits at each price range that seem to provide a great package for a great value, and we've tried to outline them as well.
Level 1: Entry Level Wetsuits
Price Range:  $225 – $350
Summary:  Getting into the entry level triathlon wetsuit market from one of the major wetsuit manufacturers will provide you with a suit that can hold up to many races, provide the insulation you need in cold water, and provide the basic range of motion for a comfortable swim.  With this price range, you can expect a durable wetsuit material and strong seams, and addition to some in-demand features such as a easier pull zipper and more comfort on pressure points on your neck, wrists, and ankles.  Not only will the seams be stronger, but they should be made in a way that will lessen the level of rubbing and chafing on your skin (although not nearly to the comfort level of the higher-end suits on this list).
Who They Are Good For:  Age group racers who intend to make triathlon a regular hobby, but whose main goal is to finish and have fun, and Sprint racers who want to gradually improve their times.
Recommended Model:  Blueseventy Sprint
We love the Blueseventy Sprint.  It is an excellent wetsuit from a reliable maker for a reasonable price in the mid to high $200's. We have been fans of the Sprint ever since it came out several years ago, and we like that Blueseventy has not been complacent with it.  They keep refining the neoprene thickness and design to make sure you are getting a lot of wetsuit for $250.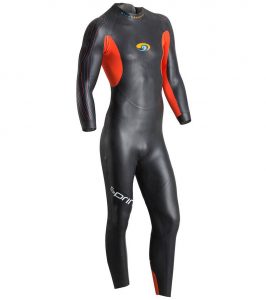 The easy-out ankles are a nice touch, with the back of the ankle/calf made out of a different and stretchy material that makes for a little easier final step of getting the wetsuit off.  Other manufacturers often cut-out the achilles area of the neoprene and leave it angled, but the stretch material is something we like.  We are also big fans of the oversized arm gussets which reduce the constricted feeling in the chest and armpits, and absolutely love the red accent on the back for visibility.  This visibility is most important when doing solo or small-group training swims in open water.
You are going to what Blueseventy calls the 3-4-4 profile, which basically means that it is built with panels that provide good, flat body positioning in the water.  For many newer swimmers, this is a really nice feature when you are in open water.
What makes the Sprint our clear winner is that it is not even at the top-end of the entry-level price range.  For 2022, it is priced at a reasonable $275.
Find the Blueseventy Sprint here
Runner Up: ROKA Maverick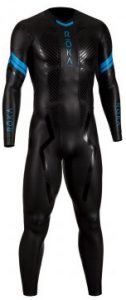 The Maverick is an excellent choice in wetsuits, something with a little different feel than the others we have been wearing for years — different in a good way.  ROKA calls the shoulder paneling "Arms-Up" construction, allowing for very good range-of-motion in the shoulder and arms.  Soft lining inside the suit removes any chafing that you might get from rough neoprene or seams.  Speaking of seams, we are big fans of how ROKA has paid lots of attention to reinforcing them, as the seam is often the place where a wetsuit begins to show its wear and pull apart over time.
A nice touch in the ROKA suits are small markers which allow you to know that you have put the wetsuit on correctly, with the right alignment.
If you are on the fence about this or a higher-end wetsuit, we always recommend going up to the mid-level.  After a few races and swims, you will be thankful for the better range-of-motion and paneling.  ROKA's entry-level wetsuit has an approachable price point for many, very much on par with the Blueseventy Sprint.  You really can't go wrong with either.
Level 2:  Mid-Level /Intermediate Wetsuit
Price Range:  $350 – $500
Summary:  Moving up to the mid level of triathlon wetsuits will provide one main benefit over the entry level:  Improved range of motion.  Do a long swim in a wetsuit, and one of the first things you will notice is that your shoulders get more sore than when you swim without a wetsuit.  This is due to the limited range of motion from the tight rubber and neoprene.
At the mid-level price point, manufacturers put more effort into using more flexible materials on key pressure points, allowing you to move more freely even though the wetsuit is still fitting tightly.  You may also notice some additional features surrounding construction that help you remove the wetsuit faster during transitions.  Finally, that this and higher price ranges, you can expect better overall buoyancy throughout the full body of the wetsuit and more comfortable interior lining.
Who They are Good For:  Avid age group triathletes who want to not only have fun and finish consistently but improve their times and potentially place toward the top of their age group.   Less avid racers who can afford it may want to step up to this level simply because it is easier on your shoulders and more comfortable.
Recommended Model:  Xterra Vortex
We really like Xterra's Vortex, an all-purpose suit from a maker we trust.  The Vortex just might be the best all-purpose wetsuit on the market.  We hear it is Xterra's best-selling wetsuit, and for good reason.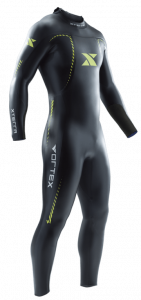 The versatile Vortex has excellent flexibility throughout the shoulders, chest, and arms, and numbers don't lie — you will notice at any race that this is a very popular wetsuit (for good reason) with plenty of racers using the Vortex as their wetsuit of choice.
As with many Xterra wetsuits, the shoulder flexibility is outstanding.  Reaching forward on the swim stroke is a completely natural motion, not inhibited at all by the neoprene or seams.  5mm neoprene along the front of the suit ensure you will be warm in those colder-water swim.
It offers the paneling and range of motion we would want in a suit in this price range, and we find Xterra's customer service to be outstanding.  They are fast on their shipping, and the return policy is flexible and swift.  The Vortex has been known to run a tad small, so allow enough time to try it on and do a quick return in the event you want to size up.
Find the Xterra Vortex Here, and use code 'Ebook' at checkout
Runner up: ROKA Maverick Comp II
As noted above when we wrote about the Maverick, ROKA has been doing a nice job lately with the price points on their wetsuits.  A few years ago, we did not have any ROKAs on our list because we couldn't quite figure out which price category they would go in.  Today, we are fans and feel that their suits are accessible for many.
Where the Maverick Comp II excels above is in the little things.  It has the great shoulder range-of-motion and centerline buoyancy that the basic Maverick has, but the seams are a bit more streamlined.  The neckline is a great example, it is a very nice, smooth, seamless neckline that feels thing but still seals the water out.  The arm and leg seams are equally smooth, and once you get in the water, you will not be fighting with your wetsuit which is important.  The buoyancy profile is also a touch better than the base-level Maverick due to a thicker centerline panel.
The Maverick Comp II also gives the neoprene a coating normally found in higher-end wetsuits, which should extend the life of it.
Level 3:  High End Wetsuits
Price Range:  $700 or more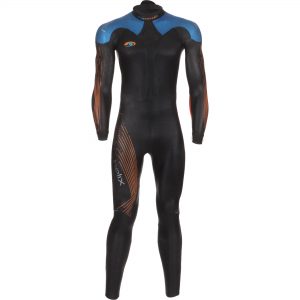 Summary:  You ever put on a pair of jeans and they just fit perfectly?  The high-end wetsuits spare no features when it comes to warmth, comfort and durability, but manage to do it in a package that is sleek and uses the least possible material.
At this price, you should expect a wetsuit to provide all the range-of-motion features of a mid level suit, plus a bit more.  In addition, manufacturers usually use their newest, most advanced material to create a suit that is warm and durable, and the best interior lining to create the highest level of comfort.  Seams should be perfect at this price point.  A final feature common at this price point is construction that actually helps your body stay more balanced in the water and encourages the right level of body roll during the swim.
Who They are Good For:  Elite triathletes, age groupers who tend to finish at the head of the pack, and those who know they will be able to use the suit for many, many races and other open water swims.  This level wetsuit is also good for those who need the best possible range of motion to prevent injury (such as those with chronic rotator cuff problems).  Note that these premium wetsuits are going to be more sleek and thin, so making sure that they work well with your entire triathlon clothing system is important.  You do not want to end up with a sleek, high-end wetsuit over a cheap, bulky pair of triathlon shorts that are bunching-up underneath.  It is best to have some level of consistency in terms of the gear you are layering on top of each other.
Note that at this price point, you might also find specialized "thermal" wetsuits.  These are made with warmer materials for those who, say, swim in the Northern ocean areas or in very early-or-late season temps.  You will pay much more for these, and in our opinion they really only benefit a tiny fraction of triathletes.
One thing we have found with high-performance wetsuits is that they tend to tear more easily, because the the same thin neoprene that feels so good and light to wear is also more prone to rips and inadvertent tears.  Be careful when you are putting a higher-end wetsuit on, watch your fingernails, and make sure you store it in a place away from any sharp objects.  It doesn't take much to cause a rip — but if you do, they are easy to fix.
Recommended Model:  Blueseventy Helix 
There are so many great wetsuits at this level, it is hard to know where to begin.  At this price, all manufacturers make high quality products that we love.  One model that gets rave reviews from racers is the Blue Seventy Helix.  In the past, Blue Seventy had also offered an Axis wetsuit at the high-end, but we believe they discontinued it because no maker needs two top-end wetsuits in their lineup, leaving the Helix as their masterpiece.
We love the soft feel of the Helix, the thin neoprene in all the right places, and LIFT technology that really puts a swimmer in a nice body position for a long swim.  The reverse zipper is a nice touch, allowing the zipper head to be at the small of your back during the swim, rather than competing for space around your neckline.  We have personally used this wetsuit, and think the excellent range-of-motion makes it a great choice.
One nice thing about the Helix is because the suit is made with relatively thin skin in parts, it feels much better – almost breathable – when you are not yet in the water. This is a nice touch for those races when you find yourself waiting for your wave to start.
Find the Blueseventy Helix Here
Runner Up:  Xterra Vector Pro
This is more of a 1A and 1B situation than a true 1st place and 2nd place.  The other heavy-hitter that we have personally used and really like is Xterra's Vector Pro, an outstanding suit that feels great in the water and allows for such good range of motion you may forget you have a wetsuit on.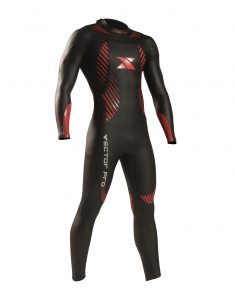 For swimmers who want a suit that gives them virtually no shoulder restriction and just feels fast, the Vector should be a serious contender.
The shoulder flexibility on the Vector Pro is outstanding, allowing you to swim with your completely natural swim stroke instead of fighting the neoprene.  We love the low-profile neckline, which lays nice and flush and adds to the comfort.  Some necklines tend to want to crawl up and around as you move in the wetsuit, this one stays put and set for the entire swim.  For 2020, the Vector does not come in a sleeveless option, but the high-end Vengeance does.
Xterra only sells direct to consumer, and extends a discount if you use our code, 'EBOOK', at their site.  With the discount, you would really be hard-pressed to find a better wetsuit for the money.
Find the Xterra Vector Pro Here, and use code 'EBOOK' at checkout
Below Entry-Level:  Not Ready for Prime Time
Price Range:  $50 – $150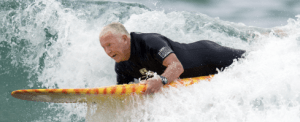 Summary:  A quick Ebay or online search will yield several hits for very low cost wetsuits, typically made of very basic materials and simple manufacturing.  While it might be tempting to save money on your first wetsuit, these models do not have the construction quality of wetsuits that cost just $50 more, and will not keep you insulated nearly as well as better suit or provide anywhere near the range of motion in the water.  The first signs of the poor construction will be evident when the zipper breaks or the suit gets nicks or cuts from the smallest incidents, and the buoyancy of the wetsuit will not be as good as the higher levels.  We also notice that the seams on these wetsuits are not as strong as better suits and are often uneven or raised (which can cause chafing).
We hate to be such downers, as we generally want to encourage everyone to participate in the sport of triathlon and get in better shape, but we are also believers in buying quality that will last.  My first (and last) foray into the world of cheap wetsuits ended the 3rd time I wore it, when the entire zipper busted as I was exiting the water during a race.  The next wetsuit I bought was a much better quality QR model.
Who They Are Good For:  Someone who intends to only do one triathlon, is on a budget, and doesn't have a rental or borrowing option.
Recommended Model:  We don't recommend any models from this level.  We would encourage you to rent a better wetsuit rather than buy a model that won't last long or one that is not made for triathlon.  The exception is for youth wetsuits of you happen to have a child doing a kids triathlon.  The sub-$150 price range provides some quality in the kids' wetsuit market. The Blue Seventy Torpedo is a great example of a quality youth wetsuit in this price range.
We know it can be tempting to save money and buy that cheap wetsuit you find online, but your race experience won't be good, and the wetsuit will likely just sit in storage for the rest of its life, next to that low-quality stationary bike you bought 10 years ago!
Recap: What to Look for in a Triathlon Wetsuit
To find the right triathlon wetsuit for you, you need to balance a few things.
Fit.  A wetsuit that fits well is perhaps the most important thing.  Keep in mind that if the legs are a bit too long, you can literally cut the neoprene off so it is the right length.
Range-of-motion.  Having a good range-of-motion, in the hips and especially the shoulders, helps you swim in a natural way despite having a wetsuit on.  This is where "panels" come in — the idea of having different thicknesses of neoprene strategically placed on different parts of the suit.  For example, you don't want your thickest, stiffest paneling to be in your shoulders.
Buoyancy.  All wetsuits help your buoyancy, but some help more than others.  Get one that has extra neoprene in key places if you want a little extra assist.
Strong seams.  Having seams that don't rip open is key, as this is often the first sign that a wetsuit is going to fail down the road.  The best seams for triathlon wetsuits tend to be a reinforce glue + stitch combination.  This creates a strong seam that should also be comfortable against your skin.  Cheaper suits use only stitching, with no glue.
Sleeves or Sleeveless.  For most models, you have a choice between a sleeved wetsuit, or sleeveless.  Sleeveless are almost always at least $100 less than their counterpart, but in return you forego much of the advanced engineering in the shoulders and back
Neoprene quality.  You want a suit with Yamamoto or Limestone-based neoprene, because it is superior in the water, more durable, and its construction process is better for the environment.  Some cheaper suits use petroleum-based neoprene.  Avoid those for multiple reasons, not the least of which is that they don't perform as well.
Brand.  We try not to be brand snobs, but the point here is to buy your wetsuit from a triathlon wetsuit maker, not just someone with peddling neoprene suits
Price.  As with any triathlon gear, find a wetsuit that is in the price range that suits you.  You have other gear to buy, so don't break your budget on any one item.
Triathlon Wetsuit FAQs
Are triathlon wetsuits the same as ocean or surfing wetsuits?
No. They are very different.  If you are buying a wetsuit for triathlon, you want to get a tri-specific wetsuit.  Among many other things, it will be designed to provide more range-of-motion in the shoulders, and will be cut in a way that allows for rapid removal when you are at Transition 1.
What are wetsuits made of?
Most wetsuits are made with a neoprene base. Neoprene is a rubbery material, but unlike rubber the neoprene used in wetsuits is open cell.  That means that the wetsuit actually gets saturated with water, but not in a heavy or dense way.
How long does a wetsuit last?
This all depends on two things: How it is used, and how it is stored.  A wetsuit that is used carefully, meaning that you aren't using it against rocks and are taking care when putting it on and taking it off, will last for dozens if not hundreds of swims.  Storing the wetsuit correctly is also important.  Be sure it is not stored near hot heat sources that will dry it out, near sharp objects, or in the sun.  If you take care of your wetsuit, it might last you for many years.
What do you wear under the wetsuit?
Not much.  If you are doing a triathlon, you typically will wear your tri shorts and perhaps a tri singlet on top, or you might have a triathlon suit.  But that is it.  You don't want anything bulky under the suit, or it could begin to double-up.  They key is for everything to be slim and sleek.
Conclusion
Regardless of where you are in your triathlon journey, having the right wetsuit is important.  If you skimp, you will regret it during the first leg of every race you ever do.  What is the point of buying a cheap wetsuit, only to buy a better one after your very first race?
In addition to helping you on race day, a good wetsuit will support your triathlon training plan by allowing you to be more comfortable in the open water.  Overall, just like we do with triathlon bikes, we recommend buying the nicest wetsuit you can reasonably afford (but within your budget, of course).  Do that, and you will get comfortable with the wetsuit over time, and have the benefit of really getting your money's worth instead of feeling the temptation to upgrade after just a few uses.
About the Author
Von Collins is an avid triathlete and member of the triathlon community.  He has been a frequent writer on triathlon and swimming-related topics for over a decade, and wrote the book on being a new triathlete, Your First Triathlon Guide
Von Collins is an accomplished triathlete and cyclist, and the author of four fitness and training books: Smarter Running, Your First Triathlon Guide, Fit Foods, and 30 Rut-Busting Workouts.
Von has been cited as a triathlon, cycling, and fitness expert by Healthline, CNET, Forbes, Eat This, Not That and other major outlets.
Von has done dozens of triathlons and endurance bike races, coaches, and is an avid part of the cycling and triathlon community.