When it comes to multisport watches, you have quite a few options. As you research your options, you will quickly realize that many of your best ones are from Garmin.
Garmin is a top-rated, trusted brand with several models to choose from which are great for athletes, cyclists, triathletes, and runners. If you're having trouble deciding which to go for, here's a rundown on the differences between two of their popular lines for triathletes and cyclists: The Fēnix and Forerunner.
Many athletes end up going between the Forerunner and Fenix as their final choices, so we thought we would put them head-to-head.
Most Current Models
What We Like
Best For
Check Price
Garmin Fenix
Fenix 7
-All-purpose
-Suitable for many activities
-Compatible with all new Garmin products
-Attractive style options
Active runners and cyclists who also ski, golf, and more
From Garmin

From Amazon
Garmin Forerunner
Forerunner 945 / 955
-Slightly thinner on wrist
-Built for athletes
-Compatible with all new Garmin products
-Don't forget the 745, not as advanced but very slim
Triathletes, runners, cyclists, and swimmers
From Garmin

From Amazon
Garmin fēnix
(Find it here) The Garmin fēnix comes in a variety of different models designed for different needs and wants and is currently on the 7th generation, but you will still find some of the Fenix 6 models on the market. Originally offered in 2012, each fenix generation has packed more functionality into an attractive design. It offers all of the functionality that Garmin puts in to watches — we consider it the top of the line in terms of Garmin multisport wearables.
Garmin Fenix Options
At the moment, the Fenix comes in a few main options. Within those main options, you have an abundance of watch face and band choices, all of which can be found at Garmin's website.
Garmin fenix 7. The standard. It is a full-featured wearable and fitness tracker, with Garmin's typical 5-button layout. It is going to be compatible with pretty much every Garmin product out there, ranging from the heart rate monitor to the Rally power meter pedals.
Garmin fenix 7s. A smaller version of the 6, for people who prefer a smaller watch face. The 6s is sometimes assumed to be for people who have smaller wrists, but we know lots of big guys who just don't want to have a massive watch. A 7s is comparable in size to the watch that many people might buy at a watch or jewelry store (but make no mistake – it is a high-functioning fitness watch).
Garmin fenix 7x. A larger watch face than the 6, more of a military-grade watch with premium materials. It also has some nice features like 2,000 ski area maps built in to the unit.
Who is the Garmin fēnix for?
The Garmin fēnix is designed for all types of athletes, especially ones who spend a lot of their time outdoors. It is an all-around health tracker, but in our experience you can really take advantage of the benefits when you are on the move outside, such as cycling, running, or skiing.
The fenix is ideal for those who need a watch that can stand up to rigorous training and the wear and tear that comes with being outside in the dirt, sun, and snow, but also want a watch that is going to look good when worn with street or business clothing, especially the fenix version with the metallic bezel. This is where it has an advantage of the Forerunner, which looks more sporty and casual.
Whether you prefer to golf, swim, run, or climb, the fēnix has the tools you need to make it an adventure. Additionally, some of the models come with solar power, meaning you can take it on a longer workout or trip without having to worry about battery life.
Depending on which model you opt for, the bands are designed for wrists between 108 to 225mm. It's also great if you want a slightly larger display size in a watch.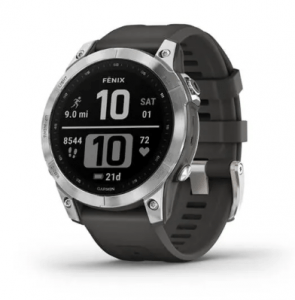 What is the Garmin fēnix made out of?
In order to stand up to the harsh conditions you'll be in, the Garmin fēnix needs to be made of the best material. Each of the materials depends on the type of fēnix you purchase, but here's a quick explanation of what you can expect from each part of this Garmin watch.
Lens
A majority of the Garmin fēnix watches come with Corning® Gorilla® Glass DX. You can also opt for Sapphire Crystal if you want to spend a little extra. For those with solar power charging capabilities, the watch comes with Power Glass™.
Case
Each fēnix comes with a fiber-reinforced polymer case with a metal rear cover.
Bezel
The bezel, or ring that holds the watch face in place, can come in either stainless steel, titanium, or diamond-like carbon coated titanium.
Strap
Garmin fēnix watches come with a variety of different strap materials including silicone, leather, fabric, suede, and metal. Pay attention to the strap material you choose. Some will only fit a specific wrist circumference. On the 6, for instance, a silicone band will only fit between 125 to 208 mm wrist circumferences while a metal band can fit 132 to 215 mm.
How is the battery life on the Garmin fēnix?
The battery life varies quite a bit on the different models of the fēnix. While most last 14 days, you can get up to 59 days on the 6S – Pro Solar Edition with battery saver and solar on. It's important to note that some features will drain your battery faster, especially if you are connected to other devices such as pedals or other monitors. Battery saver mode helps, but reduces some functionality.
What features do the fēnix watches come with?
Designed for the outdoors, the fēnix watch comes with everything you could need while heading out, especially if you use Garmin Connect™. In addition to normal clock and smartwatch features, you can see some of these:
Health

Heart rate, including alerts when your heart rate is abnormal
Oxygen level tracking
Stress levels
Sleep score
Hydration
Activity tracking
Gym activity profiles
Performance tracking

N

avigation and Sensors

GPS
Compass
Barometric altimeter
Gyroscope
Thermometer
Weather

Safety

Sports Apps and Tools

Preloaded profiles and tracking tools for running, swimming, skiing, golfing, climbing, biking, rowing, kayaking, surfing, jumpmaster, tactical, cycling, snowboarding, and paddleboarding
Daily workout suggestions
Recovery time suggestions

And more

Music storage
Connectivity with iPhone® and Android™, and Bluetooth
10 ATM water rating
Garmin Fenix 7 vs. Fenix 6
You may have noticed that Garmin keeps cranking out new versions of the Fenix. The Fenix 6 was the watch of choice until recently, when the Fenix 7 became the model that Garmin is marketing. We tried both, and the single biggest difference is that the Garmin 7 has a touchscreen. You might think this is a small device to have a touchscreen, but you will get hooked on it pretty fast.
Beyond that, the Garmin 7 also offers some power management options, and VO2 tracking options that the Garmin 6 did not have.
Garmin Fenix Pros
The most advanced functionality and tracking of any Garmin watch
Very attractive when orders with the right options
Touch screen (on the model 7)
Garmin Fenix Cons
Expensive
A little thick on the wrist — we wish it was thinner
Garmin Forerunner
The Garmin Forerunner has been around in some form for years — since 2003 to be exact — but they keep upping their game with new models. Going with the latest model Forerunner is another great choice when looking at multisport watches that can be worn 24/7. Here's what you need to know: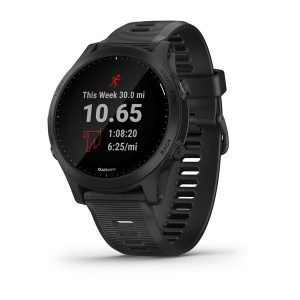 Garmin Forerunner Options
(Here on Amazon or buy Direct from Garmin) The Garmin Forerunner is currently in its 900 series, and our first one back a decade ago was the 100 series. You will want to get a later model if you want the watch to be compatible with add-ons like the power meter pedals.
Garmin Forerunner 945. The standard. A great multisport watch that gives you everything you will need for training in a surprisingly light watch.
Garmin Forerunner 945 LTE. Like the standard version but with real-time tracking features so loved ones or coaches can monitor your progress.
Garmin Forerunner 745. A very good triathlon watch that is not bulky, but lacks some new features and the ability to integrate with Garmin's newest devices. For those who want a slimmer profile Garmin, we really like the 745.
Garmin Forerunner 955. A great new watch that incorporates advanced features like weather reporting and stamina monitoring, like the Fenix 7.
Other Forerunners — not featured here since they are designed for simpler use, like the Garmin running watches which are very good but don't accommodate cycling or swimming very well.
Buy them all direct from Garmin for best shipping and service.
Who is the Garmin Forerunner designed for?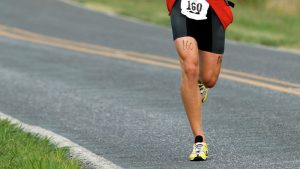 While the Garmin fēnix is designed for every sport under the sun, the Forerunner is specifically made for runners, cyclists, and triathletes. If you are absolutely dedicated to running or biking and
are up at dawn, this is an amazing choice that will check all the boxes you're looking for and need in a watch.
The Forerunner comes with a slightly smaller display size compared to the fēnix and can fit wrist circumferences between 124 mm and 220 mm, depending on the model you opt for.
The look of the Forerunner is a bit more rugged than the fenix. For someone who intends to wear the watch with business or dress clothing, the fenix is probably more suited. But the Forerunner screams "I'm an athlete" with its look.
What is the Forerunner made out of?
The Forerunner is made out of materials that will serve you well as you head out for your morning, afternoon, or evening run. Here's what you need to know about the lens, bezel, strap:
Lens
Most of the Forerunner watches come with Corning® Gorilla® Glass DX. The lower end models come with chemically strengthened glass.
Bezel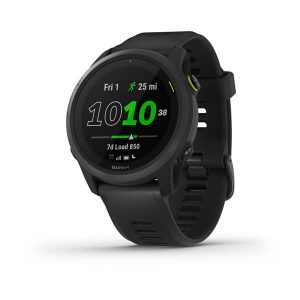 While the lower end Forerunner watches don't come with bezel, the others come with fiber-reinforced polymer.
Strap
Every one of the Forerunner models comes with a silicone strap. Some also feature quick release bands. You can upgrade the straps on all Garmin watches for an extra cost.
How is the battery life?
In smartwatch mode, the Garmin Forerunners can generally run about 1 to 2 weeks. GPS mode, music, and other features can shorten the battery life. Like the Fenix, it has a battery saver mode which greatly extends the battery in exchange for disabling some features.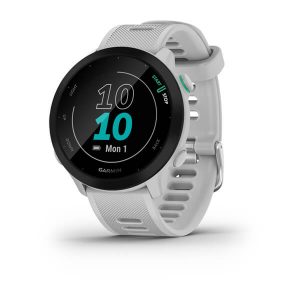 What other features do the Garmin Forerunner Watches come with?
Like the Fēnix, the Forerunner models come with a variety of features you need and want when you're hitting the pavement. Some of the models and Garmin Connect™ include these:
Health

Heart rate, including resting heart rate and abnormal alerts
Respiration rate
Blood oxygen levels
Relaxation reminders and timers
Sleep score
Hydration levels

Navigation and Sensors

GPS
Barometric altimeter
Compass
Gyroscope
Accelerometer
Thermometer
Weather

Safety

LiveTrack
Assistance
Assistance Plus

Sports Tools

Activity tracking
Gym activity profiles
Workouts
Analysis features
Run, cycling, and swimming profiles and features
Golfing tools

And more

Music storage
Connectivity with iPhone®, iPhone®, Android™, and Bluetooth
5 ATM water rating
Stores up to 200 hours of activity data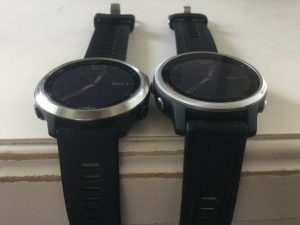 Choosing between the Garmin fēnix and Forerunner can be difficult, but first identifying your activities and what you need and want in a watch can make the decision much easier. The Garmin fēnix is perfect for all types of sports and locations under the sun, can hold more apps, and has the ability to be powered by the sun. The Garmin Forerunner, on the other hand, is an amazing choice if you're a dedicated runner or triathlete looking to up your game and don't need all the tools for other sports.
Garmin Forerunner Pros:
Garmin's go-to watch for triathletes and cyclist who want tried-and-true functionality
Not as chunky on the wrist as the Fenix series
Built-in mapping
Garmin Forerunner Cons:
A less elegant look when used as a dress watch
Slightly shorter battery life than the Fenix
Our Verdict: Fenix or Forerunner?
If what you want is a full-functioning, effective cycling, running, or multisport training watch that is compatible with Garmin's newest products, and don't want to skimp, go with the Forerunner 945 (find it here at Amazon). It is a great all-around watch that brings the best of Garmin to your wrist. Plus, it is actually a little lighter and slimmer on your wrist than the Fenix, which can feel a little "chunky" to us in some situations.
The other watch to perhaps throw into the mix is the Wahoo Rival. It is a good, long-battery watch for cyclists and endurance athletes, but of course lacks the Garmin compatibility that many love.
If you plan to use the watch for golfing in addition to other sports, or if you want the option of a smaller form factor on the 's' version, then you probably should consider the Fenix instead. But our pick is the Forerunner.
We recommend buying direct from Garmin for best shipping and service. You can also find these watches at most major electronics or sports retailers.