Cycling enthusiasts have a way of making things a little overcomplicated, and you have a look no further than the pedal and cleat systems for a case-in-point. Most cyclists (including us) are gear junkies and will tell you that each cleat and pedal system has a pro and a con, and they all have a place in the market.
For a non-gear-junkie, though, this can make the world of bike pedals and cleats more complex than it really needs to be. As a beginner or progressing cyclist, you will need to make a decision on which system (or systems) you commit to. This will affect the shoes that you buy, the pedals you put on your bike(s), and other decisions.
We were new to all of this once, and wanted to try to break it down for you. Here is our overview on the common bike cleat types, and some recommendations on which you may want to consider.

| Cleat Type | | Best For | Downside | Our Favorite |
| --- | --- | --- | --- | --- |
| SPD | | Mountain bikers, general-purpose cyclists, and indoor cyclists. | Not max power - power is transferred in a small contact point. | Check Price |
| Look | | Higher-end road cyclists who want max performance. | Not great for mountain bikes. | Check Price |
| Speedplay | | High-end road cyclists. | Uncommon. Not compatible with indoor cycling. | Check Price |
| SPD-SL | | Cyclists looking for broader platform. Gaining popularity. | Compatible shoes tend to be hard to walk in. | Check Price |
Most Common Types of of Cycling Cleats
SPD Bike Cleats
The SPD pedal is perhaps as close to a universal standard as there is in cycling, knowing that there will probably never be a true standard. The SPD is the most common kind of pedal and cleat you will find, perhaps with the exception of plain old generic kids pedals.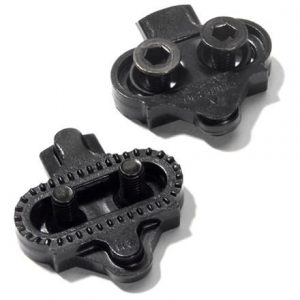 The kicker for road cyclists is that the SPD cleat was really developed for, and is probably most universally known as, a trail and mountain bike pedal. Still, SPDs work great on road and triathlon bikes, and there is nothing wrong with using them if that is what you are most comfortable with. We have known many road and tri cyclists who prefer to ride on SPDs, just for the ease of use, because they prefer the shoes, or because they just want to have one cleat system across all of their different bikes.
SPDs are known as a "two-bolt" cleat because they attach to the shoe with two bolts. This gives the rider a feel of a more fixed attachment point on the ball of the foot, with the power transfer perhaps ever-so-slightly reduced when compared to a three-bolt system.
What are the advantages of an SPD? Many. First, the shoes they are compatible with are quite comfortable, and generally easier to walk in. This is a benefit if you like to get off the bike and walk around a town, a coffee shop, or any other site during your rides. Second, we find these cleats to be the easiest to clip in to when you are stopped, at a stoplight or just starting out. That means less messing around when you are near heavy traffic.
Finally, this is the type of pedal / cleat combo you will often find on the bikes at spin classes or bike rentals as well, making it a good go-to cleat if you can only choose one. If you happen to rent a bike on the warm-weather vacation, or want to take the occasional spin class at your health club, the odds are best that the bikes will be outfitted with SPDs. They are the closest thing to a universal cleat that there is (remembering that there is no such thing as a true universal cleat).
Best For: People who want a highly universal cleat that will fit on many pedal designs, gravel bikes and mountain bikes, spin class bikes, and other cycles. Also great for people who want highly-walkable bike shoes to go along with their cleat.
Not For: High-end road cyclists, because many of the top-market road cycling shoes are not compatible with SPDs
SPD Shoe We Like: Giro Carbide (find here). A good shoe and an absolute bargain.
SPD Pedal We Like: SPD EH500, Dual Platform (find here)
Look Bike Cleats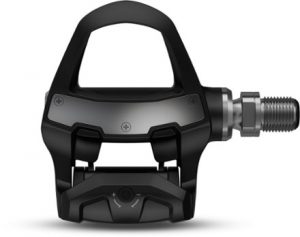 Look pedals are common with the road biking community, but not so much in mountain biking and you will rarely find them on spin class bikes. Look pedals are a classic 3-bolt pedal, with the cleat connecting to the shoe using three points of contact for a more. This gives them a broad power based, and they have a wider contact platform. The cleats are compatible with most of the top road biking shoes on the market today.
A native of the ski industry, Look took many of the concepts they were working with in the ski binding world and applied them to bike pedals. Through some trial and error in the 70s and 80s, they perfected the design and became one of the more popular cleat/pedal combos on the market. Look pedals give the rider a bit of "float", meaning you have some side-to-side movement in your foot even when fully clipped-in. This is easier on the knees, as it allows the leg to follow its natural range-of-motion with each pedal stroke. They have a bit more of a plasticky feel, and a triangular shape that embodies the three-bolt design.
The two main lines from Look are the Delta and the Keo. They look similar but are not identical. The Delta tends to be popular with indoor spin class bikes, and is actually compatible with Peloton. Keo is intended more for outdoor road bike use.
We like the efficiency of the power transfer in Look pedals and cleats. You feel like you are getting a nice, stiff, direct transfer of your effort to the chainring with every stroke. We also like that the shoes compatible with Looks are stiff and high-end, perfect for serious road riders and triathletes.
What is not to like about the Look system? Probably the most obvious thing is that shoes equipped with Look cleats can be hard and a bit slippery to walk in. Do not plan on having a normal gait and stride if walking around your destination in your Look shoes. And they are a little less universal than other options when it comes to things like spin classes and renting bikes on the road. If you are on vacation and plan to rent a road bike for a long tour, you may need to bring your own pedals in addition to shoes.
Look cleats look and perform almost identically to the SPD-SL cleats (not to be confused with SPD cleats). They are basically twins. We write more about the SPD-SLs below, but if you are looking at them side-by-side, they will appear to be one in the same. Unfortunately, the two systems are not entirely compatible with each other, so take take to get the right system for you. Many people have been able to clip their SPD-SL cleat into a Look pedal in a pinch, but it is not a good long-term answer because the systems are just a little different.
The cleats are plastic, and they will wear down over time, so you will need to replace the cleat on the shoe once or twice each season.
Quick note: There is a version of a Look pedal that actually has a built-in power meter. It isn't cheap, but can be an easy way to measure power if you are considering doing so.
Best For: Higher-End Road Cyclists who want high-performance but don't mind a shoe that is difficult to walk in
Not For: Mountain bikers, or people who will mainly cycle in spin classes
Look Shoe we Like: Sidi Alba (find here)
Look Pedal we Like: Look Keo 2 Max (find here)
Speedplay
Speedplay pedals and cleats are a notch or two down in terms of popularity, but they tend to group of dedicated road cyclists who are very loyal to them.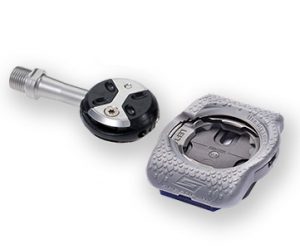 Looking at a Speedplay pedal, it looks a little funky when you first see it. The clip is circular. The platform can be quite large, or next-to-nothing, depending on which pedal you choose.
Quickly, though, you see that the functionality is quite good. Speedplays usually have dual-sided surfaces, which is great when you need to get clipped-in in a hurry (like at a busy stoplight). They have very good adjustability for things like clip pressure and float. And they tend to be lightweight compared to the other options out there.
So what are the downsides? The most obvious one is price. Speedplay sits at a price point that is usually a notch above the other options. Compatibility is the other… you usually do not see many bikes that just happen to have a Speedplay pedal…. Or shoes that happen to have a Speedplay cleat. They are typically something that someone who is part of the Speedplay cult has.
Speedplay pedals use a four-bolt system, unlike the two-or-three-bolt systems that are more common in pedals. We like, though, that they built most of their cleats to adapt easily to the three-bolt shoe, something the allows users to still have excellent shoe selection even though the pedal can be a bit random.
It is a great pedal if you are a cycling purist who wants a high-end, light cleat and pedal. It is probably not the best choice if you are looking for something that is highly compatible with your friends' bikes.
Best For: Avid road cyclist who want a unique, higher-end pedal and cleat system
Not For: Beginners and intermediates who just want a good, all-around system
Speedplay Shoe we Like: Lake 403 with Speedplay Soles (find here)
Speedplay Pedal we Like: Wahoo's Speedplay Comp Pedals (find here)
SPD-SL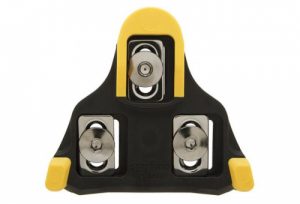 SPD-SLs are nothing like SPD cleats. In fact, we wish Shimano would find a different, distinct name for them because they can be confusing to some. For now, we will just call them the SL cleats, because about the only thing they have in common with true SPDs is the naming.
The SLs really resemble the Look cleat and pedal design in style and feel. Like the Looks, they are a 3-bolt system with a triangular profile. Like the Looks, they have a broad and wide platform so the foot has plenty of surface area on the pedal to transfer power. And like the Looks, they have impressive float from side to side to provide comfort to any cycling stroke. We ride the SLs on some of our road bikes, and love them. They are compatible with many of our favorite shoes, shoes which are stiff and high-performance, and we feel give us max speed.
The plastic cleats tend to wear down over time, especially if you walk on them a lot, so expect the cleat piece to be a supply that you need to replace a couple times a year.
A common question is "are the Look and SPD-SL systems interchangeable?" The answer is not entirely. A three-bolt shoe that first a Look cleat will also fit an SL cleat. But the sizes are just a few millimeters off when it comes to the cleat-pedal fit, so a SL cleat needs to fit to an SL pedal. A Look cleat is needed in order to properly fit to a Look pedal. You can probably use one cleat in the other's pedal in a pinch, but it would never be your long-term solution.
SPD-SLs tend to be used more on road and triathlon bikes. They can be a bit big and hard to disengage quickly from, which makes them not ideal for mountain biking where you need to be super nimble and low-profile.
Best For: Advance road cyclists who want great power transfer and compatibility with excellent shoes
Not For: Leisure riders who like a versatile shoe/cleat, and value the ability to walk comfortably in their bike shoe
SPD-SL Shoe we Like: Sidi Alba (find here)
SPD-SL Pedal we Like: Shimano Ultegra R8000 (find here)
Beginner Tutorial: Cleat and Pedal Basics
Maybe you are reading this, but still saying "This is great, but I just want to know how to clip onto my bike with those fancy bike shoes." We will back up a second, and give you the overview.
3 Things You need:
There are three components that we have been mentioning pretty interchangeably above, but it is worth spending a minute on each one just to be sure we aren't glossing over the basics for those who are new to cycling (and if you are one, we are glad you are here!)
A Pedal
A road bike usually comes either with no pedals, or with very basic alloy pedals which are intended to be swapped out by the buyer. This is because each rider has a different type of pedal that they prefer, and someone may want to invest $50 in pedals while the next person is ready to spend $250. As you can gather from the info above, the pedal you choose will make a difference in the cleat that you then put on to your shoe, as well as the shoe itself.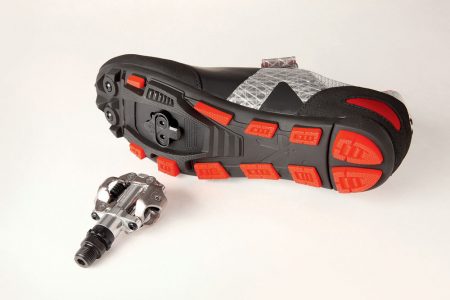 Putting a pedal on your bike is a piece of cake. Each bike is made with universal threads that a pedal can screw in to. Just remember, the right pedal loosens by turning counter-clockwise, whereas the left pedal loosens by turning clockwise. This throws some people off.
For installing and removing pedals, there is a thing called a pedal wrench (like this one at Amazon) which makes the job more efficient, but most people with some basic wrench tools at home can fasten and loosen a pedal very easily. Some pedals use an Allen-style wrench instead of a pedal wrench. Keep in mind that when you remove a pedal after lots of use, it can be quite difficult to unscrew. Consider adding some bike lube or WD40 to help it.
You will hear the term "clipless pedals" mentioned often, but most pedals nowadays are clipless. There was a day when you would need to actually fasten your shoe/cleat onto the pedal, but fortunately those days are long gone.
A Cleat
The second thing you need is a cleat. As you can see from our reviews above, the cleat needs to be compatible with the pedal you choose. An SPD cleat can not "clip-in" to a Look pedal, and so on. The cleat that you choose also makes a difference on the shoe that you choose, as the configuration of the holes for screwing the cleat on to the shoe can be different by shoe. Some are made for the two-bolt SPD, others for the 3-bolt SL, and so-on.
Putting the cleat on to the shoe is easy, and can be done at home with an Allen wrench. You can typically adjust the positioning of the cleat to best align with how your pedal stroke moves. Be sure to adjust it throughout the first few rides to be sure the point of contact between your foot and the bike feels right for your knees and legs.
A Shoe
Finally, you will need a shoe. The shoe should be one that feels good on your foot, but is also practical for what you plan to use. If you prefer long road rides with a group of hard-core riders, you might be a good candidate for the stiff and efficient SPD-SL. If you want a shoe that will be compatible with your spin class, it is most common to choose the SPD. If you want a shoe that you will be able to walk around in without slipping or damaging the floor, be sure to choose a "recessed" shoe, but you will have the most options with SPD.
Don't skimp on the shoe. In addition to being important for your power-to-bike transfer, the shoe will determine your overall comfort on long rides. We've been on very long bike rides with the wrong shoe, and the first thing that begins to hurt is the bottom of your foot! A good, stiff shoe with plenty of energy displacement will solve that problem, but not if you are spending less that $100 on your shoes. Better if you are willing to go above $200.
For beginners, we recommend SPDs. They are the most universal and easiest to get used to, and don't cost an arm and the leg. The compatible pedals often have a larger platform, which is nice at a stoplight.
2 bolt vs. 3 bolt (2 hole vs. 3 hole)
We could have started with this point, as it is a key distinction when it comes to cycling cleats. Bike shoes are typically compatible with either a 2-bolt or 3-bolt cleat, not both.
Bolts and holes are synonymous. 3 bolts simply means that the shoe is setup with three holes in formation to bolt or screw the cleat into the shoe. 2 bolts means there are two aligned holes (but when you look at the shoe, there will be multiple positioning options for the cleat, so you will see a few pairs of holes).
Generally speaking, the SPD are the standard 2-bolt cleat and pedal. Most Speedplay models also fall into this 2-bolt category. The SPD-SL and Look are 3-bolt cleats and pedals. So, if the shoe you buy is a 2-hole cleat design, then you can't put a Look cleat on it, for example.
What about Peloton Cleats and Pedals?
This is probably a good place to talk about the uber-popular Peloton bike. Peloton comes with a pedal already, so you don't need to worry about that. The pedal on a Peloton is compatible with any 3-hole or Delta-style cleat, and the company highly recommends that you use their supplied pedal and not swap out with your own. So, if you are serious about riding a peloton, you should invest in an SPD-SL or Look shoe and cleat. You can always use the shoe that comes with Peloton, but many riders prefer to use their own shoe, one that they can ride outdoors with too.
Power Meters in the Pedals
To complicate matters even more, there are options to have a power meter — a device that measures your wattage and other factors when on the road — right in your pedal. I have personally used them, and if you are a data junkie or really trying to dial-in on the finer points of your power and pedal stroke, they can provide some interesting data. For many people, it will actually be too much data and the expense might not be worth it, but for some it will be a gamechanger.
Garmin makes the best power meter pedals. They are much more expensive, but the quality is excellent (they are amazingly light and well-designed) and there is a lot of technology packed inside them. You can get the pedals in SPD, Look, or SPD-SL compatible designs. For bet prices, find them here directly from Garmin.
Do Bike Cleats Wear Out?
Yes. Bike cleats wear out, but their lifespan really depends on how they are used. Road-style cleats can often start to break if you hit a rock or walk on them too much. SPD cleats tend to be more durable.
The pedals usually last for a long time, and typically they only wear out if you put a ton of mileage on, or if the riding is harder riding like you often see with mountain bikes or gravel bikes.
We often replace our cleats (not the shoe, just the cleat) each season, but expect the pedals to last many seasons.
Which Pedal and Cleat is Best for Gravel Bikes?
We are getting more and more questions about gravel biking. SPD pedals are the preferred pedal for gravel biking, because the cleat allows you to be most nimble if you find yourself on a singletrack trail or rough road.
It can be temping to go with more of a road-style pedal and cleat for power on those long gravel straightaways, but you can largely solve this problem by simply getting a stiffer SPD-style shoe.
Practice and Safety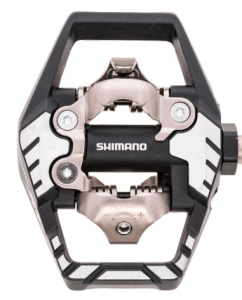 Whichever system you go with, be sure you practice with it enough so you get comfortable before you take it out on a high-traffic road or in a race like a triathlon or time trial. Each system feels a little different. I recall that as I switched from an SPD system to an SPD-SL system, I felt like a rookie all over even though I had been riding for a good decade.
There are a few tricks for getting comfortable with the system. The first is to take your new pedals and cleated shoes out for a spin in a low-traffic area like a parking lot or a side street. Practice getting going, and then coming to a complete stop. Unclip. Then clip back in as if you are at a stoplight that turns green. Do it over and over until it feels second nature.
Another trick that we like is to set your bike up on an indoor bike trainer, if you have one. Get a few good spin workouts in with the new pedals, and make sure you are clipping and unclipping with the same urgency you would have on a road ride. This type of practice as the added benefit of allowing you to break in the new shoes in a controlled environment.
Finally, know that everything is adjustable. If the shoes seem to unclip from the pedal too easily, you can adjust the springs to make it all tighter. If the pedal doesn't unclip when you stop, you can make it looser. If the positioning of the cleat on your shoe doesn't seem straight or is just uncomfortable, you can adjust that too. Just have the right set of tools nearby at the outset, and plan on adjusting several times during your first few rides or 100 miles.
Glossary of Bike Cleat, Shoe, Pedal Terms
Bolts: The number of contact points (screws) that a cleat has with the bike shoe. This is important to know for cleat-to-shoe compatibility. SPD has 2, Look has 3, Speedplay has 4.
Cleat: The critical piece of metal that a) bolts on to you shoe and b) clips in to the pedal, creating a point-of-contact.
Clip-In: The process of attaching your shoe to the bike pedal via a clip. Once you become good at it, it is second-nature.
Clipless: A term you often see in the pedal/shoe market, but nowadays most systems are clipless so it kind of goes without saying.
Compatibility: The ability for a shoe, cleat, and pedal to "fit" each other. They need to be compatible. For example, and SPD cleat fits and SPD-compatible pedal and 2-hold compatible shoe.
Egg Beaters: A type of clip made by Crank Brothers that is popular with some mountain bikers. They get their name because they look like a mixing blade that you would find in the kitchen. They tend to be strong and light, but not popular with road or tri cyclists.
Float: The amount of side-to-side swivel that you can expect from a cleat. Some cleats lock your foot in with zero float. Others offer up to 20 degrees of float. Many riders prefer a float of around 6 degrees, 3 degrees either way. Having some float is believed to be easier on your knees. Too much float causes you to lose power.
Hole: See "Bolt"
Memory Positioner or Tab: Some brands offer a small piece that fits on the shoe, under the cleat, marking where your cleat should go given your personal preference. This type of guide is handy when you are swapping out the cleats, something you will do regularly if you ride a lot. Having an off-positioned cleat could cause knee or ankle discomfort.
Platform: The flat area on the pedal where the forward half of your shoe rests. A wider platform is more comfortable and captures more power.
Recessed: A cleat that recesses into the shoe when walking. In particular, many SPDs have recessed cleats, which are a benefit when you want to talk into a store or simply around your garage without the inconvenience of a protruding cleat.
Retention System Pressure: The adjustable setting of how "tight" your cleat will be locked-in to your pedal. At first, start with lower pressure, allowing your foot to come unclipped more easily.
Stack Height: The distance from the top tube of the bike to the bottom bracket near the chainring. Important, because you don't want your shoe to impact the stack height very much at all. Thinner is generally better, and ideally your shoe has a minimal impact on this height.
Stiffness: When it comes to bike shoes, it refers to the stiffness of the sole. More stiffness is good, because that means your legs are transferring more power directly to the pedal, instead of losing power as it leaks out from flimsy shoes. You kind of what to feel like your sole is as solid as a 2×4.
Tension: Refers to the level of pressure required to release the shoe and cleat from the pedal. A good system has adjustable tension so you can set it to your preferred level. Most riders want just enough tension so the cleat will not accidentally release while cycling, but not so much that it is difficult to release at a quick stop.