Finding the best running watch can be daunting. There are lots of options out there, and many of the options have very different concepts.
Do you want a run-specific watch?  A smart watch with a running app?  Something in-between?
One thing that is proven to be important for any training regimen is tracking and varying your pace and distance, and that is where a watch comes in.  Today's running watches range from the basic — a device that will track your time, distance, and maybe a few other things, to extensive — a device that will pretty much change the way you workout and can be used in conjunction with many other "smart" workout devices, apps, or programs.  Which you choose depends on your budget, your workout goals, and the reason you are buying a running watch in the first place.
Factoring exercise into our lives requires a slightly different formula for everybody, however one thing holds true:  We are all becoming tech savvy and manufacturers have been developing new tools to help us to meet our fitness goals whether that includes losing weight, running faster or in improving our health. Fitness or running watches are increasingly recognized as valuable tools to help us with these aspirations, but which model should we buy?
Best Running Watches
There are dozens of running watches on the market today, but in our opinion these are the ones you need to know about:
Garmin Forerunner 745
Best for mainstream runners and cyclists with great battery life.
This is technically a multisport watch, but we like it for runners because of its simplicity and reasonable cost.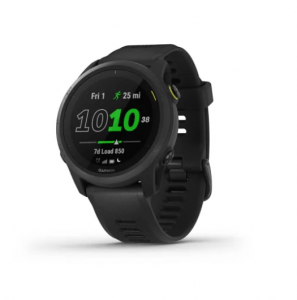 Garmin has been producing fitness watches, their Forerunner range, which recording physical activity and achievements since 2003 and offer a phenomenal range of products. These have a good market presence but have not been as active in promoting their products compared to other brands such as Fitbit or Apple. Garmin's range is impressive, with interchangeable wristbands, most of which are quite stylish. Garmin fitness watches tend to be designed look more like a traditional wristwatch, but a lot do have a modern look befitting the 21st century. The Garmin Forerunner 745 is particular popular because it has a reasonable price and provides more than enough features for those wanting to a good 24/7 record of vital stats and workouts.
Garmin also offers the excellent Fenix line — the Fenix vs. Forerunner debate is on that has no loser.  Both excellent fitness watches.  In many ways, we like the Forerunner's purer capabilities, larger display, and lower price tag, but don't rule out the Fenix lineup.  It might just be overkill for some.
The Garmin Forerunner 745 uses Garmin's proven GPS technology to help your run workouts — letting you know how fast, how far, and where you do your running.  Its tracking features count stops, calories burned and how intensely you are exercising. For instance, it is able to instantly determine whether you are running or walking. Like all other Garmins, the Forerunner 745 uploads to Garmin Connect that connects to your phone or tablet via the mobile app or to your desktop computer to provide details about your progress, users can also join challenges and compete with others over this network. The watch also will notice periods of inactivity and vibrate to remind the user to get moving.
Battery life is excellent.
Its watch records heart rates during the day and night and can therefore also track the quality of your sleep, which is becoming a standard feature with a lot of running watches. Users can detect when sleep is broken and how often, which could be useful for helping ensure long term improved sleeping patterns.  Find here.
Pros
Great battery life
Can accommodate basic cycling tracking too
Great wide watch face with intuitive interface
Cons
A little expensive
Maybe overkill for people who just want to run
Garmin Forerunner 245
Best run-specific watch.
If you only want a wearable for running, and don't need all the cycling, swimming, or other sport functionality, there is no reason to break the bank on a high-end watch.  The Garmin 245 is your answer. It will allow you to save hundreds without sacrificing on your ability to track your run workouts with high precision.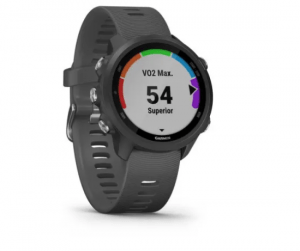 Like the 745, the 245 will track all your runs stats, plus your 24/7 heart rate and your sleep. And like the 745, you can connect to Garmin Connect to really dial-in on your stats and trends over time.
Unlike the 745, this watch is made for running, and just running.  For someone who feels that having all the other functionality will be overkill, this becomes the clear winner.  An added benefit of not having all the other built-in gadgetry is that the watch will fit slimmer on your wrist.  It still has a nice wide face, though, and the same resolution as the 745 — which is nice when you are in the midst of a fast run and want to glance at your pace without losing form.
A 7-day battery life (when being used as a smartwatch) is great, and one of the reasons we are such big Garmin fans around here.  You don't need to worry about charging this watch often.
We like the 245 better than the less-expensive Garmin 55 because it provides more workout and run analytics, better sleep analytics, and has a more attractive screen resolution.
Pros
Lightweight
Long battery life
Built for running
Cons
Coros Pace 2
Versatile running watch at a nice price point.  You may not be as familiar with Coros and are you with Garmin or Apple, but they are making some nice fitness trackers that we decided deserved a place on our list.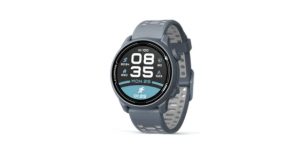 The Pace 2 watch is comparable to some of the more basic Garmin watches, in that it doesn't give you the super advanced health or workout analytics (but still quite an impressive amount for the price), but provides a nice, complete workout summary and very good battery life. It also integrates nicely with all of the non-Garmin fitness apps, which for many runners is really all that they need.
Where the Coros excels in in being comfortable on your wrist.  It is lightweight and sleek, making for a watch you barely notice at times.  The buttons sometimes are not entirely intuitive, but we suspect you will get used to it if this becomes your go-to watch.
Battery life was pretty good overall. While it is advertised as being 2 weeks of life for regular use, we were getting just over a week.
Pros
Comfortable on the wrist
Good option if you don't need Garmin compatibility
Relatively inexpensive
Cons
Interface was not entirely intuitive
Not an option if you like Garmin Connect auto-syncing
Apple Watch with Running App
Best for Apple junkies.
If you are a die-hard Apple user, or perhaps you just invested in a multi-hundred dollar Apple watch and you really don't want another watch, it can be a good option for running as long as you have the right setup.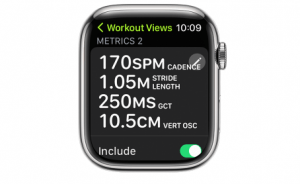 An Apple watch is naturally designed to track vital health stats like your sleep and your heart rate over the course of a day, and of course it provides an interface to your phone and your music.  When it comes to some of the non-workout smartwatch features, it is right up there with the best Garmins if not ahead of them.
From a run workout standpoint, you will need to go into run mode, and choose indoor or outdoor run.  From there, the watch will track your pace, distance, stride length, and other run-specific metrics.
Perhaps the best combo is to use your Apple watch with an app like Runkeeper.  This will give you Apple's inherent health and GPS stats, combined with some really good routing and workout functions as well as a one-step shop for keeping your runs stored somewhere.
Pros
Ideal for Apple loyalists
Very good health and run metrics are built-in
Cons
Battery requires daily charging
Best used with an app like Strava or Runkeeper
How Much do I need to Spend on a Running Watch?
The good news for most runners is that today's running watches fit all budgets.  Obviously, the more you spend, the more you get.  It is hard to say that you need to spend X dollars, without knowing your goals and how you plan to use the watch.
If you are simply looking for something to track your distance and time, you can get by with a pretty cheap watch.  $50 to $90 should be your budget if you want the most basic of running watches with very limited features — basically a stopwatch.   Just make sure that you get something that will have an intuitive user interface (e.g. you should not have to fumble around for a simple timer or distance feature) and that the battery life will suit your need.  Remember that batteries perform poorly when cold, so fact that in if you do lots of colder weather runs.
If you are looking for something that can track things like speed, average speed, heart rate, as well as time and distance, we recommend going for the $100+ range.
If you need something that can be way more than a watch — a sophisticated training buddy as well as an all-day wearable, don't be afraid to open up the purse strings and perhaps spend $200 or more.  It might seem like a lot, but if helps you improve your health and fitness, it will be worth it.
You should also remember that these days running watches make pretty good all-around watches. There's no need to purchase a watch just for running. Instead, it's best to pick a running watch that you like enough to wear all day. This way you aren't shelling out on a watch for running, but on one for life. In which case, spending a bit more is easier to justify.
We wouldn't suggest overspending, but instead that you remember this device is not necessarily just for the few hours a week you spend running. There's an added plus in wearing your running watch all day. Every time you look at it you'll be reminded of running, which means you'll be more likely to do it more often. The more often you run the healthier you'll be, and the more you'll want a good running watch for tracking your times.
What About Using My Phone Instead?
Today's phones, with the ability to integrate activity-specific apps, can be a great way to track mileage and speed.  There is just one problem:  They are clunky.
Sure, you can tuck a phone in a pocket, or mount it to your shoulder or arm with an arm-band.  We don't like doing it for a few reasons:
Phones are bulky, so a bit of a hassle to lug around
Their battery life is much more finicky than that of a good running watch
Phones do not perform nearly as well in cold weather
Watches can get wet.  Phones should not.
You lack the "at a glance" ability to peek at your pace or distance when a phone is mounted on your arm or in your pocket
If you decided to use a phone to track your distance and pace, you will want an app like the Nike Run app or MapMyRun.  However, we are purists, and we think the simplest, most elegant, and most effective device is still a good old running watch.
Should I Consider a Running Watch with Music?
For some, having a running watch with music features built-in can be a very nice upgrade.  It might allow you to not carry your phone at all, and not worry about an Ipod, but still have access to all of your music thanks for bluetooth earbuds.
Typically, the versions of running watches with music cost a little more, but they hold an impressive number of songs and can really allow you to be free and lightweight as you set off on your run.  For others who like to have their phone along with them, it might not be such an important feature to invest in.
Von Collins is an accomplished triathlete and cyclist, and the author of four fitness and training books: Smarter Running, Your First Triathlon Guide, Fit Foods, and 30 Rut-Busting Workouts.
Von has been cited as a triathlon, cycling, and fitness expert by Healthline, CNET, Forbes, Eat This, Not That and other major outlets.
Von has done dozens of triathlons and endurance bike races, coaches, and is an avid part of the cycling and triathlon community.