Indoor cycling trainers continue to get more popular as people are looking for ways to stay in shape as they rethink gym memberships, and try to stay out of dangerous road traffic.  Apps like Peloton, Zwift, and TrainerRoad have made this possible, but you have to get the space adequately set up before downloading the app and hopping on the cycle.
Buying an indoor bike trainer might be the first on the list, and for a good reason, because you cannot cycle without it. However, the setup can be heavy, and your sweat can really eat away at the floor's finish.  Putting one in your workout room could damage the flooring in your home. So what do you do?
When you have found the right bike and trainer combo, it is important to make sure you have a good cycle mat to lay it on.  A good mat is perfect of a good Zwift space, or any other trainer space.  A supportive mat will keep the cycle bike from sliding, which could scratch hardwood or rip carpet flooring.
Buying a mat for your cycle bike isn't as big of a buying decision as to the cycle bike itself, but buying a quality mat will pay dividends in the long run. What makes a good cycle mat? What do they cost? Where do you find one?
We kept asking ourselves all questions, so we decided to take the initiative to find the best cycle mats on the market. Read on as we discuss the top cycle mat brands based on their price, quality, and versatility.
What Makes A Good Indoor Cycling Mat?
Before we discuss our top choices for indoor cycling mats, let's discuss what makes a good cycle mat in the first place, considering they probably aren't the main discussion at dinner.
To begin with, a good indoor bike mat is big enough not only for your cycle bike to sit on but also for you to stand on when mounting or dismounting the bike.  The size may not seem that important, but ensuring you have a mat that fits the bike is essential to protecting your floors. If you have the room, go a little big with your mat, so you can place additional workout equipment and shoes or give yourself a stretching area after a cycle session.
Next is having a mat that has good noise insulation as it will make your bike setup a little quieter. This is nice for people living in apartment buildings or other living spaces where there are others below.
You definitely want the mat to be water resistant. If you are cycling hard, not only will you sweat, but you will be drinking water that is could spill on the mat. Having a water-resistant mat will ensure that the mat material doesn't warp or mold.  It would also be very bad for the mat to get wet and then trap underneath it, perhaps damaging the floor below.
The mat should also have an anti-slip material on the bottom. While cycle bikes are heavy, that doesn't mean that they couldn't slide around on the floor. A good anti-slip material will keep you and the bike in place during an aggressive ride.
Lastly, the mat should be durable.  This goes without saying, but you want it to last you for a long time.  In addition to stress caused to the mat by cranking on the trainer and bike, you will probably be stepping on the mat with SPD cleats or other bike cleats that can dig-in a bit. Last thing you want is to poke a hole on your first use.
Now that you have an idea of what makes a good cycling mat let's look at our top picks.
Best Indoor Cycling Bike Mats
Best Thin Mat: Saris Indoor Training Mat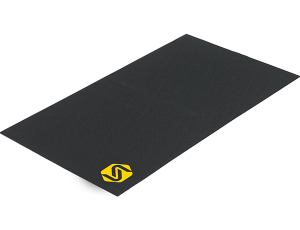 The first cycle mat on our list is the Saris Training Mat. Not only do they make great indoor bike trainers and one of our favorite smart trainers (the H3), but their mat is a great counterpart. It is a heavy-duty mat that keeps sweat and grime off the floor, but it is also one of the biggest cycle mats on the market at 65" X 35". This is great for longer cycles or for individuals who want extra room for other workout equipment.
The Saris mat is durable and absorbs noise well, so don't worry about bugging your roommates or neighbors. Its waterproof material is resilient to spills, giving you plenty of time to wipe up water, sweat, or any other moisture that hits it. While it does have durable construction, it is surprisingly slim at only 4mm thin, making it easy to roll up and store.
When it comes to price, Saris is competitive. Typically it can be found around $73.99 depending on where you look.
The main complaint that the Saris training mat is that the plastic can smell. If you are sensitive to odors, this may be something to consider before purchasing.
Best Brand: Wahoo KICKR All-Purpose Training Bike Mat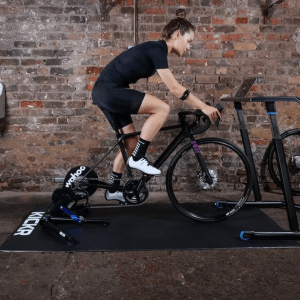 The Wahoo KICKR mat from from the same family as the popular Wahoo smart trainer, and is the perfect partner for your indoor cycle mat. Like the Saris, it is durable, water-resistant, and larger than other mats. Surprisingly it is longer than the Saris by a whole foot!
The KICKR is impressively quiet because of its thick insulation. Your family and neighbors will be thankful that you went with this mat when you are hitting a cycle session early in the morning. It's also great for consumers who plan on having their cycle sit on the mat for long periods of time. However, it can be a pain for those who plan to move their cycle often because the mat is so thick that it is bulky when rolled up, taking up an ample amount of space.
Like the Saris indoor mat, the Wahoo KICKR has an anti-slip texture and moisture resistant material, but it does have a couple of advantages that the Saris doesn't. For starters, the KICKR has a beveled edge making it easy to align against a wall. Secondly, its glossy top finish means it is incredibly easy to clean and wipe down.
This is a good mat and a top choice amongst consumers because of its quality and reasonable price point. As you cycle, you might scream with joy, Wahoo!
Best Overall Value: CyclingDeal Indoor Trainer Mat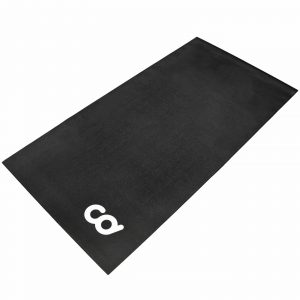 If you blew your budget on your exercise bike and need an inexpensive mat that can get the job done, then look no further than the CyclingDeal. This shock-resistant mat can be found for half the price as the mats mentioned above. However, don't be fooled by the low price, because this is still a superior mat.
The big difference between this mat and the two mentioned above is that it doesn't have the name brand that everyone knows. It is a thin mat at only half a centimeter thick, making it easy to store or take on the road if needed.
What we don't know is how it will hold up over 2, 3, and 4 years.  But in terms of features, it checks all the boxes.
The CyclingDeal is still water-resistant and noise-insulating, and, to be honest, a great way to go if you don't feel like spending over $50 on an indoor bike mat.
Best Bike Mat For Storage: Tacx Folding / Rollable Training Mat
If you have read this blog, you know that we love Tacx smart trainers, especially the all-purpose Flux.  They also make good mats.
This is the smallest mat on our list, but it wouldn't be one of the easiest mats to fold if it wasn't. Nonetheless, for the minimalist, who stores their equipment regularly or uses their cycle mat for other things such as yoga or resistant workouts, this is a good choice.
The difference between storing this mat verses others is that it folds rather than rolls. This makes it easier to store. If you don't want to fold it, not to worry, the material on the Tacx is flexible and can also be rolled if necessary.
While this mat is quick and easy to store, it isn't the best if you are a person who sweats a lot or is likely to spill drinks as you cycle. It is waterproof, but the material isn't very thick and can absorb liquids. If it isn't regularly washed, the mat is said to smell and possibly get moldy.
Another consumer complaint is the pricing. The Tacx has a great brand name, and like other top-tier brand names, it has a higher price tag. It can be purchased at a similar price as the Saris and Wahoo, but it falls short when it comes to overall quality.
Nonetheless, the Tacx is perfect for the person looking for something easy to store when not needed.
Indoor Bike Trainer Mat FAQ (Frequently Asked Questions)
Do you need to have the same brand mat as the cycle?
No. While having the same brand will ensure that your bike and trainer will fit on the mat, it is not a must. Find a mat that fits your needs, such as noise insulation, anti-slip, and water-resistant.
Can you machine wash cycle mats?
Not all indoor bike mats are machine washable due to their material. It is recommended to check with the manufacturer on the proper way to clean your mat. You will definitely want a good way to wash it regularly.  Think about it this way – when you are riding outside, your sweat is dripping on the ground or, if it is colder, into your jacket and cold weather tights. In your workout room, it is all just falling down on the floor and mat.
How do I know how big of a bike floor mat to get?
While this depends on your needs, it is recommended to measure your cycle to ensure that it will fit on the mat. If you are wanted to use free weights during cycling, getting a larger mat gives you an area to place them when not in use.
Is getting a bike mat for my bike necessary?
While it isn't a must per se, indoor cycle mats do have benefits such as protecting your floors from scratches, tears, and liquid (sweat) damage. They also reduce noise, which is perfect for those who worry about disturbing neighbors, family members, or roommates.
Will a bike mat protect a hardwood floor?
Yes, if the bike mat is large enough to catch all the sweat you might be shaking off, it should protect the hardwood floor underneath.  Just to be safe, though, it is a good idea to roll the mat up and stow it after each workout rather than leave it laid on the floor.  In the event the mat is saturated, this will prevent the bike mat from damaging the floor underneath.
Can I just use a yoga mat with my bike trainer?
You might look at a bike trainer mat and ask if you can just use a yoga mat.  Can you?  Maybe.  Should you?  No.
Many yoga mats can be a bit thicker and with much more cushion than a proper bike trainer mat.  A good bike trainer mat is thin and dense, much tougher than most people would ever want to do yoga on.  It is really its own thing.
If you choose to go against our advice and use a yoga mat, use a very thin one and expect it to get worn out by the bike and trainer.
Von Collins is an accomplished triathlete and cyclist, and the author of four fitness and training books: Smarter Running, Your First Triathlon Guide, Fit Foods, and 30 Rut-Busting Workouts.
Von has been cited as a triathlon, cycling, and fitness expert by Healthline, CNET, Forbes, Eat This, Not That and other major outlets.
Von has done dozens of triathlons and endurance bike races, coaches, and is an avid part of the cycling and triathlon community.