Wahoo evolved as a different type of cycling trainer company.  Whereas a company like CycleOps was borne out of the traditional bike trainer market, Wahoo started in 2009 as the maker of connectivity and sensor devices.  It was only after three or four years in business that they actually decided to make a trainer, the well-known KICKR.
This "connectivity-forward" first philosophy is a big part of the company's product line.  While they do make one regular bike trainer, the Snap, it is clear that the company's focus is on connected devices like smart trainers.  Wahoo has also been leading the way with add-on components, like the Climb which we examine a bit more below.
The KICKR is probably Wahoo's most notable product, one that has been a key market player for more than five years.  We consider the Wahoo KICKR to be one of the "big 3" go-to smart trainers on the market today — the others being the Tacx Neo and the Saris H3.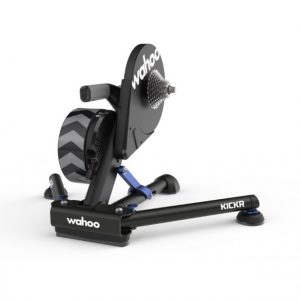 Let's take a look at the Wahoo KICKR and all it offers.  It is definitely one of our favorites on the market, along with the other two aforementioned models.
Competition
We consider the main competitors to the KICKR to be the Tacx Neo and the Saris H3.  The three all offer similar functionality and the ability to setup your own bike on the trainer.  There are other popular full-bike options of course — perhaps the most notable being the Peloton, the Wattbike, and others entering the market.  But the big 3 trio, in our opinion, is really the H3, KICKR, and Neo.
Experience
Riding the Wahoo KICKR solidifies its position near the top of the market.  It is a sleek unit with very good firmware, a relatively stable footing, and an acceptable noise level.
When we first looked at the KICKR, we wondered if its design would make it more wobbly than most.  That is a non-starter in our book.  Fortunately, looks can be deceiving, and the unit is quite stable.  This is important during harder rides and sprint rides when you are really trying to rip up your frame at high wattage.
The KICKR has good leveling feet to adjust for footing variances, in the event that your floor is the culprit for any wobbly rides.  The leveling feet seem to work well and have plenty of range to expand if you are on an older surface, or perhaps on concrete with divots.
Wahoo's firmware has been a point of some angst in previous versions — but in fairness to the company there are many factors involved in the technology of a smart trainer beyond the trainer itself.  Some users used to report that the firmware would cut out or not hold a connection.  However, our experience is that you don't have to worry about this anymore.  Wahoo seems to have solved it, and keep in mind that even firmware on the older versions can be updated as new releases come out.
As for noise, the KICKR does a great job.  The Tacx Neo might get all the press clippings for being silent, but we really like the low (non-existent) noise level on the KICKR.  Let's put it this way — your bike's drivetrain, or your own heavy breathing, will be the loudest part of the setup.  You don't have to worry about the trainer kicking out a bunch of ambient noise.
The unit is responsive and the power appears to line-up with expectations, but a more precise power measurement is forthcoming.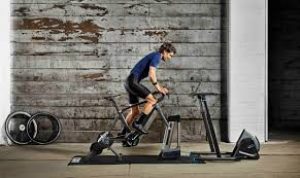 We need to also mention an interesting modification to the latest KICKR version — the Axis Feet, which allow the unit to have 5 degrees of side-to-side movement.  This is intended to more closely simulate a road ride.  We commend Wahoo for this, following the trend that we saw Tacx start a couple years ago.  Pretty soon, riding inside will be eerily similar to riding outdoors — minus the sunlight and fresh air.
Connectivity and Compatibility
Our connectivity experience with the newest version of the Wahoo KICKR (we tested what you would probably consider a 2021 model) has been excellent.  No firmware crashes, to lost connections, and overall a good, stable experience.  
One of our rules of thumb is that a smart trainer should not have to "look" for the app it is to be paired with for more than just a few seconds. And it should require no additional steps other than starting to pedal, and then going through the setup steps on your app.  The hardest part is just setting your bike on the trainer, which really is not all that hard.
The KICKR will connect to whichever app you are using with ease, whether it is Rouvy, Sufferfest, Trainerroad, Zwift, or any of the others.  When it comes to quick connectivity, Wahoo's origin as a technology-based company definitely shows.  
Noise
We love the noise level of the KICKR — which is nil.  It is probably a touch quieter than the H3, which is much improved from the previous H2.  It is also quieter, in our opinion, than the Tacx Neo, although we have not done a formal decibel-meter test.  If there is any slight noise, it is actually at lower cadences.  At higher cadences where you do nearly all your riding, it is really quiet.
The loudest thing you will probably hear from your bike's setup on a KICKR is actually your bike's drivetrain.  That is the way it should be, in our opinion. 
If noise is your #1 purchase factor, you probably need to take a good look at the Neo as well, but the KICKR will likely meet your needs.
Accuracy
We have been pleased with the power accuracy of the newest KICKR. Overall, it responds to rises and drops in power pretty much real-time, and the company claims that it is going to be +/- 1% when it comes to tracking your actual wattage.  That is pretty darn good.
Based on our testing, we have no reason to disagree with the claim of being within 1%, but we still plan to do an actual power meter comparison, so stay tuned for that.  
Responsiveness is the other key factor with any smart trainer.  You can be within 1% at a stable wattage, but if the trainer doesn't respond quickly when you increase or decrease power, it can be frustrating.  Lags are bad, and the KICKR doesn't have them.
It might take a couple seconds to fully ramp-up when you really put on the gas, but it gets there quickly and you don't have to spend a lot of time waiting for the readout on the screen to reflect your actual power.  It is pretty instantaneous.  Likewise, the more annoying problem with some trainers is often when you let off the accelerator and the power drops to zero, even though you really know you aren't at zero.  The KICKR excels in this regard, keeping you dialed-in as you are going both up and down.  We find its "deceleration" power to be more accurate than the H3, for example.
Mounting and Drive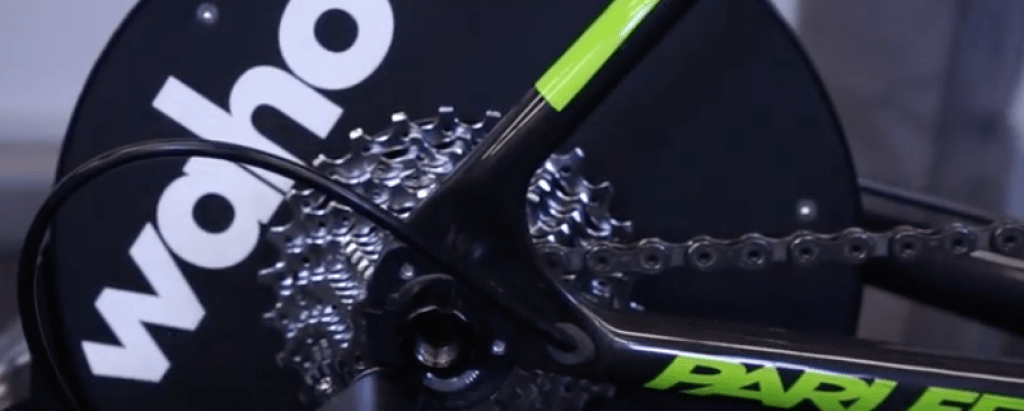 Like the others in this market segment, the KICKR is a direct drive trainer.  You pop the entire back wheel off, and put your bike right on the unit with the chain connecting to the trainer.  This is the standard for smart trainers where you use your own bike, versus a Peloton or WattBike.
One seemingly small but very nice feature about the KICKR is that it comes in the box with a cassette on the unit.  It is the only direct-driver trainer that we are aware of that comes with a cassette.  The 11-speed cassette is pre-installed on the trainer, so no setup is required.  This is a nice feature for people who don't consider themselves handy, or don't have the tools on hand to properly install the cassette.  This touch is a relatively small and inexpensive add by Wahoo, but one that is noticed and makes the user setup experience better.
Mounting your bike on the KICKR is a piece of cake.  Like with the H3 or H2, you simply put the chain over the smallest cog, place the dropouts on the trainer's axle, and tighten the skewer as you would with a wheel on your bike.  It is quite easy, way easier than the days of having to put a trainer tire on the rim.
KICKR Climb Add-On:  Is It Worth It?
This is a good place to talk about the KICKR Climb, the add-on piece of equipment that allows you to mount your front-end on another trainer of sorts that will simulate elevation and grade changes.  This is mainly compatible with Zwift, where the courses throw various grades at you throughout your rides.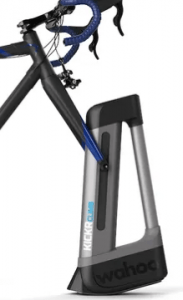 The Climb does not come with the KICKR.  It needs to be purchased separately, and the price tag is not trivial ($600).  However, if you have the budget for it, the Climb can be a neat addition to your training setup.
We tested it out, and we enjoyed it.  It does not really give you a benefit on other apps like Sufferfest or Trainerroad, but on Zwift it definitely enhances the experience.  You will be able to simulate 20% grade inclines, or 10% declines, allowing for a more real experience.  The Climb software recognizes the grade changes pretty much instantly.
Perhaps what we like best is not the additional challenge on inclines, but a couple things the Climb does to help make rides more life-like.  First, just like in a road ride, you will be prompted to shift and hunker down for more power on hills because you feel your bike angle change, rather than reading it on a screen.  That is the way your brain is wired from all of those outdoor rides.  Second, the fact that your bike angle is constantly changing actually makes your time in the saddle more comfortable.  Until you use something like a Climb, you don't realize how different it is to ride outdoors and constantly use different saddle pressure points, versus riding indoors and having your contact point with the seat be pretty much the same spot for an hour.
Bottom Line:  The Climb is worth exploring if it doesn't break the bank.  See more details here.
Safety
We always take a peek at the safety of any smart trainer, or other cycling device.  After all, you will be producing lots of power on this bike, and it needs to be safe and stable.
The stability of the KICKR, as we mentioned above, is good.  No wobbling, and a nice, solid base.  As with any bike mounted on a trainer, you want to stay in control and balance when you get up out of the saddle, but the KICKR is a good, stable unit.
One point that we are not fans of when it comes to the Wahoo's safety is that the flywheel is exposed.  This means that when you are spinning at high speeds, the flywheel is turning just as fast, and could potentially come in contact with a curious child or pet or a wild foot.  The flywheel can also get quite hot.  If you have a small child at home who might access your workout area when you are riding, we don't like this setup.  Models like the Saris H3 conceal their flywheel which we prefer.
Another safety consideration with the KICKR is that it has a posted weight limit of 250 lbs.  We know lots of riders who are getting quite close to 250 lbs, or over.  The Saris H3 has a weight limit of 300 lbs, and the Tacx Neo has a weight limit of 275 lbs.  If you are a heavier rider, you may need to opt for one of the other models.
Durability
The KICKR has been around for a while, now in its 5th generation. That gives us a pretty good body of work to analyze the durability of the unit, and overall it is very good.
While some of the firmware issues that were noted in previous versions have dogged Wahoo a bit, we don't consider those durability issues.  We are thinking more about the simple question:  How long can you ride this before it starts to breakdown or wear out.
You should be able to get several hundred hours on this trainer, or way more, before it needs repairs.  The reason we consider Wahoo, Saris, and Tacx as the standard-bearers for the smart trainer market is for this exact reason.  We have spoken to some athletes who are well into the thousands of hours on their trainer, and it is still running strong.
Price Point
The price point on the Wahoo KICKR is $1,200.  This puts it exactly midrange between the competition — the Saris H3 at $1,000, and the Tacx Neo at $1,400.  If you want to compare the Peloton as well, that will cost you another several hundred dollars at about $2,000 (plus the hefty subscription fee, which is why we prefer some of Peloton's competition over Peloton itself).
If you want some of the other features, such as the Climb setup for the front fork which simulates ascents and descents, then you will need to fork over another $600.
The Wahoo Kickr Bike – an upgraded option
Wahoo makes a product that puts all the bike parts together, into an actual smart trainer bike — the Wahoo Kickr Bike. We took a good look at the Wahoo Kickr Bike, and liked it.  it gives you a road bike or tri bike feel, and a high-performance flywheel that will easily connect with Zwift, Rouvy, or whatever app you are using.  It is expensive – and that is really its main downside.
Wahoo KICKR vs. Saris H3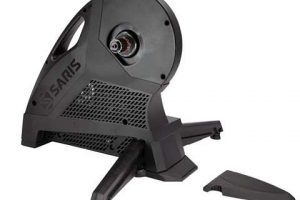 When it comes to the KICKR's overall competition, there is a unit at a lower price point that gives it some stiff competition.  In fact, we named the Saris H3 as our favorite unit for the money, after the company made several improvements over the previous H2.
Both companies have stood the test of time, so the good news is that you are comparing two very reputable (and American-made) brands.
The Wahoo has a few things going for it when you compare head-to-head with the Saris.  It is a quieter trainer, which is a big factor to some people.  And Saris does not have the level of add-on components that Wahoo does most notably the Climb unit to elevate your bike's front-end to simulating climbing.  
Finally, KICKR's newest version, with the Axis feet, gives you the 5 degrees of side-to-side feel when riding.  This is a nice touch.  While some apps are not yet compatible with this in an effective way, it does provide a more realistic cycling experience.
Where the Saris gets the edge is mainly on price — it is a great unit for a couple hundred dollars less.  And we really like the concealed flywheel in the Saris, something that Wahoo doesn't have and we consider a safety feature for people with young children at home — or tight spaces in general.
Firmware used to be an advantage of Saris, but nowadays it is pretty comparable and reliable for both brands.
We did an entire Saris H3 Review, if you want to check it out more.
Wahoo KICKR vs. TACX Neo
We love the Tacx Neo 2T, the latest model from Tacx, but you save a couple hundred bucks if you go with the Wahoo KICKR instead.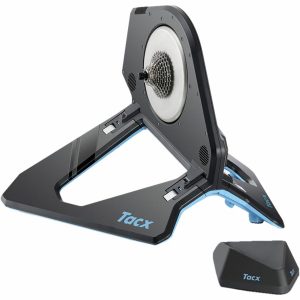 The Neo is a really neat trainer.  It has a few features that are truly top-of-class.  It is the most silent trainer on the market today, it has a great, sleek design, and you can crank out up to 2,200 watts on the unit.  It can also simulate an incline of up to 25% without adding any additional equipment.
Where the Wahoo edges the Neo is on the pricing — at $200 less — and the fact that you can get accessories such as the Climb.  But when you factor in the $600 investment in a Climb, versus the built-in functionality of the Neo, it begins to tip the scales toward the Neo.  If you don't need that functionality, the KICKR is going to save you money.
Wahoo KICKR vs. Tacx Flux 2
While the Tacx Neo is super high-end, Tacx also makes a product that goes head-to-head with the KICKR Core (which we profile next).  The Tacx Flux 2 keeps you in a lower budget range, but provides nearly all the features you need in a smart trainer.
You can see our Tacx Flux 2 Review for more info, but we are huge fans.  It provides just a little lighter flywheel and a little less high-end power than the KICKR, but for most riders that would actually be enough.  Plus, we like that most of the Flux 2's moving parts are enclosed, something that is a safety factor for some.
Wahoo KICKR vs. Wahoo KICKR Core
Perhaps the stiffest overall competition to the Wahoo KICKR is the company's own product, the KICKR Core.  A smart trainer with excellent functionality, the KICKR Core has quickly become a popular option for people who want to save a few bucks.  The Core is generally priced at around $300 less than the base KICKR model.
What do you get for the additional investment dollars in the KICKR?  A few things.
A heavier flywheel, which gives you higher possible wattage max, as well as a more realistic road ride feel

An included cassette.  The KICKR comes with one (about a $30-$50 value) and the Core does not.

The Core has no cadence sensor.  The KICKR does.  We think a cadence sensor is a major part of precise indoor training.

Wahoo Core
Still, the Core (here) is worth considering.  It is a temping option if you want to save a few bucks.
Von Collins is an accomplished triathlete and cyclist, and the author of four fitness and training books: Smarter Running, Your First Triathlon Guide, Fit Foods, and 30 Rut-Busting Workouts.
Von has been cited as a triathlon, cycling, and fitness expert by Healthline, CNET, Forbes, Eat This, Not That and other major outlets.
Von has done dozens of triathlons and endurance bike races, coaches, and is an avid part of the cycling and triathlon community.