I started my cycling journey on a very tight budget, so my first pair of road cycling shoes were a discounted and discontinued model of Pearl Izumi Mountain Bike shoes. And to this day, they are still my go-to shoe for gravel, CX, bad weather riding, and bikepacking. So I was excited to see how Pearl Izumi has revamped some of their classic cycling shoes to be both technologically and
stylishly on-trend for this year.
Pearl Izumi makes some of our favorite cycling gear, from bike shorts to jerseys, so we trust their quality.  Let's take a look at Pearl Izumi's cycling-specific shoes, including the best from their roster of high-end road shoes, mid-range road shoes, mountain bike shoes, and gravel shoes.
High-End Pearl Izumi Road Shoes
Pearl Izumi offers two models of high-end road shoes with a men's specific fit and one high-end road shoe with a women's specific fit. But really, there is no reason why women can't wear a men's shoe and vice versa.
A high-end road shoe is designed to be stiff and lightweight, so you can apply max power to the pedals without being weighed down by a heavy shoe.  They fit the theme of high end road bikes — trying to shave off weight wherever you can. You'll find most high-end road shoes are available in 3 bolt cleat configurations, and Pearl Izumi shoes are no different, especially the Pro Road V5.
Pro Road V5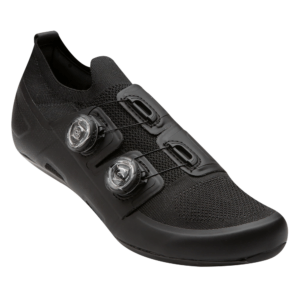 After two years of hard work, the Pro Road V5 has been redesigned with an even lighter-weight upper shoe and a stiffer carbon sole, saving you a whopping 22% in shoe weight. In addition, the upper shoe is a knit design, which further increases this shoe's flexibility and ventilation where you need it the most.
The Dual Boa fit system lets you adjust your shoes on the fly, with easy micro-adjustments and quick removal if needed. These shoes run small and fit slim, so you may need to order a half size up for comfort. Also, it is worth noting that these shoes are only available in the classic three-bolt road shoe system, so unless you have an adapter, you won't be using these with your SPD cleats. The Pro Road V5 is available in both men's and women's specific fits.
A steep price tag offers plenty of benefits that you would expect to see from such a high-end shoe. However, if $400 is too much for your budget, you won't lose much ground by stepping down to a mid-range shoe.
Mid-Range Pearl Izumi Road Shoes
A mid-range road option will still give you a hearty cycling shoe with plenty of benefits. You'll lose a little bit of weight savings, maybe a boa or two, and you likely won't have any full carbon soles in this price category. However, with four men's and four women's models to choose from, there are plenty of popular options, from laces to boas and nylon soles with carbon plates. So you'll still have a sleek, fast shoe without the hefty price tag.
Attack Road
You see the Attack name on lots of Pearl Izumi gear.  In fact, some of our favorite Pearl Izumi cycling shorts are the Attacks.  When it comes to shoes, the Attack line was designed to rival cycling shoes at far more expensive price points. Rather than a dual boa system, a single boa reduces the price while still providing even pressure across the foot for a comfortable fit. And that little boost to the heel is designed to allow for easier walking, should you have to actually get off the bike.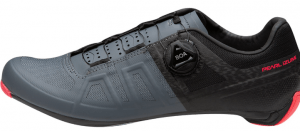 A carbon insert assists power transfer without the hefty cost of a full carbon sole, too. And the best part of these is they come in both women's and men's specific fits and include both two-bolt and three-bolt cleat fits.
Keep in mind, though, you may want to install walking adapters with your cleats to protect the sole of your road shoes in the event you need to do a little bit of walking.
Pearl Izumi Mountain Bike Shoes
Any good mountain bike shoe worth its nylon will provide a stable fit that is stiff enough to pedal with power but flexible enough to hike off-road and quickly shift your weight around on the bike for stability. It has to have grip, great fit, breathability, and foot protection. Mountain bike shoes are generally two bolt/SPD compatible to help shed mud and clip in and out easily for technical terrain.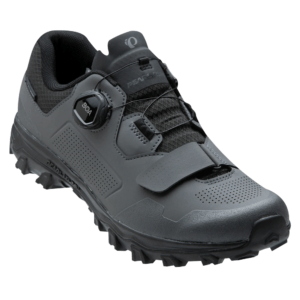 Pearl Izumi delivers four women's specific and five men's specific mountain bike shoes, alongside various all-road and flat-pedal, grippy kicks.
The X-Alp Summit
The Summit is clearly a favorite mountain bike shoe in the Pearl Izumi lineup. This shoe offers a combination Boa Fit System with Velcro straps to give you the most comfortable, adaptable fit. The sole is a nylon composite to provide you with a balance of pedaling performance and ease of walking, with a rubber outer sole that offers lots and lots of much-needed grip. Finally, don't forget the ventilation system, which helps the shoe dry more quickly, and a reinforced toe box to protect your feet.
The X-Alp Summit is two bolt/SPD compatible, which is the industry standard for mountain biking and gravel riding.
Pearl Izumi Gravel Cycling Shoes
Last but far from least is the gravel category in Pearl Izumi.  Gravel biking has become really popular as of late, and cyclists are finding that slightly modified gear is ideal. A gravel shoe gives you the best of both worlds, and if you can only pick one pair, this would be the category to choose from. Gravel shoes are lightweight and stiff like road shoes, but still have a bit of grip to navigate tricky hike-a-bike sections. They may offer less foot protection than mountain bike shoes but still have plenty of breathability for those sweaty hill climbs. Naturally, they are created to work with SPD/2 bolt cleat systems.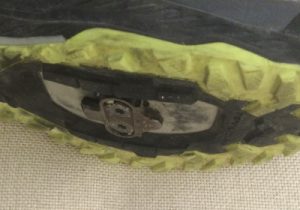 When gravel riding, it is pretty easy to find yourself on a singletrack trail or Jeep road, and in those cases you are much better off with a nimble shoe that more resembles a mountain bike shoe than you are with a road cycling shoe that is hard to quickly unclip from.
Pearl Izumi offers two specifically gravel shoes alongside a variety of all-road and flat shoes. However, one specific shoe stands out above the others, the X-Alp Gravel Shoe.
X-Alp Gravel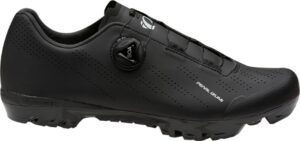 The X-Alp Gravel is genuinely the best of both mountain and gravel worlds, offering an impressive balance between walking comfort and pedaling stiffness. With a vibration-damping heel and some extra toe protection, this option provides both comfort and speed for both on and off-road adventures. In addition, you'll get plenty of breathability and a comfortable fit with a single Boa closure.
We love seeing manufacturers make gravel-specific shoes. They typically are a bit more durable and road shoes and are built in a way that can dampen some of the vibration you get on gravel.
Pearl Izumi Bike Shoe FAQs
How Does the Shoe Sizing Run?
In our experience, Pearl Izumi bike shoes run small. We always order a half size up if in doubt.
I see the BOA button on some Pearl Izumi Shoes.  What is it?
The BOA strap system is found on many higher-end cycling shoes, especially in the road and gravel categories.  It allows you to do a very quick tighten of your shoe without having to mess with any laces.  It also allows for a few quick release when you want to remove the shoe.
Which each "click" the shoe becomes a little tighter, so you are able to get just the right tension on your foot.  We see this system on many of our favorite bike shoes.  We have personally used the system for years and love it.  You are going to find it on the X-Alp, Attack, and Pro-Road PI models, among others.