Outside of your bike and its key components, and of course your helmet to protect your head, cycling shorts might be most important bike gear purchase you make.
We always suggest prioritizing "contact points" when thinking about upgrading your bike.  What more important contact point than where  your backside meets your bike seat?
Cycling shorts are critical to anyone who spends much time on a bike.  A good pair of cycling shorts will prevent saddle sores, reduce chafing, and make the overall cycling experience much more comfortable.  Additionally, having the right quality cycling gear will help you be more responsive and safer on the bike, reducing the distractions caused by discomfort and allowing you to focus on the road or trail ahead of you.
Cycling shorts, triathlon shorts, and compression shorts share some similarities — they are like cousins.  However, they are fundamentally different in a few important respects.  First and most importantly, cycling shorts have the obvious padding in the seat and are built with excess space to house that padding, allowing you to ride your bike for hours.  Second, cycling shorts give up some of the compression engineering in favor of comfort, particularly in the crotch and on the thighs.  A good pair of cycling shorts allows the rider to be comfortable after even 100 miles – or as comfortable as one can be after 100 miles.
KEY FEATURES OF THE BEST BIKE SHORTS

Cycling shorts come in all varieties – ranging from low-end and basic shorts meant for shorter rides and entry-level riders, to high-end shorts that are meant for serious excursions and training and reflect years of engineering. While there is not a one-size-fits-all answer for cycling shorts, especially when factoring in the range of potential budget you might be working with, there are a few key concepts to consider when shopping for your cycling shorts. We will get to some specific shorts recommendations a little later in this article.
Designed for the Right Purpose. The first thing you need to do when evaluating bike shorts is to make sure you are buying shorts that fit your intended use. Some shorts are made more for mountain biking, others for competitive road riding, and still others are built more for very long endurance rides. Then there are triathlon shorts, which are a different animal altogether and made for the combination of swim/bike/run. We will highlight some of our favorites in each category below, as well as some good all-purpose shorts that can be good for multiple uses.
Construction Quality. Build quality is important in all of your cycling gear, and that goes for your cycling shorts as well. A good pair of cycling shorts will be made of reliably tough material that is suited for your intended use. The shorts will have strong stitching that should last through many, many wash/wear cycles, but the stitching should be flat against your skin.
Seat Pad.  Seat pads are woven into the saddle area of the shorts, and usually made of chamois.  Chamois is a napped cotton-flannel blend that acts kind of like moleskin on your bottom, making sure that any friction between your body and the bike seat is minimized.  Outside of a proper bike fit, the chamois pad could perhaps play the most important role in keeping you comfortable on a long ride.  A good seat paid will have as few seams as possible, seamless stitching into the pants, and just enough cushion to keep you comfortable.  Some cyclists apply a cream — chamois cream — to their shorts to reduce friction even more.  We suggest not taking that gooey step unless you really need to.  Most cyclists don't.  Just be sure that your seat bad gives you the comfort you need on long rides.  Besides having major comfort benefits, studies have shown that a good seat pad, along with a quality bike seat, can reduce worries about certain health issues and function in male cyclists.
Leg Grips.  One of the areas where the cheap bike shorts show their inferiority is in the leg grips.  Having a bad leg grip is a quick way to make you throw a pair of cycling shorts into the trash.  Imagine a scratchy or rough leg group on your thought, rubbing you just the wrong way as your leg goes up and down 50 times per minute.  Yeah, you want good grips.  A good leg grip will have enough elastic to keep its firmness for many rides, but will be completely smooth to the touch and offer nothing abrasive or uneven.
Shorts Features. Features are largely a matter of personal preference, but the choices are many. We recommend a short that is at least 8 inches on the inseam, as the provides more protection from the sun as well as an extra layer of armor in case you get tangled up with a tree or another cyclist. We are also big fans of having at least one pocket, and preferably two. This can be useful for carrying gel packs, hauling your litter, or simply having a place to stash a few emergency dollars. Other possible features are to go with a bib style, and of course the design. Many cyclists simply wear black shorts, but others want liven it up and the possibilities are endless.
Comfort. Just because this is the last point on our list doesn't make it an afterthought – it is probably the most important. Make sure you find shorts that are comfortable for you. The fit, placement and thickness of the pad, tightness of leg grippers, and quality of the stitching are all elements that can make one pair of bike shorts feel good for one person but annoying for another. A rule of thumb from many experienced cyclists is to try a few different types of shorts over time, and when you find one that works, just keep buying the exact model again and again.  There is also a safety benefit of having shorts that feel good, as you will have fewer distractions on the road.  Cycling no doubt has some risks, but being completely comfortable and focused helps the health and mental benefits outweigh the risks by an order of magnitude.
WHAT TO LOOK FOR IN YOUR CYCLING SHORTS
7 BEST CYCLING SHORTS
OK, enough of the tutorial.  You came here looking for recommendations.
As a starting point, here are some of our favorite cycling shorts based on past experience.  We do not include bib-style shorts which are used by some hardcore cyclist but generally not used by average weekend athletes.  Our goal here is to provide several good recommendations regardless of your price range and intended use.
Pearl Izumi Attack Cycling Shorts 
Best All-Around Value
The single most popular bike shorts among our readers.  PI makes some of our favorite gear anywhere, and the Izumi Attack Cycling short combines some of the best material and construction that we see in their gear.  They have been making the Attacks for years, which tells you they are on to something that cyclists like.
We find that Pearl Izumi gear tends to fit most athletes well and has a very comfortable feel against the skin, unlike some higher-end shorts which focus on being stiff but can have the side effect of feeling too "hard".  The Flatlock seams help keep chafing away, and the seamless chamois pad tends to be very comfortable for most athletes.  While you can buy more expensive PI cycling shorts, there is no need for the average weekend athlete to ante up much more than you need for the Attacks – these will service most cyclists very well.  Best for… general purpose cycling, ranging from someone who does routine 20-mile rides, to longer excursions, to an avid indoor trainer.  Excellent indoors or outdoors.  Available here on Amazon.
Castelli Free Aero Race Shorts 
Best for Long Rides, Centuries, Touring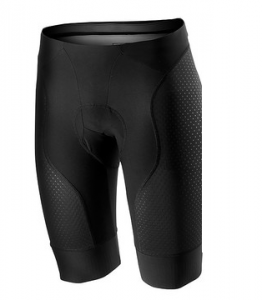 Warning – these shorts are expensive.  If you are on a budget, you may want to skip these.  However, if you are willing to drop $150 or more on your cycling shorts, the Castelli Free Aero shorts are about as comfortable and durable as you will find.  In the 4th generation Aero Race shorts, we love the broad area of the leg gripper, allowing the tension of the grip to be distributed over much of the thigh so you barely notice it.
The fabric is firm and will keep a cyclist comfortable for even long rides, and they are built with no inner-leg seam so there is no chance of chafing regarding of body type.  Castelli's are geared a bit more toward racers, time-trialers, and long-distance riders.  You may not be the right fit for them if most of your riding is leisure or on a mountain bike.  For those who are doing long rides, though, it is hard to beat the Castelli Aeros.  They are the first ones we reach for when doing rides of more than 2 hours.  They tend to run a little tight, so when in doubt order a size up.  Best for… time trialers, those with a healthy budget, and long-distance riders.  Available here on Amazon.
Louis Garneau Fit Sensor 3D Shorts 
($$).  For a good-looking and comfortable short that doesn't break the bank, we like the Fit Sensor from Garneau.  Garneau, or LG as it is called in many circles, really focuses on cycling gear and tends to put our very high quality products.  Louis Garneau is an actual person, a Canadian cycling racer from the 80s who first created a line of cycling gear in his father's garage. The Fit Sensors are one of the only shorts in this price range to offer a seam-free inner leg as well as a 10-panel pad.  One thing we have always liked about LG is the durability over time – something you might not always see in reviews because so many reviews are done within the first few months of owning a product.  Garneau's quality of bike shorts is exactly what they also give you in cycling shoes, snowshoes, and tri gear.  Best for… Long distance riders, those who routinely do 25 miles or more.  Also tend to be a favorite with female riders.  Available here on Amazon.
Pearl Izumi In-R-Cool Pro Shorts
You might notice a theme, we like the Pearl Izumi brand.  Originally developed in Japan but relocated to the USA several decades ago, PI has been consistently making not only great cycling gear but excellent workout year for years.  Not priced for the faint-hearted, the In-R-Cool shorts follows a line of In-R-Cool products by Pearl Izumi that really stand out and are worth every penny.  The fabric is strong with high-end stitching and leg grips, but what sets these shorts part is the cooling fabric, which the company calls Minerale — it transfers heat out and keeps your skin dryer.  The fit is consistently good for all builds, and the chamois pad performs very well for a long time.  Our testing suggests that if you are on the line, go with larger size as these run snug.  You might not feel great about spending $150 on a pair of shorts, but if you do very long rides, you will soon forget how much you paid and simply remember how comfortable these are.  Best for… hard core spin class students and instructors, Zwifters, and those who often do long rides in hot weather.  Available here on Amazon.
Sugoi Fitness Baggy Shorts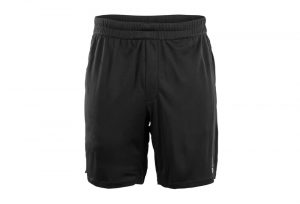 Sometimes you don't want form-fitting cycling shorts.  Perhaps you want to ride to an open air mall or community picnic, walking around in skin-tight spandex isn't your idea of style.  These are the shorts for you if you prefer not to be wearing classic cycling gear.  Sugoi is a reliable maker of cycling, triathlon, and fitness gear, and they have a great lineup of shorts.  The model we like are the all-purpose Fitness Baggy shorts.  The Pace shorts are not a form-fitting spandex short like you would want on a road bike, but rather a loose short with padding that is more suitable for off-road trails or leisure rides.  Sugoi adds two pockets to the shorts which are very useful, and uses high quality elastine along with an effective seat pad.  We only wish they were a little longer, because at 5.5 inches they feel pretty short…. but that is by design as you don't want to invite snags while on off-road trails.  Best for… Fast leisure rides, people who mix riding with touring, or mountain and trail bikers.  Available here on Amazon.
Pearl Izumi Escape Quest Shorts
We get that not everyone is looking for high-end shorts in every cycling shorts purchase.  Maybe you are on a budget, or maybe you are spinning 5 days a week and just need a drawer full of quality, clean shorts.  When it comes to shorts that can be found for $50 or so, the Pearl Izumi Escape Quest shorts tower above the others in terms of value and bang-for-the-buck.
One thing we like about Escape Quest shorts is that they are pretty no-nonsense in their design… so these have a pretty basic black-on-black look with a few color splash options (we like the neon yellow for road cyclists), but the important part is comfort, something these shorts can provide.  The Pearl Izumi brand has an excellent reputation for construction quality and durability, so we would not hesitate to buy their entry-level shorts.  Best for… those on a budget, or who just need a few spare pairs of shorts to keep in the closet for days when everything else is dirty. Available here on Amazon.
Castelli Endurance Bib Shorts
No list is complete without recommending a pair of bib shorts.
So you want to go all out, and merge the world of compression gear with the world of cycling shorts?  Castelli lets you do that with their compression Inferno bib.  Bibs are a step up in terms of your cycling investment, but for many riders they become the go-to piece of apparel for the longer, more demanding rides.  Bibs provide more coverage, tend to stay in place better, and prevent any type of waistline irritation that could be cause on long rides by the elastic on shorts.  We like the Endurance model because Castelli uses the same paneling we see in compression gear and wetsuits — different layers from fabric that allow for max range-of-motion and temp management.  These are great, form-fitting bibs, with compression qualities, for the right cyclist.  Best for… Hardcore cyclists looking to do longer distances or time trials.  People doing serious rides in hot weather.  Those with a healthy budget.  Available here on Amazon.
HOW MUCH SHOULD I SPEND ON A PAIR OF CYCLING SHORTS?
How much you spend on cycling shorts really depends on how you plan to use them, your cycling skill level, and of course your budget.  We always advise to err on the side of spending a little more.  Construction quality matters, and if you skimp you might find yourself spending more in the long run because your shorts wear out so much faster.  We think that if you get to the $50 range — like the Pearl Izumi Quest model listed above — you are in the range of good quality shorts.
If you take the next step up in price, getting up around $80, like our top all-around choice — the PI Attack — gives you a step up in terms of quality and comfort, especially on long rides.  You really don't ever need to spend more than that if your typical ride is 90 minutes / 20 miles or less.  But if you plan to do some fast riding, with a fast group, or want to tackle 50 and 100 mile rides, consider a pair of higher end shorts or bibs — in the $100 range and beyond.
ROAD BIKING VERSUS MOUNTAIN BIKE SHORTS
Mountain bike shorts often have a removable chamois liner that can be clean and changed.  most importantly, mountain bike shorts are made to be sturdier, because your risk of taking a tumble is many times higher.  Even if you don't fall, there is a good chance you will rub and scrape against things that you want to be protected against.  A good example of a standard, quality mountain bike short is Patagonia's Dirt Craft mountain biking shorts.  They are baggier, not form-fitting, but still provide the padding you would want on a bike.
Another "baggy" short that we really like, for those who want something durable but that will not be as form-fitting as a typical road bike short, is the Dakine Derail.  It is a tough short, one that is stretchy but also loose enough so you will feel fine walking into a restaurant if you decide to take a lunch break.   A 15-inch inseam provides plenty of length — almost too much if you want something that is going to be nice and tight to your body.  But for people who just need a little more length and want a short that could double just fine for a casual mid-ride stroll on the beach, the Dakine is hard to beat.  Find the Derail here.
DO YOU WEAR UNDERWEAR UNDER BIKE SHORTS?
No.  Not only is it not recommended, but it is not how the cycling shorts are designed to be used.  Using underwear under cycling or bike shorts negates the benefits that you are paying for.  Specifically, the lycra and elastane is meant to fit tightly against your skin, completely flat with no bunching.  Underwear will most certainly bunch up against your skin causing rubs, and in short order you will have chafing issues that you really don't need to ahve.  Also, the seat pad is meant to have direct contact with your skin, provide just the right anti-chafing surface for your sensitive areas to make contact with.
HOW CAN YOU MAKE CYCLING SHORTS LAST LONGER?
You can do a few things to get as much life as possible from your cycling shorts.
First, buy quality shorts.  Poor quality shorts will begin to tear at the seam prematurely.
Second, wash your shorts on the delicate cycle, and let them air dry.  That will reduce the temperature extremes in the washing process, and air drying is so much easier on those delicate seams.
Third, take your bike shorts off as soon as you are done with your rides.  Sitting in sweaty bike shorts is bad for your skin, and will probably cause the shorts to prematurely stink, whereas they should be relatively stench-free for a very long time if you take good care of them.
We tend to buy new shorts and use the heck of out them riding outside in the summer and fall, and then relegate them to shorts for indoor smart trainer cycling use once they are on their last leg.
ARE CYCLING SHORTS WORTH IT?
Yes!  As avid cyclists, we would say that we never go on a bike ride anymore unless we are wearing cycling shorts. The fit, padding, and feel of cycling shorts is something that will make every ride more comfortable.  Not to mention, all you really need is one experiencing with bad chafing or a saddle sore, and you will spend days trying to heal instead of being in the bike saddle where you belong.
We know that shorts can be an investment, and if you are just starting out you might be tempted to wear running shorts or other gear on you bike ride.  Resist the urge.  Buy an entry-level pair of cycling shorts, and put them to good use.  It is totally worth it.  We guarantee that within a few rides, it will be all you want to use on even the shortest bike ride.
CONCLUSION
There you have it, our lineup of recommended shorts at various price points.   You will notice that we did not recommend any shorts below $50, and for good reason. If you go online, you will find all kinds of cheaper shorts, made overseas by brands who have been in business all of a few months…. but our advice is to stick with the folks who know what they are doing.  They make shorts that are specifically meant for quality, long, hard bike rides.  Don't skimp on your shorts, because if you take care of them you might get years of comfortable use out of them.  You will thank us at mile 40 for recommending reliable shorts!
Whether you are focusing on riding your smart trainer indoors, or ready to head out to explore on your new gravel bike, the right bike shorts are a key pre-requisite in order to have a good ride — along with a great attitude and decent conditioning.
Good luck with your cycling!  Stay comfortable, stay safe.
Von Collins is an accomplished triathlete and cyclist, and the author of four fitness and training books: Smarter Running, Your First Triathlon Guide, Fit Foods, and 30 Rut-Busting Workouts.
Von has been cited as a triathlon, cycling, and fitness expert by Healthline, CNET, Forbes, Eat This, Not That and other major outlets.
Von has done dozens of triathlons and endurance bike races, coaches, and is an avid part of the cycling and triathlon community.