Triathlon shorts are perhaps one of the most versatile and core pieces of a triathlon clothing wardrobe for any serious or beginning triathlete.  Because it is the one piece of gear that you wear for each leg — the swim, bike, and run – investing in a pair is an easy way to check an important box for your race-day triathlon attire.  Other than shoes, a good pair of triathlon shorts will be all you need to wear on your lower half during a triathlon.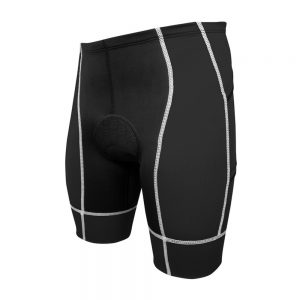 In most triathlons, the majority of racers have some combination of triathlon shorts and triathlon or workout shirt, if they are not using a full-on triathlon suit.  Investing in a good pair of triathlon shorts can be a good way to get into the sport of triathlon without dropping a ton of money on higher-end gear, and a way to simplify the race because you won't have to worry about ever changing your bottoms.  Even in cases were you may choose to race in a tri suit, having a good pair of tri shorts (or a few good pairs) will be useful for your training and open water swims. Triathlon shorts come in a couple major quality levels, and share a few key features.
In this article, we summarize what you should look for in a good triathlon short as well as our preferred models.
The Bottom Line: Our Tri Shorts Picks
We have listed five triathlon shorts that we recommend below, but if you are in a hurry, here is a quick summary.  Read down below for much more detail.
Our favorite higher-end triathlon short is the De Soto 4-Pocket Forza Model, great for any race distance.  Perfect combination of comfort, quality, and performance.  Find Here on Amazon.
If you don't want to spend as much, our top mid-range tri short is the Pearl Izumi Select, about half the price of the De Soto, and a reliable garment good for Sprints and Olympic races.  Find Here on Amazon.
Triathlon Shorts:  What to Look For
Tri shorts are a key part of your training and your race.  Few other garments are expected to deliver on the all-purpose duty that you will need from your shorts.  They need to be both durable and breathable.  They need to do well in the water as well as on the bike.  Those are tall orders for any pair of shorts, but fortunately today's tri gear makers have done a nice job of blending the right fabric and features so you truly can wear one pair of shorts throughout the race. A good pair of tri shorts quickly become a go-to garment that you can use for training for any event, as well as on race day.  Note, however, that tri shorts are not intended to be used in chlorinated pools.  Doing so will wear them out quickly.  Most triathletes who we know reserve their tri shorts for bricks (combo bike and run workouts) and race day, using swim jammers in the pool and cycling shorts on their longer rides.
Tri shorts are different from cycling shorts or compression shorts.  While compression gear is meant truly to increase blood flow and recovery, and cycling shorts are purpose-built specifically for the activity of cycling, tri shorts are much more versatile in both form and function.
When you are buying your tri shorts, key things to look for include: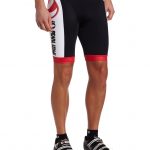 Fabric that is truly all-purpose.   The material in your shorts need to be breathable on the bike and run, quick drying out of the water, but great during the swim.  Most makers know how to create great fabric blends that are good during the swim but will essentially be dry by the time you get on the bike.  We don't know how they do it, but they do.
A bike seat pad that is sufficient for longer rides and quick-drying as you exit the water.  Bike pads in triathlon shorts are not as substantial or thick as those you find in single-purpose bike shorts.  In fact, they are quite a bit thinner.  That is necessary, however, in order for your pad to not remain wet while you ride the bike in the second leg of the race.  If it did, it would introduce chafing that would in turn introduce misery.
Seams that you can't feel.  Like a good pair of compression shorts or compression tights, the seams in a triathlon short need to be flat enough so you don't even know they are there, yet strong enough so they are durable.  Seam construction is one of the things that usually improves as you spend more on the shorts.
The right length.  Most tri shorts have an inseam length ranging from 6 inches (very short) to 10 inches (on the long side).  There is no perfect length – it is a personal preference thing.  But don't settle for a length that you are not comfortable in.
Comfortable leg grips.  The grips on the bottom of the shorts need to do two things:  hold tight on your leg so the shorts don't ride up, and do it without digging in to your skin.  Most makers have developed a good system of leg grips, capable of keeping your shorts from riding up on the bike or run, and from bunching up underneath your tri wetsuit. However, this is another area where spending more sometimes gets you better comfort.  The best leg grippers are the ones that you don't even know are there.
Pockets.  We go back and forth on pockets…. while they certainly are not a necessity, especially for those doing a Sprint, they are a nice feature that you get used to, once you have them.  Especially if you are someone who does longer races or relies on gel packs during your bike or run, you might want to consider the models that include a couple pockets.
A good fit.  Having the right fit in all of your workout gear is essential, and it is no different with tri shorts.  If they are too small, they could constrict your range-of-motion and even cutoff your circulation in a very uncomfortable and dangerous way.  Plus, they will just look terrible.  If the shorts are too large, they might bunch up underneath your triathlon wetsuit, something that will having a domino effect of making the wetsuit fit a little off.  Too-large shorts also do a poor job of keeping everything in place for males…. if you catch our drift.
Your Budget obviously needs to play in to your decision, too.  For a higher price, you should expect a more seamless short with leg grips that are barely noticeable.  You should also expect a seat pad chamois that is incredibly comfortable.  As your budget goes down, you will have trade-offs in some of these features, but rest assured you can still get a very good triathlon short for not a ton of money.
5 Recommended Triathlon Shorts for 2022
That leaves us with the question of "what shorts should you buy?"  Many shorts from many tri gear makers do just fine, but here are the 5 favorites that we have personally used, and that combine quality with value.  We would stand behind (and in) any of them.
Castelli Free Triathlon Shorts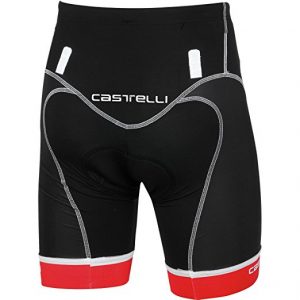 Castelli is known for making high-quality gear at a premium price point, and the Free Triathlon Shorts are no exception.  It is a classic situation of you get what you pay for.  The stitching and fit will be excellent, and the GIRO3 elastic leg grips are among the most comfortable we have found on the market.  Instead of being more of an elastic strip, they are an entire section of the short that give you more gradual, but firm, grip and performs very well.  The KISS seat pad is excellent on the bike and swim, and these shorts dry out quickly.
If you use a Castelli-brand top, the shorts have a snap lock faster that allows the top to hook to the bottom — a nice touch for some athletes.  We have also found Castelli products to hold their shape in a highly durable way for many, many uses, making the investment very worthwhile.  They run a bit small, though, so if you are on the borderline order a size up.  It is a good short that has had a place on our Top 5 list for several seasons now.  Find here on Amazon.
De Soto 4-Pocket Forza Shorts.
Best Overall.  De Soto makes some serious tri shorts that are good for both shorter and longer races.  When you talk to people who say they enjoy using their tri shorts on regular bike rides, then you know it is a quality garment.  These shorts have been our top pick for several years, and nothing is changing this year.  We like the compression qualities of the shorts that help provide some muscular support, as well as the flat seams that you don't even know are there.  We're not about looks, but have to admit these shorts look great too, with the curved seamlines.  The Liftfoil construction takes a page out of De Soto's speed suit playbook and creates a more sleek tri short with less friction – something you will notice when combining with a wetsuit.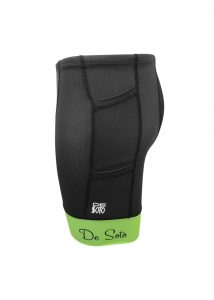 De Soto's leg grips are similar to the Castelli, broader and more gradual for an incredible level of comfort.  While De Soto might not have the broad distribution network of other big tri clothing manufacturers, they crank out great quality in all of their products.  If you have the budget, you won't go wrong with a De Soto Forza — they are the most expensive of the bunch we recommend here, but worth it.   Find here on Amazon.
2XU Compression Tri Shorts.
For those looking to build some compression into their triathlon shorts, 2XU makes a good all-purpose tri short in the Active line.  These are a best buy on the market.  We like that there is just enough compression (2XU doesn't publish how much, but we would estimate about 20 mmHg) to create some firmness throughout the race.  When we have used it, it checks all the boxes of what we are looking for too — easy cooling so you don't burn-up inside (thanks to the Ice X fabric which seems to be pretty effective), quick drying out of the water, and with a good enough bike pad to get you through many races.
We have been big fans of the 2XU lineup for years.  They make some of our favorite gear, including some really good compression socks. We trust the brand.
The first generation 2XU shorts proved to be a great value, and the newer version adds some color accent options as well as two pockets, which are a nice upgrade.  2XU is a brand we have grown to trust in the worlds of both compression and triathlon, and they do a nice job of bringing the two together in this short.  Not cheap, the 2XUs are nearly as much as the DeSotos, but you get what you pay for with tri shorts.  Find here on Amazon.
Sugoi RS Tri Shorts
Sugoi makes a stiffer, higher-compression triathlon short which many triathletes like.  The shorts are comfortable and extremely fast-drying, something that becomes important not only in T1 but also when racing in the rain (sooner or later, it will happen).  We also like the proven durability of Sugoi's, which ultimately reduces the total cost of ownership. Our first-hand field tests indicate that the RS shorts tend to run a bit small, and fit quite tightly compared to other shorts.  They might be a good option if you are a slim, lean triathlete.
If you have a little more muscle on your bones, you might want to consider a different model.   These shorts fits best on those that are slender.  The 7.5 inch inseam works for most triathletes, and the waistband tends to be one of the more comfortable that we use, although waistbands are something that tend to be highly subject to personal preference.  RS stands for Race Systems, and Sugoi has definitely designed these to be highly competitive in any triathlon.  Find here on Amazon.
Pearl Izumi Select Tri Shorts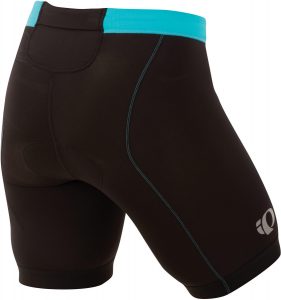 Best on a Budget.  Not all of us have a big budget for our tri gear, and Pearl Izumi is there for people who need quality gear but without the high-end features and price.  Like many of the other tri gear makers, Pearl Izumi started as a cycling gear manufacturer, and used its skill to move into the triathlon market.  We like the feel of the Select Tri Shorts, which seem to provide a little more flex and softness than many of the other lower-priced shorts on the market.  Another best buy.
The Pearl Izumi's don't have the more graduated grips you will get at higher price points, though.  For a sprint triathlon, or even an olympic, that should not be a hinderance.  The quick-dry chamois pad dries off as fast as any of the shorts we have tested, and the stitching and leg grips are reliable and of high-quality.  We are also big fans of the one pocket PI puts on the Select shorts, as it comes in handy for carrying gelpacks during the bike ride or run.  For a little more quality and features (not that the Select is lacking), Izumi also makes the In-R-Cool shorts that we really like.  Find here on Amazon.
Triathlon Shorts FAQs
Are triathlon shorts the same as bike shorts?
No. Triathlon shorts are designed to allow the wearer to be able to comfortably swim and bike, which requires a much thinner seat pad or chamois than true bike shorts.  The pad on bike shorts is thicker, making it more comfortable on the bike but very difficult to run or swim in.
Do you wear anything under the triathlon shorts?
No. Like bike shorts, tri shorts are designed to be worn directly against your skin, with nothing (no underwear or briefs) beneath them.
Do you change out of your triathlon shorts after the swim?
No. Tri shorts stay on for all three legs of the race.  They are designed to dry very quickly once you are out of the water.  If you have never used them, you will be surprised how quickly they dry when you begin the bike leg of a race.
Conclusion
The bottom line is that there are plenty of choices when it comes to tri shorts.  We think anyone doing a triathlon needs at least one pair, and if you plan to make triathlon a hobby, consider experimenting a bit.  Our recommendation would be to buy a couple, and find the brand that fits you best.  If you are serious about your training or plan to do more than one race, you will benefit from having more than one pair.  If pressed, we would recommend the De Soto for the higher price range, and the Pearl Izumi for the mid-range.
If you enjoyed this, don't miss our other pieces on triathlon gear, updated each season with the top makes and models on the market.
If you enjoyed this overview of triathlon shorts, you would love our proprietary PDF "Our 11 Favorite Places to Find Triathlon Discounts".  It includes deep discounts and coupon codes you can only get through Complete Tri.  Just join our email list and have immediate access to the deals!