There was a time when the only way for beginner triathletes to have access to good triathlon wetsuits was to rent.  It was just too hard to justify the purchase of a $500 suit if you weren't planning on racing every summer weekend.  Those days have ended.
With the incredible growth of triathlon in the past decade, there has been a flood of new entry-level wetsuits on the market, and the price to own isn't much higher than renting a suit for a couple of races during the season.  Additionally, while triathlon wetsuit prices keep going up at the top-end, the entry-level price point has stayed around the $200 – $300 spot for several years, allowing you to find some real bargains out there.  Sure, you can still spend $600+ on a higher-end wetsuit, but you don't have to.
We are always trying to help beginner triathletes find the right gear for all three legs (check out our article on finding an entry level triathlon bike) and wetsuits are no different.  So if you are a new triathlete, or just someone who wants to save a little money, here are a few entry-level wetsuits that are worth checking out.
Orca S4
The  S5 from Orca debuted recently, replacing the S4 which had been the lineup's entry-level model since 2010.  Orca has made gradual improvements to this entry-level model every year since introducing it.  As usual with Orca, the S5 provides some of the top fabric technologies available at this price point.  The full sleeve S5 uses 5mm Smoothskin neoprene for the majority of its construction, with thinner Quadstretch panels in the shoulder for additional freedom of movement and special Hydrolift buoyancy panels in the core and lower legs to provide improved body position.  The S5 also has hydrostroke silicone printed forearm panels form better stroke grip.  With the S5 listing at around $240, but available for less through our sponsors, it definitely qualifies as the best buy of the bunch.  Find it here.
Zoot Wave 1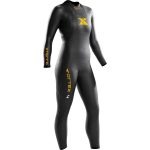 Zoot completely changed their wetsuit lineup, and we are still getting used to the new naming convention and models.  The entry-level suit, though, is the M Wave 1.  It uses Yamamoto #38 neoprene for a great combination of buoyancy and durability, and low-friction SCS coating to provide maximum glide through the water.  Like the S3 from Orca, the Flash uses different panel thicknesses depending on location to tailor a balance between flexibility and buoyancy – 4mm in the torso nd  3mm in the legs.  In the $225 – $250 range, the Wave 1 is definitely at the bottom of the price range for entry-level wetsuits, so a good option for those on a budget.  Note that Zoot makes their suits gender-specific, so you will want to choose a M or W model depending on your gender. Find it here.
Xterra Volt
The Volt from Xterra is a great value suit from a popular manufacturer in Xterra.  While it comes in at the higher-end of the entry-level wetsuit price range, Xterra packs in the features that are often found in more of a mid-level suit…. so you really get a good value.  The Volt has a feature set that's tough to match for a new triathlete.  It uses 3mm neoprene in the front and 2mm in the back.  The 3mm panels provide buoyancy while the reduced thickness in the back gives improved flexibility over the large muscle groups.  The suit is coated with the slick Composite Skin coating.  One of the biggest differences with the Volt is that unlike other entry-to-mid range wetsuits, it uses a high quality liner for maximum stretch and comfort throughout it's construction instead of just the shoulders and elbows.  If you want to increase your budget by $50 or $75, you can consider the Vortex which is a very good suit in its own right and will give you even more contrast between the panelling.  You can get a significant 50% discount on the Volt and other Xterra wetsuits by using our code, 'EBOOK', when buying directly from their site at www.xterrawetsuits.com.
Blue Seventy Sprint
The Sprint from Blue Seventy is one of the sharpest looking suits out there – after all, who doesn't want be fast and look good on raceday.  It's available in 14 different sizes, so there are a lot of fit options for both men and women.  Aside from the Sprint, we just really like what Blueseventy (or "blueseventy" as they are branding themselves) is doing with its wetsuit lineup, a company that has been making great wetsuits for many years.  Blueseventy also makes a "femme fit" model of their suits, designed specifically for a female figure.  The bulk of the suit is constructed from 5mm neoprene, and large stretch panels in the shoulders allow for full range of motion.  It includes thicker leg padding for more buoyancy.  At a price of around $220, it is an excellent overall value and gives you a high quality suit from arguably the most innovative manufacturer in the business today.  Find it here. 
Step-Up Options
If you want to push your budget just a little further up into the entry-level range and begin to get into the mid-range wetsuits, we are intrigued by the 2XU A:1 Active model.  Newer to the market, this wetsuit borrows some of the buoyancy characteristics of more expensive suits with the cleverly-named "rollbar" technology.  2XU has proven to be one of the more active gear makers lately in terms of improving their technology, so we like what we see in the A:1 Active.  2XU wetsuits also come with a one-year warranty, which can provide some peace-of-mind to spending a little more money.
We are huge fans of the Xterra Vortex, perhaps one of the best all-around values on the market today.  It will be a suit that you can use as you are just beginning, but can continue to comfortable use even if you begin to tackle longer and longer swims and races.  Remember our 'EBOOK' discount code if you check it out at www.xterrawetsuits.com.  Overall, we love the Xterra brand and believe their direct sales model allows them to pass some real value on to customers.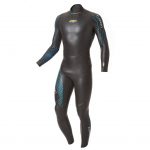 While we are at it we also like the Blue Seventy Fusion, a wetsuit that is at a price that just barely takes it out of the entry-level space.  For the extra money, you get a sophisticated paneling of 3, 4, and 5 millimeter neoprene in the wetsuit, with a special emphasis on making the legs very buoyant.  For swimmers who maybe are not as confident in open water, those extra-buoyant legs might provide peace-of-mind that is very welcomed come race day.  You can find the Fusion for $325 or less here, through our partnership with Blueseventy.
What to Look For
Regardless of which wetsuit you choose, there are a few things that you should make sure you think about before splurging on a wetsuit.  In no particular order, they include:
Fit.  Do not compromise on having the proper fit to a wetsuit.  While it might be nice to save a few bucks on the day you buy your triathlon gear, you will regret it on race day when you are 1/3 of the way in to your swim and your breathing is off because your suit is too tight.  A good wetsuit will be snug, but not constricting.  It will fit over your tri suit and/or your triathlon shorts without bunching them up or creating discomfort.  It will be tight but allow you to breath and do a normal swim motion (a fine line).  See our article on how a wetsuit should fit for more information on the right wetsuit fit.  Speaking of fit, you will definitely want to try swimming in your wetsuit at least once — and ideally several times — before race day.  If it is your first time using one, it feels a little weird at first.  That is normal.
Seams.  Make sure the suit you buy has good, uniform seams that are nice and flat against the skin.  Having seams with any edges or points will result in chafing, and a seam that is not uniform is more likely to come undone, reducing the life of the wetsuit.  Once a wetsuit seam begins to let go, it is very difficult to repair.  The best wetsuits on the market have reinforced seams, and a type of seam tape covering the seam to add durability.  The seams are often the first thing to go on the cheaper, imported wetsuits that sometimes flood the market.
Paneling.  In short, paneling is the number of varying points of thickness in a wetsuit.  Most wetsuits range from 2mm to 5 or 6mm in thickness, and you want thinner areas in spots where you need flexibility, while areas requiring warmth should be thicker.  The bottom line is that you should try to get as many varying panels as you budget will allow.  The uber-cheap wetsuits on the market today offer just one thickness, which usually compromises on warmth, flexibility, or both.  In fact, such wetsuits are sometimes even used for resistance training, because they restrict movement.  You don't want one of those — be sure to get a real triathlon wetsuit.
Zipper.  The zipper is a crucial piece of the wetsuit, and one that you should inspect closely before buying.  Look for two things:  First, closely examine the construction and make sure the stitching around the zipper is very strong, seamless, and smooth.  Second, look at the zipper itself, and make sure it moves freely up and down with a nice, heavy, high-quality zipper.  Remember, you will be yanking on this zipper with lots of force as you exit the water on race day.  You want the zipper to do its job while you are swimming, and then be able to take some force when you need to quickly remove the suit.
Compatibility with your swim.  It might seem obvious, but be sure that your wetsuit is the type that will help your swim.  If you need something that will keep you warm in very cold water, you can find wetsuits that are made for cold-water swimming.  The way that still water works inside neeoprene can be incredibly effective in keeping you warm — 20+ times warmer than if you relied on air temps to warm you up.  If you need something that is not going to cause you to overheat, you may want to opt for a suit that has thinner neoprene and perhaps comes in a sleeveless version.
Style.  The style of the wetsuit often has to do with personal preference.  We are not talking so much about color or design, but rather the cut of the suit.  The big question you will need to ask yourself is if you want a full-sleeved or sleeveless version.  There are pros and cons of both, but in short the longer-sleeved versions give you more buoyancy and warmth, while the sleeveless versions can be nice for those who don't like feeling their shoulder range-of-motion restricted.  We devoted an article to this topic to help you further examine the merits of a full-sleeved vs. sleeveless wetsuit.
What not to look for:  Design and color.  Nobody cares what you look for in the water, and in most races your goal is to take it off as quickly as possible once you are done.  Fit, build quality, and features are way more important than the color or design on your wetsuit.  Besides, most wetsuits on the market today are black, or variations on black.
By the way, if you are looking for kids triathlon wetsuits, we didn't tackle that in this article because we devoted an entire piece to it.  And for those of you who are thinking about buying your first triathlon wetsuit but have no idea who to put it on, wear it, or use it, we have you covered.  Check out our popular piece on using a wetsuit, complete with an instructional video on how to put the wetsuit on.  It can admittedly be a little tricky the first time or two.
So there you have it, five great wetsuits that all retail for $250 or less, and you can get them at great prices with the discounts we have arranged by using the links above.  These are all wetsuits that would have been top-of-the-line just a few years ago, made by reliable triathlon gear producers who have been around for a while.  Thanks to continual advancements in wetsuit technology, what was the high-end wetsuit five years ago is an affordable, entry-level suit today that will help you enjoy the sport of triathlon.
Conclusion and Recommendation
Any of the suits profiled above are excellent suits, and we would be more than comfortable recommending them all to a friend.  They are all made by longtime triathlon gear makers, and built specifically for the purpose of triathlon.  If we had to pick two, however, it would probably be the Blue Seventy or the Xterra.  Both give you a suit that we think is a cut above, for a relatively modest price of entry.
Whatever the case, be sure that you get a wetsuit that you think you can use for a long time and grow in.  As your triathlon hobby develops, you will want a wetsuit that can keep up with you each step of the way.  One of our favorite techniques is to try to find discounted tri wetsuits, buying higher-end wetsuits on closeout or clearance that can give you lots of bang for the buck.
By the way, if you are new to the sport of triathlon and looking for a way to learn about the ins-and-outs of training and racing, checkout our eBook, Your First Triathlon Guide.  It will be a handy reference throughout your triathlon experience.
If you liked this article on entry-level wetsuits, download our exclusive PDF "Our 11 Favorite Places to Find Triathlon Discounts", complete with exclusive promo codes.  Simply join our email list and get the PDF immediately!