We love seeing people get into cycling – whether it is purely recreational, or to build up to longer rides, or to ultimately compete in a bike race or triathlon. Our attitude is that the more cyclists there are — regardless of your budget — the more demand for trails, dedicated bike lanes, and bike amenities which we all benefit from. It creates a productive cycle – not to mention, it can make the population healthier which is good for all of us.
Buying an entry-level bike, though, can be mind-boggling. Not only do you have dozens of brands to choose from, but each model seems to have an unlimited combination of components. No doubt, when you start looking for a bike, you will either fall in love with the first one you see, or be numbed by all the choices and decisions you can make.
What's more, for many manufacturers nowadays, "entry level" can mean anything up to about $2,500. That is a bit more than the typical newbie might consider to be entry level, but if you plan to ride a lot, you don't want t skimp either. Luckily, there are still some pretty good options in the $1,000 to $2,000 range, too.
A Note About Road Bike Buying
Before we get into the entry-level road bikes that we really like, we wanted to make a couple comments on the process of buying a bike. We might be a triathlon blog, but at any tri club or on race morning of a triathlon, you will see lots and lots of road bikes. They are part of our sport so we know a thing or two about buying them.
First, there is a reason that Independent Bike Dealers have been a mainstay of the cycling community for so many years. If you aren't quite sure what you are looking for, and even if you are, they can be incredibly helpful in finding a bike that works for you. Sure, we can make a buck or two if you buy through one of our partners (linked below), but in the bigger picture we want people to ride the right bike for them. If that means a trip to your local bike shop, we are all for it. Our website has never been intended to take business away from local bike shops. Just the opposite — we want to get more people into the sport so that independent bike dealers have a larger universe of customers!
Fred Clements of the National Bike Dealers Association says it best, "a good bike mechanic is an artisan, not a laborer or engineer." Find a good mechanic at a local shop, and he or she will get you on the right bike for you.
Second, the decision that you really need to make is threefold when it comes to buying a road bike. Which bike frame/make do you want (and this should largely be based on fit), which "moving component" set to do want, and then which bells and whistles are you looking for. This is why you might see one bike model that comes in 20 different variations – there could be an almost endless number of component combinations you can outfit a single bike with.
Third, we list some bikes here that eclipse the $2,000 mark – which might seem like it is way above entry level. We do this for a couple reasons – first, for the right cyclist, $2,000 is a bargain for a good road bike. If you are someone who ultimately gets hooked and puts 5,000 miles a year on your bike, you will want something with some quality and features. Finally, bikes are often discounted by various retailers – so a $2,000 bike might be found for way less if you can catch it at the right time.
5 Great Entry Level Road Bikes
Let's just get to the point. Here are 5 "entry-level' road bikes that we really like right now and are easier on the budget (if you were looking for triathlon bikes, don't worry, we researched that as well, here).
(Cutting to the Chase, our Favorite is…..)
If you want to spare the reading, we will help you get to the point. We assessed these bikes, rode them, inspected them. There are two that stand out. The Felt VR40 is just such a great value for what you get, riding the smooth aluminum frame is a dream. And you gotta love the Trek Emonda, especially when it gets the hand-me-down features from its more decked-out siblings.
With that said, let's outline the top 5.
| | | | | |
| --- | --- | --- | --- | --- |
| | | | | |
| | | Gravel-ready bike with trusted parts | Riders who may enounter all surfaces. | |
| | | Quality of Orbea brand; handles tires up to 35mm | | |
| | | Felt brand; Comfortable on long routes. | | |
| | | Outstanding frame and components for the money. | Those who need speed; Racers and sprinters. | |
| | | Unlimited design and groupset options. | Those who need a good bike but like to upgrade parts. | |
Cannondale Topstone Road Bike
The Cannondale company has been building bikes since 1971. While many bike companies tend to be based in the Northwoods of Wisconsin or Minnesota and Western USA, Cannondale is an East Coast company, based in Connecticut. We like the lineup that Cannondale offers, although they crank out enough bike models so it can take some time to get your head around it all.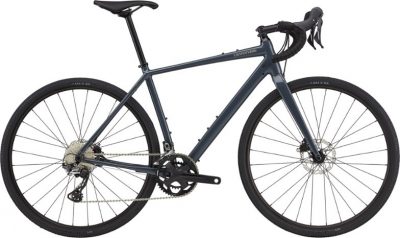 The Topstone is actually a pretty massive lineup of bikes — positioned just under the Synapse lineup which has become a little too pricey to be "entry level" in our book. Some Topstone models can be found at the entry-level price point, and depending on componentry will typically be found for $1,000 to $2,000. That is a good price for a very high-quality bike. Other models can cost double that price or more. We are obviously focused on the entry-level price point for this article, so are talking about the alloy frame. The one that we recommend is the Topstone 1, a great alloy bike that gives you an excellent ride on both fast pavement and hardpack gravel (it is actually also on our list of best gravel bikes for this reason), and is even a good commuter bike — an excellent all-around model. If you want to spend just a little more, there is the Synapse 105, coming with (as you could guess) Shimano 105 componentry. There are some great Synapse models well above the $2,000 price point, but we can't in good faith say they are entry-level bikes. The Synapse 105 sometimes fits the entry-level bill, though, depending on where you find it.
One of the first things I noticed when testing out a Topstone was that its gearing is a little lower and slower, which is great if you plan to ride places with lots of twists, turns, and climbs. But if you really want to crank fast on a long straightaway, you might find the top-end of your speed range a little wanting — but not by much. The big and small chainrings have 46 and 30 teeth respectively, compared to 50/34 for many on this list or 53/39 which is a classic, common combination for old-school road bikes.
I liked that all of the Topstone models now come with disc brakes, regardless of if you buy the high-end or the low-end model. They all have a carbon fork as well, which corners better than alloy and is a little more forgiving overall.
Because of the number of variations on the Topstone, it isn't hard to modify or upgrade certain components while staying within the Cannondale brand and with a Cannondale dealer. The bike shop where I did my Cannondale exam had many of the parts in stock, behind the counter, from previous mods and builds.
What we like about the Topstone:
Cannondale sleek alloy frameset. With the combination of frame and components, this is a bike that you couldn't have gotten for the price 4 years ago. Note that the Synapse also comes in an aluminum frame if you can find it. We think both are worth considering.
Micro-suspension built-in to rear stays. Allows for some shock absorption through the frame.
We love that Carbondale is putting disc brakes on virtually everything they build, regardless of price.
Carbon fork will give you better cornering
Fabric scoop radius saddle, a comfortable saddle for riders of all skill levels. Scoops are some of our favorite road bike saddles.
Slightly more upright frame geometry, which is the better choice for people who are not time-trialing. Overall, this is a balanced frame that allows you to do fast road rides without being in an uncomfortable drop position — something that might not be second nature for beginners.
Generally speaking, Cannondale seems to try harder than some of the other brands when it comes to creating an approachable and affordable first bike for new cyclists. The Topstone lineup is a perfect example of that.
Cannondale is one of REI's carried brands, making brand-customized service accessible if you live near a major metro
Find the Topstone and the Synapse here.
Orbea Avant H40 and 40-series Road Bike
We love and trust the Orbea brand. Orbea is a name that you will find with many high-end cycling groups and triathletes, and it has been that way for many years. The European bike brand has been made in Spain since the 1930s, and is known for cranking out great bikes from the entry-level all the way up to high-end, $8,000 (or more) cycles.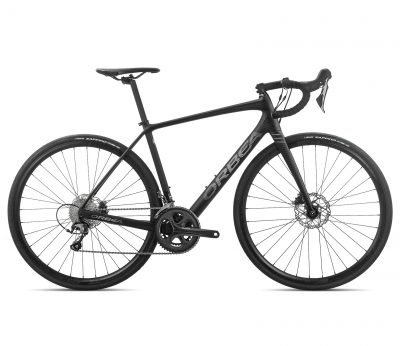 The Orbea road bike that we like this year is the Avant. Truth be told, we are fans of both the Orca and the Avant lineups (both have the "M" and "H" model numbers) from all of our training, and the Orca's Ordu lineup – built for tris – offers an M30 that we like as well. That made us take a serious look at the H-series in the Avant line.
I found that the ride experience was superb when on those longer rides. If your idea of a Saturday morning ride is 3 to 4 hours instead of 1 to 2 hours, you might want to take a serious look at the Avant. Based on taking a spin on each, of the bikes on this list, the Orbea was my top choice for people who intend to mainly use the road bike for longer 50 – 100 mile rides. A few slight degrees of frame geo can make a huge difference in long-ride comfort.
With that said, fit is everything and be sure the bike geometry works with your particular build.
Of the bikes we looked at for this piece, the Avant was the one that edged up above $2,000 (unless you count the others with disc brakes added)…. But it gets you into the Orbea lineup which is a really high quality road bike and one that you can definitely ride as your abilities and interest increases over time. And did we mention it is a great looking bike?
What we like about the Orbea H40:
Our experience was that this was a nice riding bike for the money, and worthy of a variety of trails and road surfaces.
We liked the slightly more relaxed body angle, which is great for longer endurance rides.
Quality Aluminum frameset. Saving money on (really good) aluminum allows Orbea to put more money into components.
Shimano Tiagra drivetrain, with 105 available as an option
Ability to mount up to 35mm tires (great if you are interested in some gravel riding. At 35mm, you can get some quality all-surface bike tire options.
Expansive gearing — great on hilly terrain or on flats
Internal cable routing throughout the carbon frame – this is something normally found on higher-end bikes.
Responsive and fast feel overall – an excellent bike with some giddyup and great for climbing (assuming your legs can provide the horsepower)
Like the Topstone, you will get disc brakes and a carbon fork
Felt VR 40 Road Bike
We have been riding Felt bikes of some sort for decades. Literally. Why? They have somehow figured out a way to combine quality frames, step-up components, and a reasonable price point. If someone held a gun to our head and said we needed to pick a bike brand, site-unseen, for a long ride, we would probably just choose a Felt — that is how much we like them.
On the paved trail, I found that the VR40 does not disappoint, and gives you the upgraded, zippy ride experience that we would expect from a Felt. In the same lineup, the VR 40's less-expensive sibling, the VR 60, is a great option if you are under a tight budget and it actually has the same frame as the VR40.
Why then do we recommend the VR 40 for $450 more? One word: Tiagra. The VR 40's Shimano Tiagra components are a nice upgrade over the VR 60's Claris components. We have nothing against the Claris line, but the Tiagra is a decided step above if you are seriously getting in to road cycling. We view the Claris as a better component set for commuter bikes.
The Felt's aluminum frame is relatively light and rides smooth. You might be tempted to insist on carbon fiber, but going for a carbon frame in the VR lineup means that you are going to shell out about $1,500 more. Yep, almost two thousand more to get the carbon frame.. By going with the aluminum frame, the VR40 will let you get much better components for the money. You could save yourself about 2 pounds, or you could get shifters that are going to be smooth, and gearing that will let you get-up-and-go.
My test-drive was impressive. We found that the bike felt lighter than its real weight, accelerated very well, and we energetic when going up hills. When it comes to bang for the buck, I'm not sure you can beat it. As I examined all the components in detail, I concluded that this was a bike you could ride as-is for a long time without doing any upgrades.
What We Like about the VR 40:
Excellent aluminum frame that is capable of great road riding, but also gravel-worthy if needed. Frame is light as far as aluminums go.
Dual-piston disc brakes give you plenty of clearance if you want to run slightly wider tires. Max clearance on tires goes up to 34mm, and while that is not enough to run true gravel tires, you can have a pretty all-purpose tire at that width (it comes stock with 30s)
We love the Devox bars, comfortable in both bullhorn and drop position. These are the same bars you would get on the much more expensive Felt models.
Given the smooth ride, we have no qualms about this aluminum frame and think this bike is a great value for the money.
Overall, an outstanding bike for the money, and a bike worthy of customizing to suit your riding style. If you need to save a few bucks, you can consider the VR 60 and then gradually upgrade your components, but we think it is best to just start with the VR 40.
Find the VR60 here (slightly less expensive but with Claris components)
Felt FR 30
We just finished talking about how much we love Felts, so we won't belabor it here.
Whereas we just talked about the excellent VR lineup above, and the VR 40, there is another very intriguing Felt available if you have just a bit more budget: The high-performance FR 30.
I gave the FR 30 a stiff road test, logging a couple hundred miles, and did not want to give it up. A fun ride, great acceleration, and LOTS of fun to ride on the open straightaways where you are trying to rip out a fast segment on Strava.
The difference between the FR and VR lineups is really about if you feel the need for speed, or for comfort. The FR geometry is more aggressive, and will have you more stretched-out and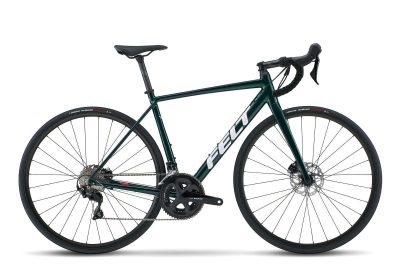 aerodynamic. The downside is that on a long ride, you might not be quite as comfortable. The VR lineup has slightly more relaxed geometry, making it better for people whose primary goal is not winning Strava segments are standing on the podium.
With that said, we love the FR 30 for the money. It has one of the lightest aluminum frames we have ever seen. But by giving you aluminum instead of carbon, Felt is still able to provide 105 groupset – a slight step up from Tiagra. The most noticeable difference in the 105s is the slightly expanded gear ratio, which can be nice on those heavy-climbing rides.
You will also get a carbon fiber fork on the FR 30, nice in that it telegraphs the road feel very instantly to your hands on your handlebars. Speaking of handlebars, you will be getting the Devox Dbar which is coming standard on many Felts these days, and which actually is the same bars you would see on bikes that are more than twice the price of this one.
Our test rides confirm that this aluminum frame will ride like a dream (and once again, how did they make this frame so light without using carbon?). We loved the acceleration from a standing stop and on hills, and enjoying the handling when winding downhill and around curves. When paired with the right road tires, you are going to get plenty of giddyup from the FR 30.
What we like about the Felt FR 30 Road Bike:
Outstanding combination of lightweight frame and 105 components at this price point
For those who plan to use the bike for competitive group rides, races, or simply enjoy being at the top of the Strava leaderboard, this bike has a lot of pep
More aggressive posture is great for shorter, faster rides. If you regularly do very long rides, make sure your arms and neck like the setup.
105 groupset gives you a quality drivetrain and the ability to have more range in gearing, particularly nice for mountain riding
All-in-all, we love the two Felts on this list, and would base our decision on if you want speed or comfort.
Trek Emonda Road Bike
It is hard to have a "Best of" list without including something from Trek. After all, Trek was one of the companies that really brought entry-level road bikes to the masses as the sport grew in the early 2000s. While Trek is known for its broad array of bikes – mountain, triathlon, comfort – they have a solid road bike lineup, and the Emonda is the dominant model right now.
You might think we are crazy for recommending the Emonda, because it is a very deep product line and some decked-out Emondas can hover around the $10,000 mark. The Emonda lineup is very extensive, though, and at last count Trek was offering 13 different versions of the Emonda! But the entry-level Emonda choice is the one that we would recommend from Trek, at this price point.
Trek, the Wisconsin-based maker of bikes and other cycling gear – was founded in the 70s. It came of age at the same time as Cannondale, as the American bike scene was growing. Trek has been effective at getting the price point on their entry level bikes quite low – but we recommend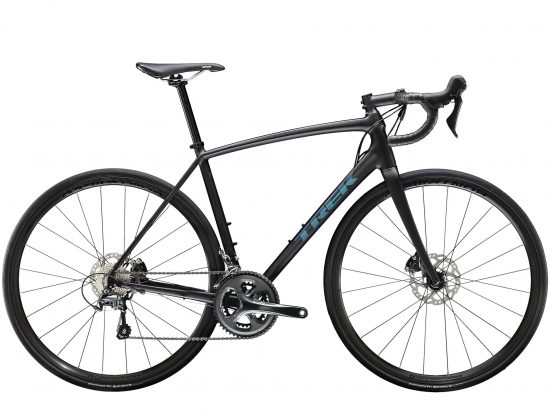 spending just a little more than the base level at Trek. Getting on to an Emonda will give you payoffs as you grow into the sport.
The Emonda ALR5 is the bike we are focusing on here. It is a comparable price point to the Felt FR, just above, and like the Felt is an aluminum frame. The quality of the frame, based on our test rides, is excellent, and the 105 componentry throughout the drivetrain puts it on par with many of the bikes listed in this article. Behind Trek, you get thousands of riders who swear by the brand, and a broad network of bike shops who will be familiar with working on the bike.
A road test showed me a nice bike that just might be a better fit for taller riders with a longer torso. The aluminum frame was not clunky and about as lightweight as I had hoped, and of course using aluminum allows for the 105 components which I just love. Easy shifting and smoother climbs and acceleration.
If you want to keep your spend below $2,000, the Trek Domane is a really good bike, but just a touch heavier than the Emonda. I also preferred the Emonda's stock wheels better, something that can be expensive to upgrade later on.
What we like about the Trek Emonda:
Excellent balance and handling overall. Provided you get the right fit, a very responsive aluminum bike.
Uses the same frame geometry as some of Trek's higher-end, faster bikes…. So a great choice for those who want speed.
Disc brakes, which we always prefer if we can get them
Allows you to get into the Shimano 105 componentry while staying safely under $2,000 overall
Find the Trek Emonda ALR here.
What to Look for in a Road Bike
As you could probably tell from our reviews, there are a few things to think about when buying a road bike. It really comes down to personal preference, but you will be faced with decisions on several key things. The big ones, in our opinion include:
Carbon vs. Alloy (Aluminum) — see the next section
Components. Cyclist can debate until they are blue in the face about the importance of components, but the fact is that there is a pecking order, and you pay more the higher up you go.

photo credit: Bikeroar.com

Most products at the entry-level price point include components from Shimano, but you may also see Bontrager or Campagnolo (Campy) parts. We did an entire piece on their various levels here. For the Shimano examples above, Ultegra is considered a step above 105. Two notes: you can always change components later, and when in doubt, spend your money on the moving components (e.g. chainring instead of brakes). Things like a bike saddle or new pedals are easy to swap out and upgrade at any time, and we find that the "contact points" on the bike — things you will physically be in contact with during your ride like the saddle and bars — are the ideal bike upgrades later because they tend to involve so much personal preference.

It is important to note that bike components are constantly changing and up-leveling, to the benefit of the typical entry-level bike buyer. What was only found on higher-end bikes a few years ago may be commonplace on a lower-priced road bike today.

Brakes. Speaking of components, you will see entry-level road bikes with both disc and caliper brakes. Disc brakes are considered better, and the trend is toward more bikes moving to disc brakes. 5 years ago, disc brakes were something only found on higher-end bikes. Today, lots of entry-level bikes have them. They offer more clearance from the wheel, work better when wet or on hills, stop faster, and don't heat up or wear on your rim. With that said, we rode caliper brakes for years and they did their job just fine…. and they are easier for the DIYer to adjust, fine-tune, fix and maintain. Just know that a bike with disc brakes will always cost more than the same bike with caliper brakes. 5 years ago, we would estimate that 75% of entry-level road bikes had caliper brakes as standard equipment. Today, we would say that has nearly flipped, 75% have disc.
Frame Angle. In addition to frame material, consider the frame angle. Do you want something aggressive, that puts you in a low, aero position? Or something a bit more relaxed (ie. "sportive" or "endurance") that allows you to be more upright and comfortable?
Brand. We are not brand snobs here, but it can be good to buy a brand that has a good track record and warranty. The last thing you want is a crack in your carbon frame, and nobody who you can call. This is probably most true when it comes to buying at major online retailers who carry imported, startup brands. The tried-and-true brands (like those listed above) will take good care of you.
Fit. Don't ever skimp on fit for your bike. Most people will pretty neatly fall into a bike size, so it is relatively easy. Others are constantly on the borderline between one size and another, making it more difficult. For years, I have been a 58. When I walk into a bike shop, the owner typically looks at me for 3 seconds and says "Your probably a 58, right?" That makes it easy. But the silliest thing I could ever do is buy a 56 just because it was on sale or I liked the model. Buy the size that fits!
Add-Ons. You likely will buy a bike that is pretty basic — it will be a brand-new, high-functioning bike but the add-ons will be yours to install. Whether you ask a bike shop to do it, or install add-ons yourself, think about things like your hydration setup, a bike computer, and other add-ons that that suit your riding style.
A Word About Carbon vs. Aluminum Bikes
Our lineup of 5 great bikes includes 3 carbon frames and 2 aluminum frames. Aluminum (alloy) frames have enjoyed a bit of a resurgence lately, as makers like Trek and Felt have really cranked down the overall weight and built beautiful, nearly seamless frames. When you are looking at the $2,000 price point, keep in mind that you might be getting a top-of-the-line aluminum frame or a relatively entry-level carbon frame at that price.
Still, carbon is carbon, which we love, and the bikes listed above are made by manufacturers who would not skimp on the build. They just can't put the same time and material into a $2,000 bike that they would a $5,000 bike. The Salsa Journeyman is a great example of what you can do with aluminum that you would never be able to do at the same price with carbon.
That is our long way of saying don't shy away from aluminum, especially if the bike might be riding on some less-than-perfect trails. Carbon is awesome, but there are some great bikes being welded in aluminum too. As Cycling Weekly says, there is really no right or wrong frame material, it is all dependent on what kind of riding you plan to do and what you need from your bike.
Should You Buy a Used Road Bike?
Maybe a brand new road bike isn't in your budget, or isn't really your speed. Should you buy a used bike instead? Don't rule it out.
You can, of course, find some pretty solid road bike deals on Craigslist, Ebay, and Facebook marketplace. Each has its own considerations.
Craigslist and Facebook Marketplace both provide buyers with the ability to find bikes in their own backyard. This can be extremely useful if you are someone who wants to buy a bike, say, 5 miles away from you. That allows you to test drive the bike, see it before you buy, and talk to the owner first-hand to get a sense of if they are someone whose bike you want to buy. The downside? Selection will probably be quite limited. Expect to have lots of "perfect bike, wrong size" situations, and expect also to have a few folks thinking their bike is worth 2x what it really is worth.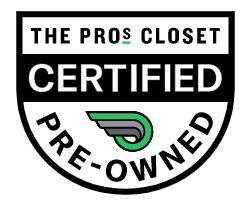 Another thing to know about bikes is that manufacturers gradually improve the quality of the parts and components at each price point. So the drivetrain that might have been an upgrade 5 years ago might now come as standard on the entry-level model. Keep that in mind as you compare your options.
Ebay will definitely give you more selection, but the obvious issue is that you cannot physically see the bike before you buy it. This poses a problem in two regards: 1) Issues like hairline fractures in the carbon fiber would be very hard to spot on a photo, and 2) returning the bike if something is off is not going to be a simple task.
One source we really like is the Pro's Closet, a bunch of cycling enthusiasts who carry quality, second-hand bikes. The Pro's Closet mechanics inspect all the bikes they get to ensure you are not going to get something with obvious issues. You just need to check often, as their bikes tend to pass through quickly. If you find one you have been looking for, it can be a good way to get a decent bike at a discounted price. We highly recommend them for used bikes.
Either way, if you consider the Craigslist or Ebay routes, insist on a bike that is the right sizing for you, and make sure that the frame and wheels are in very good condition. Everything else can be fixed or replaced.
How Much Does a Road Bike Cost?
When is comes to the budget for your purchase, a road bike is not cheap, and they have gotten more expensive in the past 24 months as supplies and components have increased in price. We actually did another piece addressing one of the most common questions we get — "Why do bikes cost so much?!"
If you find a brand new road bike for less than about $800, there is a good chance it will be disappointing in terms of performance. It is just hard to build a road bike for that price and still have any profit margin left over — and you want the bike maker to make enough money to stay in business.
We think that for a price of about $900 to $2,000, you can find a good road bike that will not only perform will now, but one that you won't grow out of quickly. That is an important part of all of this — you want the bike to be one that you keep for awhile. You might have a few more entry-level components on the bike, like drivetrain parts, but they can always be upgraded.
From about $2,100 to $3,500 or so, you are going to get an upgraded frame material, and components that are solidly in the quality category. At this price, you should expect that pretty much every part of the bike is middle or getting toward to top of the line, in terms of component options.
Above $3,500, expect a high-quality bike with components that are light, perform very well, and a bike that rides like a dream. At this price, you should not be tempted to upgrade any components any time soon.
You can spend much more on a new bike, but most the people reading this will be in that $800 to $3,500 range.
Our Conclusion and Recommendation for an Entry-Level Road Bike

So you want us to choose one of these bikes? Well, we had to winnow down a list of about 30 good options to get to this list of 5, so consider all of these our choices! Seriously, we would be happy to see you riding on any of them, that is why they made the cut.
If we could only choose one, it would probably be the Trek Emonda. With that said, it's price point is at the high-end of what we consider to be entry-level, so understand if it is a bit out of reach.
For the bikes that are a little more affordable, we really like the value in both the Topstone and the VR 40 right now. We'd go VR40 if your plan is to do longer touring routes like century rides, straightaway gearing, and the Topstone if you plan to be riding more gravel with lots of twists and turns.
Get out there and ride, be safe, and enjoy the sport!
Von Collins is an accomplished triathlete and cyclist, and the author of four fitness and training books: Smarter Running, Your First Triathlon Guide, Fit Foods, and 30 Rut-Busting Workouts.
Von has been cited as a triathlon, cycling, and fitness expert by Healthline, CNET, Forbes, Eat This, Not That and other major outlets.
Von has done dozens of triathlons and endurance bike races, coaches, and is an avid part of the cycling and triathlon community.