Shimano's line of road wheelsets aims to cover all the bases, from high-tech carbon wheels that are race ready to bomb-proof entry-level wheels that can withstand just about any punishment. The middle of the road is especially well covered, with a plethora of wheelsets that find a compromise between weight and durability and will satisfy most riders' need for a no-nonsense training wheelset.  Shimanos are very popular and highly available on the market, largely because many leading bike manufacturers use Shimano wheelsets as their stock equipment.  For what its worth, Shimano all makes some of our favorite bike gear all around, from replacement saddles to bike shoes.  It is a brand that has become synonymous with cycling.
Dura-Ace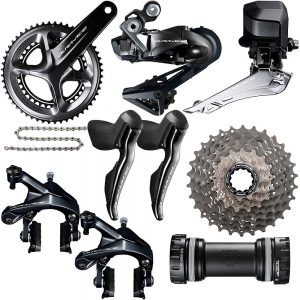 Shimano's top-end Dura-Ace brand is represented in the company's wheelset product line by six variations of the WH-9000. The 90000 is offered in three clincher models, two tubular versions and one tubeless clincher model—all featuring carbon rims (either high modulus carbon, carbon laminate or carbon-alloy composite), double butted alloy axles and bladed spokes. Rim profiles vary from model to model; all offer an aero profile, but the rims range in height from a modest 24mm to an extremely deep 50mm. Prices range from around $900 for the 90000-C24 clinchers to about $2700 for a pair of the 9000-C50 tubular wheels.
Riders uniformly like the 9000 wheelsets in terms of their lightness, acceleration and responsiveness. Shimano seems to have struck the right balance with the 9000s, using carbon to shave significant weight while retaining enough heft in the engineering to make the wheels sufficiently stiff and durable. The range of rim profiles offers something for everyone; the C24 is a relatively traditional rim, and the C50 is aggressively aero, with the C35 falling comfortably in the middle to satisfy those riders who don't want to commit to either extreme
Ultegra
The Ultegra series wheelset is the WH-6700, an aluminum-rimmed wheelset that accommodates either traditional or tubeless clincher tires. The wheels' hubs and axels are aluminum, and the spokes are bladed stainless steel (with a black finish). The rim profile is non-aero, with a 24mm in the front and a very slighty shallower 23mm height in the rear. The freehub is compatible with 8- and 9-speed cassettes, and a 10-speed cassette can be used with the addition of a spacer. The front rim is laced with 16-spoke radial pattern, the rear with a 20-spoke crossed pattern. The 6700 retails for approximately $400.
Riders especially like the price of the 6700; at $400 or less, they are well positioned as a training wheelset to stand in for more expensive wheels in difficult conditions or as an affordable upgrade from a heavier entry-level wheelset. At 1652g, they aren't feather-light wheels, but they are durable and reasonably light for wheels at this price point. They also get generally high marks for their versatility, allowing riders to opt either for traditional clinchers or an upgrade to tubeless tires.
Road Sport
The Road Sport series wheelsets are designed to bring some of the high-end Dura-Ace features to less expensive wheels suitable for training. The top-end Road Sport wheelset, the RS80, is offered in two versions, both of them featuring carbon-alloy composite rims. The RS80-C50 has a deep aero profile similar to that of the 7900-C50, and the RS80-C24 has a traditional non-aero profile like the 7900-C24. Both wheelsets are equipped with alloy hubs and are compatible with 8-, 9- or 10-speed cassettes.
The RS30 and RS20 rims are cheaper than the RS80 (between $200 and $300, as compared to about $800 for the RS80) but are also several hundred grams heavier. The RS20 has a traditional 24mm rim height, while the RS30 has a moderately aero 30mm profile.
As with just about all the other Shimano road wheelsets, the Road Sport wheels receive praise from riders for being reliable and a good value for the money. Not the lightest or flashiest wheels in their category, they nonetheless get the job done, especially if the job is everyday training on imperfect roads.
WH-R500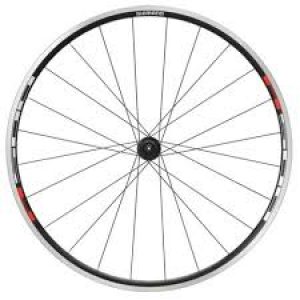 Shimano's WH-R500 is an entry-level wheelset that provides an economical alternative for riders looking for a basic training wheelset. A pair of WH-R500 wheels has a list price of $230, but they can be found for well under $200. This wheelset is basic, nothing fancy, but works.  The R500 features aluminum rims, steel axles and freehub body, and an aluminum freehub shell; the freehub is compatible with 8-, 9- and 10-speed cassettes. The round stainless steel spokes are laced in a 20-spoke radial pattern in the front and a 24-spoke crossed pattern in the rear. All that steel makes for a beefy wheelset; the set weighs in at 1884g.
The main complaint that riders have with these wheels is their weight. They're not snappy by any means, and they're not capable of race-level responsiveness. As a basic training wheelset, however, the R500 performs more than adequately. Riders consistently report that the wheels hold up well to aggressive use and the abuse dished out by less-than-ideal pavement. With their relatively low spoke count, these wheels aren't ideal for heavy riders, but riders weighing close to 200 pounds report being able to put many miles on the R500 without significant problems with broken spokes or wheels going out of true.
To review more specs and pricing of Shimano wheelsets and to find discounts and closeouts, visit our trusted partner.