Having the right equipment can boost any athlete's performance, and this is true for cycling as much as it is for any other sport. While the main focus will always be on the bike itself, having the right shoes really does matter.  Being the avid cyclists that we are, we have used dozens of different cycling shoes over the past couple years.
No matter what kind of cleat and pedal system you are looking for, there are many great shoes of every configuration available to triathletes today.  Each type has its own merits, and we would suggest you read our primer on cleats and pedals to make sure you invest in something that is compatible with your riding.
Further below, we will get into a guide on what to look for in your tri or road bike shoes.  But many of you just want us to get to the point, so here are our favorites right now!
Lake CX 237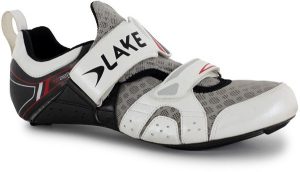 Lake is to cycling shoes what Porsche is to automobiles, and the Lake TX222 is our favorite shoe right now for hard-core road bike and time trial cyclists.  With a 100% carbon sole there is an incredible level of rigidity for incredible power transfer, while the patented NuFoam upper provides a lot of comfort for the foot as well. Breathable material around the forefoot keeps feet cool even during the hardest effort, while the large tabs offer easy hook and loop closure on the move. The placement of the cleat ensures that the foot is always at the optimum position for power transfer, and for long term use the antimicrobial liner helps keep things fresh. It's an outstanding shoe that covers every base for an avid road rider, and while it is not cheap, cyclists who wear the shoe often will soon forget about the cost and appreciate the performance of the Lake.  Best for avid and competitive road and tri cyclists. 
Pearl Izumi Tri Fly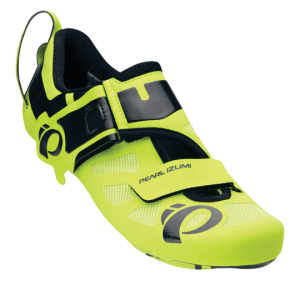 Another carbon soled show, the Pearl Izumi Tri Fly also manages the neat trick of high levels of stiffness for power transfer while maintaining a level of comfort that lets you make it through a session on the bike without problem. In fact, the comfortable, soft liner makes sockless use practical, with no chafing or other issues at all.  This shoe is specifically designed for triathletes, with a nice stiff pedaling motion, but also enough tread on the bottom to allow you to maneuver in the transition area.
They tend to run narrow, so if you have wide feet you might want to try them on first.  If you have regular or narrow-width feet, they should be excellent.
They feature a single strap retention system that is perfect for one handed use on the go, and feature breathable material to keep the foot cool, and also drain out any water too. A brighter color palette than most, the Pearl Izumi Tri Fly shoes stand out in the crowd, but offer real comfort as long as your feet aren't wide, and incredible value for money when you look at what they offer.  Best for triathletes who want an all-purpose shoe.  Find here on Amazon.
Shimano RP2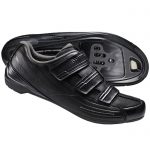 These road shoes offer a nice budget alternative for road use, but still give you a great all-around shoe for multi-purpose use.  They lack the triathlon specific features of some on our list, but most weekend athletes won't really notice. A glass fiber reinforced nylon sole offers excellent rigidity without harshness, it may lack the ultimate performance of carbon, but is easier on the feet and much less costly, a good compromise for many people. Three hook and loop straps make up the retention system, offering wide adjustability that will ensure a good fit no matter the foot width, while the breathable uppers keep your feet cool.
There is plenty of cushioning to keep feet comfortable on the move, and the understated looks are smart without screaming bike shoe. We also like that the tread allows tor this shoe to be used for walking when needed,without creating awkwardness in the gait.  Note that it often runs a bit small, so order a half-size up.  Overall, an excellent budget offering that delivers real performance without the expense.  Best for spin classes.  Find here on Amazon.
Giro Treble II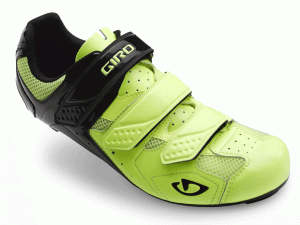 Like the Shimano offerings, the Giro Treble II road shoes trade cutting edge technology for an affordable price, do an equally impressive job with it too. An injected nylon sole brings stiffness and incredible weight savings, the entire pair of shoes weighs just 569g. With cushioned uppers and inner sole, and a well-designed shape that accommodates most feet, there is plenty of comfort on offer, and with 3 hook and loop fasteners, they are always secure on your feet in any situation.
Breathable upper material and heel and toe ventilation holes ensure you keep your cool even during long sessions in the saddle, ensuring that these are shoes you could happily do many miles in. A real gem at a bargain price.  Best for those who want a good all-around bike shoe without breaking the bank.  Find here on Amazon.
Tri Bike Shoe and Road Bike Shoe Buying Guide
Modern bike shoes use a clipless design to mechanically attach themselves to the pedal, and this brings many benefits. First, many people get confused by the term 'clipless', when rides often use the term 'clipping in' to describe making the physical connection between shoe and pedal. The clipless aspect simply refers to the design being able to replace the old toeclips that used to be used by cyclists. Instead, modern pedals use cleat attached to the shoe that locks into a socket on the pedal to secure the two together, while still allowing almost instant disconnection using a twisting motion with the shoe, very like how ski boots attach to skis.
The reason that physical connection between the shoe and pedal is important is because it adds efficiency to the power transfer between your legs and the bike, transmitting more of your effort into the forward motion of the bike. This kind of connection also means your legs can pull up on the pedals as well as push down for added power where needed, something that is simply impossible with flat pedals. The security of the attachment also inspires confidence, and eliminates the potential problems of your foot slipping off a pedal, which can be an issue with flat pedals when it is raining.
All you have to do is use a power meter to compare an all-out ride with bike shoes, and then without.  It is no contest — you will immediately see a huge gain when a cyclist is clipped in.  You get much more power on the entire circular stroke, not just on the downstroke which really only accounts for a third or so of the motion.
There are several designs of cleat and socket, although all work on the same principal and consist of a locking mechanism within the pedal, and a separate cleat that is fitted to the sole of the shoe. Shoes are manufactured with the soles to include a dedicated socket for the cleat to fit in, and although there are several manufacturers, the cleat fittings have been standardized to make shoe purchase simpler. By far the most common clip system is SPD from Shimano, alternatives come from LOOK and Time.
Finding the right shoes to work with these systems is important to really get the very best out of them.  Here are is a quick cheat sheet of what to evaluate in the shoe:
First, the sole of the shoe is how the effort you put into pedaling is transmitted into the bike, and in theory, the stiffer the sole the more efficient is that transfer of power from your legs to forward motion.
Next, comfort is critical.  You obviously want to be a balance between the stiffness of the sole and comfort. Overly stiff soles can quickly cause pain in the foot, and the best shoes manage to remain incredibly stiff while retaining some compliance to keep the foot pain free. The fit is also important, rubbing or tightness can again quickly lead to discomfort, and so a great fit and plenty of adjustability is essential.
Be sure that the shoe can be compatible with the style of riding you do.  If your typical ride is to cruise to a bakery and then have some coffee with friends, you might not need or want an uber-stiff, high-end shoe.  On the other hand, if you want to set a new record on Strava very time you are out, you probably need something more geared for speed.
Looks are something that we usually tell people not to worry about, but some cyclists want shoes that are highly visible, neon even, to help themselves be a little safer on the roadway.
This is true for both Triathlon and Road shoes, however there are some areas that a triathlete might want to prioritize a little higher than a road biker. A wide foot opening is necessary for triathlon shoes, to enable easy entry on the move during transition, and in addition to this, the retention system needs to be easily adjusted with one hand for the same reason. Large pull tabs to help get shoes on and off is also a particular need for triathletes too, so check for tabs large enough to easily grasp when on the move.
Finally, don't forget that as a triathlete, you may want to run through the transition area with your shoes on.  While many triathletes elect to run barefoot until they mount themselves on the bike, many age-groupers and beginners prefer to put the shoe on while they are suiting up for the bike.  If you are one, make sure the shoes are comfortable enough to trot through the transition area, which is usually grass but can sometimes be pavement.