The Zipp 404 is undoubtedly the brand's wheelset star and highly appreciated all-rounder.  It represents a great balance between aerodynamics, overall low weight, and excellent ride quality.  When it comes to triathletes and serious cyclists, the Zipp 404 is arguably a gold standard.
Zipp has been around for a while.  They released their first high-performance wheels in 1988, just as triathlon was getting off the ground and time-trial racing was gaining in popularity.  Throughout the 1990s, they continued to crank out new designs and models, and in 1999 the first 404s hit the scene.  Ever since, Zipp 404s have been one of the go-to wheelsets for serious triathletes and time-trialers.
One of the best features of this wheelset is the use of Zipp's Firecrest rim profile. The 404 rim has a good depth, but it also has a very wide profile which significantly improves the straight-line aerodynamics (better airflow).
One of the major design refinements for this set is the introduction of Zipp's enhanced rear hub. The big change with this hub is that they've switched from radially lacing the drive side to their special lacing pattern. The difference that this makes is an improvement in the rotational stiffness of the wheel.
The width is usually thick, the sides are as flat as planks, and they feature blunt noses. The set is focused on cutting through the wind and speed ahead, which makes it a serious competition to those deep, shallow aero models.  Coupled with a durable and stiff tire, you are going to get a setup that is fast, responsive, and lets you feel the road — but also handle the occasional pothole without a catastrophe.
Zipp 404 Wheelset Road Test
The wider rim profile absorbs impacts a little bit better, makes the road feel smoother, and gives the tire a larger contact patch for better traction. It actually reduces the rolling resistance of the tire, as well. It also uses its proprietary heat resistant resin and the carbon layup which reduces breaking temperatures, so you're gonna have a much more consistent and better quality braking surface – which is especially important in this type of clincher.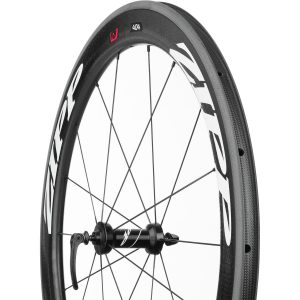 Thanks to the special lacing pattern we mentioned above, there's a slight increase in the lateral stiffness. Moreover, you'll notice that when you apply power down to the pedals it's going to transfer to the rear wheel very well, creating a much more responsive rod.
The bearing placement in the rear hub has been changed a little bit (compared to earlier models) to a wider stance and a larger bearing. That improves the overall stiffness of the hub.
Even if it might seem pricy if you're on a tight budget, Zipp's 404 Wheelset has proven to be great value over time. The flawless combination of rigidity, strength, and aerodynamic performance make these wheels ideal to be used in most weather and road conditions. They're amazing for time trials, and you can even use them in hill climbs if you're not fighting for fractions of seconds. While it may require time to get used to them, these wheels can get super fast.
Zipp 404 wheelset's clincher shape is perfect if you're looking for speedy rides. The wheels are big and fast – faster than slimmer counterparts. They'll offer you stability against crosswinds – they'll even flawlessly fight against the more violent ones. The top-notch braking performance also helps you not get knocked out of the mean wind.
Not to mention that their temperature capability makes them able to be taken up to the mountains with peace of mind.
Zipp 404 Pricing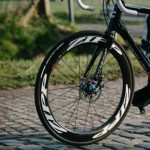 Ready for some good news? Zipp 404 is a very common and extremely popular wheelset to find in online and offline stores, so the prices are pretty competitive for the fabulous features and quality it offers. When we last searched, all of the full wheelset combos where more than $2,000, putting them in rare air from a market standpoint.  These are probably not the wheels you put on your entry-level tri bike or your aluminum all-road bike.  We are always looking for places where we would recommend you price check (prices are always changing).
We will add more places when we find good retailers who are impressing us with their price on the 404, but Amazon usually has access to some of the better prices out there.  As always, consider consulting your local bike shop.  They can give you great advice, and we love supporting them.
Alternatives to the 404

An alternative to the Zipp 404 Wheelset could be another wide-rim set with similar aerodynamic characteristics.
Zipp 808 Firecrest. A bit more expensive than the 404 models, Zipp 808 Firecrest features a deeper section front wheel and an enhanced design of dimples on the rim. However, some riders say that they find it a tad challenging to handle.  The price difference between the 404 and 808 is usually in the $150 to $200 range.
Smart Enve System 6.7. If you don't mind the significantly increased priced compared to the 404, this Enve wheelset is faster and said to be more durable. So, for the ones of you who want to ride as speedy as light, this can be an option to put on the list.
Boyd Cycling 60mm Carbon Clincher: This one has a lower price than the Zipp 404 wheelset. However, keep in mind that it's a little heavier.
Mavic Ksyrium.  The popular Ksyrium lineup is actually a number of wheels, priced from $700 all the way up to $2,000 or more.  Those higher-end pro carbon wheels are worth comparing with the Zipps.  Zipp vs. Mavic — it is hard to go wrong from those brands.
Summary
The Zipp 404 is, without question, a classic aerodynamic wheelset and one of the top choices when you're looking for aerodynamic gains.  We recommend it if you have the budget. If you're dreaming of impeccable design and you want to turn your bike into a landspeeder, this is a great option to consider. Even if it falls into the pricey category, its quality and features are worth it if you're serious about a solid, trustworthy aerodynamic upgrade. It's certainly the kind of wheelset that's ideal for any type of flat terrain and crosswind.