Mavic's Ksyrium road bike wheelset (Here on Amazon) is positioned as a significant upgrade for enhancing the performance of most triathlon or road bikes. The Ksyrium range has been extremely popular for many years because it delivers high performance, loads of strength, and light weight for a reasonable price. These models are legendary for their durability and ability to go miles and miles with no problems whatsoever.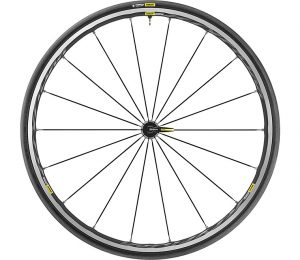 Positioned as the headliner in Mavic's endurance wheel lineup, there are actually several wheels under the Ksyrium line.  They range from the Pro Carbon at over $2,000 a pair, to the base Ksyrium at about $700 a pair.  The Ksyrium is a step up from the entry level Mavic Aksium wheel.
About Ksyrium Wheels
This wheel has been around since 1999, so yeah, it has proven to be a reliable performer.
Here's how the Mavic Ksyrium wheelset delivers on its performance. It all starts with a strong rim. It's easy to notice that there are no holes drilled through the outside of the rim, and that is a very intentional design. The manufacturer uses a special process during which the machinery comes in from the external wall, drills the hole, creates the threads as it backs out, giving you a stronger rim. Actually, the rims are considerably more rigid than those that are drilled all the way through and a lot more resistant to fatigue stress.
They also use their own alloy that's lighter and stronger than regular alloys. The joint is welded with another clever process that helps you avoid shuttering when you apply the brakes. To lighten up the rim, Mavic uses a technique (Inner Spoke Milling – ISM) where the material is removed from in between the spokes. This doesn't affect the rigidity, but it does reduce the rotational weight of the wheel, allowing for crisper acceleration and better climbing.
These wheels have a wider-than-average rim which is equivalent to the tyre sitting wider. This particular 'detail' offers them a nice integration of the tyre and rim. Another cool thing about this set is that you can choose from several nipple and hub colors which gives you a bit of creative freedom to play with. Depending on the color of the frame, you can achieve some pretty nice visual matchings or contrasts.
The Ksyrium lineup is now made with a tubeless rim as a default option.  We are big fans of that, as we expect tubeless to take over the world soon if it hasn't already.
Regarding weight, while they're not featherlike, they can easily fall into the 'light' category – reasonably light for their price. Oh, and if you were wondering about the famous QRM bearings, they're featured by these items, so no worries.  Any time we are told that we need lighter wheels, we want to weigh that with durability.  After all, most cyclists spend more time on the shoulder of a road than in a velodrome.  We really like the weight-durability combination that Ksyriums provide.
An advantage of the later models is their spoke nipples which are screwed right into the rim while the holes are pushed through the inside wall (instead of being drilled). This leads to the pushed up material to be threaded in order to let the nipple extremely secured.
Mavic Ksyrium Wheelset Road Test
When you're out rocking these wheels, you'll notice that they're very comfortable and allow for excellent grip in the corners if you are pairing them with a quality road or tri tire. This comes as a result of their wide rim, which has lately become a highly appreciated feature among riders. Plus, wider rims lead to faster wheels.
However, they might not be the ideal choice if you want to ride with the speed of light or high climbing. Going back to the benefits, you can also count on lower chances of pinch flats, better rolling efficiency (the windy roads are waiting for you), and enhanced traction in corners – all this thanks to a greater amount of air into the tire.
Staying focused on the rim, you'll notice that it has a rounded profile compared to other similar items. Besides the enhanced looks, this also helps reducing inertia and improving aerodynamics. Bonus points? Definitely!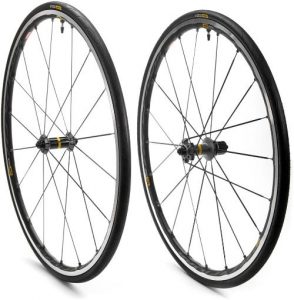 The Mavic Ksyriums are renowned for their bombproof character. In addition, the wheels are stiff enough to sprint without any flex or brake rub. Not to mention that their signature tires will gift you with a wonderful grip and a smooth roll in any type of weather. While they behave nicely across a wide range of conditions, the tires seem to wear rather quickly.
We mentioned the width — the Ksyrium can accommodate a tire from 25 to 32mm.  We like that range — it allows you to go with a slightly wider Gatorskin-style tire if durability is your primary concern.  Just be sure to set your brake caliper accordingly.
Highs and lows? You bet! With the ISM technology we mentioned above, the strength and stiffness are not compromised, while the weight is kept down. You'll experience nice ascends and descends. Talking about brakes, the brake track sports a great control construction, thus you'll have excellent stopping power, rain or shine.
We have not done it ourselves, but we have seen others combine the Powertap power meter hub with the Ksyrium. It involves a little time in the workshop, but can give you a nice, long-term solution for measuring your power.
Ksyrium Pricing
Mavic Ksyrium is a very popular wheelset to find on the market; hence the prices are pretty competitive. As noted above, the Ksyrium is actually an entire line of tires.  Here are some price examples on our two favorites:
Ksyrium Elite – "entry level" Ksyrium (but certainly not an entry-level wheel!)  Here on Amazon.

Ksyrium Pro – step up for more serious riders.  Find here on Amazon.

Ksyrium Alternatives
An alternative to the Mavic Ksyrium Wheelset could be a comparable item for the all-rounder, excited about a lot of cruising and a bit of racing.
Stan's NoTubes Arch Ex 27.5. This wheelset is on the light side as well, with a pretty wide rim and a tough character. It's cheaper than the Mavic but heavier than the latest Ksyriums.
Zipp 404.  If you are considering the higher-end Ksyirum Pro Carbon, then you are putting yourself in a league with the Zipp 404, another great wheel for time trialing or triathlon.  Take a look at it as well, and compare.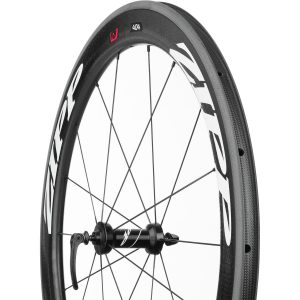 Ritchey Zeta II. On the pricier side (add about 100$ to the Ksyrium price), the Ritchey Zeta II Road Wheelset is considerably lighter, while sporting the favored wide rim. Not as popular, but it can be pretty worth it if you're up to spending more
You could always build your own wheel, using a quality hub like a DT Swiss 350 and then customizing from there.  But unless you have the time and the right tools, it is so much easier to buy a wheelset, and you know you will get something that works.
We actually recommend the Ksyrium, all things being equal.
Should you go with Carbon or Aluminum?
Only you can answer that question, but our observation is that most people are going to be very happy with the less-expensive aluminums.  Unless you are racing and seriously need every ounce you can get off the bike, you are going to be happy with the aluminum.  They are strong and actually quite light.  If you are trying to do an upgrade on your bike, then you may need to consider the carbons.  But we actually recommend that your bike upgrades not start with the wheelset.
Summary
The Ksyrium wheelset is, undoubtedly, a solid training and everyday product, very reliable, sturdy, qualitative, and easy servicing. They feel really solid and bulletproof. And even if they might not be recommendable for hard climbing or extremely fast riding, they are a great option for frequent riders who love both moderate racing and cruising.