Mavic Aksium's wheelset makes a nice upgrade for many road and tri bikes. It is a product that has stood the test of time, and been a popular midrange wheelset for several years.  While Mavic is no longer making new Aksiums, you can find great deals on good used ones here.
FYI – Mavic considers the Ksyrium the entry-level wheelset nowadays.  They are available new, and are just as reliable as the Aksium.  You can see the Ksyrium here on Amazon.
Also the Aksium has long been considered the entry-level rim for Mavic, they are still better than the stock wheels that come on many entry-level road bikes.  The fact that Mavic makes some really high-end wheelsets means that the Aksium benefits from that engineering gradually working its way down into the entry-level model.
Aksium Features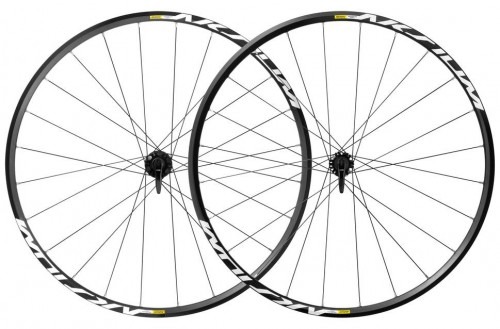 Removing a considerable amount of weight from the bike while flawlessly supporting lightweight tires, there's no surprise that the latest model became very popular. With an added disc model, this item will let you experience the outstanding quality and unique feel of the Mavic brand. Not to mention that it's a testament to excellent French engineering as well as a wonderful choice for gravel bikes.
You've probably noticed the bike world's growing affinity for wider tires. If you're a follower of this trend, we have to let you know that the Mavic Aksium wheelset's defining feature is exactly the wider-than-average rim. Besides its lovely features, the product is also very friendly with the pocket. While you shouldn't expect top-end performance (we're talking about a budget wheelset after all), it comes pretty close to the high-end items.
These products sport some aerodynamic details, which is always worth a bonus point. The wheelset's rims are made of S6000 aluminium and the wheels are pretty light for the item's price range. Another cool thing is that the surfaces of the brake feature enhanced friction (thanks to the UB Control technology used to mill the brake's surface) and controlled stopping even in wet weather.
The QRM bearings make them extremely reliable and low-maintainance. Their reduced tension loss, durability, strength, and stiffness, comes as a result of the manufacturer's genius design. This set has 20 steel spokes and each is equipped with a special technology (Mavic Self Lock) that uses a certain shape on the spoke end, making it impossible to loosen when it's on the thread.
The Elites are improved with Mavic's Yksion Elite Guard tires that allow them to last even longer, deal with corner and speed even better, and make them less prone to getting flat. Another thing worth mentioning is that they shed about 10% of the rim's weight by using a sleeve joint instead of the pin version.
Mavic Aksium Wheelset Road Test
With the spoke hole penetrating the rim's outer layer and standard single-eyelet rims, these Aksiums are not ideal for racing – unless you want some spare ones to use when you're not in the mood of worrying for your expensive, shiny jewels. But basically, if you're into really fast wheels or dreaming of the lightest set out there, look elsewhere.
However, this Mavic Aksium wheelset is awesome if you're ready to ride long miles. Plus, they are absolutely perfect for training. Sporting flat-blade spokes, the wheels spin up with easy thanks to their QRM bearings.  They are not a lightest wheelsets on the market, but in exchange for a few extra grams, you are going to save a bunch of money.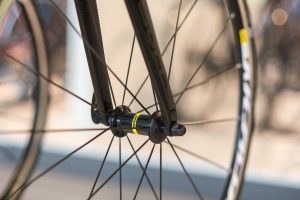 As we mentioned earlier in this review, they can cope nicely with any kind of weather. Their sealed cartridge bearings make them highly recommendable if you're searching for something to use in dirt, rain, or snow. Besides that, their bearings feel smooth and the wheels roll along delightfully. So if you're in the market for some tried-and-tested, rugged road wheelsets that are not going to break the bank, the Mavic Aksiums might be exactly what you need.
They are very pleasant on longer rides as a consequence of their increased rim width – which also allows them to work amazingly with 25mm tires. Mavic used the H2 Hammer Hardening to reinforce the rims around the spoke holes. This eliminates the risk having the spokes pulled through the rim's surface.
The wheelset's enhanced stopping power and lack of vibrations under the braking are ideal for conquering mountains with peace of mind. Wondering how they did it? Well, the UB control (a machining process) is 'guilty' for the brake's upgraded surface texture.
Pricing
The Mavic Aksium wheelset is pretty easy to find on the market and the price falls into the bargain category. When we last checked, we found the item for the following price ranges:
The Aksium's price varies depending on size and current discounts / sales.  We consider it to be a sub-$300 wheel, and sometimes can be found for under $200.  Check latest prices here.
That is a nice price range for such good wheels.  Thy will perform well on the road, but are not so expensive that you would feel bad about having them on the trainer or taking the occasional gravel shortcut if you had to.
Tubeless, Disc, and Gravel Compatibility
The Aksium is meant to be a clincher tire, so as of this writing is not compatible with tubeless bike tires.  Most new Mavics can take a tubeless tire, though, if that is important to you.
Late-model Aksium wheels are compatible with disc brakes, right out of the box.
The max tire width for the Aksium is 32mm.  As such, we would not recommend them for gravel bikes.  You really want a gravel bike to be able to handle wheels of at least 35mm, and ideally all the way up into the 40s.
Alternatives
An alternative to the Mavic Aksium Wheelset could be either a similar training or long-ridable set.
Shimano WH-R500. The Shimano wheelset is a bit heavier than the Aksium, features a freehub body and has a comparable rim profile to the
Aksium. Its list price is a little lower, which makes it an economical alternative. Usually, the reviews are on the positive side, riders being happy with their purchase.
Fulcrum Racing 5. With retail pricing going slightly up than the Aksium (Fulcrum ranges between $350 and $400), this item is another entry-level one. However, heavy riders often complain about its excessive rim flex and poor weld quality.
Vision Team 5 Wheelset. Another pricier option, this Vision Team set is made out of aluminium and has a higher rim depth (35 mm) than the Aksium (21 mm), which makes it a good choice if you want something faster.
Summary
With a price that's hard to beat, improved brake friction, and supporting light tires, the Mavic Aksium set is a nice bargain when you want to upgrade from stock wheels. They're by all means marvellous as the first wheelset for a brand new bike. Their reliable, sturdy, and almost maintenance-free character recommends them for all of you who want to ride free whether the sun is up or the snow is falling. Commuters will certainly fall in love with them, along with high-milers who want to avoid frequent maintenance. And, of course, recreational riders will find these as a go-to choice as their main set of wheels.
We also recommend that you consider a locking skewer for the Mavic or any other wheelset.  These are nice enough rims so that they could be targeted by thieves, and wheels are an easy thing to pull off in a minute or two.  A locking skewer or other locking system can solve that problem.