Sometimes, you have a road bike you love to ride, but want to be able to get more aerodynamic in the tuck position. Or perhaps you just don't have the budget to upgrade your road bike to a true time trial bike. That is where clip-on aerobars come in.
Do aero bars alone turn your road bike into a full-fledged triathlon bike? No. Do they help? Yes.
Clip-on aerobars are easy-to-install and functional. While they won't technically turn your road bike into a tri bike, they can improve your comfort, performance, and riding speed without having to spend thousands of dollars on the greatest triathlon bike. We have written extensively about both road bikes and triathlon bikes, and those pieces go into the details of the merits of each. For now, we will focus on adding aftermarket aero bars to your road bike.
In some cases, you may be replacing an older set of aerobars, or repairing worn ones, on your existing triathlon bike.
In this article, we'll analyze the top five clip-on aero bars out there and tell you how to choose the aero bars that best suit your needs.
Top 5 Clip-On Aerobars
Since there are plenty of great products on the market, we've compiled a list of the top five clip-on aero bars that any cyclist may use on their beloved road bike. Spoiler alert: Two companies have the aerobar market cornered.
Profile Design T2+ Clip-On Aerobars
Best Budget Choice.
Profile Designs has been a big name — perhaps the biggest — in aerobars for a decade or more. We like that they make bars for a wide range of budgets, and the T2 is budget-friendly if you need to keep a lid on costs (as long as you don't get the carbon version of the T2).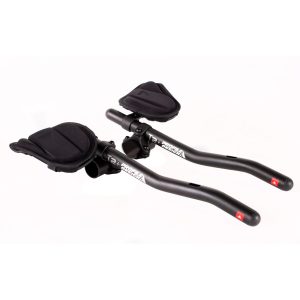 The Profile Designs T2+ Clip-On Aerobars (here on Amazon) have a subtle S-bend that helps your hands stay low and "aggressive" as well as enjoying the enhanced comfort provided by the height difference between the armrests and the extensions' end. The S-bend is similar to how skiers are holding their poles when fully tucked: this means that your wrists will be bend and your hands will be tilted down.
Made of 6061 aluminum and mated to the same hardware and clamps found on the T1 aero bars, these S-bend extensions are among the most popular on the market. The handlebar clamps are nicely tightened to the bars, separately from the extensions and the armrests. Hence, you'll be able to determine the appropriate width first and then set the extensions' length and the armrests' angle. Moreover, the fact that the armrest clamp is round on a round tube gives you the ability to adjust the armrests' cant. Correspondingly, this allows you to have the armrests tilted outward or inward, which provides a secure feeling if you like a narrow position. Plus, it offers some height adjustment. If you're a fan of a wide position, it's recommended that you lower the armrests and carefully tilt them outward.
Also known as J2 Brackets, the armrest clamps can be moved fore and aft right on the extensions, allowing you to set the armrests at three different fore/aft positions, two widths, and to adjust the rests' angle.
These bars make great replacement bars on worn or damaged aerobars on "nice but not pro-level" tri bikes. We have used these ourselves and had great luck for several years.
The reviews mention that the product is easy to install and adjust, extremely comfortable, and working perfectly. Users recommend the Profile Designs T2+ Clip-On Aerobars for long rides since they're high-quality and really durable. Find Here On Amazon.
Profile Designs T5+ Carbon Clip-On Aerobars
Top Choice Overall.
With the Profile Designs T5+ Carbon Clip-On Aerobars, you can easily and quickly dial in the perfect time trial position. Like the T4+ before it, it is a good overall aerobar that is on par with the stock equipment on some really good time trial bikes. Featuring a traditional ski-bend shape with a rather shallow angle between the shifters and the extension, the product facilitates optimal aerodynamics by offering a neutral wrist angle with a low extension height.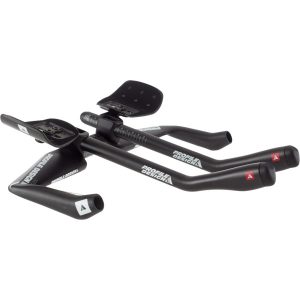 For people looking to replace inferior or damaged aerobars on a triathlon bike they already own, these could work perfectly In fact, many Felt and Cervelo tri bikes come with bars largely similar to these as their stock componentry.
The Profile Designs T5+ Carbon Clip-On Aerobars include a J4 bracket which is carefully controlled by one single bolt, allowing you to effortlessly adjust the rotations and extension length. The F-35 armrests that complete the T5 bars feature 3x fore/aft positioning. Moreover, the F-35 allows for 30mm of adjustment and offers approximately 15 degrees of rotation adjustment. Thus, you will never struggle to find the perfect fit. Another thing well-worth mentioning is that these aero bars are compatible with 26.0mm as well as 31.8mm bars. The slope on the ski-like end is 13 degrees, a comfortable overall bend in our experience.
Profile Designs also makes this aerobar in aluminum, but the carbon is not that much more and is probably worth it if you are trying to outfit a bike with the best possible parts.
The vast majority of the people who reviewed this product said it's top-notch, easy to install, making a big difference in effort, and very comfortable on the wrists. The Profile Designs T5+ Carbon Clip-On Aerobars helped users enjoy long rides. Users also appreciate that the aero bars are lightweight and have plenty of adjustments. Find Here On Amazon.
Profile Designs Sonic Ergo 35a Clip-On Aerobars
The Profile Designs Sonic Ergo 35a Clip-On Aerobars (here on Amazon) are, undoubtedly, one of the brand's highlights. Thanks to its Ergo armrests, the Sonic bracket allows a sheer range of adjustment options. The armrest was designed to offer both an enhanced rider comfort with a nice, supportive curve that cups the arms, as well as a great upgrade in fit range.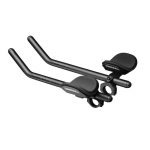 When it comes to performance, the Profile Designs Sonic Ergo 35a Clip-On Aerobars are crafted to present minimal frontal area in order to create as little aerodynamic drag as possible. Despite its fairly minimalist look, the aero bar offers a comprehensive fit range to get the rider into a fast position.
Both extension length and rotation can be effortlessly adjusted simply by using the top bolt. Just by moving the armrests, you can achieve 100 different position options. If you combine that with the risers, you'll realize that this clip-on bar offers an impressive 1500 possible configurations. Plus, you can easily adjust the extension tilt and width, which makes it one of the most adjustable products of its kind on the market. Actually, its adjustability makes it highly appreciated among riders. Find Here On Amazon.
Vision Team Alloy Clip-On Aero Bars
Weighing only 464 grams, these aero bars are lightweight — most aerobars weigh-in at 600 grams or more. Yet strong thanks to their aluminum construction which will make your cockpit aerodynamic without emptying your pockets. The Vision Team Alloy Clip-On Aero Bars are made from alloy, bead blasted anodized black, have a diameter of 31.8mm and an extension length of 40mm. The bars extension adjustment is fixed, making them adjustable from 230mm to 270mm. The low-profile armrest pads and J-bed design ensure an ergonomic, fast, and comfy position.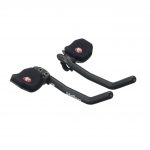 These bars are not super high-end, and we probably would not use them as a permanent addition to a nice road bike or a replacement in a go-to tri bike. However, for people who want to have the option of adding the bars for certain rides, this can be a way to do it without breaking the bank. Those who've purchased the product appreciate the secured armrests and the state-of-the-art alloy construction. Some people were, however, unsatisfied by the limited extension adjustment.
Vision is a neat company that has been around since the 90s. Founded in Kona, Hawaii, they focus exclusively on aerodynamic bike parts. We like companies that pick a niche and stick with it. Find Here On Amazon.
Vision Team Mini TT Clip-Ons Aero Bar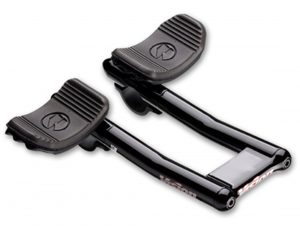 Compact yet highly performant, the UCI-compliant Vision Team Mini TT Clip-Ons Aero Bar offers a nice aero riding position. It has a lovely, minimalist CFD refined design with a black anodized and white graphics finish. Its 170mm fixed-length butted aluminum extensions join right at their forward end by a UCI adaptable 3:1 aerobridge. As they're adjustable, the ergonomic armrests allow you to fine-tine your riding position. Not to mention that the Vision Team Mini TT Clip-Ons Aero Bar features molded armrest pads which are comfortable even on long rides.
For some, the bars might feel a little "stubby" — they are 170 mm long, compared to many that can extend to between 300 and 400 mm. So if you are looking to really stretch out and extend, or if you are replacing aerobars that were on the longer side, you might want to look at the other options. But for someone who simply wants the option to get down in aero on longer, flat stretches, these are a good way to modify your bike.
Most riders say that the product is well constructed and really easy to install. The arm pads are also notably comfortable, compared to others in the price range. And when you are in the middle of a 70-mile ride, arm pad comfort matters. Find Here On Amazon.
What to Look For in Clip-on Aero Bars?
If you're a total newbie, meaning that you've never ridden with clip-on aero bars before, it will probably be best to opt for something affordable, such as steel or aluminum. This way, you can get a relevant feel for the device and its advantages.
If you prefer riding with a carbon bike, you'll certainly love carbon aero bars, as well. However, keep in mind that the two pieces are not always necessary together. Many believe that carbon can help smoothen some of the vibrations you experience when competing in triathlons with some potential road shock or rocky areas. Nevertheless, some experts think that a state-of-the-art pair of aero bar pads can do the exact same thing for way cheaper. The weight difference might be negligible.
The other thing you will want to determine is your preferred design. Some bars have the J-Bend, which means the bars rise up at the end like the bottom of a J. They are also called a ski-bend because they look like the tips of skis. Others are the S-Bend, which means that they rise up a bit but then straighten out again. It really is personal preference on which you will like. With that said, the Complete Tri staff is partial to the S-bend for comfort reasons.
The rule of thumb when shopping for clip-on aero pads is to go for comfortable, lightweight, top-notch models. Aero bars made by top manufacturers like Profile Design, Vision Tech, and Zipp usually offer all these features.
Thanks to their numerous benefits, aero bars are, nowadays, used by everyday cyclists through to professional athletes. There are a bunch of products available online and in physical stores, so deciding which one is the best for you might be a bit challenging. Knowing that, we created this mini-guide, which is meant to make it easier for you to choose the best clip-on aero bars for your riding needs.
Will Aerobars Turn My Bike into a Tri Bike?
No.
Aerobars will help you get down in aero position, no doubt, which can help your aerodynamics. They are especially useful on a long straightaway, allowing you to be in a comfortable position as you crank for speed. They can't transform your bike geometry, though.
A tri bike and a road bike have different frame geometry. A tri bike has steeper, more upright angles, allowing the rider to really get into a nice groove on a flat, and allowing the rider to have fresher legs on the run because of the way the geometry engages the quads and hamstrings.
A road bike has more relaxed geometry, which is actually useful on hills and curves where you want responsiveness, and is more comfortable when not exerting at 110%. But a road bike geometry will cause your legs to often be more fatigued as you start the run.
Even within the same brand, the geometry between road and tri is different. A Cervelo triathlon bike has fundamentally different (although minor to the naked eye) frame angles than a Cervelo road bike.
The aerobars will help you be able to settle in to aero position, and many riders feel that aerobars are a more comfortable option versus being down in the drops on your handlebars. But we want to make sure people know that there are other differences between road bikes and tri bikes than the bars.
We even know people who put clip-on aerobars on their gravel bikes, because it allows them to move into a different riding position for those longer endurance rides.
Do Aerobars Have a Shifter and Brakes?
Shifter, maybe. Brakes, no.
Aerobars are designed to either be simply a bolt-on piece with no components, but in many cases the shift function can be extended through the aerobar to put shifter at your fingertips while in aero position. We prefer this, as it seems easier to reach for the end of the aerobar at any time than to come up out of a tuck position just to shift. It is a one or the other type of thing, though. The shift will either be on your handlebars or your aerobars, not both. If you go the route of self-installation and want to setup your shifters on your aerobars, take your time and learn how to do it according to the specs — or take it to a shop. Getting your shifting right is a safety consideration when you are on the road.
Brake levers are not added to aerobars. Brakes will remain mounted where there originally were on your bike, likely mounted on your handlebar under some sort of brake hood. They should stay there. So, as you are riding, you might be down in the aero position, but if you see a hazard that you need to brake for, you quickly move back to a normal position on your handlebars or bullhorns. It is a transition motion that will become second nature to you after a bit.
Note that most bikes that come stock with aerobars — like a good triathlon bike — typically have the shifters integrated into the aerobar.
How do I Put Aerobars on My Bike?
We will leave that one to the instructions that come with your specific bars, because every set is going to be a little different. The good news is that it is not difficult to put them on, you just need to have a few of the right tools and perhaps 30 minutes so you are not rushed, and can do a quality job.
Positioning is important. You want the aerobars to allow you to be in an aero position that you can hold for several minutes at a time. Aero is not intended to be something that you only do for 30-second chunks. Key factors in being able to hold aero are the length of the aero bars, positioning of the pads, angle of the bars, position of the bars relative to your saddle, and — of course — your core strength!
Safety is key, both for your bike and your future rides. You obviously want to install the bars in a way that leaves no question that they are correctly affixed to your bike. Any bike maneuvering gear that fails on a busy road could lead to catastrophic consequences that we shudder to even think about. Just don't do a haphazard job.
Given the delicate materials you will be working with on both the aerobars and your bike, you absolutely do not want to overtighten the screws. You could break something expensive. This is most certainly a job for a good bike torque wrench (like this one). We can't stress enough the importance of carefully following the directions for both your new aero bars and your existing bike frame and handlebars. One half turn too many, and you could crack some really expensive bike parts. If you don't own one a torque wrench, perhaps now is the time to get one. And watch a few Youtube videos to get a feel for it before beginning to crank on your bike.
When in doubt, bring it in to a local bike shop and let a pro install it for you. We just want you (and your bike) to be safe.
Jim is an accomplished triathlete and endurance cyclist, and has raced in more than 3 dozen USAT-certified races.  He is also an avid trail runner and gravel bike rider.
His areas of expertise are in endurance training, cycling, triathlon technique, race direction, and training plans.  In addition to writing extensively about the endurance world, he has managed gyms and fitness centers in the US.  Jim is a longtime writer for Complete Tri, Compression Design, and his work can be found on the resource pages of many triathlon and cycling clubs in North America.