If you are not yet into gravel biking, there is a good chance that you soon will be.
Of all cycling categories (road, mountain, time trial, etc), one of the only that has been showing strong year-over-year growth is gravel biking. Even before the COVID year when everyone suddenly rediscovered their outdoor passions, gravel bikes and biking were exploding.
Gravel bikes have many advantages. Some think they are simply road bikes with larger tires, but there are several factors that make gravel bikes different than anything else, ranging from the frame design to the gearing to the tires and wheelset.
Gravel cycling allows you to access routes that were previously inaccessible, or at least not ideal, for a road bike. For many, that means opening up new route options. But unlike mountain biking, you can still have the faster gearing and ride position that lets you really get some speed on the right surface.
Gravel bikes are popular for everything from gravel roads to limestone trails. While not ideal, a gravel bike can tackle some flowing singletrack if needed. Unlike fat bikes or mountain bikes, they also perform very well on pavement, making gravel bikes a true multi-surface option. If you can only have one bike, a gravel bike might be the right call for many people (but then again, how many of our readers really only have one bike!)
What to Look for in a Gravel Bike
Finding a good gravel bike isn't terribly hard, and sometimes the line between a road bike and a gravel bike is a fine one. Still, there are some things we like to see in any gravel bike, and that we see in the 3 bikes we recommend below.
Disc Brakes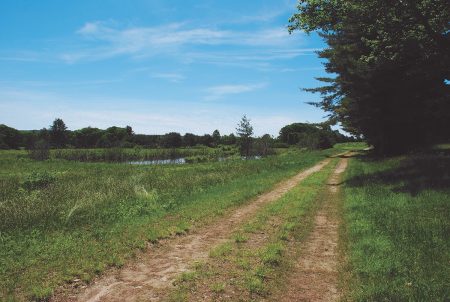 You will want disc brakes on your gravel bike, and for many older bikes this might be the limiting factor. Can you ride a gravel bikes with non-disc brakes? Sure. But this article is attempting to guide you to that ideal gravel bike, and we would say every time that you want disc brakes.
Why disc brakes? It's not so much about the actual brakes, as it is about the wheel clearance that they provide. Disc brakes are important because you will probably want to be able to experiment with a number of wider tires on the bike. Most newer gravel bikes call for tire widths of 35mm to 50mm, and the typical caliper-style brake struggles with anything more than 30mm, unless you are a Houdini-like bike mechanic. Some gravel bikes can accommodate up to 50mm, due to the combination of frame design and disc brakes.
It is really hard to retrofit disc brakes on a bike, so I suggest not attempting it. To give yourself the best odds of a good gravel bike, get disc brakes.
Relaxed Posture (slightly higher handlebars)
You want your handlebars to be just a bit higher than you would have them on a road bike, and not as aggressive as you might have them on a cyclocross bike. Gravel bikes are meant for long distances of riding on gravel surfaces, so while you want a little more agility and preparedness for the unpredictable loose gravel or hilly trail turn, you don't need to be "down in the drops" like you would be on the open paved road.
A good rule of thumb is that your gravel bike setup should have you about 1 inch higher than the road bike setup, when you are on the bullhorns or down in the drops.
Comfortable Riding Position
A couple things happen when you are riding on gravel. First, you might settle in to a stretch of long, hard-packed gravel, but then need to alternate to a position that compensates for loose gravel or even dirt for a short stretch. Second, you will find that gravel makes your bike — and your body — vibrate. Thus, having a comfortable riding position is more important than if you are purely on pavement, where your body doesn't have to act as much as a shock absorber.
Because you might want to quickly pop-up on your handlebars if you hit some loose gravel (shifting your weight back), and it can be nice to use the "drops" when on a long gravel stretch, we usually suggest a less-aggressive gravel bike posture than we would in a road bike or especially a time-trial bike.
Road-Capable
You definitely want your gravel bike to be highly road-capable. This is where it might differ most from a cyclocross bike, which looks a lot like the gravel bike on the surface. The beauty of the right gravel bike is that it can be great on gravel, but it can also perform very well on long stretches of pavement. This allows you to connect trails together — you can ride out on 10 miles of gravel, connect to another trail on 8 miles of pavement, and head home on another 12 miles of gravel. That creates a beautiful 40 mile ride that would not have been very accessible to you purely on a road bike or mountain bike.
Wider Tires (and Wider Tire Clearance)
You want to run wider tires on a gravel bike than you would on your road bike, even if your road bike is often used off pavement. The typical tire width for a gravel bike is 32-45mm, or even up to 50mm, whereas a road bike often maxes out at around 28 or 30mm in tire width. A good, sturdy rim and wheelset that can accommodate a nicely-treaded tire in the 35-39mm range is often the go-to choice for avid gravel riders.
Wider tires will give you more "flotation" on loose gravel and the ability to have a more aggressive tread which is helpful on wet, greasy gravel. Thinner tires — in the 28 to 34 range — will give you better rolling on hard smooth gravel and pavement. Real serious riders might actually have a wheelset ready for more than one condition — but that will require some budget.
The other major factor with tire width is the pressure that you need in order to inflate the tire (PSI). Generally speaking, the narrower the tire, the higher the PSI you need, and the wider the tire, the lower PSI you need. A road bike tire might call for 100 PSI, which is going to be hard, bumpy, and full of vibration on any surface other than smooth pavement. On gravel, there can be a huge advantage of being able to run at 35 – 60 PSI, which will absorb vibration and shock. Think of it like a mattress. A 100 PSI tire is like a firm mattress, whereas a 45 PSI tire is like jumping on to a soft, spongy, soft mattress.
Of course, it is not just about the rim and tires when it comes to tire width. The bike itself, including the design of the front fork, fork crown, seat stays, and brake calipers (not an issue with disc brakes) all will determine how wide of a tire you can go with. One of the main advantages of choosing a built-for-gravel bike is that it is designed with these dimensions in mind. If a bike's specs only allow a 35mm tire, and you try to put a 40mm tire on, the tire won't have the clearance within the bike's frame to turn freely. The slightest bit of mud or low tire pressure will cause the tire to rub — a big issue.
Tubeless Tires
We strongly recommend considering tubeless tires for a gravel bike. Why? Tubeless tires don't get pinch flats, the way that a tire with a tube can. This means you can ride at lower pressure and not worry about pinching your tire flat on a sharp rock or a boulder that you might have to cross as you connect two nice gravel roads using a single track trail.
Of course, the ability to ride tubeless tires has less to do with the bike and frame, and much more to do with the rim and wheel. If you have a choice, go with a tubeless-ready rim.
Lightweight Frame
This one might be the most debatable, as there is a school of thought that aluminum is the best gravel bike frame even though it is heavier, because it is durable and vibrates least. However, gravel bike manufacturers have become REALLY good at using lightweight carbon, stainless steel, and even titanium in making gravel bike frames. We think that if all other things are close to equal, it is crazy not to get a lighter-weight rig. It is not just about shaving a pound or two off — that could be done by losing your belly. It is just as much about being able to maneuver your bike in tight spots and having snappy responsiveness on inclines and accelerations. However, if you invest in a high-end frame, you might not want to clamp the bike into your indoor trainer. Use an old aluminum bike for that.
3 Great All-Purpose Gravel Bikes for 2022
GT Grade Carbon
The GT Grade Carbon has been out for a few years, and it has really caught-on with cyclists who want an all-purpose gravel bike that can be light and responsive when on pavement. Some will argue that its pricing ($1,500+ depending on components) is not exactly entry-level, but for an experienced cyclist with a healthy budget, it is a great way to get hooked on gravel.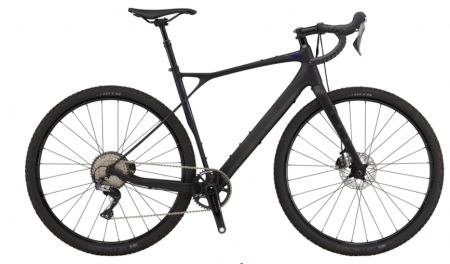 The carbon fiber frame is distinctive. The Grade Carbon is easy to spot when you see it — it has a unique floating seat stay construction that makes it look like your saddle is just kind of hanging off the back end of the frame, but it is strong and provides a great ride. GT calls this the Triple Triangle design.
You are going to get the disc brakes that you want, and they are quite effective at that. The Shimano GRX Hydro does a great job in all conditions and performs very well on the all important "steep downhill trail". Other components tend to be anchored by the GRX lineup as well.
A small touch, we love the flared drops on the handlebars, which make long stretches down in an aero position quite comfortable on the arms and shoulders.
Our only nit with the GT Grade carbon is that we've busted a number of spokes on the stock Stan's NoTube rims. However, that can always be due to our riding vs. the rims' durability. We might have just gotten some faulty spokes, too.
While older GT Grades could only handle tires up to 35mm wide, the new models are built to go higher, and come from the factory with 40mm tires.
Overall, we love the GT Grade Carbon for gravel and would recommend it to anyone. Look for it here.
Framed Gravier
Framed bikes are produced up in Minnesota (you are going to see that be a theme), a place where gravel biking really took off — or maybe we should say has always been around — due to the abundance of good gravel country roads. For years, "Finding some gravel" has been code among Upper Midwest cyclists for getting away from the traffic.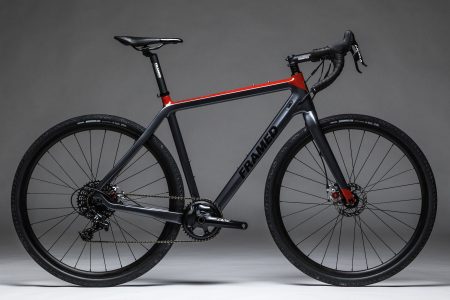 Of the Framed lineup, we really like where the Gravier model sits. While not inexpensive, the Gravier brings a great ride and a good looking bike to the gravel market, with a carbon fiber frame package that will work for much more than just gravel. It is the go-to for many who are getting seriously into the sport, and ideal for someone who thinks they might find themselves on regular stretches of pavement or tar in between the gravel excursions.
Whereas the GT relies on the Shimano GRX lineup, Framed goes with the SRAM Apex 1 as its base. The Apex 1 groupset has proven to be reliable on gravel bikes, with solid components and the "double tap" shifting that we have grown to appreciate. It is not quite at the level of SRAM's Rival groupset, but it is a solid set that delivers on par (generally speaking) with the Shimano Ultegra.
The Gravier's frame geometry has a lot to like. It has a longer wheel base than some of the other gravel bikes on the market, making it comfortable on the longer stretches of open road. The bottom bracket is a little lower than some, adding to overall stability when the road gets rough or loose — but a factor if you are thinking you will be taking the bike on some more challenging trail segments.
Framed produces its own fork, stem, seat tube, and handlebars, and they do a great job. They tend to make good parts at affordable price points, and anecdotally from our community, we hear that they seem to stand behind their products if anything goes wrong.
The stock wheelset on the Gravier is the Alex Boondock, disc-only wheel that is designed specifically for gravel and cyclocross bikes. They are a midweight wheel that seems like a good value for the price point. The stock tire is a Maxxis Rambler, a good all-around 40mm tire that, if anything, will give you a little more tread than you need but will do well in many situations.
Overall, the Framed Gravier is a good built-for-purpose gravel bike that is going to perform well on other surfaces. Framed is a smaller bike maker who can really focus on making sure every bike is just right. If you want to bypass the entry-level gravel bike and get something that will be a keeper for a while, this should be on your shortlist.
Looked for the Framed Gravier Here
Cannondale Topstone Sora
When it comes to gravel bikes, some of the best models out there are made by the smaller manufacturers like Framed. But one of the larger, heavy-hitter companies is doing a nice job with gravel bikes right now, especially for the money, and that company is Cannondale.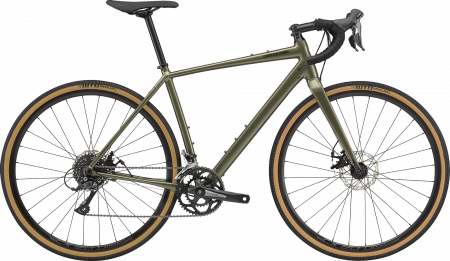 Cannondale has a broad lineup of gravel bikes, and their expansive Topstone lineup includes a model that we really like, especially at the entry-level. The Topstone Sora combines a lot of what we like in a gravel bike, and if you aren't looking to do ultra gravel races or feel the need to be a purist gear junkie, the Sora might be the perfect way to get you out on the gravel.
It features an aluminum alloy frame with a carbon fork, giving it a good, solid feel on gravel. The component groupset is largely Shimano (Sora), with many of Cannondale's proprietary parts like the saddle, bars, seatpost, and stem.
The Sora's geometry is decidedly comfortable. If you want your gravel bike to be borderline cyclocross, this might be too relaxed. But for most riders, this will allow them to get in a comfortable posture and cruise for a long time on a variety of surfaces.
Cannondale put the RD 2.0 mavic wheels on the Sora, a wheel they like to put on lots of their sub-$3,000 bikes. While they are good wheels, they aren't anything that will get gear junkies excited, but they work well. It is a component you can always something that is a bit more "built for purpose" for gravel later on, but for many they will do just fine for the long haul.
Cannondale ships the Sora with a good, all-around Riddler 37mm tire, an all-purpose tire that can handle solid flats along with rough or loose surfaces well. This bike probably isn't the one you want for a rugged, frame-ripping backcountry gravel race, but for exploring most gravel roads and trails it will be just what you need. You can find the Topstone here.
Which tires should I use on my gravel bike?
Your tire strategy for a gravel bike is a little more complicated than for many other bikes. For road or mountain bikes, you are often weighing just cost and performance, and the decision really isn't that difficult. When it comes to gravel bikes, you first need to decide what your intended use is, then you decide on what kind of ride do you want the bike to excel, where in thewide range of tire widths do you want to land, and only then do you weigh things like value and reliability of the tire.
Decision #1 is what kind of surface you need a tire for.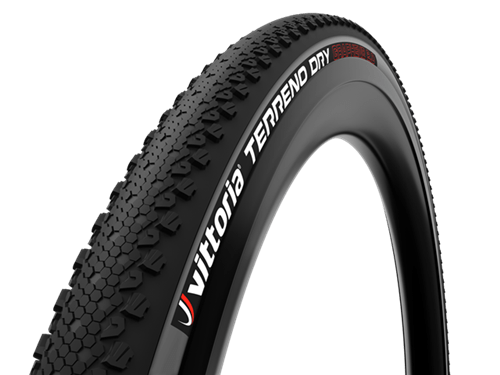 If you will be riding some rough and potential washboard gravel, you want to be sure you have a tire that can ride with lower PSI to reduce vibration. That probably means a wider millimeter tire.

Perhaps you will be doing some gravel that is loose, bordering on dirt and sand at times. If so, a wider tire might float better as well as give you more contact points with the uneven ground — something closer to 40mm.

If you think you may be riding on wet, greasy trails, then you may want a tire that has a more aggressive tread, "knobbier" tires. Although, high-PSI, slicker tires do surprisingly well on wet trails because they maintain consistent contact with the ground.

If there is a good chance that much of your ride will be hardpack gravel or limestone, or you may need to jump on pavement regularly, you can actually use quite a slick tire, even on gravel. Just make sure it if a tough tire that won't puncture easily.
Choosing the right aggressiveness, width, and ideal PSI for your tire will give you a sense of the best tire for you. Many gravel cyclists invest in an extra set of discontinued rims — you can often find wheelsets on deep discount — to have on hand for those days when you need to swap tires for conditions.
Our recommendation, without knowing your situation, is to go a little less aggressive and knobby than you think you'll need. Then, if you have the budget to invest in a spare wheelset, outfit those wheels with more aggressive tires for looser gravel or greasier conditions.
Gravel Tire Recommendation?
If there was one all-purpose gravel tire we would recommend (and it is a hard choice), we would probably go with the Specialized Pathfinder Pro (find it here). It is a fast-rolling gravel tire that provides some good knobs that will grab when you find yourself on a softer surface. It comes in 38mm and 42mm, a nice width for all-purpose gravel riding when you aren't quite sure what you are going to encounter.
Do gravel bikes work on paved roads?
Absolutely. In fact, a gravel bike with the right tire setup (something not too knobby or aggressive) can perform extremely well on pavement. That is why the gravel bike movement has gained so many loyalists — in many situations, it becomes the only bike that someone needs. (I know those for fighting words for many cyclists who insist that you should have a stable of 5-6 bikes)
Tires will make a big difference on your pavement ride. If you go super-wide with an aggressive tread design, you might find that the tire feels a little heavier or slower on pavement. We've ridden with lots of riders who have 45mm knobby tires that are great on loose gravel hills, but noisy on the pavement. It is all about determining where you want your best performance to be.
The ability for gravel bikes to provide such a great ride on pavement is what makes them superior to a mountain bike or a fitness/urban bike.
Do gravel bikes work on off road trails?
Gravel bikes can take some off road stuff as long as you don't have technical terrain or hairpin turns, but they are really not meant for true "off-roading" or singletrack riding. That is more suited for a true mountain bike, or in some cases, a cyclocross bike.
I often find myself connecting a country gravel road and a nice long, well-maintained limestone trail with about 500 meters of logging roads….. With a surface resembling semi-hilly single track riding. Doing this little connector creates a beautiful 25 mile loop that I try to do regularly. A gravel bike does fine on it — but I would never take my gravel bike out for a day of wooded single track riding.
Are there gravel bike races?
Yeah, and they are becoming a pretty big deal. These rides often have serious mileage, a very competitive field, and more and more racers each year.
Some of our favorites are the Dirty Kanza (now renamed) in Emporia, Kansas, the Dead Swede in Sheridan, Wyoming, the Black Fly Challenge in Indian Lake, New York, and the Heck of the North series near Two Harbors, Minnesota.
If you are open to throwing your bike on your vehicle and finding a gravel race, it shouldn't be too difficult — and the numbers appear to be increasing.
Do gravel bikes need disc brakes?
Disc brakes are highly preferred. You can have a great gravel bike with caliper brakes, but do disc brakes if you can…. and this is coming from someone who rode a modified road bike with Gatorskin tires and caliper brakes for years as my gravel go-to. Sure, you can rig up a gravel bike with old-school caliper brakes, and if you are a handy bike mechanic you can probably save yourself some money by using an older frame. But disc brakes give you a few big benefits.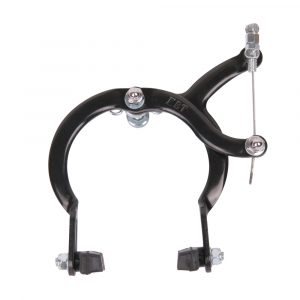 First, they can accommodate much wider tires because they don't limit your wheel clearance, and remember that you might be riding on wheels that are as much as 40 mm wide…. And often you will want to ride a gravel bike at lower tire pressure, which could widen the footprint. With caliper brakes, you are going to max out around 30mm, maybe 32mm if you are handy with your adjustments.
Second, disc brakes are more reliable in wet weather, and when you ride on gravel you might be in conditions that involve some sprinkles. Many road cyclists, on the other hand, won't go out if the roads are wet.
Third, disc brakes do better when your wheel is not true, or if you have a wobble. Our experience is that you tend to break more spokes on gravel because of the surface, rougher riding, and even the occasional spill, compared to a road bike. That will have less effect if you have disc brakes, and there is a better chance you can make it home safely to fix the wheel.
Caliper, or rim brakes, require some level of clearance between the and the brake. For most non-modified caliper brakes on a road or gravel-style bike, 28mm is the max width you can reliably run… and perhaps 30mm with some adjusting. And remember, 30mm is really at the very low end of the range that is ideal for a gravel bike.
Do gravel bikes have suspension?
Generally not. Mountain bikes often have some suspension, but generally speaking a gravel bike or a cyclocross bike will not have suspension. They will be built more along the lines of a road bike. Part of the allure of a gravel bike is the fact that on hardpacked gravel or pavement, it will ride a lot like a road bike, smooth and fast.
There are exceptions: More and more, we see gravel bike models that provide for some small level of front suspension, like the Future Shock feature in some Specialized gravel bikes. It is adjustable and the rider is able to eliminate the shock absorption if they are on a stretch where they do not want the feature active.
Why not just ride my mountain bike on gravel?
You can. But many avid cyclist find that the geometry, posture, and gearing of a mountain bike limits their enjoyment of long, gravel roads and trails. Because a true gravel bike is borne from the road bike frame geometry, when you find a long, open road with a good surface, you can really get some speed going and roll along the road. Likewise, most mountain-style bikes are cumbersome when it comes to riding on pavement, whereas a gravel bike ride can rival that of some road bikes on blacktop. This means that you can strong together a ride that is gravel – tar – gravel – trail – tar – gravel, for example, and it is utterly enjoyable on a built-for-purpose gravel bike.
What else do I need for gravel biking?
In addition to all the cycling gear you would want for other biking — shorts, apparel, a good helmet, glasses, etc, there are a couple things that are nice for gravel biking.
First, because you will often find yourself on more remote roads, you may want to have a larger bike bag to carry everything from extra calories to a tubeless patch kit. Gravel bike tires are surprisingly durable, but you never know where you will get the flat.
Second, we highly suggest traveling with a bike computer. When you are on rural gravel roads, intersections are not marked well, and it is easy to mistake a long forest road for a ranch road, for example. The turn-by-turn nav of a bike computer can be really valuable in these cases.
Von Collins is an accomplished triathlete and cyclist, and the author of four fitness and training books: Smarter Running, Your First Triathlon Guide, Fit Foods, and 30 Rut-Busting Workouts.
Von has been cited as a triathlon, cycling, and fitness expert by Healthline, CNET, Forbes, Eat This, Not That and other major outlets.
Von has done dozens of triathlons and endurance bike races, coaches, and is an avid part of the cycling and triathlon community.