Park Tool bike repair stands should be on the short list for anyone considering a home bike mechanic stand. They are some of the best on the market, and west gave them a first-hand test.
We will talk more in a different piece about what to look for in your bike stand, but the Park Tool models combine two things we really need: Intuitive functionality making them easy to use, and stability. Without either, you will find yourself not using the stand as much as you intended.
For this review, we are focusing largely on the popular PCS 9.3 and 10.3 models that we have real-world experience with, but will mention how the rest of the Park Tool bike stand lineup rates as well.
How We Tested the Park Tool Bike Repair Stand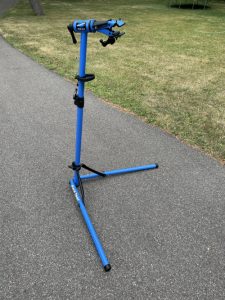 We got ourselves model 10.3 and 9.3 bike stands, set them up, and gave them a good test using multiple bikes. We wanted to be sure that the stands weren't good for one type of bike but not for another, something we often see with certain bike carrier racks.
The setup process was not just a trivial step, it is a bit involved and we will write about it more.
Our typical tasks on the bike stand were apply bike lube, adjusting derailleurs, and cleaning the drivetrain. Basic stuff, using the common bike mechanic tools. It gave us a good enough test of how the stand functions and how stable the bike hangs on the stand.
We were especially looking for how stable the stand was – both in terms of the bike setting on the stand, but also the stand itself with the awkward weight of a bike hanging from it.
First Impressions of the Park Tool Bike Stands
We love using our Park Tool repair stand. Once assembled, it has a simple design, is easy to use, and is stable. That is pretty much what you want in a bike stand.
We had used a few other models, some of which we profile in our piece on bike stands. Park Tool is a cut above most. By all means, avoid those cheap, wobbly stands that are mass-produced for online retailers.
A few things that we were looking for in our bike stand in particular:
Intuitive Design and Ease of Use
We strongly prefer a bike stand like the Park Tool models where the bike is designed to hang (ideally from the top tube) while you work on the bike, versus other designs where the bike has to be affixed in a more complicated way.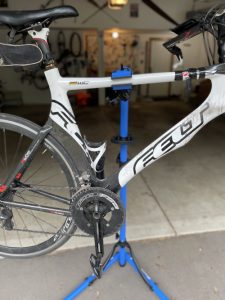 The Park Tool design lets you easily set the bike on the stand, and then clamp down for as much security as you need. We found ourselves often just hanging the bike without doing much clamping at all, when it was going to be giving the bike a lube or a quick, easy adjustment we were making.
Tightening-down, though, definitely makes the bike secure on the stand, something that is a non-negotiable when using a bike repair stand.
The clamp rotates 360 degrees, so you can get the bike in the exact position you need for whatever you want to do to it.
Stability and Balance
We have used bike stands where the bike wobbles in the stand, or the whole stand feels less-than-secure. The natural reaction to using such a stand is that you pretty much stop using it.
That is why stability is a non-negotiable for the bike repair stands we use.
The Park Tool repair stand performs very well on the stability test. Both in terms of the bike being solidly mounted in the stand, and the stand itself being stable on the floor, the PCS 9.3 and 10.3 excelled.
We even tried setting heavy bikes on the stand in a skewed fashion just to see what problems it would pose, and the design could handle them in a balanced way.
Quick Release
The quick release functionality on the Park Tool 10.3 is great. You can throw your bike up on the rack, and with just a couple turns of the handle, the bike is secure. With a couple more turns, you can pull the bike back off. Much better than some models we tried where you had to crank for a minute to be confident the bike was secure or able to come off.
On the 9.3, the functionality is still very good but it is slightly upgraded in the 10.3 (one reason it costs a little more).
One practical tip: It is easy to just "hang" your bike on the stand for doing a quick inspection or repairs, without clamping it down. But then it is easy to forget it is not secured, and you can get carried away with your repairs and do something that requires the bike to be clamped. The result can be your bike falling out of the stand and you needing to catch it. Best to make a habit of securing the bike each time you use the stand, no matter how quick the work seems to be.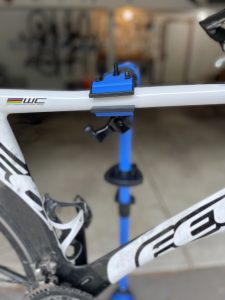 Portability and Foldability
The stand folds up so you can move it around. For 90% of you, that means you will be able to move it around your garage so it can be out of the way. For the other 10%, you can move it to wherever you need it be, away from your home.
It folds up into a small package of about 36 inches by roughly 16 inches. When not in use, you can stow it in a corner of your garage and it is truly out of the way. With that said, we find that we leave ours up almost all the time, ready for a bike to get a quick adjustment.
Assembling the Park Tool Bike Repair Stand
Assembling the stand took about 30 minutes, but to someone who studied the instructions more clearly, it might take less time.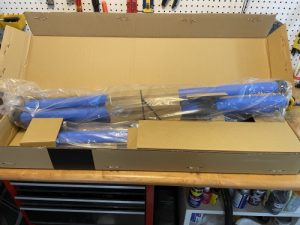 The bike stand comes in a box, what we woud call "partially-assembled". The most important and technically-difficult assemblies – primarily in the clamp and associated levers and parts – are already assembled. Still, you need to put it together, something that involved about 10 pieces and perhaps 10 bolts and screws.
It is easiest to assemble if you have a work bench, but you can also do it on a floor. As with any type of assembly, it is best to do in a clean area with a clear surface, as your likelihood of dropping and needing to find a screw or washer is nearly 100% in our experience.
Perhaps the most delicate part of the assembly was making sure the clamp was positioned and installed correctly on the stand, as that makes a big difference on how the repair stand will perform going forward. Fortunately, the clamp comes almost entirely assembled, and it is really a task of positioning and securing it. They make it pretty dummy-proof.
Comparing the Park Tool PCS 9.3 vs. the PCS 10.3
We focused on the 9.3 and 10.3 versions for our hands-on testing. Why? To us, they are the best combination of functionality, quality, and value. While they are not quite at the level of stability you would find in a bike mechanic shop, they are a decided cut above the typical cheaper bike repair stand that you might find online.
Consider the 9.3 and 10.3 the go-to, affordable home mechanic bike stands from Park Tool.
Both stands are the same height, and made with the same gauge tubing. Both have legs that flare in a "V' shape, giving you more stability and less wobble than more perpendicular designs.
What we like about the 10.3 model is the clamp, which is really the main difference between the 9.3 and 10.3. The 10.3 cam-actuated clamp gives you a bit of an "assist" when clamping down on the bike, making it easy to tighten and loosen with one hand and just a couple turns. The 9.3 has a good clamp, but it requires a little more cranking to get just right.
To us, it is worth the extra $50 or so for the better clamp, because it saves you time when you are trying to do quick bike lubes and inspections and allows you to do more with one hand.
The 10.3 also includes a tool or screw tray, something that can be nice when doing more involved work on a bike. It is a small tray, but you can upgrade to a larger one for an additional cost.
Other than that, once the bike is clamped-in, the 10.3 and 9.3 give you essentially the same experience.
Other Park Tool Repair Stand Alternatives
The PCS 9.3 and 10.3 sit at the bottom of the Park Tool repair stand product lineup, but don't let that fool you into thinking they are basic. The stands are some of our favorites for home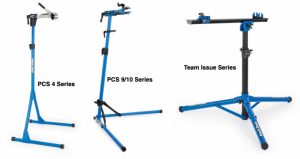 mechanics who need to be able to do basic maintenance and adjustments on their bikes.
The next level up is the 4 series (a bit deceiving that the 9 is base-level and the 4 is upgraded). The PCS 4 series gives you added stability and a bike stand that can take a little more torque when you are cranking on the bike. It has 4 contact points with the ground versus 2 on the 9 series. Perhaps most importantly, it can handle a heavier bike. While the 9/10 series is just fine for your typical road bike or gravel bike, the PCS 4 series might be a better choice if you will regularly be working on an e-bike. E-bikes tend to be heavier and therefore call for a more bulletproof stand.
The Team Issue lineup is also more expensive than the 9 series. They are meant for on-the-road bike mechanics and teams, and offer the ability to rotate the bike and work on a bike without clamping it in. They are great for a certain audience, but for the typical home mechanic we think you actually should go with the 9 or 4 series.
Check Prices on the Park Tool Stands
Von Collins is an accomplished triathlete and cyclist, and the author of four fitness and training books: Smarter Running, Your First Triathlon Guide, Fit Foods, and 30 Rut-Busting Workouts.
Von has been cited as a triathlon, cycling, and fitness expert by Healthline, CNET, Forbes, Eat This, Not That and other major outlets.
Von has done dozens of triathlons and endurance bike races, coaches, and is an avid part of the cycling and triathlon community.