We spent a couple months riding with the Garmin Edge 1030 Plus bike computer, both in road as well as gravel and off-road conditions. We came away impressed, but want to provide a full assessment for you. Here is what our experience told us.
What is it the Garmin Edge 1030 Plus?
The Garmin 1030 bike computer sits at the top fo Garmin's bike computer lineup. The 830 and the 530 are also active Garmin products, but the 1030 throws more features at you, and as is always important with the rapidly-changing Garmin products, it also ensures you are compatible with the other latest Garmin gear. Update: Since publication of this article, Garmin came out withe Edge 1040 bike computer, which we also reviewed.
1030+ Road Test
Giving the Garmin 1030 a good test was fun. It was easy-to-mount, and doesn't take up much space in your cockpit. You can use one of two mounting methods: The direct-mount to your handlebars using the customized, strong plastic/rubber bands provided, or you can use the quick mount bracket. Either works great, and the bracket doesn't become as cumbersome as we had feared. It goes on super fast, and is hardly noticeable once on. A small quarter turn of the unit, and it is off of your bike (but the mounting method stays on).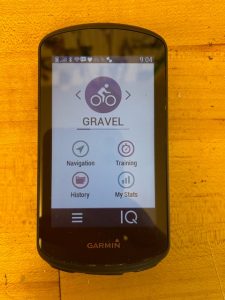 Getting used to the user interface took a little practice, and we recommend that you spend some time doing this before you are actually out on a ride. It is pretty easy to hit a button that is seemingly complicated to navigate back from, if done in error. Best not to be fiddling with your buttons while you are on a road with traffic.
Where the 1030+, and all Garmin bike computers, really excel is in the navigation. In fact, we see that as the primary reason to buy a bike computer, given that so many ride stats can now be tracked in your watch. The 1030 provided excellent point-by-point navigation, and the accuracy was outstanding. Many of our tests were out on country roads, and even rural Jeep roads, where you would not necessarily expect navigation to be perfect. We can't think of an example where the 1030 was not dialed-in correctly and able to tell us exactly where to turn. This is important when you are gravel biking or off-road biking in new terrain, and all of the trail forks & small roads seem to look the same.
Battery life on the Garmin 1030 Edge Plus is very impressive. Actually, we're blown away by it. We expected that we would need to charge the unit every few rides, and were a little worried that on our long rides in lower-signal areas (rides of 65 to 100 miles) we might zap the battery. We did not even come close. The lowest the battery ever got was to about 65%, and that was even with our settings set to not powersave (more on that later). If battery life is a priority for you, the 1030 needs to be a very serious contender.
The unit comes with a charger, and while we did not measure the exact time to a full charge, we never found ourselves waiting for it to get to 100% after a couple hours of charging.
Getting readouts on wattage (in conjunction with our garmin pedals), speed, distance, and elevation was easy, once we knew where to set the home screen. You will have options for which kind of user interface and readout you want. We tended to gravitate to the navigation-oriented readout, because we were often relying on the computer for turn-to-turn directions on small, backwoods roads. Plus, we are accustomed to getting our ride stats on our watch (I was using my Garmin Fenix 6 for most of the riding as well).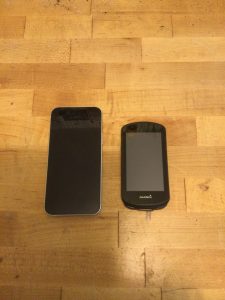 A feature we were pleasantly surprised by was the elevation readout when on a climb. The Garmin knows when you are on a climb, and will give you stats on exactly where on the climb you are, how much is left, and your elevation. During one cycling trip, we found ourselves doing a few multi-mile climbs, and this feature was nice. It even shows a color-coded graph of what the upcoming grade will be, in small intervals. It was useful to know when to dig deep and get a head of steam into the next segment.
We were able to use the rerouting feature, something that you will probably find you use way more often than you think you will, but it had a bit of a lag in picking-up the new waypoints and routing. If possible, it is best to stop cycling for a brief rest and let the Garmin reroute, if that is something you need to do.
Pros: Why We Like the Garmin Edge 1030+
Navigation, especially when in turn-by-turn mode, is excellent. Intuitive directions, plus we found the location accuracy to be excellent.

Battery life is outstanding. We could not find a way to drain the battery. Plus, charging the unit does not take long at all. Bravo, Garmin, and thinking about cyclists' battery needs.

Small size is a big plus. Nobody wants a bulky computer in their cockpit. This unit has a small footprint than your phone will.

Great visibility in low light.

Water-resistant. We rode through some rain and had no issues with the Garmin 1030.

Climbing information automatically provided during climbs, with uncanny intuitiveness regarding what information the rider will want to see. A very nice touch.

The visibility of the screen, once it adjusts to the outdoor brightness, is well-tuned. It is especially visible in lower light conditions, which it automatically adjusts to.
Cons: What We Would Change About the Garmin Edge 1030+
Initial setup was a little clunky. This computer has lots of features, and getting to know them takes some time. Best done over a cup of coffee at your kitchen table, rather than when you are about to take your first ride.

We did not like how the battery-saver mode disabled the screen much of the time, especially when we were using the unit for nav. Recommend disabling battery saver mode. You don't need it, anyway.

On very bright days, screen took a bit to adjust to the brightness. In dark conditions, though, the screen very quickly adjusts and is easy to view.

Loading new routes via GPX files (usually from Strava, when we use its create route tool) requires manual steps and an intermediary device like a laptop, phone, or tablet.
Mounting the 1030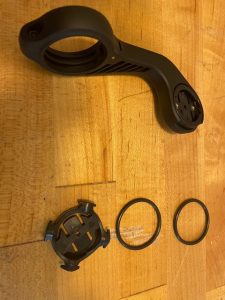 As we mentioned earlier, mounting the Garmin 1030 is a piece of cake, and uses the same approach as the 830 or the 530 if you are familiar with either of those. You can do a direct-mount using the very tough rubber bands provided with the unit, or you can do a mount using the bracket provided. Either is quick, and it really depends on where you want your computer to be relative to your cockpit and riding position.
We will note that the bracket is the better option if you are going to be riding over really tough terrain. The direct-mount method is just a little less-secure. Not a problem on most terrain, but it can move around during rough gravel or mountain bike segments.
Switching the computer from one bike to another is easy and quick, regardless of which mounting method you choose.
Garmin Edge 1030 vs. 830
Many Garmin loyalists might already have the 830 and are looking to upgrade, or may have an earlier model and are trying to decide between the 830 or the 1030. Given that the 830 will save you a couple hundred dollars versus the list price of the 1030, is there a case to upgrade to the 1030?
First, the similarities. Both models give you a touchscreen interface, something you won't get on the 530 or earlier models. Both will give you excellent navigation, performance and ride statistics, real-time information on riding condition and elevation, and the all-important ability to load courses and routes.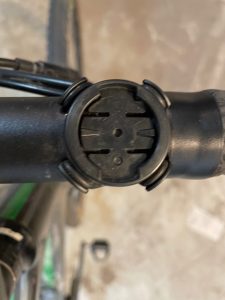 Both are compatible with Garmin power meter pedals. If you have invested in the spendy pedals, you definitely want your technology to be compatible.
What you are going to get with the 1030 Edge are two main things: Longer battery life, which we have discussed is super-impressive on the unit. And a slightly larger screen and readout. These bike computers can be small, and that little extra surface area on the screen can make it easier to get the info you need at-a-glance.
While we have not used it, the Edge 1030+ is the first Garmin unit that also provides the ability to external memory and storage, for folks who may have a ton of routes stored, or like to track their ride statistics outside of the normal Garmin Connect upload process.
Garmin 1030 Plus vs. Hammerhead Karoo 2
Perhaps the stiffest competition for the 1030 Edge Plus is the Hammerhead Karoo 2. Ever since the Karoo came out, we have been singing its praises as the first non-Garmin bike computer to give the behemoth (Garmin) a run for its money. The Karoo 2 also happens to be less expensive.
The Karoo a built-for-cycling computer with a very intuitive user interface, and outstanding touch screen navigability. Like the Garmin, the Karoo provides the navigation features you will want on a ride, and the rerouting is actually a bit slicker than the 1030.
The 1030 has a slightly larger screen and readout, but the resolution on the Karoo is very good so it is a bit of a wash. The Karoo 2 did not give us the same battery life that we so valued in the Edge 1030+. One thing we did appreciate more about the Karoo 2 was the more automated route upload (using the Hammerhead website or app, which the Karoo then syncs to), versus the Garmin's more manual process.
Both are compatible with your smart trainer. The only reason you would need this functionality, though, is if you are recording all your workouts through your computer. Otherwise, the data that appears on the TV or tablet screen during your ride is much easier to look at than a bike computer.
Overall, it really comes down to your priorities. If you value battery life and Garmin compatibility, go with the Edge. If you like instant rerouting and easy route upload, the Karoo has the advantage.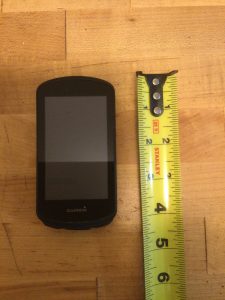 Vendor Lock
One thing to note about Garmin products is that you get in to a bit of vendor lock. If you love Garmin products and are a loyal user, then it is no problem and probably a welcomed thing.
However, if you want to have compatibility with features like the Garmin Rally pedals or a Garmin smart watch, then you will need to have a Garmin computer. Additionally, if you rely on Garmin Connect to monitor your broader health (via a wearable), then keeping your bike accessories within the Garmin family can be a big benefit.
Recommendation
Based on our testing, do we recommend the Garmin Edge 1030 Plus? Yes! It is a great bike computer, especially for people who are exploring new roads and trails. You just can't beat the GPS accuracy that Garmin has built over the years.
Spend some time getting to know the device and learning the interface, because it can be tricky at first. But once you have the hang of it, and it is setup the way you like, this little device will start reading your mind on rides and be a reliable tool to have on your bike. Find it here.
Von Collins is an accomplished triathlete and cyclist, and the author of four fitness and training books: Smarter Running, Your First Triathlon Guide, Fit Foods, and 30 Rut-Busting Workouts.
Von has been cited as a triathlon, cycling, and fitness expert by Healthline, CNET, Forbes, Eat This, Not That and other major outlets.
Von has done dozens of triathlons and endurance bike races, coaches, and is an avid part of the cycling and triathlon community.