I've been riding with a Hammerhead Karoo 2 for several months and on several types of rides. My first impressions are that it is a great bike computer that would fit well with nearly any cycling situation.
I will go into a lot of detail on exactly what I found during my many test rides, both the pros and the cons (there are way more pros). In short, though, I think it is a top-notch bike computer worthy of being in the discussion with the top-end models from other makers like Garmin and Wahoo.
Design and Build Quality
I love the size of the Karoo 2. It is smaller and more compact than the Garmin 1040 but not so small that you have to squint at the screen. This package gives the Hammerhead Karoo 2 bike computer has a sleek and unique design. I noticed that the exterior is built with premium materials, giving it a high-quality feel and making it aesthetically pleasing. The device is fairly compact, measuring 98.6 x 76.7 x 30.8mm, and the mounting easily fits onto any handlebar, ensuring a secure fit.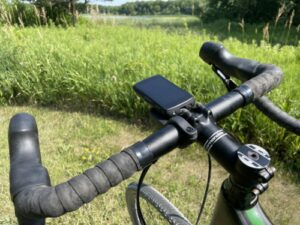 The mounting system gets the computer really close to the handlebars, which I like. Especially when taking my gravel bike on horse trails or flowing singletrack, the last thing I want is a mounting arm protruding way out from me. I want everything about my bike to be compact and nimble, and the Karoo's design enables that.
The display on the Karoo 2 is a standout feature. It's a sharp, 3.2-inch screen with a resolution of 480 x 800 pixels. The display is bright and easy to read, even in direct sunlight. The touchscreen is also responsive and allows for seamless navigation through the menus. Unlike the Garmin, it doesn't default to power-save mode, which I find too dark. The brightness of the Karoo screen is excellent.
In terms of durability, the Karoo 2 bike computer is designed to withstand harsh conditions. It has an IP67 rating, meaning it's water and dust resistant, and should be able to handle various weather conditions and off-road terrains. The buttons on the device provide good tactile feedback and are easy to press even with gloves on. I've never had trouble navigating while on the move.
As for connectivity, the Hammerhead Karoo 2 comes with built-in WiFi, Bluetooth, ANT+, and GPS. My rides confirm that connectivity is really not a problem, although you will still want to do most of your route syncing (more on that later) when in your home, around really good wi-fi.
To sum it up, the Hammerhead Karoo 2 bike computer nailed it with an impressive design and build quality. It features a sturdy and aesthetically pleasing exterior, with a high-resolution touchscreen display. The computer is also built to last and should be able to handle tough conditions, while providing excellent connectivity options.
Display and User Interface
Touchscreen
I found the Hammerhead Karoo 2's display to be vibrant and easy to read, thanks to its 3.2-inch high-resolution color touchscreen. The brightness can be easily adjusted, which is crucial during sunny days, and the anti-glare properties greatly improve the overall visibility. In my experience, interacting with the screen felt responsive, even when wearing gloves, or while having sweaty fingers.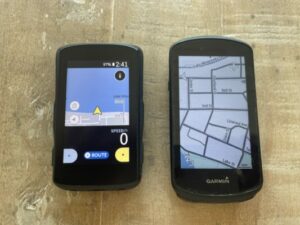 Buttons
For those who prefer physical buttons, the Karoo 2 incorporates a few on the sides of the device. There are three buttons on the left and two on the right. These buttons proved useful for cycling through the screens and accessing the main menu, especially when riding in wet conditions.
The touchscreen and buttons work seamlessly together, providing users with a flexible user interface. The intuitive layout made navigating menus and setting up my bike profile an enjoyable experience. The Karoo 2 device offers an impressive range of customization options, such as adding or removing data fields and adjusting map zoom levels while riding – all of which I found particularly helpful during my ride.
Impressions
Navigation
I found the navigation feature on the Karoo 2 to be very intuitive and user-friendly. The device comes preloaded with global maps and turn-by-turn directions, which made it quite easy for me to plan and follow my routes. The screen also offers a clear and easy-to-read display, allowing me to quickly glance at my directions while riding.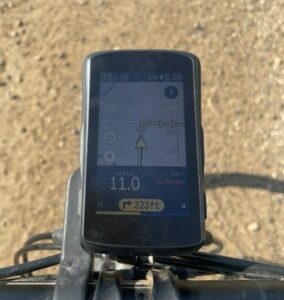 My typical navigational use was to download a Strava map to the device, which is done by logging in to the Hammerhead app or website, and then simply dropping the Strava route link into your Hammerhead routes. Note that the route needs to be set to "public" in Strava. As long as it is, this process literally takes 30 seconds.
Picking up on the route was fast — even when getting off course. This is something I really appreciate, because when you find yourself off course, that is exactly when you need navigation the most. I found it to be more responsive in this regard than the other bike computers I tested.
I also liked the feature where it kicks in to chill mode when it knows you are approaching a climb. Garmin does that too. You know how much of the climb you have left, and what the grade is.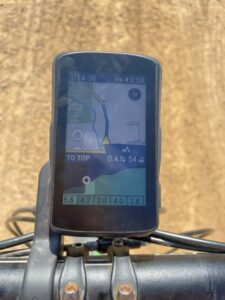 One thing I did adjust was the audio alerts. They were a little too frequent and loud for my liking, with the default settings. I turned the volume down, and refined the times when I wanted an audio alert to sound.
Battery Life
The Karoo's battery life is quite good.
On my first ride, I was a little concerned as I saw the battery rapidly dropping from 100% into the 90's during the first hour of my ride. Then, the battery drain really slowed, and the pace of battery life loss was impressive modest. I attribute the fast drop at first to the device having to get its bearings and figure out your route.
I have had no issues with the battery life being too short. On my long ride, a 7-hour, 100-mile gravel and horse trail grueling ride, the device kept enough charge for the entire ride even though we were in many sections where I'm sure it was searching for the GPS signal.
During a recent 4-hour, 50-mile ride, I started the ride at 100% battery, and at the end of 4 hours it was still at 73%, so quite economical.
Another thing I like about the Karoo 2 is that there is very little "phantom" loss of power. When the device is turned off, it doesn't sip any power. You can turn it back on in a week and it will have the same battery life as when you last had it on.
Mounting Options
Mounting the Karoo 2 on my bike was straightforward, thanks to the multiple mounting options provided. I chose the out-front mount, but there are also stem mounts and other alternatives to suit various preferences. The device felt secure and stable once mounted, even during rough terrain rides.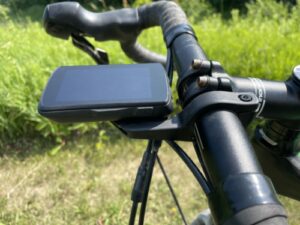 I recommend the front mount. It places the Karoo right under your face when in the drops, and within easy glancing distance when up on the bars. Because of the design, the computer is able to really tuck-in close to your bars, something I like.
Fitness and Training
The Karoo 2's capabilities as a fitness and training tool caught my attention. It supports multiple profiles for different bikes and purposes, allowing me to easily track my workouts, set goals, and monitor my progress. The device also integrates with popular training platforms such as Strava and TrainingPeaks, offering seamless data syncing.
Connectivity
When it comes to connectivity, the Karoo 2 didn't disappoint. It's compatible with various sensors including heart rate monitors, power meters, and cadence sensors via ANT+ and Bluetooth. The device also supports uploading routes and workout data through Wi-Fi, which I found very convenient.
As long as you are logged-in to your Hammerhead account on the device, it will automatically sync anytime you add a route to the app or your account via the website.
If you are having trouble getting a route to download, do 2 things:
Ensure you are logged-in to your account on the Karoo
Ensure the route – if done via Strava – is set to public
I know both from personal experience.
Compatibility
I was able to pair the Karoo 2 with my smartphone, enabling me to receive text messages and call notifications while riding. This feature, while not essential, certainly added an element of convenience, as I didn't need to reach for my phone to stay connected during my rides. For safety, I would let the Karoo notify me of an important text (such as from my wife) but then pull over to actually read it.
Software and Updates
One aspect I appreciate about the Karoo 2 is the regular software updates provided by Hammerhead. These updates not only ensure that the device is running smoothly, but they also introduce new features and improvements that enhance the overall user experience. Better, I never got annoyed that there were too many updates, a common complaint I have about technology.
When navigating through the various menus and settings on the Karoo 2, I find the layout very logical. The settings are organized into categories such as "Sensors," "Routes," and "Workouts," making it easy for me to find and adjust the settings I need.
One feature that I've become quite fond of is the live tracking. It allows my friends and family to follow my progress in real-time during my rides. I can also share my location, route, and metrics such as speed, distance, and elevation with them, which gives them peace of mind. It is also a nice feature when trying to let a friend know where and when to potentially meetup with me along the route I'm riding.
Lastly, the Karoo 2 offers customization options for the data displayed on the screen during the ride. I can choose which metrics to show, and configure the layout to my liking. This allows me to tailor the device to suit my specific needs and preferences. Note, one time it somehow got into a display setting that I did not intend. It took a little investigation to get it back to where I wanted. I must have touched too many buttons at once, and it misinterpreted what I was trying to do.
In summary, the Hammerhead Karoo 2 bike computer provides a solid software experience catered to cyclists, with regular updates, useful features, and seamless integration with popular cycling platforms.
Pros and Cons
As someone who has used the Hammerhead Karoo 2 bike computer, let me share some of its pros and cons. To begin with, the pros:
The display on the Karoo 2 is truly impressive. With a 3.2-inch touchscreen, it offers vibrant colors and high resolution, making it easy to read even under direct sunlight.
The navigation features are top-notch. The device provides turn-by-turn directions and is equipped with global maps, which are super helpful on long rides or in unfamiliar terrains.
I appreciate its customizable interface, which allows me to choose the data fields and metrics I want to see during my rides.
The battery life has been reliable; with Hammerhead saying it lasts up to 12 hours, depending on usage and settings. I find that it uses battery at about 7% an hour, suggesting that Hammerhead's estimate is right on.
Now, let's move on to some of the cons:
The price is one of the main drawbacks of the Karoo 2. It's certainly on the higher end of the spectrum, which may deter some potential buyers.
While the device is compatible with most popular third-party sensors, it may not work with every single brand or type available.
Although it has been improving, the software could still use some refinement, especially in terms of stability and bug fixes.
If you are a Garmin loyalist, you will not get the same type of information from the Hammerhead Karoo as you would from the Garmin Edge. The Garmin Connect app is pretty impressive. Hammerhead's app doesn't hold a candle to it.
In summary, the Hammerhead Karoo 2 bike computer offers a high-end package consisting of an outstanding display, solid navigation capabilities, and valuable customization features. However, there are some drawbacks to consider, such as its price, compatibility limitations, and occasional software hiccups.
Hammerhead Karoo 2 vs. Garmin Edge 1040
When comparing the Hammerhead Karoo 2 and the Garmin Edge 1040, you are really comparing two very good, higher-end bike computers. I have found that both devices offer high-quality navigation and performance tracking.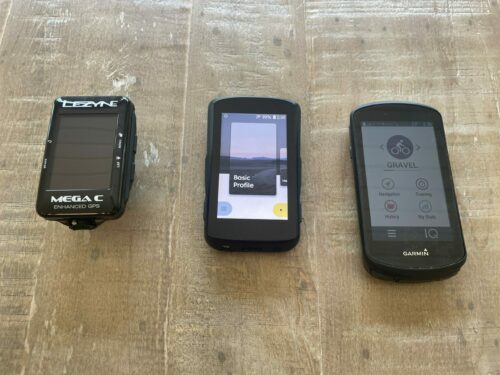 Display and User Interface
The Hammerhead Karoo 2 features a 3.5-inch touchscreen with a resolution of 480×800 pixels, offering clear and vibrant visuals. The interface is intuitive and easy to use, even when wearing gloves. On the other hand, the Garmin 1040 has a 3.5-inch touchscreen with a lower resolution, which may affect readability in certain situations. However, Garmin's user interface is also user-friendly, with customizable data fields and menus.
I find Hammerhead's display more appealing and crisper. Garmin's display feels "bigger" but it also is a larger device sitting on your handlebars. The compactness of the Hammerhead, combined with the good display is a winner.
Battery Life
In terms of battery life, the Hammerhead Karoo 2 boasts up to 12 hours of runtime, whereas the Garmin 1040 claims up to 20 hours. My first hand testing would confirm that Garmin's battery life is better than the Karoo's. However, as noted above, even on a 100-mile ride in a remote area, I never ran out of battery on the Karoo.
Connectivity
Both devices provide essential connectivity options, such as Bluetooth and ANT+ for pairing with sensors, smartphones, and other accessories. The Karoo 2 also has a built-in SIM card slot for cellular connectivity, offering real-time tracking and weather updates without needing a paired smartphone. The Garmin 1040 doesn't have cellular connectivity, relying solely on paired smartphones for this functionality.
Mapping and Navigation
When it comes to mapping and navigation, the Karoo 2 provides exceptionally detailed maps, thanks to its partnership with Mapbox. Although, I would typically just download a route to it from Strava route builder. In addition to the standard map view, the Karoo 2 also provides satellite and terrain views. The Garmin 1040 offers wide map coverage as well, but some users find it less detailed compared to the Karoo 2.
I prefer the link-based route download that Hammerhead offers. Garmin's Strava sync feature is still a little less intuitive.
Hammerhead Bike Computer Evolution
I have been closely following Hammerhead's bike computer products, and I am excited to share my knowledge about the lineup. It all started with the original Karoo, a groundbreaking device that brought powerful navigation and superior connectivity to a growing cycling community. The Karoo was known for its bright, responsive touchscreen and precise GPS functionality. Personally, I found it extremely useful in providing real-time data, such as ride progression, speed, and distance.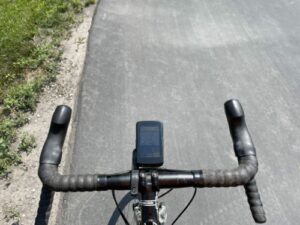 As technology advanced, and the needs of cyclists evolved, Hammerhead introduced the Karoo 2. It improved upon its predecessor with a sleeker design, increased battery life, and enhanced antenna technology. Additionally, the Karoo 2 featured ANT+ and Bluetooth connectivity, enabling seamless integration with various sensors, such as heart rate monitors and power meters. For me, the ability to customize data screens and receive notifications made the Karoo 2 a must-have gadget.
Now, we eagerly anticipate the release of the Karoo 3. While not many details are available currently, I am confident that Hammerhead will continue to innovate and address the pain points of the cycling community. I expect improvements in areas like weight reduction, processing speed, battery life, and even more intuitive software. The Karoo 3 will likely take advantage of recent advancements in technology, leveraging artificial intelligence and machine learning to provide an even better user experience.
Overall, Hammerhead's bike computer lineup has consistently pushed the boundaries of technology to provide cyclists with the best possible tools for tracking, analyzing, and improving their performance. As a passionate cyclist myself, I am eager to see what the Karoo 3 will bring to the table. We will have to wait and see what new features and improvements Hammerhead has in store for us.
Conclusion
The Hammerhead Karoo 2 bike computer has provided me with a reliable and user-friendly cycling companion. Its high-resolution touchscreen display allows for easy navigation, even under bright sunlight. Being able to customize the data fields on the screen has given me the flexibility to tailor my ride according to my needs.
The biggest benefits I found with the Hammerhead Karoo 2 are:
Excellent integration with Strava routes using the Hammerhead app or website, making route downloads a breeze
Love the size. It is not huge, but big enough to not be squinting at your screen. About perfect.
Battery life is good. It charges very quickly, and doesn't suck power when not in use.
Its responsiveness when out on the road or trail is very good. When it needs to recalibrate, it does so very quickly.
Navigation is excellent. The turn-by-turn directions are always very close to real — almost to the foot.
Von Collins is an accomplished triathlete and cyclist, and the author of four fitness and training books: Smarter Running, Your First Triathlon Guide, Fit Foods, and 30 Rut-Busting Workouts.
Von has been cited as a triathlon, cycling, and fitness expert by Healthline, CNET, Forbes, Eat This, Not That and other major outlets.
Von has done dozens of triathlons and endurance bike races, coaches, and is an avid part of the cycling and triathlon community.