Wahoo Rival Smart Watch Review: Our Assessment
The Wahoo RIVAL Smartwatch gives Wahoo a legitimate option for the multisport watch and fitness tracker crowd.
With an increasing demand for advanced wearable technology, Wahoo has stepped up to the plate and delivered a high-quality smartwatch that meets the needs of triathletes, endurance athletes, runners, and anyone who might want 24/7 fitness tracking. It boasts impressive features that put it up against competing watching, most of witch reside in the Garmin Forerunner and Fenix lineup.
I took a close look at the Wahoo Rival, and wore it for a day. There was a lot to like, and as a loyal Garmin user, a couple things that I wasn't sure about. But overall, the Rival is a really good watch, especially if you are a Wahoo loyalist.
One of the biggest advantages of the Wahoo RIVAL is its seamless compatibility with other Wahoo products, such as the TICKR heart rate monitor and the ELEMNT cycling computers. This integration allows users to keep track of their performance data across multiple devices, ultimately providing a more comprehensive view of their progress. Admittedly, it skews towards cyclists versus other athletes. Additionally, the RIVAL's user-friendly interface and vibrant display make it easy to navigate and visually appealing.
While the Wahoo RIVAL may not cater to those seeking a fashion-forward or all-purpose smartwatch, or people who are Garmin loyalists, it has certainly carved out its niche within the endurance world.
Design and Build Quality
The Wahoo Rival smartwatch features a sleek design with a round face and a crisp, easy-to-read display. The watch casing feels strong to the touch, giving a sense of durability and built for all-purposes. The strap is comfortable and adjustable, allowing for a secure fit on a variety of wrist sizes. The strap is actually more comfortable than the hard rubber default strap that comes on base Garmins.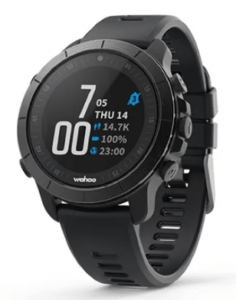 In terms of build quality, the Wahoo Rival smartwatch is very good, and stood up to some tough cycling and swimming use. The watch is water-resistant up to 50 meters, making it suitable for swimming and water sports. You typically are swimming in 1 meter of water, when doing any type of workout.
The buttons on the side of the watch are well-placed and tactile, providing a satisfying click when pressed.
The display of the Wahoo Rival is easy to read, even in bright sunlight. This is no doubt influenced by Wahoo's work over the years making good bike computers. The brightness of the display can be adjusted according to the user's preferences, ensuring optimal readability in various lighting conditions. The watch face can also be customized to show different data points, allowing users to prioritize the information they want to see at a glance.
When it comes to charging and battery life, I give the Rival a B+, which is quite good. The watch comes with a magnetic charging cable that attaches seamlessly to the device, ensuring a secure connection. The battery life was good, doing a good job during the days I had it. Per Wahoo, it has up to 14 days of battery in regular use or up to 24 hours in GPS mode.
Display
One of the more pleasant surprises of the Wahoo Rival was its display. For some reason, I did not totally expect that.
The Wahoo Rival Smart Watch features a high-resolution, full-color display that provides clear visibility in various lighting conditions. The screen measures 1.2 inches in diameter, offering ample space for users to view their metrics and notifications comfortably. This puts it exactly the same size as another one of our favorites, the Garmin Forerunner 945.
The watch's display is constructed with a durable Gorilla Glass lens. This material ensures that the screen is resistant to scratches and impact, helping protect the watch during intense workouts and everyday use. Additionally, the screen's brightness levels can be easily adjusted, ensuring optimal readability in any environment, from sunny outdoor activities to dim indoor settings.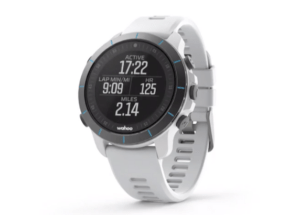 One of my favorite features of the Wahoo Rival's display is its ability to switch between different watch faces with ease. Users can choose from several pre-loaded designs, allowing them to customize the look and feel of their watch to fit their personal preferences and style. This versatility not only enhances the overall user experience but also adds a unique touch to the product.
You want to wear the watch on a bike ride? You probably want one interface. Want to wear it in a business meeting, go for another.
The Wahoo Rival display also incorporates a touch-less interface driven by buttons on the side of the watch. This eliminates the need for swipes and touches on the screen, reducing its exposure to natural skin oils, sweat, and dirt. The button-driven navigation ensures a more reliable and efficient user experience, particularly for those engaging in high-intensity workouts where wet or sweaty hands may impede proper touch-screen usage. This is really important on a hard run or a hot bike ride.
Health and Fitness Tracking
Activity Monitoring
The Wahoo RIVAL smartwatch features a wide range of activity monitoring capabilities. It tracks steps, calories burned, distance, and floors climbed throughout the day. The watch also includes a built-in GPS for accurate tracking of outdoor activities like running, walking, and hiking. Users can view their activity stats directly on the watch face or access more detailed information through the companion smartphone app.
Cycling-specific monitoring
Let's face it, Wahoo started as a cycling company. For cyclists, the RIVAL offers a comprehensive set of features tailored to their needs. It supports multiple bike profiles, customizes data fields, and can connect to various cycling sensors including power meters, cadence sensors, and speed sensors. The watch also provides real-time speed, distance, elevation, and route information for a more engaging and informed riding experience.
I personally think that cyclists are probably going to be more attractive to the Rival than athletes of other stripes.
Heart Rate Monitoring
Heart rate monitoring is a crucial feature for any fitness device nowadays. The Wahoo RIVAL does not disappoint. It uses an optical heart rate sensor that provides continuous monitoring throughout the day, during workouts, and even while sleeping. Additionally, users can track their heart rate zones, such as aerobic, anaerobic, and fat-burning zones, to better understand their fitness progress and optimize their training.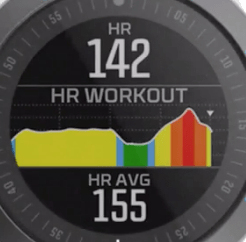 Sleep Tracking
The Wahoo RIVAL smartwatch offers advanced sleep tracking capabilities. It monitors sleep duration, sleep stages (light, deep, and REM), and sleep quality, providing users with valuable insights into their rest and recovery. The watch also features a silent vibrating alarm function to gently wake users up without disturbing a partner. This data can help users optimize their sleep schedule, improve their sleep habits, and ultimately enhance their overall well-being.
Smart Features
Notifications
The Wahoo RIVAL smartwatch offers timely and customizable notifications to keep the user updated on their smartphone's activities. Users can choose between a variety of notification types, such as calls, texts, and calendar reminders. Additionally, third-party applications like WhatsApp and Twitter are supported, keeping the user connected to their social and communication channels.
Music Control
The Wahoo RIVAL simplifies the music listening experience by providing an easy-to-use, built-in music control feature. Users can effortlessly control their music playback directly from the watch, be it a connected smartphone or an onboard music player. The watch offers essential commands like play, pause, skip, and volume control, allowing users to stay focused on their activity without having to look at their phone.
Voice Assistant
A powerful feature of the Wahoo RIVAL is its compatibility with voice assistants, enabling users to access information, set reminders, and send messages using voice commands. The watch works seamlessly with popular voice assistants like Siri and Google Assistant, enhancing its overall usability and hands-free convenience. Users can quickly activate the voice assistant by pressing a dedicated button on the watch, making it a valuable tool in maintaining productivity and organization throughout the day.
Battery Life
I found the Rival's battery life to be very good.
The Wahoo RIVAL smartwatch boasts a battery life that is impressive for its category. Users can expect up to 14 days of regular usage in watch mode, and up to 24 hours in GPS mode. This longevity allows users to enjoy the watch's diverse functionalities without constantly worrying about charging.
In comparison to other smartwatches on the market, the Wahoo has done a good job with battery life, but the bar is constantly being raised. With a customized battery saver mode, users have the option to extend the battery life even further by disabling certain features that may not be essential for their daily usage. This level of customization ensures a balance between the watch's capabilities and the user's requirements.
The charging process is something I always look for, especially how quickly I can get a meaningful charge back into the watch. The watch uses a USB-C connector with a magnetic charging cable, which is both convenient and secure. Charging the watch from 0% to 100% takes approximately two hours, which means users can easily recharge the watch overnight or during a workout break.
Compatibility
When it comes to compatibility and the Wahoo, I would say this: It is an A+ if your other gear is Wahoo, but a C- if your other stuff is Garmin. So, you have a decision to make.
The Wahoo Rival smartwatch is designed to be compatible with a wide range of devices and platforms. It operates seamlessly with popular fitness apps and pairs easily with various smartphones operating on iOS and Android systems. This ensures that users can integrate the smartwatch into their existing fitness ecosystem without any hassle.
When it comes to smartphones, the Wahoo Rival smartwatch pairs effectively with devices running iOS 12.0 or later and Android 6.0 or later. For iPhone users, the smartwatch supports Apple Health, allowing them to sync their workout data with the Apple Health App. Android users can enjoy the same convenience by connecting their Wahoo Rival smartwatch with Google Fit. Moreover, the smartwatch also supports Bluetooth and ANT+ technology for reliable and efficient data transfer.
In addition to smartphone compatibility, Wahoo Rival smartwatch also works well with Wahoo's range of fitness products, such as Wahoo's TICKR heart rate monitor and RPM speed and cadence sensors. This feature allows users to enhance their training experience by combining the data collected from these accessories with the smartwatch's built-in tracking capabilities.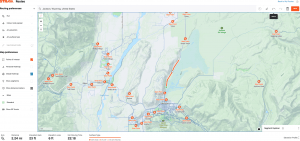 The Wahoo Rival smartwatch is compatible with various third-party fitness apps like Strava, TrainingPeaks, and MyFitnessPal. This makes it easy for users to upload their workout data and track their progress across multiple platforms. With its versatile compatibility options, the Wahoo Rival smartwatch is a useful tool for fitness enthusiasts who utilize different devices and platforms to achieve their goals.
But…. the compatibility with your Garmin devices isn't there. Including the all-important Garmin Connect app if you are a Garmin groupie.
Pros and Cons
Pros
The Wahoo Rival smartwatch offers valuable features that cater to a wide range of users. It boasts a long battery life, providing users with up to 14 days in smartwatch mode and 24 hours in GPS mode. This endurance allows athletes and fitness enthusiasts to track their activities without worrying about frequent charging.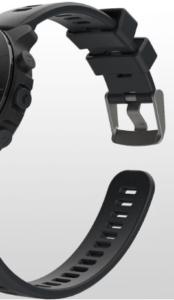 The device comes with solid GPS, which tracks distance and pace accurately for various sports like running, cycling, and swimming. It also offers multisport tracking, allowing seamless switching between activities during triathlons or other multi-discipline events.
Another advantage of the Wahoo Rival is its compatibility with third-party applications and other Wahoo gear. The watch syncs with popular fitness apps like Strava, TrainingPeaks, and MyFitnessPal, making it convenient for users to aggregate their data and progress.
Cons
Despite its impressive list of features, the Wahoo Rival also has a few drawbacks. Some users have reported that the watch's user interface could be more intuitive as it requires multiple button presses to access certain features. Additionally, while the large display is easy to read, it might be cumbersome for some users with smaller wrists.
The watch's limited set of pre-installed watch faces may not cater to everyone's aesthetic preferences. However, it's worth noting that Wahoo has released regular firmware updates to address these minor issues and improve the overall user experience.
Another downside is that the Wahoo Rival falls short in offering smart features and notifications compared to its competitors in the market. While it does provide basic call and text notifications, users seeking more advanced smartwatch capabilities might be better suited with other options.
Finally world with so many Garmin devices, there is no Garmin compatibility. But then again, the same can be said for Garmin equipment not being compatible with other brands.
Wahoo Rival vs. Garmin Forerunner
When comparing the Wahoo Rival to the Garmin Forerunner, it is essential to consider their features, battery life, and ease of use.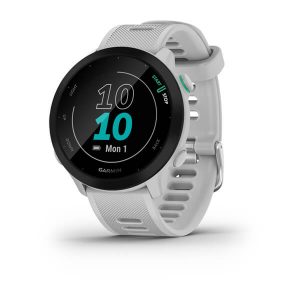 Features: The Wahoo Rival boasts a sleek design with a high-resolution color display and a comfortable silicone strap. It has built-in GPS, heart rate monitoring, and support for various sports modes, including running, cycling, and swimming.
On the other hand, the Garmin Forerunner offers a more extensive range of features, with options for different models catering to various requirements. Additionally, Garmin offers advanced metrics like VO2 max, training effect, and recovery time, which might be appealing to more serious athletes.
Battery Life: The Wahoo Rival has an impressive battery life of up to 14 days in smartwatch mode and 24 hours in GPS mode. In contrast, Garmin Forerunner's battery life varies between models, but on average, it lasts seven days in smartwatch mode and 13 hours in GPS mode.
Ease of Use: Both Wahoo and Garmin offer user-friendly interfaces and companion mobile apps for syncing and analyzing data. The Wahoo Rival displays simple, easy-to-understand metrics, making it a great option for beginners or those who like a streamlined approach. Garmin, with its customizable screens, may appeal more to those who enjoy delving into detailed stats.
It really comes down to which brand you plan to invest in. If you love your Wahoo Kickr and like the interface with the Wahoo Systm app, then Wahoo might be your brand.
If you want to be a Garmin loyalist, using Garmin connect, Tacx trainers, and Garmin power meter pedals, and the new Edge 1040 bike computer, obviously go Garmin.
Final Verdict
The Wahoo Rival smartwatch is a solid choice for fitness enthusiasts and endurance athletes who want a reliable and user-friendly device, and are familiar with the Wahoo brand. It offers the range of features you would expect, such as heart rate tracking, GPS, and workout profiles, which make it a versatile option for various sports and activities.
One of the standout aspects of the Rival is its long battery life. With up to 14 days in smartwatch mode and 24 hours in GPS mode, it can easily keep up with the demands of even the most dedicated athletes, making it a great option for those who want to track their training without frequent charging.
The watch's compatibility with other Wahoo devices, such as the TICKR heart rate strap and KICKR indoor bike trainers, adds to its appeal for fitness enthusiasts who already use Wahoo products. Additionally, the Rival seamlessly syncs with popular fitness apps like Strava, allowing users to further analyze and share their performance data.
If you are getting picky, perhaps one downside to the Wahoo Rival is its focus on advanced features and functionality, which might make it less suitable for casual users or those who are new to smartwatches. However, for dedicated athletes who value accurate data and the ability to customize their tracking, this smartwatch is a strong contender.
Additionally, the Wahoo watch might not be the best choice if you have declared yourself a Garmin power user.
Jim is an accomplished triathlete and endurance cyclist, and has raced in more than 3 dozen USAT-certified races.  He is also an avid trail runner and gravel bike rider.
His areas of expertise are in endurance training, cycling, triathlon technique, race direction, and training plans.  In addition to writing extensively about the endurance world, he has managed gyms and fitness centers in the US.  Jim is a longtime writer for Complete Tri, Compression Design, and his work can be found on the resource pages of many triathlon and cycling clubs in North America.