After dropping 3-or-4 figures on a nice new road bike or time trial bike, you might think an accessory like a floor bike tire pump is an afterthought.  Don't.
The ability to pump your bike's tires quickly and accurately should be a staple of your cycling equipment collection.  A good floor bike tire pump is a must-have item for every cyclist. Buy a good one, and you will use it hundreds of times, if not more.  You want a go-to pump that is easy to use, stable and strong, and has an accurate gauge.
The typical road or tri bike tire should be checked for pressure and topped off with air before every single ride.  A good floor bike pump will fill your tires quickly, even when they're totally flat. Think about it — this is something you literally might use every single day.  But, as there is a plethora of floor bike pumps out there, you may find it a bit challenging to choose the best one for your needs.
We closely analyzed some popular pumps, and used them ourselves.  Then we made a list of four top tire pumps and wanted to tell you about their benefits and why we like them.
Top Floor Bike Pumps
Topeak JoeBlow Sport 2
This has become the go-to pump in my garage — durable, quick and all-purpose.
The Joeblow 2 is a pretty affordable and high-quality floor bike pump, the type that you can have at-the-ready in your home or shed. This solid pump features a sturdy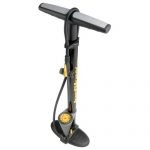 metal base; its wise combination of metal components makes it very long-lasting, reliable, and durable, and they also give it a great solid feel when using it.  It toggles easily between the Presta and Schrader valves, and a simple locking motion lets you know when you have a connection and then you can focus on pumping.  The mix of plastic and metal makes it extremely cost-effective and lightweight, while not sacrificing on important things like a comfortable handle or a solid floor base.  We like the large pressure meter gauge, and our testing suggests it is highly accurate, as the Topeak JoeBlow Sport 2 gets it correctly every single time (accurate gauge for the win). In addition to the quality floor bike pump, you will also get a ball inflator and a bladder. Oh, and there's a special, convenient and safe place on the Topeak JoeBlow Sport 2 that assures you're less likely to lose these extra accessories.
You might not want to have this be your primary pump if you use tubeless tires.  With tubeless, you want that sudden blast of air that can help seat the tire beads on the wheel — this one requires quite a push to get that.  You might want to consider the Lezyne if you are using all tubeless.
Lezyne Steel Floor Drive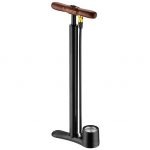 Lezyne, the maker of some of our favorite bike computers, also is big in the bike mechanics supply space, and they make some really good floor pumps.  The Lezyne Steel Floor Drive sports all the key features that you need in a top-notch pump. It's very precise, nice-looking, efficient, and steady. With a great air bleed system (ABS2) that lets the air be released straight from the tire with just the touch of a button, the pump is able to push a huge amount of air and fill the tires quickly and efficiently. The product also sports a very comfortable varnished wooden handle, a durable, aluminum base, and a long-lasting barrel made out of steel. Not to mention its easy-to-read, stratospheric 220 psi gauge.
When we tested this pump, we liked the burst of air that makes it suitable for tubeless bike tires, where you need that extra burst to seat the beads.  In fact, we found ourselves using this pump on many things, including our riding lawnmower!  You won't feel like you are getting an upper-body workout when you fill your tires with the Lezyne, it is a pretty smooth motion overall.  This is one of the best options out there, especially for road tires.  Find here (on Amazon).
MSW 200 Airlift Pump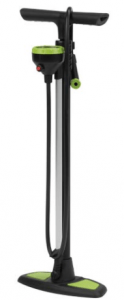 Best on a budget. The MSW Airlift pump is a great all-around pump, and one that you can get in to for a reasonable price point. It is our best value tire pump.
The first thing you will notice is that the same nozzle head can accommodate both presta and Schrader valves. This universal head means it is super simple to use. Your kids can use it to fill up their neighborhood bikes, and you can use it to inflate the tires on your high-end tri bike.
When we gave it our test, we loved the smoothness and leverage of the pump — you don't have to exert a tone of force, and you can do it with one hand if you need to.  We also liked the pressure gauge, which reliably gave us a quick reading even when not pumping.  Tjhis pump really is the epitome of simplicity, function, and value.  Find it here on Amazon. 
Topeak JoeBlow 2-Stage
If you really want to invest in a pump that will serve you well for a long time — this is the best one.  Talking about seating tubeless tires, this fellow is one of the best floor bike pumps on the market.  This one definitely IS ready for the hard-core, elite cyclist who has high expectations in a pump and needs to be able to pump tires quickly and with little hassle. It works exactly like the regular pumps, but it has the ability to crank more than 700cc of air per stroke in to your tire.  It gets it name because at higher PSI, it shift gears and pumps less air into your tire to prevent the risk of overdoing it.  The Topeak 2-State has a flawless, stable construction and it allows you to enjoy fine-tuning the pressure easily. Even if it's not very lightweight, you can still move it around and carry it with you without struggling. It's not noisy, it has a long hose, and an awesome gauge for its simplicity.  When it comes to pumping a bike tire, it is all about ease, speed, and simplicity — and this one has it.  Find here.
Floor Bike Pumps Buying Guide
When searching for floor bike pumps, there are several aspects to keep in mind. First, the base. As this kind of pump is intended to be used and kept at home, the weight isn't very relevant. Moreover, bases that are heavier and have a broader footprint will be more stable.  These pumps are meant to be kept at home, in your garage or entry way, so carrying weight is really not a big deal. You can go for a floor pump with a triangular base or with a pair of feet.  Quality, strong materials are a must, as you will be applying quite a bit of bodyweight to the pump at times.
Talking about the item's head, make sure that your pump can work with the valve type of your tires – Schrader and Presta valves are the most common ones, but if your tire has a different one (such as Dunlop), look for a suitable pump. There are products with single head units and reversible washers that can switch between several systems and products with separate heads (all of the options we review can easily handle both).  We also like a pump whose head can clamp on to the valve quickly and securely.  This will allow you to not worry about how the air is attaching to your tire, but rather focus on the pumping.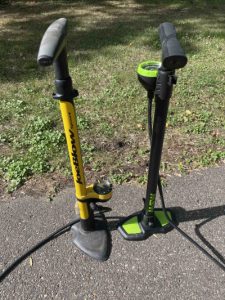 The pressure gauge is another important aspect. Today's high-tech road bike tires require you to be pretty precise with what pressure you ride on. These gauges come in various sizes, some are mounted on the top, while others at the bottom. Sometimes, they have a pointer that helps you choose the pressure. Hose-wise, the longer the hose, the better, as it will give you flexibility and convenience when you inflate the tires.
Don't forget to pump your bike tires early and often.  They are really not meant to be ridden flat at all — and it is quite possible for them to lose air from one day to another.  We have had our tires drop by 30 psi overnight after a temperature drop, or following a long drive where the bike was riding on the bike rack. Buy a good bike pump, and just make it part of your everyday riding routine.  It is no exaggeration to say that cyclists should check and pump their tires before every single ride.
What is the Best Pressure for My Bike Tires?
Your bike's tires probably have a PSI (pounds per square inch) range printed on or stamped into the tire itself.  Take this range seriously.  If you ride at too low of a pressure, you risk pinch flats and premature wear of the tire.  If you ride at too high of a pressure, you risk popping the tire on a seemingly benign object.

Generally speaking, the lower the PSI that you ride at, within the recommended range, the smoother the ride will be.  The higher the PSI, the harder it will be — but it may also be faster in many conditions.  However, while the speed difference between 30 PSI points might be marginal, the comfort difference can be considerable.
For Road and Triathlon Bikes:  90 to 120 PSI is usually right.  Lower if you are running 25mm tires.  Higher if you tend to run 23mm.  Those are the two most common widths.  The other variable, besides width, is if you run clinchers or tubulars.  You can generally run about 10 PSI less on tubulars than you would on clinchers.
For Hybrid and Commuter Bikes:  35 PSI all the way up to 70PSI is a suitable range.  Width of the tire makes all the difference.  Be sure to check the tire's printed range.
For Gravel Bikes (with a road bike frame style):  60 to 75 PSI is recommended, assuming your tires are in the 28-35 mm width range.  The higher the PSI, the more vibration you will get on gravel trails.  Releasing some air will actually give you a smoother ride, and these tires tend not to get puncture flats the way that so many road or tri bike tires do.
For Mountain Bikes or Youth Bikes:  25 to 40 PSI is recommended.  If you will be on extremely rough terrain, consider going at the lower half of that range. This is also the range you should assume for any bike trailers you may pull that have pneumatic tires.  Be sure to check them frequently, because when they start to go a little flat they often keep their shape.  They can be deceivingly low on air without you knowing it.
What About Power Bike Tire Air Pumps?
If you go to a bike shop, you will probably see a power bike tire pump, or one that runs off of electricity.  This can pump your bike tire in seconds rather than pumping manually.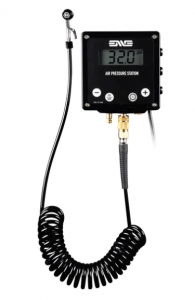 Such a power-operated pump can be nice, but it is overkill for 95% of cyclists.  The automatic pumps are expensive, usually costing $750 or much more.  You also need to be able to use them correctly, or there is a real risk of over-inflating your tire and causing a rubber bomb to go off.
One time when a power pump is really useful is when you are seating tubeless bike tires. Seating a tubeless tire requires a jolt of instant air, more than the typical manual pump can deliver.  This burst of air helps the tire uniformly expand to the rim, in the course of a split second. For these jobs, consider going in to a bike shop to have them do it with the power pump, assuming you don't have one at home.  It makes a huge difference.
Do All Bike Tire Pumps Work on both Presta and Schrader Valves?
No, not all do.  But all of the ones we recommend do.
If you are investing in a good bike tire pump, it is crazy to not get one that can handle both presta and schrader valves.  Be sure yours does, otherwise you will be limiting your ability to pump tires.  Even if you don't need the second type of valve, you never know when someone who is visiting might, and there is not saying what kind of bikes you end up owning in the future.
Von Collins is an accomplished triathlete and cyclist, and the author of four fitness and training books: Smarter Running, Your First Triathlon Guide, Fit Foods, and 30 Rut-Busting Workouts.
Von has been cited as a triathlon, cycling, and fitness expert by Healthline, CNET, Forbes, Eat This, Not That and other major outlets.
Von has done dozens of triathlons and endurance bike races, coaches, and is an avid part of the cycling and triathlon community.