Gravel bike races are becoming a popular outdoor event.  Folks who enjoy cycling have really taken to gravel bikes, and the natural next step is for them to find races and large events. 
Anyone who has done a gravel bike race knows that they are fun, challenging, and attract a great group of people.  Not to mention that most are held in beautiful places.  These races exude local feel — whether you are in Vermont or Minnesota or Kansas.
As we scout the landscape of gravel bike races, there are a few that rise to the top of our list.  Here they are.
Rooted Vermont Race
This early August race gives you beautiful summer riding in hilly Vermont.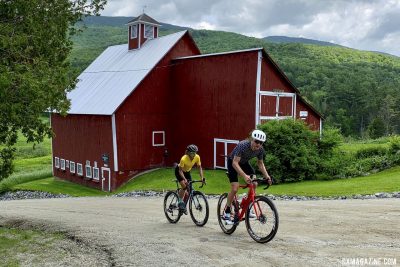 Not far from Burlington, the race was started by Ted and Laura King, both pro riders.  The route has some great gravel roads with short stretches of Class 4 gravel (we often refer to those as Jeep roads). It is an ~85 mile race that covers 8,000 feet of climbing, one short, steep climb at a time. 
For those who aren't excited about the distance, Rooted also offers a course just shy of 50 miles.
The stretch is quite rocky and chunky.  Surfaces like this create challenges beyond just having burning quads from spinning.  If you plan to do this kind of race, you will need to be ready to carry your bike through the rough terrain. Aside from some of the terrain challenges, it is quite scenic, with verdant mountains, rural pastures, and many red barns. 
Riders have two options available. They can either choose the Little Sip course, which is shorter than the Sip of Sunshine course. The shorter course covers 48 miles and 4,000 feet of climbing (not a small amount, mind you).
Another great Vermont race is the Vermont Overland, a late August race with several hundred racers.
Participants at Rooted Vermont can get accommodation in the area. However, it can be quite limited. Early booking is encouraged. Nevertheless, there are many hotels and lodges in Burlington and Waterbury. Moreover, riders can also camp on the site, but the space is also limited to a small number of people.
Fistful of Dirt Race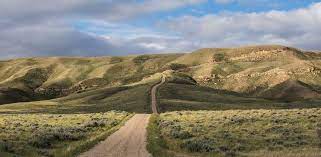 Fistful of Dirt is an early September race that takes place in Wyoming. It is a relatively new high plains race, starting at around 5,000 feet. Altitude can be a factor if you are a flatlander.  Cyclists will get a taste of mountains, hills, and flats, so all kinds of bikers will enjoy this race. Riders get to either participate in the 20 miles, 62 miles, or 100 miles race, which is obviously dictated by your fitness level and how many hours you want to be riding on race day.
The 100-mile course covers the North Fork Highway, where the bikers will get to enjoy the impeccable view of the Yellowstone National Park off to the West. Riders need to brace themselves for the over 5,50ft climb that they have to go over.
Surface-wise you can expect lots of gravel, not much of it flat. If you have been to the Cody area, you will know that it isn't hard to find a 5% grade. The 100-mile, or "ugly" route, throws some tough climbing at you in the final third of the race, but let's you finish with a multi-mile decline back in to Cody.
Riders are encouraged to come with friends and family, as the race is quite accommodative in terms of your capabilities. Besides, you can immerse yourself in plenty of activities over the weekend-long activity, for instance, the night backyard BBQ or the live band performances.
Wyoming has a strong gravel racing game, and we almost put The Dead Swede, a little further East, on the list too.  When we expand our list, there is a very good chance that Wyoming will have two of the featured races.
Several Cody hotels will cover your accommodation needs during the event.  The Cody area also has several campgrounds and a few vacation rentals if that is more your thing.
Steamboat Gravel
Want to give yourself at serious test, riding gravel at some altitude?  The Steamboat Gravel might be the race to put on your calendar.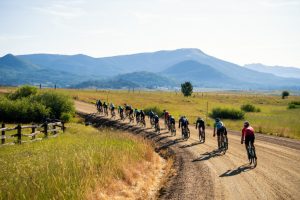 The cool mountain town of Steamboat Springs, Colorado sits at 6,800 feet, and this course will get to up to around 8,000 feet at parts.  There will be plenty of climbing, but you will probably be distracted by the views.  Steamboat and the surrounding area is a recreation mecca, you will have fun.
The August race has grown to be incredibly popular, drawing a ton of people traveling-in to the race.  144, 100, 64, and 37 miles.  The long course throws about 9,000 feet of climbing at you.  The century has about 6,500 feet.  The climbs keep coming, as it is hard to find many flats in this part of Colorado.
You will see the race referred to as the SBT GRVL — which is how it is branded.  Don't let that confuse you.  SBT GRVL = Steamboat Gravel.  The race is approaching iconic status in the gravel community.
This is a race that fills up quickly each year, so if you are considering registering, be sure to have it marked on your calendar. When registration opens, it is usually full within the day.  Lots of people circle this race on their calendar and make it their A-Race or destination race for the year. 
Barry-Roubaix Race
One of the largest gravel bike races in the world (they call themselves The Largest and they might be right) happens to take place in Hastings, Michigan. This race might not have crazy mountain climbs at altitude like a couple of the other rides on this list, but this has a different challenge in that it throws a bunch of things at you:  pavement gravel, double track, rollers and hills, and a bit more depending on the weather.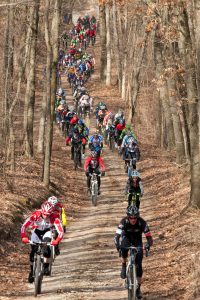 One of the things that makes the Barry Roubaix so unique is that it takes place in the North Country, and in March. What kind of surfaces are you going to get in March? Who knows.  Maybe perfection. Maybe mud. Maybe snow.  Many of us are still riding our trainers in March, but if you want to get outside this can be an interesting race to tackle at that time of year.
The beauty of this race is that you will encounter all kinds of challenges and experience all kinds of terrain that you can think of.  You are also going to need to be able to have the gear available for just about any condition, and you won't truly know what the day will look like until just a couples before the event.
Because of the time of year, the gravel can be a little soft, adding to the need for racers to "be ready for anything".
Distance options range from 18 to 32 to 62 to 100.  Depending on your fitness level coming out of the winter, there will be a distance for you.  This race has been steadily growing in popularity, with the last pre-pandemic year having an impressive 3,000+ finishers.
The Gravel Grinder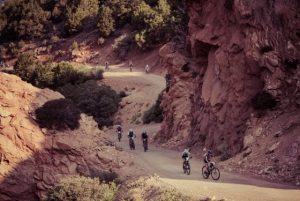 Looking for a mountain gravel in some beautiful country?  Try riding southern Utah, near Cedar City and Reyo.  The two races — The Fire Road 100K and Volcano 120K take place in August and May, respectively.  If you aren't sure where Cedar City and Reyo are, just search for a photo of the Zion National Park landscape and you will get the idea. Both routes feature plenty of gravel, and will have you riding in elevations of around 6,000 during much of the day.  Beware of the need for hydration.  There isn't a lot of shade in these parts, and highs in August can get close to 90.  This is a race to have a good food and water plan.
Utah has a great gravel biking scene, and in addition to the Gravel Grinder, we would definitely consider doing the Utah version of the Belgian waffle, or the Crusher in the Tushar. Both have great routes and plenty of challenge.  But we like the Gravel Grinder because it feels a bit more grassroots, and you just can't beat the unique setting.
The Gravel Grinder rides do not have huge in number of riders, but we expect that will change as word gets out about the great riding and unique scenery.  For racers, you can stay in Cedar City or nearby St. George.  We highly recommend sticking around for a couple extra days to visit the great National Parks in the area. 
The Belgian Waffle
If you have studied gravel biking races at all, you have heard of the Belgian Waffle (or the shorter versions, the "Wafer").  This is not a race for beginners or the faint of heart. It throws some real gnarly terrain at you, and can easily be called a mountain bike or cross bike race, but you will see several tackling it on their gravel bikes.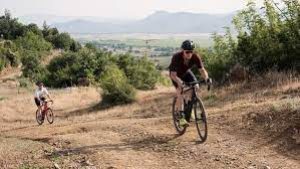 Taking place in and around the San Diego metro, you will be reminded of how rugged California can be.  The course covers lots of ground, ranging from coastal riding to gravel roads, from to single track to some pure off-road and dirt riding.  You can tackle the off-road with a gravel bike if you have the right tires, ideally 40mm or above, but many parts of it are going to be challenging regardless of which bike you ride.
The ride has three general lengths:  The brutal 130+ miler, or the 70 or 35.  The routes tend to change slightly from year to year, but given the challenges of pulling-off a race in this area, tends to follow a generally similar pattern. None of the routes are easy, but if you are just wanting to see what it is all about, tackle one of the shorter ones your first time.
The ride takes place in late April or early May.  While altitude and temps won't be so much of a factor, the challenge here is rugged, rocky terrain that has a bit of everything.  The inland legs also provide for plenty of climbing.  Note that the Belgian Waffle is a race series, with gravel rides also in Utah, Kansas, and North Carolina.
Le Grand du Nord / Heck of the North
Minnesota has a serious gravel biking scene, and two races in Northern Minnesota (put on by the same group) epitomize what is unique about North Country gravel biking.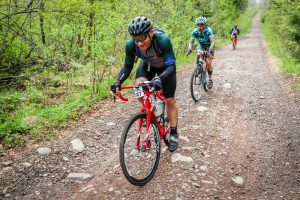 Le Grand du Nord bike race usually takes places around Memorial Day, starting from Grand Marais, MN on the shores of Lake Superior.  The big race is the 100+ mile gravel race that takes you inland through a gorgeous area of wilderness on pristine gravel roads, most of which seem to be rollers.
Heck of the North is a challenging race in later September.  Just a bit down the road from Le Grand du Nord, it takes place in Two Harbors.  While it might not have the same climbing as Le Grand, the surfaces more than make up for it. You will encounter rough rocky trails, single track and double track, and even some grass as you attempt to cover 100 miles, or the shorter courses.
With both courses, as with many of the others on this list, you will want to have a good bike computer for navigation. There will be many times you will be out on the course with no other cyclists around, and given the race's length it is impossible to mark the entire course.
In short, if you want more gravel roads but also more climbing, do Le Grand du Nord.  If you want slightly less climbing but also more rough fire and forest service roads, do Heck of the North.  Ask anyone in the Minnesota gravel bike community, and they will tell you that these are both races you should be putting on your calendar if you are at all into the competitive aspect of gravel riding.
Stay on the North Shore, and enjoy a nice weekend away from the city and traffic.
Garmin Unbound Gravel
A legendary east-central Kansas race, originally called the Dirty Kanza may have started the gravel racing trend, at least in terms of larger events. That event is now the Garmin Unbound Gravel, probably a better name but definitely the same popular race.  The town of Emporia, Kansas, is about 25,000 people and makes a great home to one of the USA's premier gravel events.  Emporia could be classified as being "East Central Kansas".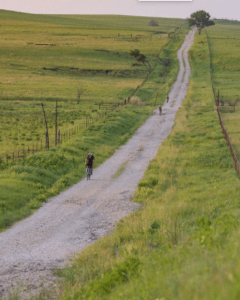 If your thing is riding through rolling farm country on long gravel roads, this is a race you will want to check out.  The race distances are neatly divided up:  200 miles, 100, 50, and 25.  It is hillier than you might assume — the 100 mile race has about 4,800 feet of climbing, most of it in the form of longer, gradual low-grade inclines and rollers.  For the 100, most of the climb comes in the first 25 miles of riding, just to give you an idea of what to expect.  The 200 and 100 are both serious endurance challenges.  You will want plenty of water, energy, probably even a top tube bag to carry plenty of supplies in.
If you want a bigger race feel, this is a great one to try.  With all four races, the total number of finishers will be between 1,000 and 2,000 most years (with most of them actually doing the longer routes).  Emporia is easy to get to from Kansas City and other main routes, and has plenty of lodging to accommodate the weekend visitors.
The race takes place in early June.  Bring plenty of water vessels.  Temps in June can creep into the 80s, and you aren't going to get a lot of shade on the course.
What Gravel Bike To Use?
If you check out one of these races, you will see all types of gravel bikes.  On some, you may even see a mountain bike or two.
For real serious riders, like the ones you see a lot of at Steamboat or the Garmin Unbound, you probably will get a fair share of high-end bikes. You see lots of bikes from smaller bike builders that are custom-made (or at least made in small batches) for serious bike races like these.  But you will also see several less-expensive-but-functional bikes, like the Salsa Journeyer or similar makes.
At some of the more remote and laid-back races, like Heck of the North, you will get a bit of everything, but will see plenty of basic bikes with heavy modifications to accommodate the personal preferences riders have developed over the years.
Don't let your bike keep you from signing up for one of these fun races.
Conclusion
We don't have to tell you that gravel bike racing is quite popular across the country.  If you are like us, it did not take much gravel riding before you started to think "Hey, I wonder if there is a race?"  The races above are great races that we either have tried or our circle of cycling friends have tried.  All are on our bucket list in addition to about 20 others! 
If you want other great destination races, we did a popular piece on the best destination triathlons.
Von Collins is an accomplished triathlete and cyclist, and the author of four fitness and training books: Smarter Running, Your First Triathlon Guide, Fit Foods, and 30 Rut-Busting Workouts.
Von has been cited as a triathlon, cycling, and fitness expert by Healthline, CNET, Forbes, Eat This, Not That and other major outlets.
Von has done dozens of triathlons and endurance bike races, coaches, and is an avid part of the cycling and triathlon community.