We are again excited to publish our list of 10 great destination triathlons in the U.S. To be considered a destination race on our list, it must offer either an Olympic or Sprint distance, have stood the test of time, and be in a special venue worthy of traveling to from other parts of the globe.
It is a difficult decision process every year, because there are so many great races out there. Some are smaller with a loyal cult following, while others are larger "blockbuster" events with thousands of people. This year, we added two new races: Austin and Lake Lure. One thing that all of these races have in common is that they are worthy of a trip, just to do the race. The setting are picturesque, beautiful enough so you may actually be looking at the scenery rather than staring at your triathlon watch!
All of these races fill up quickly, so if you are intrigued, definitely consider registering early. Make sure you arrange for lodging and bike shipping with time to spare.
With no further wait, our ten destination races that you should consider in your race plan are:
April
St. Anthony's Triathlon (FL)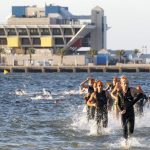 St. Petersburg, FL, situated on the gulf-side of Florida, hosts a long-running early season race each year. We like keeping this one on our list because so many of the other great races seem to bunch up in the July – September season.  The St. Anthony's Olympic and Sprint both feature swims from Spa Beach in Tampa Bay, with a bike and run course throughout Tampa and St. Petersburg. The course is flat and fast, and the average high this time of year is around 82 degrees, making it a great way to race in some warm weather before summer officially sets in across much of the country.
The race will be in its 40th year in 2023, rivaling many of the iconic West Coast races as one of the oldest established, continuous races in the country. Because it is such an early season race, it is known for having a strong field year-in and year-out. You will see a mix of notable pros, top age-groupers, and recreational racers as everyone gets the lead out and starts the new race season.
May 
Capital of Texas Triathlon (TX)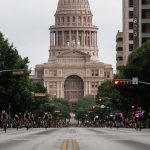 Founded way back in 1991 by some well-connected people from the USA Triathlon community, this race has been going strong ever since.  Also known as CapTex Tri, the race is set in the beautiful capitol city of Austin. It is an urban triathlon but with Austin's hip vibe.
Among other things, we like the urban-esque setting for all three legs of the race, as well as the timing of the race occurring on Memorial Day. That allows this to be one of the only big races in the country that is not run on a Saturday or Sunday. The Austin Triathlon attracts about 3,000 people per year, and offers an Olympic, Sprint, and Super Sprint distance, making this an accessible race for many. For those of you worried about Texas summertime heat, the race time temp in Austin on Memorial Day is usually a comfy 70 degrees.
June
Ironman 70.3 Hawai'i (HI)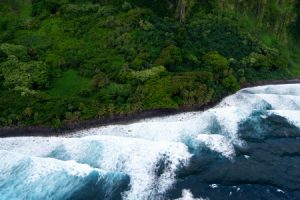 We thought we'd move away from the continental United States for a little bit! The Ironman 70.3 Hawai'i, also known as Honu, is not for the lighthearted! Taking place on the Island of Hawai'i, athletes will swim in the gorgeous state's ocean, bike along the shoreline, and race through a beautiful golf course and community. After you finish the event, there is plenty to do nearby – it's Hawaii after all! You can enjoy some drinks on the beach, go sightseeing, or hike on of the many other undeniably beautiful islands.
And, of course, Hawaii is not too hot! During the race month, the average temperature is a comfortable 80 degrees. The water is a wonderful 75 degrees, too! Races are usually held in early June. Registration information and exact dates for upcoming races can be found on the Ironman website.
Oregon Dunes Triathlon (OR)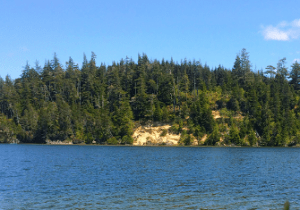 The Pacific Northwest coast is a special place, and if you are a fan of scenic triathlons, take a good look at the Oregon Dunes Triathlon.
The June race is located near Dunes City, OR.  About 90 minutes west of Eugene, it is not an easy place to get to, but that means that once you get there you are going to have a special race experience.  They offer a number of courses, with the Sprint, Olympic, and Duathlon being the most popular  The swim course is often the first open water swim course of the year in this part of the country.
Expect a somewhat challenging bike ride, as the elevation varies as you get in to the rollers near the dunes.
The run course will also throw a little challenge at you, with a mix of pavement, trail, and sand.  We wouldn't really call it an off-road course, though.  The footing is good and you will be able to make good time.  Just know it is not entirely on a road, expect some winding gravel and sand trails.
We are big fans of this part of the country, and like that in a summer race, the odds of it being super hot this close to the coast are quite low.
Escape from Alcatraz (CA)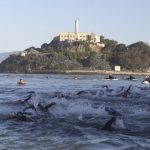 San Francisco's Escape from Alcatraz just might be the USA's most common aspirational triathlon outside of the Ironman. Triathletes across the country train for months for the Escape's unique swim and transitions in this hybrid Olympic-distance race that has been going on since 1981!
The race start begins from Alcatraz Island, where swimmers navigate a current and 55 degree water temps (due to the temps, using a wetsuit is mandatory at this race). From there, the bike ride takes racers through the Presidio, with an 8-mile run that routes under the Golden Gate Bridge. Along with the New York City Tri, this is the iconic race to do if you want to be in one of the world's great cities. The race is capped at 2,000 racers, and it is a competitive draw process to get in, so you might need to keep trying a few times and then be ready to race the year your name is called. Race dates can be found on their website.
July
Door County Triathlon (WI)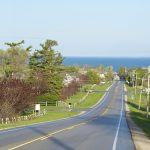 Each July, athletes flock to Door County, near Sturgeon Bay, WI, to take part in the long-running Door County Tri. We love the northwoods races for their scenery, clean air, and ample natural water. The Door County race actually occurs in Egg Harbor, up on the coast of Lake Michigan, with the swim taking place in Horseshoe Bay (which is part of the larger Green Bay within Lake Michigan). The bike and run take you through the rolling combination of lakeshore bluffs, woods, and farmland.
Door County is a serene place, but summers in Door County get enough big-city weekend traffic to create a very energetic vibe for this event. After the race, enjoy the local villages of Door County, a fish boil, or a state park. For travelers, Door County is a few hours north of the Milwaukee and Chicago area. Events are in mid-July, with registration opening in early January.
New York City Triathlon (NY)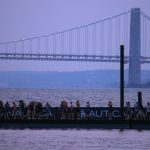 New York City is America's most iconic metropolis, and the New York City Triathlon boasts a course that is mainly in Manhattan with a brief venture into the Bronx. There are many great urban triathlons – Chicago, Minneapolis, Austin, Alcatraz – but this one is special because it is the Big Apple. Swim in the Hudson River (ok, maybe not exactly a pristine Northwoods lake, but it is the historic Hudson), bike along the Hudson up and down the Manhattan riverfront and into the Bronx, and go for a run in Central Park.  That is basically a tour of one of the great world cities, all in the midst of a race.
This is an Olympic-distance race, but getting in is difficult. The race is typically full well in advance, but it no longer uses a lottery. Athletes can register and find race dates right on the NYC Triathlon website.
August
Brewhouse Triathlon (MN)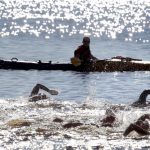 Not all races on our list have to be huge blockbuster events, and the Brewhouse Triathlon is a nice-sized race in a beautiful setting.  In early August, the Brewhouse Triathlon provides a one-of-a-kind venue for a triathlon: The beautiful port city of Duluth, the scenic North Shore of Lake Superior, and the Minnesota Northwoods. While there are other great races in Minnesota (such as the Northwoods Tri in Nevis or the Lake Minnetonka Triathlon in Excelsior, both of which usually fill up quickly), we went with the one that has been around for the longest time — it's celebrating its 36th year in 2023!
The Brewhouse starts in pristine Island Lake Park, takes cyclists through some nicely paved and low-traffic northwoods roads, and ends with a fast run course. After the race, use your race credentials for beer tasting, from local breweries in this town where good local brewing has been around since before it was cool. The race tends to be in the first or second week of August.
Lake Lure Triathlon (NC)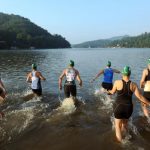 New on our list is the Lake Lure Triathlon in beautiful Western North Carolina. It has been running since 2005 as part of the Lake Lure Olympiad, a 3-day active event that also includes a running race and a bike race. You don't need to do all three, and if you prefer you can "simply" do just the Olympic-distance triathlon.  Lake Lure's swim is one of the more picturesque you will ever do, followed by a challenging bike through the Blue Ridge Mountains, followed by a run with some moderate hills.  As far as scenery goes, this one is in a great spot.
If you are traveling in from other parts of the country, the nearest large city is Asheville, NC, although Charlotte is less than a couple hours away. This triathlon takes place mid-August and athletes can also choose to run it as as an Individual or a Relay.
Boston Triathlon (MA)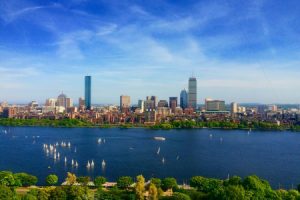 The Boston Triathlon is the Massachusetts city's only triathlon. Starting at DCR Carson Beach and finishing at DCR Mother's Rest Fields, athletes will race along the South Boston shoreline and swim in the Dorchester Bay. The entire course gives great views of the harbor as well as the historic city's skyline. Those who sign up can choose to register as an individual, part of a relay, or as a team. You can also choose to help raise funds for the Official Charity Partner, Boston Medical Center.
We don't see many bike courses that are nearly 100% adjacent to a harbor, but the Boston Triathlon somehow manages to pull that off.  If you do this race, you will get a full taste of Boston on race day.
The Olympic Race and Spring Race takes place in August each year. The directors of the Boston Triathlon also operate the Lobsterman Triathlon, but that has been canceled in recent years to due COVID and other unforeseen circumstances.
September
Nautica Malibu Triathlon (CA)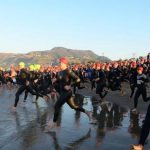 There is nothing like doing a race – running, biking, or multi – on the Pacific Coast of Southern California. While there are many great, established races to choose from in Southern California, we singled out the Nautica Malibu Triathlon. Within the Los Angeles metro area, the race is close to good airports, plenty of attractions, and lots of hotels.
The race boasts Olympic and Sprint (called the "Classic") distances which include an ocean swim, biking on the iconic PCH highway, and a run with views of the Pacific. A sunny Southern California vibe caps off this landmark race which has a decidedly "beachy" feel to it. The course is not particularly hilly – it doesn't take you into the nearby mountains – but the views are outstanding and the vibe is very fun.
The race happens in September each year, and while it fills up, it sometimes has slots open just prior to the race so can be a good just-in-time option.
Further Reading
There you have it — our 10 favorite triathlons around the country.  Are you hooked yet?  Of course, for many serious triathletes, their list would be full of Ironman-distance races which are no doubt great as well.  However, we think there is value in recognizing those races that are both well-run, iconic, and accessible for someone who simply wants to train for a Sprint or Olympic race.  We are here to tell you that a regular distance triathlon, if done right, is every bit as rewarding as a longer race, and as these races demonstrate can allow you to visit interesting and beautiful parts of the country while you are at it!
If you liked this, don't be afraid to take a look at our other content.  We have a full library for you of great triathlon training tips and gear reviews.  A couple of the more popular pieces include are article on what to wear in a triathlon, and our piece on the best entry level triathlon bikes.  Both can give you an idea of how to get started in triathlon, and what you will get for the money on various pieces of equipment.  Of course, we got our start way back in 2011 by creating swim-and-wetsuit-related content for triathletes of all skill levels, and, as back then, we are still researching and updating our content on triathlon wetsuit reviews, so don't miss that either.
Finally, we have gotten so many questions over the years on what our favorite triathlon shorts are, that we devoted an entire piece on that.  We keep all of these articles fresh and up-to-date, so you can be sure you are reading the latest and most relevant information.
Training
If you are going to try to tackle one of these great destination races, don't overlook the training involved!  Many of these races, like the Escape from Alcatraz, are in physically demanding settings. Being well-trained is an important part of the experience. Don't miss out on our deeply-researched piece on using an indoor bike trainer, and our review of all of the best triathlon training guides on the market today. We will help point you in the right direction for your next race season.
We hope you enjoyed this, and we update this Top 10 list every January 1, so be sure to check back!