Triathlon clothing comes in several shapes and sizes. At any given triathlon, you will see people wearing all kinds of different combinations, and people train for triathlons wearing any number of different garments and types of workout gear. With the growth in popularity of triathlon since about 2000, and the addition of many more women to the sport in recent years, tri clothing has become more specialized and many more choices now exist.
While there is no hard and fast rule on what you have to wear in a triathlon, there are a few general themes that hold true for good triathlon clothing, and a few decisions you will want to make in order to be comfortable and perform well. For purposes of offering guidance, we will provide our perspective on the best clothing choices for triathlons. Note that which options you ultimately choose may depend on your overall budget, and if your goal is simply to finish a triathlon or to be competitive in your age group.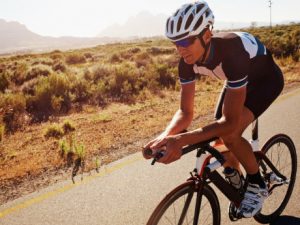 The Bottom Line: What We Recommend You Wear in a Triathlon

We have lots of information and tips below on what to consider wearing in a triathlon. However, some of our readers just want us to cut to the chase. For a beginner at the sprint or olympic distance, we would suggest outfitting yourself in the following, and you will be all set.
Now that we got that out of the way, we will take you into a little more detail. Let's start with the triathlon suit.
Triathlon Suit or Not?
The first question you may need to answer is whether to invest in a triathlon suit or not. Most high-end triathletes wear a triathlon suit because it offers a one-piece, all-purpose piece of gear that can be worn from the moment you arrive at the race to the post-race cool down. The majority of more recreational racers we observe, however, use a combo that is not as specialized (or expensive) as a triathlon suit.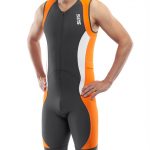 A good triathlon suit is designed specifically for triathlon, and offers benefits that may help you race faster and be as comfortable as possible. It will be great in the water, providing a skin of sorts that fits well beneath your wetsuit or as your only garment in the water. It will be quick-drying so that by the time you are on the bike, you are dry enough to not chafe – this is very important. It also prevents the need for adding / subtracting clothing at a transition, helping you breeze through to the next leg as quickly as possible.
On the downside, triathlon suits can be expensive, and you can easily do triathlons without them. Furthermore, it is sometimes nice to own clothes that can double as workout clothing, and a tri suit is pretty much a one-purpose garment. We know several people who have done numerous – even dozens – of triathlons without ever owning a single tri suit.
For avid triathletes, We recommend the Blueseventy TX 2000 line, a very good tri suit for under $200 for those who want to be competitive in their triathlon. For those wanting to spend a little less, the 2XU Comp (here on Amazon) is a great suit from a reputable maker. One note about triathlon suits — given how expensive they can be, you typically do not train in them regularly. Use it for a few training sessions throughout the season to be sure you know how it will feel on race day, but beyond that save your investment for the race. You can train in whatever feels comfortable and wears well.
Triathlon Shorts
If you choose not to use a triathlon suit — any many beginners and intermediates choose not to — you will want to invest in some good triathlon shorts. Tri shorts are a staple of any complete triathlon wardrobe. Triathlon shorts look a little like cycling shorts, but are different. They are built to be quicker drying, and they have a seat pad that is usually thinner and lighter. This is important because you don't want to sit on a waterlogged seat pad when you hop on the bike — it would almost definitely cause chafing.
Triathlon shorts can usually be found from the $50 to $120 price point, and besides brand, pricing, and color, the main choices will be how long you want them to be and what kind of pocket layout you want. For length, most triathletes use shorts with inseams of 8 to 10 inches, give or take. And it is good to have at least one handy pocket for keeping fuel, gel shots, etc.
When buying triathlon shorts, remember to buy quality and know that they are not intended to be used in a pool. Doing so will shorten their lifespan considerably. We recommend the Pearl Izumi Select shorts (find them here on Amazon). Pearl Izumi makes some really good and comfortable tri gear, and they don't cost an arm and a leg. They are a great all-purpose short for beginners or advanced racers alike.
Triathlon Tops or Singlets
Once you have your shorts selected, you need to figure out what to wear on top. This is where the answer might be different for men or women. Many racers will choose a triathlon-specific top, often called a singlet, for racing. Singlets can be nice because they can be comfortable for activities such as cycling or running, even outside of a tri race. Good singlets range in price from $40 to $100, depending on the maker and the quality.
Women also have the option of wearing a support top, which resembles a swimsuit top or a training bra. This enables them to choose if they want to simply wear that for the entire race, or throw a shirt over it once out of the water.
There is nothing wrong with simply throwing on a t-shirt or a workout shirt for the bike and run. For women, this would usually be done over a support top, but for men it would mean they come out of the water shirtless. In any given race, a large number of racers will be wearing a simple t-shirt or workout shirt. We have known many very competitive triathletes whose top of choice for racing is the same moisture-wicking athletic shirt they would wear on a treadmill or a long run, often by makers like Sugui. Another option might be a cycling shirt, although they can tend to chafe during the run, especially when damp.
One thing to think about when choosing a tri top: Because you will be a little wet when putting the top on, making it a little more difficult for everything to easily slide, and because time is of the essence in Transition 1, we like a top with a zip that helps open up the neckline and opening for your head. A regular old t-shirt might be a little tight to put on, when factoring in wet skin. Having something with a zipper makes the top much easier to put on, and allow helps you allow for airflow if it is a warm day. That brings us to tri-tops.
Most tri-specific tops will run anywhere from $50 up to $110, depending on the brand and quality. We like the Zoot Active Mesh (here on Amazon) tri top line, but it can be expensive for some, so the step-down option is 2XU's Perform line, also a great top. As for support bras, we hear great things about the TYR Tri bra, a good value.
Tri Wetsuits
We have entire sections devoted to wearing triathlon wetsuits, so won't belabor it here. Suffice it to say that if your race allows it and water temperatures aren't above 78 or so, a wetsuit is often a good idea but you will always find some people racing without them. In addition to keeping you warm in the water, a good wetsuit will make you more buoyant and balanced as you swim, as well as assist you as you glide through the water. Most racers who use wetsuits find that their swim times decrease, more than making up for the additional time required during the first transition to remove the wetsuit.
We have done extensive writing on triathlon wetsuits, and if you need to learn more we suggest our triathlon wetsuit buying guide for further reading.
Wetsuits can be a substantial investment, and other than the bike purchase, likely the largest one you will make for triathlon. One that we like is the Blueseventy Sprint, which at $250 is a very good wetsuit designed for triathlons but won't break the bank. We are also huge fans of the Xterra If you only plan to do one triathlon, you might want to rent one from a local tri shop, or borrow from a friend. If you borrow, just be sure that you get one that fits well. A poorly-fitting wetsuit can actually make matters worse when you are in the water.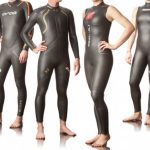 Triathlon Shoes
Triathlon shoes can range, based on your goals and overall triathlon plans. Truth be told, there is really not anything such as a "triathlon shoe", but rather there are shoes that can work well in a triathlon.
Racers who want to turn in the fastest times always use different shoes for the bike and the run. Most racers have a favorite pair of cycling shoes with clips that they use during the bike leg, and then put on running shoes for the run at Transition 2. Some athletes, especially age-groupers who simply want to finish, don't have clipped pedals on their bike so can use the same running shoes for the entire bike and run legs.
Unless your goal is just to do one triathlon as a leisurely pace (which is just fine!), we strongly suggest using special cycling shoes that are compatible with SPD clip pedals, and high-quality running shoes for the run. Not only will you be faster, but you will get more value from your cycling workouts. Don't forget about triathlon speedlaces on your shoes for fast transitions.
Socks?
Socks or no socks? That is the question. Many racers will choose to go sockless, making the transitions faster and reducing the risk of running in wet socks (i.e. blister-creators) if they don't dry properly after the swim or are racing in wet conditions.
Still, most beginners tend to use socks. You should never attempt to go sockless without practicing that way several times and building up the ability to do it. Also, remember that not all socks are meant to be worn inside a running shoe during a demanding race. Of everything on the market, we like the Thorlo running socks (here on Amazon) — a great sock for any active endeavor — but find one that works for you.
Triathlon Headwear
There are a couple other items that should not be overlooked for your training and racing.
Helmet
Perhaps the most important one is a bike helmet. In addition to bike helmets just being good practice to wear all the time, for any type of ride, your race will require you to wear a helmet on raceday. Most races enforce this rule well, and if you do not have a helmet you will not be racing. If you don't wear a helmet, start now. Most people quickly get to the point where riding without a helmet feels unnatural and naked.
Shades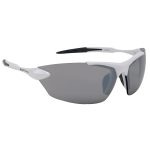 The other piece of gear that is a safety consideration is a good pair of cycling sunglasses. It might seem like shades are merely a convenience item, but once you get going 15 or 20 mph on a bike ride, the bug that hits you in the eye could quickly turn into major cycling accident. If you have good shades, you decrease the chances of something like this occurring. I have had several bees and bugs hit my sunglass lens, reinforcing the importance. Just be sure to get good wraparound glasses with hard lenses made for sports.
Triathlon Clothing FAQs
What else do I need for a triathlon, besides the right clothing?
There are many other things you could consider bringing into your triathlon wardrobe, especially when you start talking about equipment. Writing about every piece would make this article about 10,000 words long, so we won't go into it. Instead, we suggest you check out our triathlon gear checklist. It is a good way to compare what you have from both a "needs" and "wants" list when it comes to the sport of triathlon.
If you are just getting into triathlon and simply want to stick your toe in, consider going with the minimum gear needed for triathlon. However, if you would like to get a little more into the sport, this guide gives you a great start.
Can I just wear bike shorts in a triathlon?
No, we don't recommend it. Bike shorts are not meant for swimming or running. The seat pad will be saturated during the swim, and won't dry out quickly. And the seat pad is too bulky to be able to run comfortably. You will probably chafe.
How do I change clothes during a triathlon?
That is what the "transitions" are for. For shorter races like Sprint and Olympic distance events, you typically use Transition 1 to remove your wetsuit (if you used one) and put on your cycling top, helmet, and bike shoes. During Transition 2, you swap bike shoes for run shoes, and remove the helmet. Many of your clothes stay on for the entire race.