You can spend thousands on the sport of triathlon, but you don't have to.  True, there are many athletes who invest hundreds or thousands of dollars each year to keep their triathlon times fast, and give themselves their gear-junkie fix.  But participating in a triathlon doesn't have to break the bank.
Our goal is to get more people doing triathlon.  We couldn't care less if you are riding a $5,000 bike and have hired an expensive coach, or decided to try your first race on that bike that you pull the kids's trailer with on weekends.  The fact is that most people in any given race are just doing it purely for fun or to stay in shape.
Perhaps you are wanting to try one triathlon to see if you even like the sport, or maybe you agreed to be part of a triathlon to raise money for charity. If so, we are happy to have you in the sport!  While we've done lengthy articles on what to wear in a triathlon, the fact is that you can get by with a pretty limited amount of equipment, especially if you are not concerned about your time or where you will place.
Minimum Gear for a Triathlon
Here is our straight scoop on the minimum gear you need for a triathlon.
Bike Helmet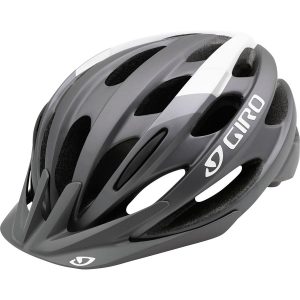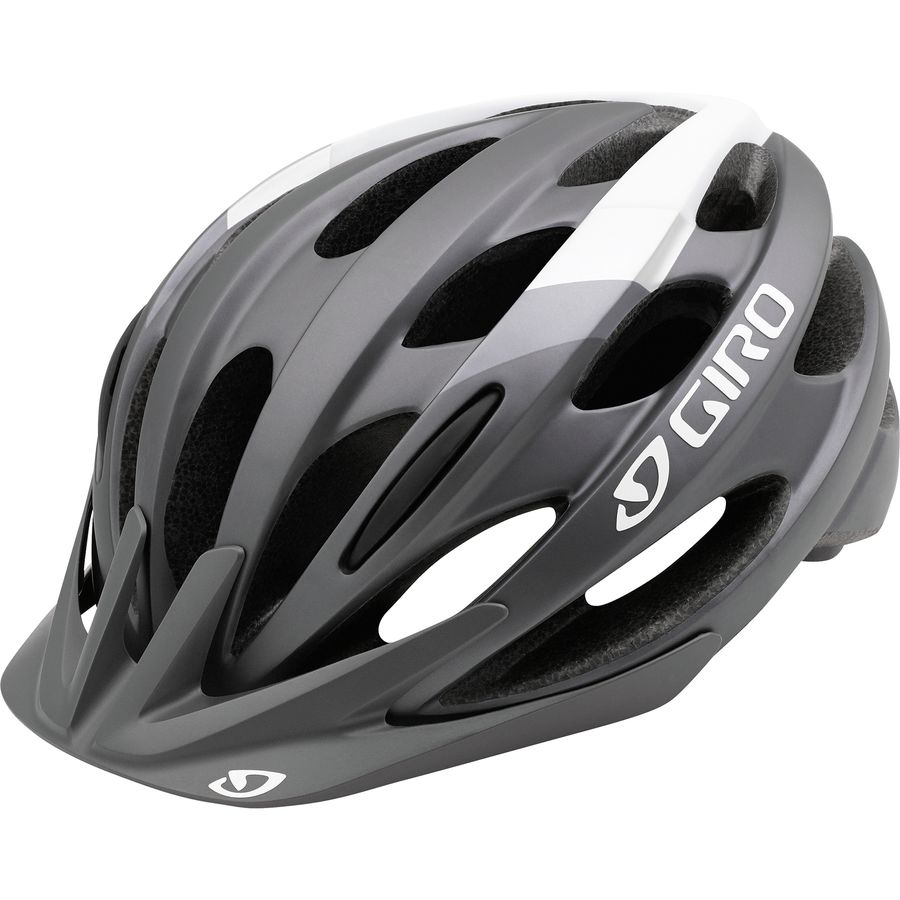 This one is a no-brainer, since all USAT-certified races (which is most of them) require the use of a bike helmet.  No helmet, no race.  You don't need one of those space-age aero helmets.  Whatever one you have in your closet will do as long as it is ANSI approved.  If you don't own a bike helmet, this is a good chance to buy one.  Even if we weren't talking about triathlons, we would tell you that you need to use a bike helmet.
Triathlon Shorts
If you buy one special piece of equipment for a triathlon, we suggest it be tri shorts.  A good pair of triathlon shorts is a gamechanger.  You wear them during the swim, bike and run, preventing you from having to change your bottoms in a public transition area.  Tri shorts will dry quickly after the swim but have a bit of a seat pad to make the bike ride comfortable.
You might be tempted to just go with a pair of padded bike shorts — but don't. Cycling shorts are not designed to dry quickly, so the wet seat pad could easily cause chafing on the bike or run.  Plus, the seat chamois on a regular pair of bike shorts is too bulky to comfortably run in.
T-Shirt, or Workout Shirt
You will see people in fancy tri tops, but truth be told, you can easily do a triathlon in your regular old t-shirt or cycling shirt.  Something that is moisture-wicking is a big plus.  Put it on after the swim.
Sunglasses
A safety feature.  It is less about the sun than about keeping debris and bugs from getting in your eyes on the bike ride.  Any old shades will do, but you can get a decent pair of cycling glasses for $35 or less.  Once you find a pair you like, get a backup of the exact same thing to have on hand.
Bike
Yes, you will need a bike.  No, it does not need to be expensive.  We see people do triathlons on their old mountain bikes, hybrids, or other slower bikes — and especially with a couple simple modifications these bikes can do very well.  If you can, try to use a road bike, even if you simply borrow one from a friend.  The better gearing and smoother tires will help you do better in the race.  If you can't, no big deal.  Just be sure the bike fits you correctly, and that your shoes will be compatible with the pedals.  If you are borrowing, fit is way more important than features.
(for ladies) Sports Bra or Swim Top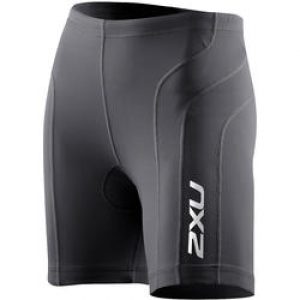 If you don't want to spend money on a triathlon top or singlet, you can definitely do a shorter swim in a sports bra or swim top.  Just be sure it isn't cotton, and it should dry relatively quickly on your bike ride.
A good pair of running shoes is all you really need for the bike or run legs.  Most experienced triathletes will be using cycling shoes with SPD or clipless pedals for the bike ride, but you certainly do not have to.  Just be sure the bike you are riding has pedals compatible with your shoes.  If you use running shoes, you will want regular, plain pedals or pedals with cages.
That is really the basic list of tri gear.  We'd rather have you participate in the minimum acceptable gear than not race at all…. But if you have the budget, consider adding the following.  This next list still is not at the experienced triathlete level, but will allow you to have a little more fun during the race.
What to Consider Adding to your Tri Gear List
Wetsuit
A good wetsuit will help make the swim easier and warmer.  You can buy, rent, or borrow, just be sure it is a triathlon wetsuit.  All-purpose wetsuits don't allow for the range-of-motion you will need.  A good triathlon wetsuit will make the swim more enjoyable, and we are always looking for ways to help you find wetsuits at clearance prices so you can save a few bucks.
Road Bike or Tri Bike
If you can, opt for a road bike or triathlon bike.  The gearing and positioning will make the ride much faster and more fun.  Plus, you will have more juice left in your legs for the run.
Cycling Shoes
If you ride a road or tri bike, you will definitely want the cycling shoes that match the pedals on most of those bikes.  The big benefit here is that you will get more power and speed from each stroke.
Triathlon or Bike Top
Having a more form-fitting top, but one that is easy to put on while wet, will make your bike and run legs more streamlined (and you will look better!)  There are garments called triathlon singlets, but you don't need to buy one if it isn't in your budget.
Use Speedlaces in your shoes
Triathlon laces will help you fly through transitions without getting bogged down tying your shoelaces.  They are one of the best ways we know to shave some time of your triathlon results.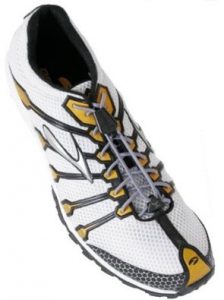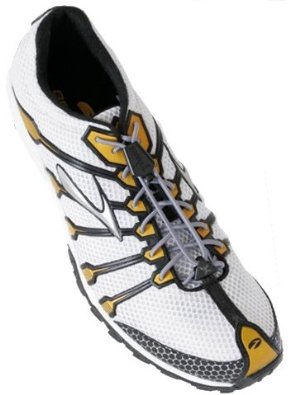 Your Smart Watch or Wearable
To be clear, we are not saying to go out and buy a Garmin watch just to do one triathlon, especially the ones with distance and speed monitoring.  However, if you own on, bring it. It can be very helpful to know what your pacing is and how much further you have to go in each leg.
There are many other things you could buy if you want to get serious about doing tris, and we cover most of those in our triathlon race-day list, but this article is all about keeping it basic.  We don't want you to break the bank on participating in what we think is the best sport on the planet.
What Are Your Goals?
A big question to ask before you begin finding any triathlon gear is what your goals are.  If you think you want to eventually do 20 triathlons, or train for an Ironman, you are much better off investing in some higher-end gear from the start.  If you just want to do one race to see how you like it, don't spend quite as much at first.  If you get hooked, then you can gradually add to your stable of gear.
Whatever the case, don't let the start-up gear keep you from doing a triathlon.  We can assure you that nobody on race morning will be looking down upon someone who shows up with borrowed gear, or 2nd-hand equipment.  The triathlon community is pretty cool that way — they just want to see more people competing in the sport, and will be happy that you showed up.
More Reading
If you want to get more tips on how to get started in triathlon, we've done lots of research so you don't have to.  Don't miss out on our piece on entry-level triathlon wetsuits, which will give you a lay of the land on what kind of wetsuits you should consider.  Our work on entry-level triathlon bikes can get you rolling on a new set of good wheels.  And don't forget about our work on the best triathlon suits out there.  Triathlon suits are not an essential piece of gear, but can be great if you intend to get serious about the sport.
Finally, we recently updated our piece on the best triathlon training plans and guides in the market.  It is worth a read, and can get you on the right path to success.