Triathlon suits are something that triathletes might consider investing in as they get more serious about the sport, or if they have a budget that allows for a more complete stock of tri gear.
While it is very possible to train for and race in triathlons with a simple sport shirt and tri shorts, the benefit of a triathlon suit is that it is engineered specifically for the sport and can significantly reduce transition times.  The transition time reduction comes from the triathlete's ability to keep on piece of gear on for the entire race, rather than changing at the first and possible the second transition.  For someone who wants to get serious about their times, or do longer triathlons, a triathlon suit is a wise investment.
The Bottom Line: Our Favorite Tri Suit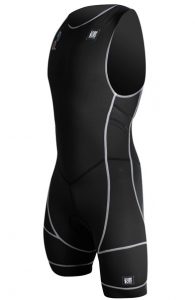 We will go through several very good triathlon suits a little further down, but if you are looking for one quick recommendation, it would probably have to be the De Soto Forza. It is a great all-purpose tri suit, capable of handling elites and beginners alike, and suitable for any distance race including the Ironman.  We have not spoken to any Forza users who don't absolutely love their tri suit.  De Soto is a company that really focuses on triathlon, and triathletes around the world thank them for it.  A very close second is the Blueseventy TX2000, a quality suit that is built to withstand long races, but also great for someone who is newer to the sport.
What Makes a Good Tri Suit
Our favorite triathlon suits have a few things in common.  First, they manage moisture well, wicking away sweat and water, and not holding dampness in the fabric.  This is important because you will use the suit for swimming and immediately jump on the bike with minimal drying.  Second, a good triathlon suit will provide a moderate level of padding in the seat for cycling.  You shouldn't expect the same level of padding you would get in bike shorts, as that could cause chafing on the swim and run.  Third, the better triathlon suits offer plenty of ventilation throughout, as no two racers have the same heat during a race, and need to be able to manage it.  Finally, good triathlon suits should fit snugly, like a glove, with minimal chafing at the edges, in the crotch, or under the arms.
Not surprisingly, the best triathlon suits come from the same manufacturers as some of the top cycling or compression gear.  Those types of garments share much of the engineering and even many of the same materials as good tri suits.  Finding the old, trusted brands names like Pearl Izumi, Sugoi, Tyr, and others is usually a good place to start when looking at tri suits, or any other triathlon gear for that matter.
Our Recommended Triathlon Suits
We have tried dozens of triathlon suits, and the following five suits fit our criteria of what makes a good triathlon suit.  All come from manufacturers that have reputations for quality and endurance.  Note that if you are a professional, you will want to cross-reference these with the USAT official list of approved speedsuits. We are confident recommending any suits on this list, but have ranked them according to some of the finer points of the suits and our field tests.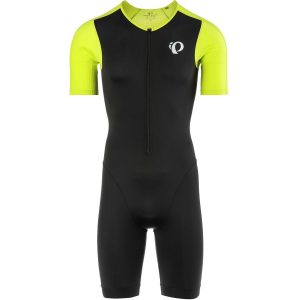 Pearl Izumi Octane.  The Pearl Izumi Octane (here on Amazon) just looks fast, and with the best technology Pearl Izumi has to offer, it feels fast too.  It is the most premium suit on the market today, and we love that PI keeps investing in R&D, making them one of the key advancers of tri technology.  The 10" inseam makes this suit a bit longer in the legs than some, something that we personally prefer.  Made with PI's PRO Aero fabric, it is incredibly quick-drying coming out of the water, and doesn't hold any sweat in the fabric, even on long runs and rides.  A zipper vent helps provide coolness on warmer days.  This is one of our favorite triathlon suits that we would be happy to wear in a race of any distance.  For those wishing to spend less, Pearl Izumi's Elite Intercool as a great product with all the key features, just without the high-end fabric of the Octane and seam construction that is a slight step down from the Octane.  If we were going to recommend one "starter" tri suit, this would probably be the one for now.
De Soto Forza.  DeSoto has always been one of the more innovative makers of triathlon gear, making high-end pieces for serious triathletes.  The Forza triathlon suit (here on Amazon) is right up there with the very best you can buy, combining comfort with performance.  De Soto switched from making a two-piece to a one-piece suit a few years ago, and in our opinion they did an outstanding job with design.  The suit has one of the better cycling pads that you will find in a tri suit, one that actually has buoyant qualities to help you in the swim.  De Soto has also worked hard to make sure the suit feels smooth, "like silk" as the company says, and can help keep you cool.  Serious triathletes will appreciate Desoto's testing that shows the suit reduces swim times by about a minute per mile, while more casual races might like the bolder color choices (blue, red, or black) than are found in many brands.  The newest version features extended sizing, so if you feel your size runs much larger or smaller than normal, you can still special-order a suit.  We like that feature in the spirit of getting more people into triathlon.  The list price on the suit is normal in the mid-$200s, and it is worth every penny.
Blueseventy TX2000.  Blueseventy makes some great wetsuits, something they have been known for for a long time.  They also make other tri gear, like triathlon transition bags as well as one of our favorite tri suits.  The TX2000 is an excellent suit for a number of distances, built to hold up for a long time but also provide comfort on the race course.  Blueseventy used a product called VitaFabric which allows for better head transfer, preventing a heat build-up which could really haunt a triathlete during a warmer race day.  An excellent heat transfer is why you will see many TX 2000's being used during an Ironman — when the last thing you can put up with is a body temp that is off.  We also like the nicely-placed pockets on the back of the suit – easily within reach but not in a place that hinders the use of the suit.  At under $200, this is one of the better buys for a high-end suit on the market.  Very aero.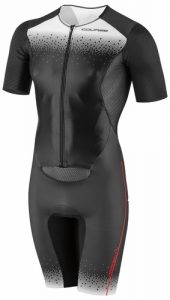 Louis Garneau LGneer Skin.  Louis Garneau is perhaps best known for great cycling gear, and that shows in their Tri Suits.  With the LG LGneer suit (here on Amazon), we can almost say that LG thought of everything.  It carries a healthy price to prove it, but a good investment if you have the budget.  The LGneer is a high-end, seamless suit that incorporates one of the more advanced seat pads on the market.  The pad sports an anti-bacterial top layer that can assist in the process of tissue regeneration on the bike, something anyone who has done a century ride will know something about.  The seamless construction of the suit means less chafing and one less weak spot for the suit to fail during its lifespan.  We love the aerodynamics, the contrast between an aero upper and a tough, comfy lower, and the fact that the Coldblack treatment provides for a cooler uniform during those hot and sunny races.  With the aerodynamics built into this suit, you will feel fast on the bike.  They improved on the last model by putting 2 inner and 2 outer pockets on the suit, which we feel is a must-have.  It might be the most sophisticated suit on the market, but you will pay for it.  The LGneer Skin also features covered, angled side pockets to reduce the drag coefficient.  If the LGneer is above your price point, LG also makes the Comp which is not as expensive and intended for more of the beginner market.  You give up much of the aerodynamic construction and features like the upgraded pockets and seat pad, but you still get a garment from one of the leading cycling gear makers out there.  One thing we liked is that it is chlorine-resistant, which makes it one of the few intended to be used in pools as well as open water.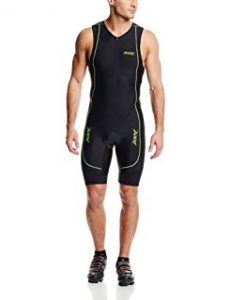 Zoot Sports Ultra Aero.  A favorite of ours, the Zoot Sports Ultra Aero (here on Amazon) sits firmly in the high-end category for triathlon suits, but a reputable maker like Zoot knows how to make good Tri wear.  The compression spandex allows for athletes to feel the benefits of compression on their muscles and skeleton, and Zoot has used higher-end features such as anti-chafing seams and low-friction pockets.  One thing Zoot has done as well as anyone is split their suit into panels, which creates zones focusing on support of major muscle areas.  This paneling is a page out of Zoot's wetsuit playbook, something they know well.  Our testing suggested that the quick-drying features of the Zoot were excellent, and the cycling pad dried quickly but was a little thin for longer rides.  For those on more of a budget, the Zoot LTD Performance costs less and provides a more entry-level option.  It shares many features with the Ultra, but provides a few more affordable options (such as leg grippers on the hems vs. grip-less technology on the Ultra).
2XU Comp.  The 2XU Comp (here on Amazon) is a good triathlon suit that won't break the bank (not to be confused with the LG Comp, above).  It reminds us a lot of the Pearl Izumi line in its stitching and performance, but isn't quite in the class of some of the $150+ suits listed above. 2XU has gotten in the game of making some of the best compression wear on the market in recent years, and that engineering carries over to the Comp triathlon suit.  The suit features the same Lycra fiber that goes in much of 2XU's compression gear, and testing suggested that this suit provided slightly more compression than some of the others we tried.  The strength of the Comp likely comes in the run, as 2XU has built a good suit for that leg of the race.  We preferred the Desoto and Louis Garneau models for long rides, but then again those suits are at a higher price point than the Comp.
Sugoi RPM.  Made by a manufacturer we have come to respect and admire, the Sugoi RPM (here on Amazon) is one of two tri suits made by the Canadian-based company that also owns Cannondale.  The other model is the RS, which is nearly twice the price of the RPM.  We like the RPM suit because of its amply-zoned construction, its focus on ventilation for warmer runs and rides, and attention-to-detail in areas such as the flat seams and comfortable leg band grips.  Commonly found at below $100, the RPM is easy on the budget as well.  We find the Sugoi lineup to have a "softer" fit overall, versus some brands which tend to fit a bit more firmly.  The RPM would be in the same overall category as the LG Comp, profiled above.
Sugoi is a brand that we never have any issue with. In fact, along with the others on this list, everything we have presented here is from a brand that has stood the test of time in the sport of triathlon.  We have no qualms about recommending any of them.
So, Should You Invest in a Triathlon Suit?
As we wrote earlier, a triathlon suit is hardly an indispensable piece of tri gear.  When we look at everything else that deserves a spot on your race day checklist, the tri suit is not mission-critical.  In fact, one of our founders did more than 20 triathlons before even buying his first tri suit.  Still, there are a few times we think it would make sense to get one:
If you have ample budget.  Maybe you have a good income, or just prioritize buying athletic gear in your family budget.  Get a tri suit and enjoy it.
If you are training for a long race — an HIM or IM triathlon. That is where a tri suit can really shine.
If you plan to perform in numerous races, where you will get your mileage and money's worth out of a suit.
If you legitimately think that you will have a chance at regular podium finishes. Every little investment in gear could make the difference between 1st and 2nd.
Otherwise, you can have a lot of fun in triathlon for a long, long time by combining a good pair of tri shorts and a singlet.
Here is a quick video of some key features of a triathlon suit (this one focuses on the PI Octane).
https://www.youtube.com/watch?v=pyb37F0BRAM