You have probably seen them more and more in recent years: little, blinking white or red lights that grab your attention as you are coming upon a cyclist. We have a secret for you: They work!
Experiments ranging from those done at Clemson University to others done in Denmark show that using safety lights are superior to bright clothing, and can reduce accidents by about 20%, when used by cyclists. What's more, the NTSA has found that bicycle deaths most often occur between 6pm and 9pm, right when a light might help be seen at dusk. We at Complete Tri feel that anything that can improve cyclists' safety on the road should be considered.
Whether you're a dedicated cyclist or not, you should always invest in a reliable road bike safety light. Having the proper safety light can prevent injuries and even a deadly accident. It is risky to put yourself on the road automobiles, and while you can never eliminate that risk, you can take steps to reduce it.
If you've never purchased a road bike safety light before, there are several factors to consider consider. Some examples include the right size, proper mounting, battery life, rechargeability, and durability. To help you make an informed decision, we have piled together this review of the best safety lights on the market! Make sure to read our reviews on all the lights before making a purchase decision.
BLITZU's Cyborg 180H
This ultra bright bike light definitely deserves a spot on the list of best safety lights for bikes. The Cyborg 180H is incredibly versatile as it's designed to fit on any bicycle. This model is actually an upgrade from BLITZU's best-seller, the Cyclops 120T. They announced that the Cyborg 180H is 50% larger and 15% brighter! Here are some of the key features of the BLITZU Cyborg 180H:
Visibility. BLITZU isn't joking around when it comes to visibility. The Cyborg 180H's headlights emit an extraordinarily wide ray of white light (up to 180 lumens) which can be seen from all angles of the cyclist. Having white lights is a lot more noticeable than yellow or other dull-colored lights. These headlights also provide the cyclist with maximum vision on the road. As a cyclist, you'll easily be able to see everything that's ahead of you.
Durability. You'll occasionally ride over rocky terrain or ride over a big rock you didn't see. This can cause you to fall off your bike and have it smash into the ground. The Cyborg 180H has an incredibly durable build as it's able to withstand a two-meter drop! Not only that, the bike light has been designed to be extra water-resistant. You won't need to worry about your lights turning off the next time it starts to rain. Regardless, you should still be careful.
USB rechargeable. There's nothing worse than having to replace your electronics with batteries. It's a huge waste of time and money having to run to the local convenience store or gas station! Luckily, the Cyborg 180H bike light is USB rechargeable. Now, you can recharge the bike light by simply plugging it into any USB power source such as a computer, laptop, or USB port. In addition to the convenience of being able to charge the Cyborg 180H using a USB cable, it only takes two hours to fully charge it! The next time you go for dinner, plug in the Cyborg 180H to a USB outlet. You'll see how quick the batteries come back to life.
Battery life and power modes. If you want to preserve the battery life of the Cyborg 180H, you can switch to a lower power mode. You should always be riding on a power mode that makes sense for what you're doing. For example, if you're biking in the morning, you don't need to set the power mode to high. The six different modes consist of: Strobe (runs for 2.5 hours), 100% Flashing (3 hours), 50% Flashing (5 hours), High (1.5 hours), Mid (2.25 hours), Low (6 hours).
Cycle Torch's Bolt Combo
This headlight and tail light combo also deserves a spot on the list for best safety lights for bikes. Not only is this product affordable, but it's also quite genius. You can ensure your safety by installing the Bolt Combo lights at the front (at 20 lumens) and back of your bike (at 10 lumens). This is a great way to provide maximum visibility on a foggy or gloomy day. Here are some key features of the Cycle Torch Bolt Combo: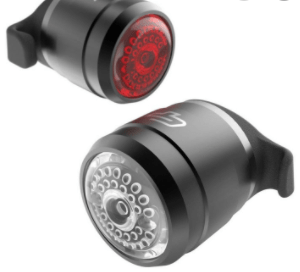 Visibility. Like we already mentioned, the Bolt Combo comes in a dual set to provide you with as much visibility as possible. This will definitely help grab the attention of other vehicles.
USB Rechargeable. Just like BLITZU's Cyborg 180H, the Bolt Combo is also USB rechargeable! With a simple USB cable and a USB power source, you can easily recharge your batteries back to full. The Bolt Combo comes with two charging cables and takes a little over two hours to recharge.
Installation. We've all struggled to install safety lights before. Thankfully, Cycle Torch's Bolt Combo is incredibly easy to install. You could get both lights mounted onto your bike in under a minute! If you have multiple bikes that you enjoy riding, you can easily remount these lights onto another bike.
Compatibility. If you currently own multiple bikes or plan on purchasing more in the future, these bike lights are a great option to choose. They're designed to be universally compatible to road, mountain, cruiser, BMX, and tandem bikes.
Battery life and power modes. The Bolt Combo has different battery lives for the front bolt and tail bolt. The front bolt has three power modes: High (runs for 2.5 hours), Quick Flashing & Pulse (5-8 hours), and Slow Flashing (8-10 hours). The rear bolt also has three power modes: High (runs for 5 hours), Quick Flashing & Pulse (10-15 hours), and Slow Flashing (15-20 hours). It'll feel like you can ride a marathon with these lights on!
KNOG Blinder Road R70 Rear Light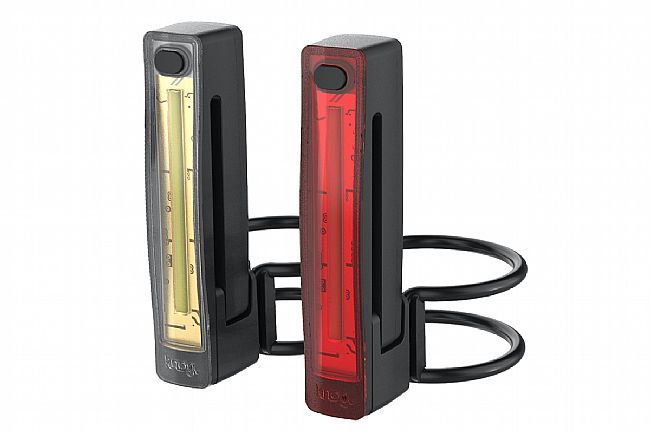 The last road bike safety light that deserves a spot on this review list is this rear light from KNOG. This rear light emits up to 70 lumens of bright red light. Not only is it super bright, but it's also the perfect addition to your bike if you want to mimic a car! You can attach a headlight such as the Blinder Mob to the front of your bike and use the R70 Rear Light for the back. Here are some key features of the KNOG Blinder Road R70:
Waterproof and dustproof. If you choose to bike in poor weather conditions or terrains, the R70 has you covered. Every driver should easily be see the R70 lights in action, no matter how bad the situation.
Aerodynamics. Performance is a key factor for any cyclist looking to purchase a bike. The Blinder Road R70 is a great performance-driven product as you can mount it on any handlebars or posts on your bike. You won't have to worry about drag as this 52-gram rear light solves that problem.
USB Rechargeable. Just like the other two bike lights, the Blinder Road R70 is also USB rechargeable. As you can tell, this is a key factor for us and many other cyclists. The difference with the R70 is the built-in USB stick. You no longer have to worry about losing the USB charging cord because it's built in!
Compatibility. This rear light comes with three different interchangeable straps that range from 22 mm to 32 mm. This allows you to attach the rear light on almost any bike!
Battery life and power modes. The Blinder Road R70 has five distinct power modes: Steady (runs for 3.5 hours), Fast Flash (4 hours), Chaser Flash (5 hours), Peloton (for 13 hours), and Eco Flash (20 hours). Depending on your activity, you can make great use with these power modes!
What to look for in a road bike safety light:
Size. Always go for a safety light that fits your bike. There's no use in purchasing one that isn't compatible. You also don't want lights that are too small because they won't be easily seen on the road.
Weight. It's true that some bike lights are designed to be bigger than others, and that's done to emit more light. Unfortunately, this can result into a pretty heavy product. If you plan on doing bike tricks or going for a very long ride, you'll want to choose lighter bike lights.
Battery life and power modes. You'll always have a different riding experience when you go to bike. Sometimes you'll go for a short ride, and sometimes you'll for a long one. It's important to choose a safety light that can support longer bike trips because you never know when you'll need them.
Durability. We don't want you to waste your money. That's why we recommend looking for bike lights that'll survive over the years. Always choose bike lights that can withstand a little wear and tear and rough terrains.
Waterproof.  We all get caught in the rain, and everything on your bike should be able to withstand getting wet. Make sure whatever safety light you buy will not short out or be damaged if you find yourself in a downpour, which will happen sooner or later.
Rechargeability. If you're looking at a safety light that lasts 5 hours but takes 5 hours to recharge, you've got a problem. Look for bike lights that can be recharged quickly and easily (USB compatibility). You shouldn't have inconveniently search for an outlet to charge your bike.
Conclusion
We took a lot of time to research and test these road safety bike lights, so we hope you read our reviews carefully. Simple safety add-ons, along with finding a good road bike that fits you well, well help you enjoy the sport for years to come. To help you make a decision, here are some conclusions we came up with:
Go with the BLITZU Cyborg 180H if you bike later in the day (afternoon to night).
Go with the Cycle Torch Bolt Combo if you cycle on multiple bikes and want something that's inexpensive but still effective.
Go with KNOG Blinder Road R70 if you have your own headlight and use your bike(s) for more athletic purposes.
Jim is an accomplished triathlete and endurance cyclist, and has raced in more than 3 dozen USAT-certified races.  He is also an avid trail runner and gravel bike rider.
His areas of expertise are in endurance training, cycling, triathlon technique, race direction, and training plans.  In addition to writing extensively about the endurance world, he has managed gyms and fitness centers in the US.  Jim is a longtime writer for Complete Tri, Compression Design, and his work can be found on the resource pages of many triathlon and cycling clubs in North America.