High-End Wetsuits borderline on being works of art.  Who ever knew you could put so much engineering into pieces of neoprene?
The market for triathlon wetsuits is competitive, ever-changing, and includes wetsuits ranging from entry-level to advanced.  The good news is that you can get more for the money than at any point in the past. Are you perhaps ready for a high-end wetsuit?
Maybe you are planning to do an Ironman, or want this to be the season when you vie for a podium finish in your local Olympic race.  Maybe you have decided that it is time to take triathlon seriously and invest in some step-up gear.  Or perhaps you simply have a nice budget to spend on your hobbies.  Spending $600+ on a higher-end wetsuit will surely give you some performance and comfort benefits, and step-up your game.
One of our most-read pieces is our constantly-updated article on Entry Level Wetsuits, but we realize many triathletes are willing and ready to invest in higher performance than that.  This article will follow that up with an overview of our favorite high-end wetsuits – for those more serious triathletes, or perhaps those who simply have more of a budget.  Let's get to it.
Xterra Vengeance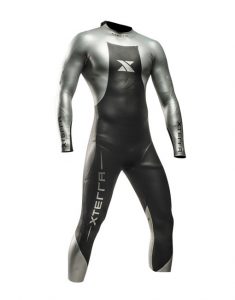 (use our code 'EBOOK' here for a discount at Xterra)  We love the Vengeance.  The first time we tried one of Xterra's higher-end wetsuits, we were blown away.  The difference was immediately noticeable.  Xterra makes a few things – garments, triathlon bags, swim gear – but to us they are best known for their excellent wetsuits.  The Vengeance is the top of their lineup right now, featuring 5mm neoprene in the hips and thighs with air dimples that provide extra bouyancy.  This feature helps you maintain a better swimming position in the water, pulling your legs and hips up.  Being straight in the water reduces drag and helps you get the most out of your pull stroke.
Ironman and HIM racers will also like the buoyancy assistance as the improved positioning will likely tax your body less over the course of a long 1.2 or 2.4 mile swim.  That can make a big difference in your overall race, since the goal of the swim is to be competitive, but exit the water with plenty of fuel in the tank for the bike and run, which is one of the objectives of splurging on a good wetsuit.
The thicker neoprene gives way to thinner 3mm material around the chest – allowing for easier breathing and mobility throughout the upper body.  The arms are finished off with razor-thin 1.5mm neoprene, making for extremely flexible range-of-motion.  The shoulders have 6 separate panels, helping you get the most out of your range-of motion and reducing the most common complaint about wetsuits — shoulder and arm restriction.
While the Vengeance is quite a feat of engineering, we also love the Vector, priced about $100 less than the Vengeance and equally suitable for an Ironman, HIM, or other competitive swim.  For an experienced swimmer, you might want to go with the Vector instead of the Vengeance. The paneling thicknesses are actually the same – the big difference is that you don't the air-dimpled material in the legs, which is more of a "nice-to-have" than a necessity.  Use our 'EBOOK' code at Xterra to get discounts on the Vector as well.
Blueseventy Helix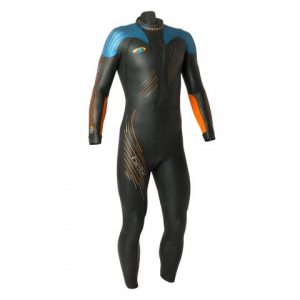 Find here. We have been loving the Helix for a good 5 years, and that love affair doesn't appear to be ending anytime soon.  The Helix, with its distinctive Orange and Blue Accents, has been the top of the Blueseventy's line for some time, but don't let that fool you into thinking it has been the same wetsuit through the years.  Blueseventy has done a great job of updating it continuously.  We admire companies that push the envelope and try to make their own models obsolete by creating better ones.
It is hard to know where to start when describing how the Helix is different, but we will start with the shoulder design.  Blueseventy's proprietary shoulder design throws a thin, 1.5mm panel at the shoulder area, providing for excellent range-of-motion.  No more having sore shoulders after an open water swim – this will feel like you are swimming in a fast pool.
The split chest panel is another feature we like – one that allows for improved breathing and easier chest movement.  You probably sense a theme here – our top two wetsuits both focus on shoulder and chest movement and flexibility.  Those qualities are so very important if you want to get max performance and truly relax during a long swim.
The Helix opts for thinner, 3mm neoprene throughout the legs and hips, making it a thinner and lighter suit.  Light in the water isn't such a big deal, but some triathletes will really like the thinner overall feel – more of a "second skin" than a suit you were.  The exception is in the glutes and upper legs, where you have a panel (called the L.I.F.T.) to add buoyancy do your pelvic area while you swim.
If you are a highly-proficient swimmer who hardly wants to remember that you have a wetsuit on, the Helix is a great option for you.  If you want more of the security blanket of buoyancy and temp regulation, you may want to opt for the Xterra.  You won't go wrong with either, though.   Here.
Orca Alpha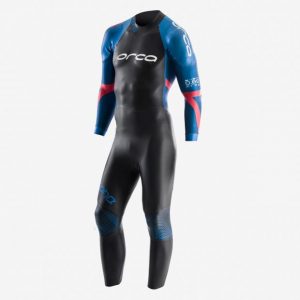 At any given race, you will see quite a few Orca wetsuits.  They are a brand that has been visible in triathlon since 1993, a pioneer in the world of making wetsuits specifically for triathlon.  The wetsuit that we think has a place on our "best of" list is the Alpha, a wetsuit that is on par with the Xterra Vector price-wise.
If you want thin, the Alpha might be your answer.  It is the thinnest neoprene that we have found on the market, bottoming out at a mere .5 mm.  That is about the thickness of a pin head.  They can make it this thin because they line it with titanium to increase the strength.  The Alpha is a great top-end wetsuit that offers the slimmest neoprene on the market.  The .5 mm is found mainly in the arms – an amazing level of flexibility and thinness.  Those skin-light arms are aided by thicker neoprene in areas where movement and flexibility are less critical. You aren't going to get the extra buoyancy of some of the other suits, but for those who are already good swimmers, this will be a sleek and fast wetsuit in the water.
We love the SCS coating that Orca puts on their wetsuits.  All manufacturers use some type of coating to make the wetsuit glide through the water with less friction, but Orca's SCS coating feels from our tests (and appears to be validated by Orca's tests) to be a cut above many of the others on the market.
For those looking for something more on par with the Xterra Vengeance – with the core-stabilization and buoyant properties in the midsection – consider the ultra-high-end Predator.  You get all of the technology of the Alpha, but with a core stabilization system that will keep your body positioned better in the water, with less leg drag and more stability in the core.  As we discussed earlier, this is a great option for those who are concerned that their form may falter over the course of a long race swim.  Find here on Amazon.
TYR Hurricane Cat 5
TYR has been making some great wetsuits for several years.  We are huge fans of TYR's broader lineup of tri gear, especially their triathlon shorts.  In our opinion, their tri apparel is on a very short list of the best on the market.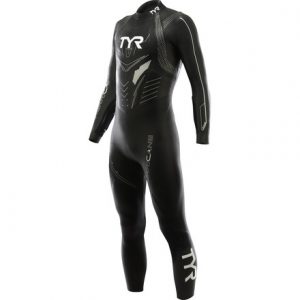 Their wetsuits hold their own as well.  The wetsuits are all named with the Hurricane naming convention, and you get the Category 1, 2, 3, and 5.  The Cat 5 is the highest-end wetsuit, coming in at a high-end price of about $750 retail.
TYR prides the Cat 5 in having great range-of-motion, and we like what they have done.  The paneling allows for a nice, long swim stroke that doesn't provide undue stress on the shoulders.  TYR has also experimented with lining inside the legs, called Speed Wrap Paneling, that allows for a faster getaway and exit at T1.  We think it is a nice touch.
Other selling points are the elevation paneling in the chest and core, helping to create the swim posture that will create the best endurance results for the racer – similar to the Orca Predator.  We also like the fact that even without having skin-thin neoprene, the Cat 5 provides lots of range-of-motion in the overall movement.
Overall, while Orca is perhaps known for some of their other triathlon gear, we think they have done a very nice job with the Cat 5, and we like all four wetsuits in their lineup today.  The TYR Cat 5 is a good way to get a solid wetsuit at what is often a discounted price.  Find here on Amazon.
Others to Keep an Eye On
There are a few suits that we have not personally tested yet, but are no doubt intrigued by.  They go on our list of "keep an eye on them" but until we have used them first-hand, we are not quite ready to add them to the list above.  The ROKA Maverick Pro II suit looks like a great all-around suit, and we are seeing more and more of them at the A Races. ROKA has only been around since 2013, which probably explains why we haven't gotten our hands on them yet for testing.  Whereas we have become quite comfortable with the output over the long-term from companies like Xterra and Blueseventy, ROKA isn't quite as time-tested yet.
We are also fans of De Soto gear, and they have a nice T1 wetsuit lineup.  We can't wait to test their new products which move away from neoprene altogether and use a different material to create a greener wetsuit.  Commendable, and innovative in a market that has been focused on neoprene for a long time.  De Soto wetsuits are two-piece wetsuits — with a top and bottom that meet at the waist — something that makes them just different enough so we did not include them yet, but are excited to try their products out more.
The Winner
It is hard to pick a winner – we like all of these wetsuits and would be thrilled to use any of them in our next race.  You really can't go wrong.  They all made the list for a reason.
If we had to pick two, though, we would probably say consider the Helix or the Vengeance.  The Helix is probably the one we would reach for if we simply want to swim really fast.  The Vengeance might be the one we would go with if we felt a bit more tentative about keeping our form during a long swim, if using the wetsuit as a buoyancy boost was the top priority.  We know that you can't go wrong with Xterra or Blueseventy.
For Ironman or HIM triathletes, we think you would do well with any of the wetsuits that made the cut for this list.