Let's just forget the top 3 tires available in the market for a while and talk about the qualities that a tire should have. In an ideal condition, a tire should be super light, impervious and madly quick. Sadly that tire hasn't been created yet and much of the time you can have two of these traits.
The quality of tire you need depends directly on the type of your riding. Say, for instance, if you are looking for adventure on gravel backroads or riding on a harsh surface in the inner city, you ought to consider a tire that is strong and cannot undergo puncture rather than being fast or light-weight.  (In this case, you may actually want to consider a gravel bike)
Then again, on the other hand, you regularly ride on streets in the summers when roads are clear of flotsam and jetsam, then some lightweight, race tires can be a great decision.
Road Bike Tires Come in Three Types
Clinchers.  These are the most common type of tires which feature a set of an outer casing and a separate inner tube. They have some advantages. It is easier to fix a flat on the side of the road. Clinchers are cheaper to run as compared to the others.  In many bike shops, you will find the most selection of clinchers and clincher tubes.  If you are just looking for a regular old bike tire, then you are talking about a clincher.
Tubulars.  These are the tires which specifically pro-riders use. They give you a very premium experience with the tubes sewn directly to the outer casing. What makes them so special is their unmatchable resistance to pinch flats. They are lighter and easier to change than clinchers.
Tubeless.  As the name indicates, tubeless tires don't need an internal tube. Rather the tire and edge fit together to make a seal in conjunction with an extraordinary valve stem, and a fluid sealant inside the tire. Most wheels additionally require extraordinary strips for an airtight seal. As the fit between the haggle must be impenetrable, only certain wheels are compatible with tubeless tires.  We expect tubeless to become more popular in coming years, as cyclists get more comfortable with the and more bike makers ship their new models with tubeless-ready rims.
We did an entire piece on comparing the two most popular tire types, tubular vs. clincher.  Check it out if you want to explore this topic further.
Best Road or Tri Bike Tires
| | | | |
| --- | --- | --- | --- |
| | | | |
| | | Great all-around; excellent on wet surfaces | |
| | | Minimizing rolling resistance; excellent on winding trails | |
| | | People looking to put many miles on the tire; great for long distances | |
| | | Riders who prioritize minimizing flats | |
We have ridden hundreds — check that, thousands — of miles on road bikes and tri bikes.  We know the frustration of getting too many flats, and the excitement of having a nice, light tire on your bike as you are cruising down a straightway.  After much trial and error with various tires, here are our favorite three bike tires for a road bike or a tri bike.
Vittoria Rubino Pro Tire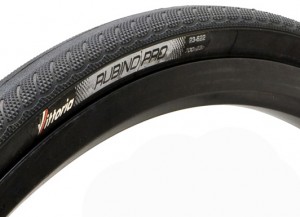 In the world of tires, Vittoria Industries are the leading manufacturers known for their high-quality and enormous strength. They have a wide range of road and off-road tires. Rather it is a small event or an international cycling championship; you'll always find Vittoria tires behind the winners.
Rubino Pro (here on Amazon) is the most popular tire manufactured by Vittoria due to some reasons.
We think this is the best all round road bike tire.  Rubino Pro is a conglomeration of all those necessary elements which make a great tire. It is designed by experts, and special attention was given to not only make it suitable for training but the racing events also.
Superior Quality.  What makes Rubino Pro so special is the components from which it is manufactured. It is made from 3-compounds so that it can deliver the best speed, suppleness, and grip. You don't have to worry about the unexpected punctures as the tire is coated with an extra layer of protection with a thicker thread.
Graphene option.  If you go with the Graphene model of the Rubino, you are going to get a rubber chemical compound that gives you two advantages: 1) Better grip on wet surfaces, and 2) Better puncture resistance.
The only issue with these tires in recent memory has been for riders who want the tubeless-ready option. Vittoria creates some confusion as to which tire is tubeless ready and not, creating some unhappy customers who thought they were buying tubeless.  Our review above is based on many, many miles on the Rubino Pro clincher.  If you want the tubeless-ready model, be careful as you are checking-out to ensure you get want you intended.
Continental Grand Prix Tire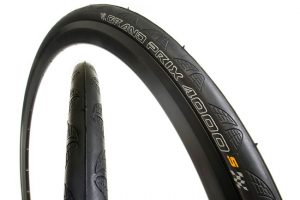 Continental is a complete bike tire company.  They have a lineup of products that would make most cyclist more than satisfied.  The company aims to revolutionize the tire industry by its special rubber mixture produced only in their factory in Germany. On the other hand, BlackChili compounds used in the making of this tire reduce the rolling resistance by 26% compared the average silica compounds.
We like the Grand Prix 5000 (here on Amazon), a tire that has stood the test of time and shows excellent durability despite its speed and softness of ride.  We have been fans of the Grand Prix lineup for a long time, having recommended the 3000, then 4000, and now the 5000 series here.  They are a line that provides excellent overall durability, with improved rolling speed and friction with each subsequent upgrade.
In particular, we like:
Neutral Design.  The continental tires didn't try very hard on the looks, but rather focused on solid construction to make it suitable for all types of cycling.
Excellent road grip.  The Black Chili compounds also give an excellent road grip to make every ride hassle free.
Durable.  It might be luck, but we have not had many issues with flats while riding these.  You can ride these for a long time and know that you are going to avoid the majority of punctures that may affect a thinner, lighter road tire.
Fortezza Quattro Tri Tire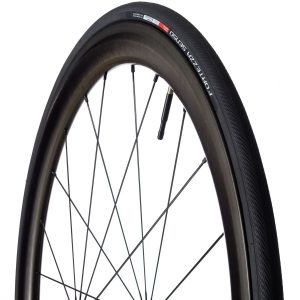 The third tire on our list if Fortezza Quattro (on Amazon) which is an ultimate racing clincher. It comes with a double-overlapping casing which provides an extremely smooth ride and perfect cornering feel. The pressure recommended for their tires is 145psi, and the user experience may vary if you don't keep up the recommended pressure. It takes the third spot on your list due to the following reasons.
Unmatchable strength. The high-quality polymers from which Fortezza Quattro is manufactured gives it an unmatchable strength. You don't have to worry about your tire getting flat.  The tire is said to be able to go 7,000 miles because of an extra puncture-resistant coating, but between you and me, we would not push it that far.
Premium feel. Vredestein tires are known for their grip, handling, and premium feel. Living up to the standards of the Vredestein, Fortezza Quattro has all those features you can expect in a tire. When it comes to tricky tracks and wet roads, this tire performs exceptionally well.
The Fortezza Quattro Tri is a good all around tire, but we also found one weakness.  Despite being the first choice for many professional riders, Fortezza Quattro is quite heavier than the modern day tires. The modern tires are as light as feathers, and a lighter tire gives you better acceleration on the track than a heavier one.
A Tough Bike Tire Option: The Gatorskin
Continental also makes another, slightly heavier tire.  It is the Gatorskin (here on Amazon), and it is bulletproof.  The Gatorskin is well-known among hardcore cyclist for being a tire you reach for when punctures might be a risk.
We have ridden Gatorskins on gravel, limestone, pavement, pretty much everywhere.  These tires are designed specifically to be durable and not go flat. While you might lose a fraction of a second on your speed, you will probably make up for it in the long run because you are stopping less often to change a tube.
For people whose rides might be a combination of gravel, trail, and pavement, the Gatorskin can be the perfect tire.
So, if you don't mind giving up a little speed because of a heavier tire designed to ride with a little less pressure, consider the Gatorskin.  The Duraskin rubber is known for fewer punctures on the tire surface, and very strong sidewalls. Because they are tougher with more reinforcement, they don't fold as well if you are someone who likes to carry a spare tire on you.  But for someone who absolutely, positively wants fewer road flats as their top priority, these are hard to beat.  And as we get older, we value the ability to not stop as often even if it results in a fractionally slower speed.  Find here on Amazon.
What PSI to Run on my Road Bike Tire?
A common question is what pounds per square inch (PSI) to run on a road bike tire.  The most technically accurate answer is "whatever the manufacturer recommends".
After that, there are a few thoughts:
We like riding at the higher-end of the range, assuming we will be riding on pavement.  When riding on more varied surfaces, then we prefer to tone it down a bit and perhaps ride at the lower end of the recommended range.  Why?  Higher tire pressure creates a stiffer, bumpier ride.  It can reduce vibration to ride at a lower PSI.
Some newer cyclists often assume that the higher the pressure, the more likely you are to having a puncture or a flat.  Not entirely true.  Many flats are "pinch flats" where the tire and rim pinch the tube, creating the puncture. This kind of flat is more common if you are riding at lower PSI.  A higher PSI holds up better to pinch flats.
Also contrary to intuition, higher PSI tends to do better on wet roads.  It creates a firmer bead and more constant contact with the road, even with a super slick tire.
Whatever pressure you decide to ride at, get yourself a quality bike tire pump because with a road bike tire, you want to give it a little air before every single ride.
Final Thoughts
Whether you are a seasonal rider or a professional cyclist, these are the three tires that we think are best for all-around use, suitable for a long road ride when flats will not be welcomed, as well as a time trial race in which second matter.  All of them have benefits of their own. They are very high-quality tires and with an unmatchable road grip and puncture-resistance.
If you enjoyed this, don't miss our other articles on road and tri bikes.  We feature the best entry-level triathlon bikes on the market today, and a similar piece on our favorite entry-level road bikes on the market today.
We also have answered a question we get from many readers — is it time to switch to tubeless bike tires?  The trend toward tubeless is strong and not slowing down anytime soon.  There are many benefits of riding tubeless, and our article covers them all.  Check it out.
We know that buying a bike is just part of the equation, so we also have written some articles on how to train for the bike leg.   One that is quite popular with triathletes is our overview of the top bike spinners and trainers for the offseason workout plans.  Remember, if you use your bike on a trainer, get a special trainer tire.  Don't use one of the excellent tires listed above.
Feel free to post on this article or drop us a line.  We love to hear from all of our readers.
About the Author
Von Collins is an avid triathlete, cyclists, runner, and fitness enthusiast.  He is the author of the popular Your First Triathlon Guide, and several other fitness-related books.  Perpetually in training mode, he is constantly testing new gear and talking with other athletes about their observations.
Von Collins is an accomplished triathlete and cyclist, and the author of four fitness and training books: Smarter Running, Your First Triathlon Guide, Fit Foods, and 30 Rut-Busting Workouts.
Von has been cited as a triathlon, cycling, and fitness expert by Healthline, CNET, Forbes, Eat This, Not That and other major outlets.
Von has done dozens of triathlons and endurance bike races, coaches, and is an avid part of the cycling and triathlon community.