Buying your first entry level triathlon bike can be a daunting task. When I bought mine, I was extremely excited about getting on a built-for-triathlon bike, but a little nervous that it was going to be an entirely new type of bike for me.
Of all the investments you will make in the sport of triathlon, no single one has the potential to carry the cost of your tri bike. While any given race will see its share of $3,000, $4,000, and higher-priced top-end cycles, the right bike for a beginner triathlete doesn't have to be that expensive even though the triathlon bike entry-level pricing has gone up dramatically in recent years. Still, it is pretty easy to spend $1,500 to $2,000 on a quality starter triathlon bike and end up with a very good ride. Here are a few things to look for in your entry-level tri bike, along with a few recommendations.
Tri Bike or Road Bike?
Perhaps the most common question from new triathletes is if they should even buy a triathlon bike at all, or if it is smarter to just go with a road bike. (By the way, if you were looking for a deep dive on road bikes, we did that too. Check it our complete guide to road bikes)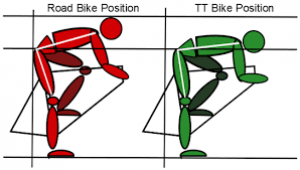 The answer seems obvious, but it is worth articulating: It depends on the type of riding that you plan to do. If triathlon might be a once-every-few-years type of thing for you, but you have paved trails in your area, you might opt for a road bike. We won't go into road bike recommendations, because they exist all over the web.
If you think, however, that you might want to do a triathlon each summer, or maybe train for a Half or an Ironman, then investing in a triathlon bike can be a great idea. Triathlon bikes are built with specific geometry to give you a posture allowing for a more direct transfer of power to the cranks, and puts you in a position that will leave you with a little more gas in the tank for the run. You will most notice the power difference of a tri bike when cycling hard down a straightaway. The power transfer to your cranks can be pretty exhilarating.
We do recommend investing in one or the other — a triathlon bike or a nice road bike — instead of splitting the difference on two mediocre bikes. Having a go-to bike that you can get to really well, become comfortable with, and gradually upgrade the componentry on will make you a better cyclist over time. We even like putting that bike on an indoor bike trainer in the winter so you get good work on the very bike you will be racing on. Riding the same bike year-round will give you a great feel for the bike and make it very responsive for you over time.
Of course, if you have the budget, having both a nice tri bike and a nice road bike are nice to have, but we know it comes at a cost.
What to Look for in a Triathlon Bike
There are a few things I recommend you look for in your triathlon bike, regardless of your budget. Triathlon bikes come in all shapes and sizes, and all price points. At the entry level, here are a few things we suggest you focus on to make sure you are getting the most value for your money.
Fit
Every good bike advisor will tell you that getting the right fit is the single most important factor in if you will enjoy your bike. The fit should be one that feels comfortable, but also allows you to transfer max power to the pedals. A high-end bike that stretches you out a bit too much, for example, will not ride nearly as well as a lesser bike that fits you. Note that different brands have different angles and builds, so a 56cm bike in one brand is not always identical to the same size in another brand.
The bottom line: Do not compromise on fit.
Frame
One of the biggest determinants of triathlon bike pricing is the frame materials. It is not as easy as saying "this one is the best", it really depends on how you plan to ride.
Carbon Fiber costs more than Aluminum, which costs more than Steel. You really won't see many steel bikes on the market anymore, so let's rule those out for purposes of triathlon training. As you look at frame options, know that carbon is going to be the lightest of the entry-level price point frames, and it typically provides the best overall ride on the road. It can be a very responsive frame on hills and accelerations, and is in some ways the standard out there today. The downfall is that it can be easily damaged, and the damage is not always visible which can create safety issues.
Aluminum is by no means going away. People like the durability of aluminum, and the fact that it is less expensive. If a manufacturer makes a bike with an aluminum frame, it often means that they had more money left over to put better components on it, all while staying within their target MSRP. In some ways, you get get more bike for the money, although it is likely going to be a little bumpier riding down a rough road. You won't see many steel-framed bikes on the triathlon market, save for some very old used models.
Titanium is also a growing type of frame, but typically not as the entry-level price point. In general, try to get the highest-end frame that you can afford, because you can always update components over the years. Why? Because the better the frame, the a) lighter it will be, and b) the more your effort will go directly to powering the bike versus "fighting the bike." At the entry-level tri bike price point, you are probably going to be looking mainly at aluminum frames, as well as aluminum frames with some (but not many) carbon fiber pieces. Do not assume that the aluminum frames are inferior. For a $2,000 bike, some manufacturers will give you their best work in aluminum, but have to find ways to cut costs on their carbon frames. They really can't afford to go all-out on carbon until you get way up in price.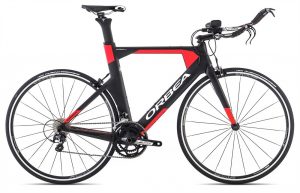 Components
What are components? Simply put, all the small pieces that allow you to shift and pedal your bike. Getting the best components you can is a nice bonus, but at the entry-level you are probably going to be dealing with midrange components. This is fine, because components are easy to upgrade when you have the need and/or budget. Bike saddles are a great example of something that can be swapped out to your liking, regardless of which frame you go with.
Shimano has a pretty good lock on many components, but you will see other good ones such as SRAM, Campagnalo, Bontrager as well. As of this writing in 2017, the Shimano hierarchy, from highest-end to lowest, is Dura-Ace, Ultegra, 105, Tiagra, Sora, and Claris. New tri bikes are typically going to be using 105 and up. Don't worry about things like pedals for now — you can always buy them afterward and make sure you get the cycling shoe – pedal system that you prefer regardless of the bike. Most cycling junkies will tell you to spend your money on the moving components — anything that spins. That means that your money should go into the wheels, cranks, chainrings, etc.
Upgrading the braking and shifting system can come later, and is relatively easy to do. (the one major exception being disc brakes — you really can't add disc brakes to a bike built with caliper brakes, so consider that when purchasing). You can also make upgrades to the bikes parts that come in contact with you — the saddle, pedals, bars, etc. This is often a good thing to do later so you can tailor the bike exactly how you want.
An important component to pay attention to is the gearing. The number of teeth that your front chainrings (there are usually two) have, as well as your rear cassette, will be a major factor in how you perform on your bike. There is no right answer, it is personal preference. But you will probably find yourself needing different gears if you normally ride fast on long flats versus if you live an train in a hilly or mountainous region, for example.
Condition
A moot point if you are buying new, but important if you are buying a used bike. There are a few "never events" you need in a bike, the biggest one being frame issues. Do not buy anything that has a bent, corroded, or cracked frame. After that, make sure that the components are in good working condition, such as the brakes, shifters, rims, and cables.
It can be really hard to detect a crack in the frame, so spend some time examining the frame. I like to do it running a finger around the frame feeling for a fracture, and then taking a flashlight to it up close to look for any cracks. Yes, it might seem like overkill, but a cracked frame is a big deal.
When it comes to replaceable parts, know that you can easily replace tires and seat, so if those are not in perfect shape, don't sweat it, especially if it means you are getting a deal on the bike.
The Best Entry Level Triathlon Bikes
There are lots of great triathlon bikes on the market, and it is hard to narrow it down to just a few. The fact is that one person will sit on a bike and love it, and another person won't quite feel right on the exact same bike. While there is no substitute for riding the bike and making sure it feels great, here are three entry-level triathlon bikes that we have personally used and would recommend.
Felt B Performance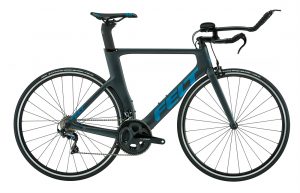 We love the Felt B-series. In fact, the writers at Complete Tri have probably raced a cumulative 30 races on them. They are just good bikes for the money. Without knowing your situation, we would probably recommend this as the top choice if asked.
While Felt used to make an entire lineup of sub-$1,500 triathlon bikes, but those days are gone. Now, the entry-level start of the show is the B Performance, replacing the B Series — B2, B16, etc., that has been a big part of Felt's lineup for years. The B Performance now covers that entire price point, moving you a little above the $2,000 range. Yes, we hesitate to recommend an "entry-level" bike that is over $2K, but you know – inflation.
The B might be the best value in a carbon fiber bike on the market. Combining a very nice UHC carbon fiber frame (all internal cabling, as well) with an Ultegra drivetrain, Devox rims, stem, and aerobars, and a position that reminds us of capable tri bikes of old rather than the space-age look that is so common now. Our experience is that you don't need to do any upgrades once you get this bike, but you might choose to, and you won't be over-improving it if you do. We love the Felts, and this level Felt tri bike has always been reliable. Our writers have ridden thousands of miles on Felts and swear by them. Find the B Performance here.
Cervelo P Series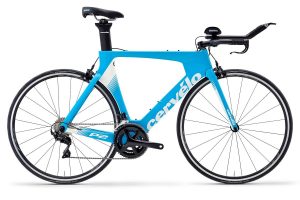 You can't have a triathlon bike "best of" list without including a Cervelo triathlon bike. The brand has been cranking out fast bikes for decades, and we have always associated Cervelo with speed. We hesitate to include a bike on the "entry level" list that creeps up into the upper $2,000s, but that is what the bike market has become. It might seem like a lot of money, but for a vessel you will ride dozens of times each year, it is worth spending some money.
You are probably sensing a theme here: Bike manufacturers have made their entry-level price points on Tri bikes pretty spendy. Think about it this way — this is the bike you will train on, race on, and put on the smart trainer in the winter.
The P series gives you a great, advanced bike that you will probably find yourself riding well into your triathlon "career", even as you improve. A nice, stiff carbon frame and 105 componentry complement Cervelo's design. The newer models all have disc brakes, as you should expect from any bike in this price range. We like the prices on the P-Series from Competitive Cyclist right now.
Giant Trinity Advanced
Giant is a large-scale bike maker, unlike the more focused production of Felt, Orbea, and Quintana Roo. Some people associate this with a more mass-produced, cookie-cutter bike, but we have never found that to be the case with Giants — we have loved their products for 30 years. Their bikes are generally high quality but not necessarily built for the gear-junkie crowd. But we really like their Trinity Advanced model for the money. This full-fledged tri bike gives you a composite frame and fork, Shimano 105 components, and good tires and rims for the money. If you need something in the $1,900 to $2,000 range, this is worth considering.
It is worth noting that the newest lineup of the Trinity Advanced is a price tag north of $3,000 with all the bells and whistles, and higher-end components. More entry-level models are still on the market, though. We recommend heading over to the Pro's Closet to check their inventory of late-model Trinity bikes. We would not hesitate to jump all over a Trinity from the past 3-4 years. You will get a very good bike, assuming it has been kept up well.
Orbea Ordu M-Series
Orbea is a legendary Spanish bike maker, a company who has been making cycles since the 1930s. They got into the triathlon bike market with the rest of the wave, and have been cranking out good bikes ever since. Several world champions from the past decade have ridden Orcas.
Today's M30 is more of a road bike, but historically these were great tri bikes, with many, many M30 triathlon models still in their prime riding years.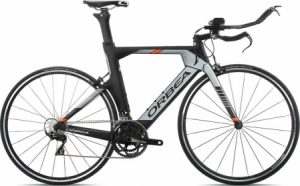 The M30 has been good triathlon frame with plenty of carbon fiber components, a full carbon frame, and 105 components like the Felts. Features like a wider bottom bracket and aero forks give it the touches of a high-end bike. At a price tag of about $2,300, it eclipses what we would like to have as our $2,000 cutoff for entry-level, but those are becoming harder and harder to come by. We had no problem including the M30 on a list of bikes any triathlete should consider. If you want to save a few dollars, you can always go with its cousin, the Orbea M30 — a quality road bike for under $2,000. It is worth checking the used inventory as well — these Orbeas tend to pop up quite often.
Felt B2
This is a discontinued bike, but because bikes tend to float around the market for 2-3 years after production as carryovers, we wanted to include it. If you can find it, it would be found at a discount because it would no doubt be used. Because we want to cater this article to beginners, we wanted to include at least one bike that might be a steal on Craiglist or Facebook.
We love the Felt triathlon bike lineup, and the B2 was long considered a great step-up option that gave you a lightweight and responsive ride. Occasionally we feature a bike that can be hard to find, and the B2 unfortunately is not as easy to locate as it once was. You are going to get a relatively light carbon framed bike with carbon fiber components throughout such as the fork blades. Felt puts Shimano 105 components on the bike, so you will be a step up from the Ultegra components that you often find on entry-level options. While the list price on this bike has gone up in recent years to $1,399, you can often find it on sale at your local bike shop, or you can see if a used one pops up online at our partner's site. We think the Felt B2 is one of the all-time great time-trial bikes.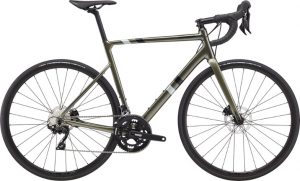 Another option – Used Tri Bike
Another way to get into a triathlon-ready bike is by going with a road bike that has an aggressive, race position. These aggressive bikes will not be the endurance bikes that end to be more upright, but rather that flatter-geometry bikes that put you in the drop bars at an angle that is nearly that of the tri bikes. You will get closer to the aerodynamics of the tri bike, but you will not get the more forward geometry that is designed to help with your transition. If you go this route, we like the beautiful Cannondale CAAD13 series, which gives you a carbon frame and disc brakes but keeps you around the $2,000 price point. You can take a look at it here.
If you only have the money to put toward one bike, it is worth considering a good road bike that can double as your race bike.
Should you Buy a New or Used Tri Bike?
An age-old question for entry-level triathletes is if they should buy new or used. Unlike buying a wetsuit, where a used one will most likely be torn, scratched, scuffed, dated, and maybe a little smelly, a used bicycle can still be a really, really good bike. Craigslist and Ebay can be places to get what was a $1,200 bike for half that, or less. We would advise anyone considering a used bike that if it gets to you a better frame – in other words, if, say, $600 gets you a 3-year old carbon fiber instead of a new aluminum — it might be worth it.
We would be hesitant to buy a bike more than five years old, just because you would be forgoing recently technology and materials advances. Just inspect the bike closely, and on a carbon fiber frame look for cracks. Cracks on carbon fiber are the one thing that is very difficult to repair well. Most cracks will be around places where bolts and joints exist – because most carbon fiber cracks come from someone cranking a bolt on too tight.
If you are spending a bunch of money on a used bike, there is nothing wrong with taking it to a bike shop for a once-over before you close the deal. Some wear on the components will be normal, but you just want to be sure you don't end up with a defective frame. If you buy on Ebay, make sure you have a chance to reject the deal if you receive the bike and aren't happy with it. Also, always ask the seller to have the bike professional dis-assembled, boxed, and shipped (in a bike box). Once received, paying a little extra to bring the box right in to a bike shop and have it professionally assembled is a small price to pay to get it done right.
As noted a couple times above, we also like the Pro's Closet for used bikes. It is much more full-service than buying from an Ebay seller — you are buying from a real bike shop, and all of their inventory has been inspected by bike mechanics. It is like buying a certified, pre-owned car. And yes, they ship.
The advantages of buying a new bike, on the other hand, are several. Perhaps one of the biggest benefits, especially if you buy from a local bike shop, is that you can bring it back in for adjustments a few times within the first few months of ownership. With a new bike, you also know that there is virtually zero chance of a hairline crack in the frame, something that is very hard to detect but can compromise the performance and longevity of a used bike. The other obvious advantage of a new bike is that you are going to have the latest in engineering and componentry, and it should make you satisfied for a longer period of time before you feel the need to upgrade your bike. You might ride it for many years.
Other Triathlon Bike Equipment
Getting the right bike is not the only thing to think about picking up for the bike leg of your racing. There are a few other things we highly recommend:
Be sure to get a professional bike fitting, ideally within the first month of riding. You can also do a fitting before you do any rides, with a follow-up visit or two. A good fitting takes some time — an hour or more — and will often involve changing some components to get everything just right. It is time and money well spent, both for maximizing your performance, but maybe even more importantly, your comfort.
You might also want to get your fitting before you invest in a bike, so you know exactly the size bike you should be looking for. A good, high-end bike fitter will have a "fitting bike" where they can tell you the exact dimensions you need even before you bring a bike in. Then, you can be armed with great information as you search for the right bike.
You need to be able to improve your body's bike motor, so invest in some training resources. Make sure to invest in some good training plans, to help maximize your bike power even in the winter months before you can ride outside
Indoor bike trainers have become a staple of our training year. A bike trainer or spinner will allow you to cycle indoors on the actual bike frame you plan to use. Do this a couple times each week, and you will consistently gain power and speed
If you want to get precise in your training, consider using a power meter. A power meter can attach to your pedal, crank arm, chain ring, or hub and can give you detailed statistics on your power. It an be an incredible training tool if you have the budget for it, and we did an entire review and buying guide on the power meter market.
Don't forget about the all-important tires. Choosing the right bike tire will help make sure you are finding the perfect balance of speed, weight, durability, and price. We did a piece on our 3 favorite tri bike tires, and we also published our guide on who to choose between a clincher vs. tubular tire. Both articles will help you learn more about the finer points of your tri or road bike.

A question we often get on tires is whether to error on the side of performance or durability. We say durability. Saving a gram or two is nice, but not at the expense of having many more flats than you would have otherwise. Flats are a major hassle.
If you are getting in to road riding of any type, know how to road-fix a flat. It is a key skill.

Finally, carrying your new triathlon bike from one location to another is something that you don't want to skimp on. Look at the best bike carriers out there. Especially if you are dealing with a carbon fiber bike, improper handling or transport could damage the frame. Our favorite way to transport a bike is to lay in down in the back of our vehicle, after folding the seats down. You might not have that option, so you can consider a good hitch, roof, or trunk-based carrier. We profile all of them here, providing our recommendations as well as the merits of each style of carrier.
If you liked this article and are an entry-level triathlete, check out our other work on beginner triathlon wetsuits or our triathlon clothing guide.