Cycling power meters can help cyclists take their conditioning and speed to the next level. A good power meter might not be on the "basic needs" list for a beginner, but many intermediate and advanced cyclists and triathletes can benefit from one. Powermeters can be relatively easy to install, and used both with tri bikes and road bikes. For that matter, they can really be used with any bike, but most people who use them are trying to increase their training precision and crank up their speed.
You wouldn't lift weights without knowing how many pounds were on each dumb bell. The logic of power meters is the same — you can improve what you can measure.
Most cyclists and bikers are gear junkies, but power meters add another level of sophistication to bike gear. They can be a bit difficult to get your head around because of the fundamentally different options available for measuring power, but we will try to simplify it in our guide below.
First, we are going to get right to the point and share with you our favorite power meter models and setups for different situations. We are listing our favorite 4, from least expensive to most.
Best Bike Powermeters For 2023
Best Entry Bike Power Meter: Garmin Rally 200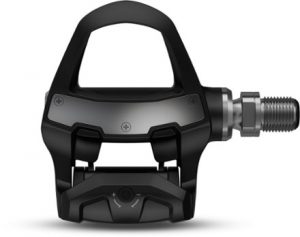 Here. We hesitate to choose a single power meter model as best, because every type of power meter has its own merits and it can be hard to compare one to the other. We describe how various power meters work below, but if you want the simplest possible design this is it. Garmin makes a pedal-based power meter that measures our watt output based purely on the force exerted on the pedals. Yeah – that is pretty incredible. While you might miss just a bit of the accuracy of a full-on power-measuring system, we have found that pedal-based power meters give you everything you need on performance, and some pretty incredible data as well. It is a high-tech product and our experience is that the readouts are going to be accurate.
We did a full Garmin Rally 200 pedal review.
Note that Garmin suggests this power measurement is accurate for riders up to 240 lbs. Above that, we are not exactly sure what happens, but they suggest it might not work as well.
An important factor to consider with the Rally 200 is the cleat type. This pedal is currently made in two pedal styles — the RS is the SDP-SL model, and the XC is the SPD model. You can get one-sided or dual-sided (meaning you can have just one pedal give you power readouts, or both). There is not reason to not go with the dual, other than the higher price.
We had good luck with the batteries, good for up to 120 hours per the manufacturer and we believe it based on our field tests. As for getting your readout of power, the most common method is probably going to be to add the Garmin software to your phone and logging it that way. For those who want an easy way to monitor power while on a ride, you may want to mount the head-unit on your bike, but the place to track your data from ride-to-ride is on your Garmin Connect, not your watch or computer.
The only issue we had was that the battery cover came off a couple times. We lost it once.
You can save money going with the Rally 100 pedals, but that is only single-sided so you get none of the pedal symmetry stats.
For $1,100, this is not cheap but if you have the budget, you will be astounded by the data provided. Of the choices you have, this is going to be by far the easiest and simplest to install. It is as easy as putting a new pedal on. Buy it direct from Garmin for the best deals and service.
Runner-Up Power Meter: Stages Crank Arm-Based Powermeters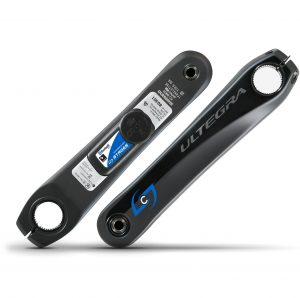 Also at the simple entry level, but in a different concept, is the stages line of power meters. We love these. Like the Garmin, they rely on making just a slight adjustment on one side of your power system. Unlike the Garmin, the Stages model does it through a modified crank.
The crank that you put on your bike is a carbon fiber, high-end crank that has a weight and material on par with the good Shimano and Campy products that come stock on your bike. They make models for mountain and road bikes – we are obviously focused more on road bikes (and triathlon bikes) in this review. The powermeter sits inside the left crank, and it is already fully installed and sealed inside. You don't need to do anything but put the crank on the bike (with a torque wrench — these are delicate materials).
The cons of a crank-based approach are that you are obviously messing with something — the crank length and design — that you might be completely comfortable with already. You really won't feel much of a difference if you swap out hubs (noted below), but you may feel a difference when you use new cranks. Still, these are very well-designed cranks, so for most people it will be a lateral move or even an upgrade.
The battery life is going to be significantly longer than the pedal model, at 200 hours or more. You can measure up to 2500 watts, which is more than enough for any cyclist on earth, same with the up-to 220 RPM tempo measurement. We love that the weight will only add about 18-20 grams to an otherwise 170-200 gram setup, hardly enough to even register. Note that it is designed to only go on one of your cranks (usually the left) so your reading will be from that side only. For most cyclists, that shouldn't be an issue.
The Stages Crank Arm-based meter comes in both Ultegra and Dura-Ace models, to help you make it compatible with your bike.
The only things holding us back from making this our top choice are that 1) as of our latest research, in order to have a mounted readout you need to buy one of Stages' digital head unit (for about $300) and 2) that it is a little more complicated to install a new crank vs. simply installing a new pedal. Still, we would have no problem at all recommending this product or using it on our own bike. For people who are even remotely handy with bike mechanics, installation will be a breeze. Buy directly from the manufacturer, here.
Best If You Are in the Market for New Wheels: Power Meter Carbon Wheel with Built-In Powertap Hub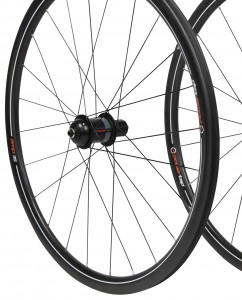 Find Here on Amazon. While the trend in recent years has definitely been away from wheel-baed powermeters, if you are in the market for a new hub or bike wheel, the right option might be to forego the add-on components all together and just get new wheels. The wheels from Powertap are made by makers like Shimano, and built with the lightweight quality that you would get in most other wheels you might use.
The difference with Powertaps wheels is – you guessed it – they have a real hub-based power meter built in. That means that the wheel will measure your power output with no additional parts needed. This can be a great option if you were considering upgrading wheels, because the cost of the Powertap wheels with the built-in meter hub is not that much more than getting a power meter itself, when you balance everything out.
Granted, this option is not as good for people who switch out their wheels often. We know people who have one set for training, one for racing, and still another for the indoor bike trainer. It is much more of a pain to put near tires on your rim than it is to just swap out rims with the tires already on it. For people who have a go-to wheel that just stays on their bike, though, this option is a great "set it and forget it" approach.
Performance of the wheels is good, and measurement is highly consistent from the meter. The model we recommend is the G3, a nice, lightweight wheel that will run you just under $2,000 if you are looking for a full set, or about $1,200 if you only want the rear wheel.
Powertap has been at this for a while, so they know what they are doing. While they originally cut their teeth with the new rear hubs – an add-on part which they still sell – we think that the pedal-or-crank based products above are easier to install. However, if you want to go with an entire wheel, then using a product like the G3 really is a breeze.
Best if you just need a hub (no full wheelset)
The Powertap setup that we discussed just above is actually as a hub-only option as well. Powertap has done a very nice job with their newest G3 hub, which is compatible with mountain, road, tri, and gravel bikes, making it very interchangeable for those who want to monitor their power on a number different bikes. Swapping them out frequently takes a little time and know-how, but is not terribly difficult if you have the skill and tools.
In the olden days (like two years ago), you had to have a different Powertap hub for your mountain or road bikes, but Saris thankfully changed the design and solved that problem.
If you are just looking for the hub, with no wheel, it is also available here on Amazon.
Best if you Want to be Top-of-the-Line: SRAM Powermeter
If you want to step all the way up to an integrated crank / crankset meter, the SRAM (aka SRM — same company) is really the gold standard in the market and has been for a while — they started making power meters in 1986!. There was a day when the reason you would buy an SRM was because you wanted a meter that you knew would be entirely accurate. Nowadays, with the accuracy of pedal and especially crank-based power meters, that is no longer the case.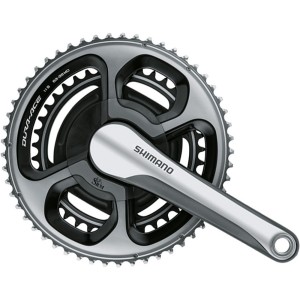 Today, we find many people who feel the need for an SRAM feel that the pedal-or-crank-based system would not be compatible with their components, so they decide to update the entire crankset. Still, we like that there is no doubting the accuracy – this is really about as dialed-in as you can get on your power. It has been truly time-tested, and if you look at what many of the pros are using, they are going with the full chainring-based SRM product.
These power meters are not cheap. They used to run over $2,000… but often can now be found for under $1,500. For the right cyclist, the expense is worth it, as there is a ton of engineering that goes into them. If you are already riding a $5,000 bike, another couple thousand to dial your training in just right might not seem like that much.
We like the SRAM Red AXS model, the lightest power meter of its kind that the company has made to-date. With a 12-speed compatible chainring – it provides for comparable quality to the stock gear on even the highest-end bikes. The drill is that you choose the chainring you want (which has the power meter built in) and then size it accordingly to the intended chainring for your particular bike. They make models for both road/tri bikes as well as mountain bikes.
As for electronics, you can pair the SRM Power Meter with pretty much any newer-generation workout tracking device, including the latest products from Garmin. If you want to mount an easy-to-read readout on your bike, SRM offers several of their "Powercontrol" displays, but they run over $300 and SRM is clear that you do not have to use them. This gives you the ability to monitor your power during your ride on a watch or computer, or after-the-fact on various apps.
You can find the SRAM here, and while you might spend a pretty penny on it, you won't be disappointed. Enjoy measuring your power to within 1.5% of exact, even under the harshest and most varied road conditions.
Types of Bike Power Meters
When you first look at the market for power meters, it is easiest for your head to spin even if you are an experienced cyclist or triathletes. Which parts do I need? Do you use a crank with a pedal? What about the hub? How do I actually see my power? So many questions, and we can't blame you.
Unlike most bike products where you just compare the same part, powermeters are a different animal. When you are looking for a saddle, you choose between Saddle A, Saddle B, and Saddle C. Pretty simple.
In the world of power meters, it is much more of an "either, or, or" formula. The main thing is to find a power meter that you can use, and stick with. Being able to see a consistent trend of your power over time is the best way to measure your fitness, short of doing regular VO2 max tests. Here are the basic power meter types you will see on the market:
Chainring-and-Crankset. This is the original form of Power meter, and the one featured by SRM that we recommend above. Using this type of power meter means that you replace whatever you are using as your chainring and crankset (including cranks) with this product, which will then measure your power. These tend to be highly-accurate, and are a permanent fixture on your bike so will measure the same regardless of your wheels or pedals. They obviously require an involved installation.
Hub-based. This type of powermeter means that the power will be measured through the hub of your rear wheel. You can buy a hub all by itself, or as part of a broader wheelset for your bike. They are made to be compatible with most of the popular wheels on the market. The pros are that they tend to stay quite true from ride to ride. The con is that they are difficult to swap from bike-to-bike once installed, unless you are a pretty good bike mechanic.
Crank Arm-based. A crank-based power meter is a simple addition to your bike. All you do is put a new crank arm (the shaft between the chainring/crankset and the pedal) on one side of your bike, and it will measure the power. Simple, easy, and works regardless of the wheel or other parts on your bike. These are typically less expensive than a chainring/crankset system, but because they sit close to the powertrain center of your bike, crank-based powermeters tend to be quite accurate.
Pedal-based. The pedal-based systems made by most major manufacturers today, and like the Garmin Rally recommend above, are perhaps the easiest to install and use. It is truly as simple as adding a new pedal to your bike. Many of us swap out pedals on occasion anyway, and it only takes a minute or two. These, along with the crank arm-based systems above, have played a big part in dropping the price of power meters and moving them from being an advanced cyclist product to one that can be used by intermediates as well. The fact that they are so interchangeable from bike to bike makes them the easiest meter to install. Pedal-based power meters are our top choice for most people.
Smart Trainer-based. An option that not everyone thinks about when it comes to measuring power is the smart trainer. Here is the logic: If your main goal is to measure power while biking indoors, doing precise interval workouts on your trainer, then just invest in a smart trainer. Today's smart trainers are highly precise when it comes to measuring your power, and this method does not involve installing any new equipment on your bike. For those of you who just want to ride hard when you ride outside, but get precise when riding inside, consider the smart trainer route.
Power Meter Displays, Readouts, Statistics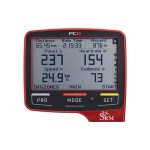 Getting the power meter installed on your bike – be it any of the types listed above, is only part of the equation. The next part is having a way to receive and read the data. There are a few ways to do that, and more and more they are Bluetooth-enabled. This is the huge advantage of buying a new powermeter vs. a used one. The older models required wires that are now all but obsolete.
There are a few ways to get your data once you install a power meter:
Buy a compatible monitor for your bike. There was a day when the only way to read your power statistics was to buy the monitor from however made your power meter. This often ran another $200+. That is still an option, and we like that these monitors are built-for-purpose and provide a nice, big clear readout. It is safer to glance at a big number while you are riding than try to find the stats on your smaller watch. New bike computers have come a long way in just a couple years, and have incredible functionality and displays.
Use a compatible device, already on your bike. As long as the device on your bike (if you have one) is relatively new and bluetooth enabled, there is a very good chance you will be able to sync the powermeter to the same device you use to track your speed, mileage, and time.
Use your watch. If you are like many triathletes, you use an all-purpose triathlon watch suitable for running, cycling, and maybe even swimming. If the watch is new enough – like the many of the Garmin Forerunner models – you can download your power stats to the watch, and log the workout with your other garmin data.
Other Things to Consider in Your Power Meter
We've covered a lot of ground, but there are a few other things to keep in mind with your power meter. Some of these are summarizing key points we've already made, but they bear repeating.
Ease of installation. Be sure that the power meter you choose is one that you can install yourself and work with, or if you need it professional installed (like a hub or chainring-based system) have it installed professionally so your bike is safe to ride.
Battery life. Power meters today, with their Bluetooth technology, require some battery life. Most of these batteries will last you for an entire season or longer, but some will not. Be sure that the battery life meets your needs, and that replacing a battery is not terribly complicated.
For most bikes, today's power meters have thought of everything including how to co-exist with your already high-end bike. However, it is worth doing a little research to be sure that the device is a good fit for your bike and its components.
As with any bike components, cost is always going to be a factor. It is less a matter of the absolute cost, but rather more of a discussion about the tradeoffs of one product at one price versus another.
For many cyclists, interchangability might be a factor. If you really want to use the powermeter on more than one bike, it is much easier to change, say, a pedal-based meter than a hub-based one.
Finally, if you are only planning to use a power meter indoors why cycling on a trainer, consider opting for a smart bike trainer setup instead. They all have some form of power meter built-in, most with an accuracy rate within 1-2% of actual power. A great way to manage your workouts while indoors.
Bike Power Meter FAQs
We get lots of questions about power meters, just because they are a big investment for most people and buyers typically are careful to be sure they buy the right one. Here are a few of the ones we see over and over.
Is it worth it to add a power meter to your bike?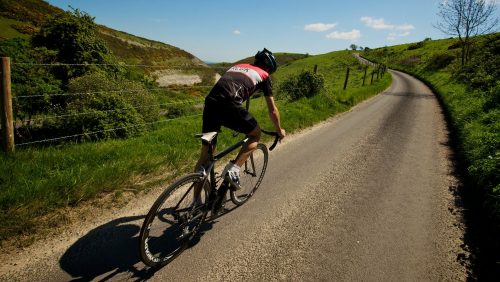 We sure think so. One of the most important things you can do to get to the next level of performance is to add precision to your training. That is easy to do if you are working out indoors with a stationary bike, or on a smart trainer, but a little harder to do when you are riding outside.
Given the studies that show how important interval training and VO2 max focused-training is, there is not substitute for knowing your exact wattage while you ride. The only real way to do that is with a power meter.
How accurate are bike power meters?
They are quite accurate, but the real test is usually how responsive they are to tracking your power as you increase or decrease. Once you are stable, today's power meters tend to track quite well.
Most of the meters above are shown to track to within 1.5% of actual power. Compare that with the big-flywheel Saris H3 smart trainer at 2% or the Tacx Flux 2 at 2.5%. In most respects, a power meter is considered the best way for a non-professional bike rider to track power…. unless you happen to own a laboratory.
Is a power meter compatible with a triathlon watch or app, like a Garmin or Polar?
As long as you are buying recent models of both the power meter and the watches, more often than not they are going to work together. It might require some setup time, but where you get in to trouble is if you try to pair an old meter with a new watch or vice versa. As always, though, look at the specs for the model you are considering if ever in doubt. It is usually clear in the specifications.
Are the crank-based power meters compatible with all different cranksets and groupsets?
No. You need to be careful to get a crank-based power meter that is compatible with your other components. Generally speaking, the Shimano components tend to be the most compatible with crank-based power meters, but look at the specs on your product before you buy.
Does a power meter add bulk and weight to my bike?
No. A long time ago, a power meter would have perhaps added some gadgetry to your bike that would make you think twice about using one. Today, however, power meters are made to blend right in to the components of the bike itself. Everything we have listed above is a very seamless and nearly un-noticeable (once you install it) addition to your bike.
Can you use any cleat with the pedal-based power meter?
No. For the Garmin that we recommend, a Look cleat works best. Look is one of the go-to cleat systems for cyclists, so it should not pose an issue. The good news is that Garmin includes cleats with the pedals.
Are these power meters compatible with Strava?
Yes, they all are. In fact, Strava does a good job of integrating with most power meters, assuming the meter is not ancient.
Conclusion
Do you have to have a power meter in order to pursue a cycling hobby, or train for a triathlon? Not at all. But our experience is that incorporating a power meter into your bike training, if you are up for the investment, can pay major dividends. At worst, it will help make your training much more precise in the way that a good triathlon watch will. If you take full advantage of a power meter, though, you will most definitely see your bike speeds and times improve from where they would have been without one.