We took a look at all of the car bike carriers on the market, can the best products quickly became pretty apparent.  Which bike rack you can use gets a little complicated, though, because the car you drive will impact the rack you can use.
When you want to transport your bike, you are going to have three choices:  Either disassemble part of the bike, and fold down seats in our car to make room for it, stick it in your SUV or truck if you are lucky enough to own one, or throw the bike(s) on a bike carrier or rack.  Since a bike (when it's not used as its own transportation) is not the most compact and portable object, a bike carrier or rack is something that nearly every cyclist will look to invest in at some point.
We will share a bit about the criteria you can use to choose a bike rack, followed by our favorite bike carriers in each category.
Our Recommended Car Bike Rack (based on personal experience)
Let's cut to the chase.  If have a vehicle hitch to accommodate it (and the budget for it) — the best option is a hitch-mounted bike rack that holds the bikes using fixed wheel mounts.  The Thule T2 Series (here on Amazon) is probably the best example of that.  If your vehicle cannot accommodate a hitch-based carrier, then the Saris Bones 2 is a good trunk-based rack (here).
If you are serious about biking, go with the hitch-based option.  It is much more secure on long drives.  It may require putting an aftermarket hitch receiver on your vehicle.
If some of these terms are foreign to you, read on, because we explain it all.
| Bike Rack / Carrier | Style | Best For | Our Rating | Check Price |
| --- | --- | --- | --- | --- |
| Thule T2 XT Pro | Hitch-mount | Anyone with a good hitch receiver looking for the top-of-the-line rack. Fixed wheel mounts for the bike. | Top Choice Overall. Excellent. | Find Here |
| Rockymounts Backstage 2 | Hitch-mount | Hitch-rack shoppers looking for full trunk access while mounted | Excellent | Find Here |
| Yakima Highroad | Roof-mount | Shoppers needing a plug-and-play, high-end roof rack | Excellent | Find Here |
| Thule ProRide XT | Roof-mount | Someone needing a mid-priced roof rack | Very Good | Find Here |
| Allen Deluxe 2 | Trunk-mount | Budget shoppers who need a decent rack | Good | Find Here |
| Saris Bones 2 | Trunk-mount | Someone looking for the best trunk or hatch-based rack | Good. If you can only use a trunk-mounted rack, it's the best one. | Find Here |
What should you look for in a bike rack?
Bike racks can be added to any kind of vehicle, so it doesn't matter if you own a sports cart or a large truck, you'll find one to fit your needs.  Some fit certain models better than others.  Most of them are attached to the trunk door, to the trailer hitch or to the back of the car, but some models can be installed and secured on the rooftop or in the rear cabin of a pick-up truck.  We will take a look at all types.
Most bike racks come in various sizes that can carry anywhere from 2-4 bikes.  However, if you max out the capacity of the rack, you will really be wedging your bikes together.  If you want to comfortably carry, say, 2 bikes, we suggest investing in a carrier meant for 3-4 bikes.  That way, you won't run the risk of a steel component digging into the carbon frame of the bike next to it, or other similar issues.
We think the most important things to consider when you look at bike racks are:
Durability.  A flimsy bike rack will end up in the trash heap soon, and you will have wasted your money.  Buy a carrier that is made of quality construction, has welds instead of screws, and is firm when you grip it.
Size.  Get a bike rack that suits the number of bikes you will haul.  Like we mention above, our experience is that if you want to comfortably and safely care 2 bikes, you may need a 3-4 bike carrier.
Firm Point of Contact.  Be sure that the carrier attaches to your vehicle in a way that is firm and stable.  The last thing you want is a trunk carrier that moves around and leaves marks on your car, or a hitch-based rack that wobbles from side-to-side, swaying your bikes with it.  If you are getting a hitch-mounted rack, be sure it uses a threaded bolt to attach to your hitch.
Convenience.  Does the rack have the convenience features you are will to spend money on — such as an easy swing-out option, a one-hand fold-up option, or simple and quick ways to mount the bike?
Flexibility.  At the same time, you want your rack to be one that can fold up into a compact unit when in storage, and if you go the route of a hitch rack, it is nice to have the ability for the carrier to either fold down or swing to the side when mounted, so you can still access the trunk or hatch of the vehicle.
Compatibility with your vehicle.  This one should be obvious, but if you are getting a hitch-based rack, be sure your car has a hitch receiver that will fit it.  If you are getting a trunk-based rack, make sure the design will work on your style of vehicle.
Locking Ability.  Having a bike rack that can creating a locking mechanism for your bike will add to security, for those times when you might have to pull off the road and grab lunch, or part outside someone's home for a couple hours.  If you buy a rack without a lock, we recommend at least using a cable lock while the car is parked.
A Reliable Manufacturer.  We are not brand snobs, but we do like to know that the company making our gear has been in business for a while.  Because of the flood of cycling-related gear made sight-unseen in China and then sold on Amazon, we like to stick with some tried-and-true brands like Thule and Yakima.
Stability.  You might want to consider wheel stabilizer straps (here on Amazon) for a carrier that doesn't mount on your wheels.  When a bike is hanging from a hitch or trunk rack, the wheels can spin excessively while you are driving, which is a bit unsettling and probably causes unnecessary wear.
Hitch bike racks
Why a hitch rack?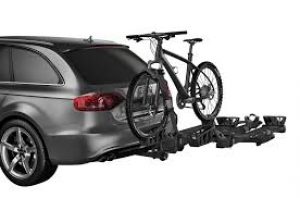 Hitch racks are great because they put the bike in a vary secure space, mounted to your car's hitch and not rubbing on the hatch or drunk.  They tend to be heavy, which means they are a little harder to attach, but once on are quite stable.  Be sure to buy a rack compatible with your vehicle's hitch size.  There are mainly 2 in the US — either 2 inch (usually standard on trucks and mid/large SUVs) and 1 1/4 (more common on cars and smaller SUVs).
The 2 inch hitch receiver is preferred when it comes to bike racks, if you have the choice.  It provides more options for carrying your bike.
A hitch rack will often offer the largest carrying capacity of any rack option. This gives you enough room to haul multiple bikes, fatter bikes, or even add a collapsed-down bike trailer to the rack if secured well.
A big selling point of a hitch-mounted rack — one that has the bike attached to the rack at the wheel — is that it is probably the most universal of all the racks. You don't have to worry about the bike having a weirdly-shaped frame, or being too small or big.  It is the same way that transit buses allow riders to mount bikes, because they need to be able to accommodate anything.
We highly recommend that your hitch-mount bike rack has threaded bolts to connect at the receiver, instead of just an unthreaded pin.  In simple terms, this means that you want the big bolt that you stick through the hole on your rack and hitch to be more like a screw than just a bolt.  This makes a huge difference in terms of keeping your bikes stable while driving.  Both recommended models below have a threaded bolt.
If you don't have a hitch on your vehicle – which is often the case – you can usually have an aftermarket hitch installed at a shop such as a Uhaul dealer in just a couple hours.  We find that you will find other uses for your hitch, so it isn't a bad idea to get one installed.
While we are at it, we really prefer the style of racks where you can set your bike on a tray and lock it in, over the type where you bike hangs from the rack with your wheels suspended.  They are far superior, and the only kind we recommend below.
Thule T2 Pro XT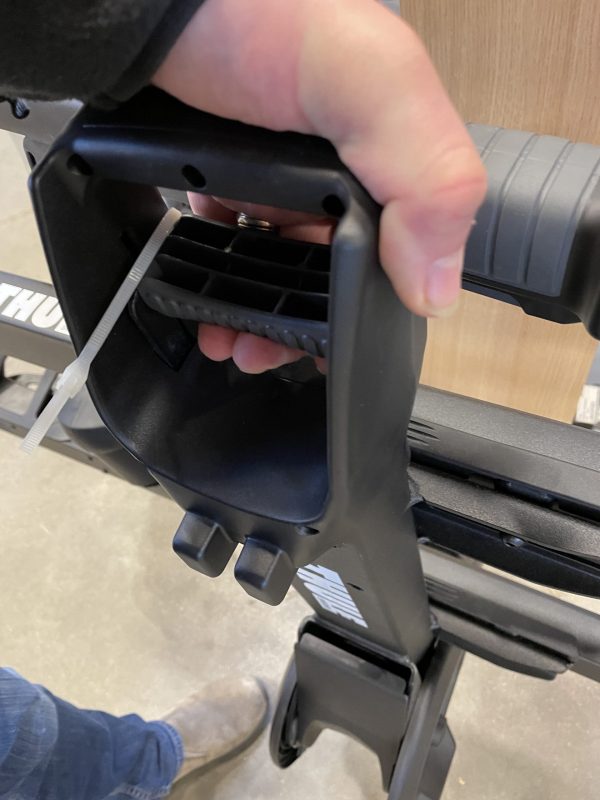 The Thule T2 lineup is our favorite hitch-mount, wheel-mount rack on the market. It's built well, and is easy to use. After just a minute of playing around with it, we had pretty much figured out how to use it.
We love that it gives enough breathing room so that it can truly haul two bikes comfortably, instead of jamming
them together.  It is available for both 1.25 inch or 2 inch hitches.  This model allows you to quickly secure your bikes, without frame contact with the frame-free ratcheting arm. Weighing in at about 60 lbs, it is not terribly light to move around and install, but that weight is evident once it is mounted as it will give your bikes a solid ride.  This bike rack is designed to easily fold when it's not in use, in order to provide access to the trunk. It includes a tool-free AutoAttach system to easily install and remove. It is made to hold bikes with wider tires, like fat tire bikes, in addition to road or tri bikes.  It's also possible to increase its capacity from 2 to up to 4 bikes.
We actually did a deep-dive on the Thule T2 lineup.  Check out our Thule T2 and T2 Pro XT review if you want to get a little more detail from one of our writers who has used both models.
We have been fans of the Thule brand for over a decade, and have no reservations recommending their products, including the T2.  Thule, after all, has been around since 1942, and the Swedes tend to be very good with anything design-related. We wish it was a little lighter for handling and storing, but it is worth it to know that your bikes are stable once mounted.
The Thule T2 Series is often compared to the Yakima Hold-Up or similar rack.  We like the Thule more because it is just a little more intuitive to use and feels a little more solid on the car.
If  you have the budget, we think this is the top-of-the-line for bike racks.
Backstage 2 by RockyMounts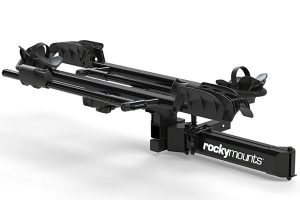 The RockyMounts Backstage 2 is the first model to provide access to the trunk for cargo and tilts away a full 180 degrees when the bikes are still loaded. It's designed to hold your bikes with no frame contact.  The Backstage 2 has an extremely sturdy platform that will hold perfectly, and we have tested it in many different conditions. It comes with a two-spot capacity, with an upgrade to a four-spot, and it's one of our preferred models in the market due to its quality-price proportion.  You upgrade by adding an extension, which is pretty easy to do.
Like the Thule T2, it weights a little more than 60 lbs so is not light to move around, install, and store.  But once you either get the system down, or find a partner to help for just a minute, it will mount securely and give your bikes a quality ride.  It has the threaded hitch bolt that we look for as well, making it a more secure install when on your hitch.  They call it their "anti-wobble" technology.
The RockyMounts Backstage 2 is a secure option for your bike rack, and many like that it sits a little lower so you don't have to worry — as much — about going into parking garages and the like.
Find Backstage 2 Here (on Amazon)
Roof bike racks and carriers

Why a roof rack?
Sometimes, the best place to carry something is on top of your vehicle.  This can be a great option if your hitch is already used by other things (trailer, camper) or if you don't want to install one.  A roof rack can also be an excellent choice for people who will need easy and regular access to the back of their car, and don't want to have a bike or bike rack in the way.  We also like that a bike on top of your vehicle is going to pick up less road grime / dirt / salt than one hanging off the back.
If you go this route, know two things.  First, your bike adds a good 3-4 feet to the top of your car…. you can't go under the low awnings or into parking garages like you used to.  We once saw someone smash two beautiful bikes as they entered a parking structure, because they forgot they had bikes on top.  Second, it takes more work to put a bike on top of your car than to just throw it on the back of your vehicle.
It may make sense to do some measuring and research to be sure that the roof rack dimensions will fit well with your vehicle. We have had great luck mounting the on everything from Toyotas to Suburus to Jeeps, but unlike a hitch rack, having the right dimensions could make the difference between compatibility or not.
Yakima Highroad Rooftop Bike Rack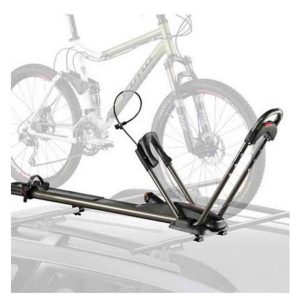 Yakima is one of the most trusted brands in this niche, and they make a couple great roof rack models: The Highroad, and the Front Loader.  We like the Highroad the best.  The Highroad model is made to transport any kind of bike, of any size. It's also one of the more stable roof racks we have used, because it provides a brace for the front wheel to wedge against. It holds the rear wheel while supporting the front wheel, without touching or putting any stress on the frame of the bike.  No wheel removal is needed.
Weighing in at 18 lbs, it doesn't put too much weigh on your roof, and many people like that you don't have to mess with your bike's axle and skewer in order to mount (like you do with the Thule which we feature next).
It may not be the most economical option of the market; however, you'll be getting quality and for that price, it's completely worth it.  You can't go wrong with Yakima.
Thule ProRide XT
You can tell that we like Thule products, and the ProRide XT is a rack that we have had great luck with.  Thule improved on the popular ThruRide, which used to be on our list, and now the ProRide gets everything right.  The ProRide is one of the most practical, easy to install and secure models, and it's compatible with a variety of axle standards: it can hold any diameter regardless of length. If you use the ProRide, know that you may need to purchase a lock cylinder because it isn't included with this model.
Once installed, no tools are needed to mount your bike on your roof.
Because you mount the bikes through the axle, you need to be sure you have the right adapters and equipment from Thule in order to use.  It fits a wide variety of frames, from 22 to 80mm.  It is a very light 11 lbs, and can handle a bike up to about 35 lbs (that would be a pretty heavy bike).  The price and practicality of the ProRide are for sure worth it if you need a roof rack without breaking the bank.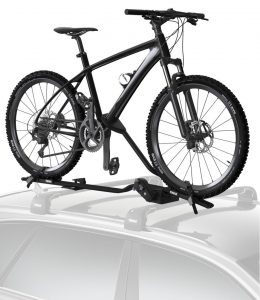 It is a single carrier, but on many cars we think you could fit two of these side-by-side, assuming the vehicle's specs and roof rack supports it.
We also give an honorable mention to the outstanding Kuat 2.0 bike rack, which is a very nice unit built with excellent quality.  The high pricing is the only thing that caused us to keep it off this formal list — but if you have the budget, give the Kuat a good look.
Trunk bike racks and carriers

Why a trunk bike carrier?
Sometimes you just want to keep it simple — you don't want something mounted to the top of your car, and you also prefer not to have a hitch receiver installed.  That is where a trunk or hatch back carrier can do the trick.  The upside is the ease and simplicity. A trunk bike carrier is typically the easiest to move around and store, and it is by far the lightest option.  It also should fit on nearly any car without much assembly or modification to the vehicle.
The downsides are that they are not quite a stable — the bike may move around a bit — and you usually can only fit 1 or at most 2 bikes on the carrier.  There is also a chance that the rack can scrape or scratch your car if the contact point is hard or worn.  This can be somewhat solved and prevented by putting some electrical tape on the contact points for extra padding.
Allen Sports Deluxe 2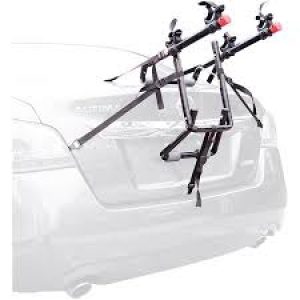 The Allen Sports Deluxe is known as one of the most affordable bike rack models out in the market, if budget is your primary concerned. It's specially designed for SUV's, sports cars, and minivans. This model is made of aluminum, so you can count on it to be lightweight and really easy to install. It can carry two bikes, but is perhaps at its best when carrying just one.  We like that it comes fully assembled.
The bikes secure to the rack with nylon straps.  Note that with some womens bikes, because of the frame design, the carrier could need an extra part from Allen in order to use.
As with most trunk-based racks, you might want to put some tape or cloth against the contact point with your car, just as a precaution so it doesn't cause a scrape or scratch.
Find Allen Deluxe 2 Here (on Amazon)
Saris Bones 2 Bike Trunk Rack
The Saris Bones Trunk Bike Rack is our favorite trunk-based rack.  It is recognized for its mix of functionality, practicality, and design. This model fits over most of the spoilers and its arc-based design differentiate bikes on different levels. It's built with 100% recyclable materials, so you'd be contributing with the environment when buying. It's designed to protect the paint with articulated rubber feet and anti-sway straps for a safe hold.
Check out our Saris Bones review for a deep dive.
When you first look at it, you are almost concerned that it is too simple.  The design is clean, basic, but sturdy, and it works.  It provides a surprisingly stable ride for your bikes and just takes a couple minutes to get mounted on your vehicle.
Bike Carrier FAQs
Do Bike Carriers Scratch a Car?
They should not.  If you get a good quality one (the ones we list fit that bill) and install it properly, the carrier rack should not hurt your car.  Common points of wear, in case where you might find some rubbing, or when a strap associated with the bikes or carrier whips against your vehicle, or if a carrier is not installed snugly and, as a result, there is movement while you drive.  Neither needs to happen.  If you use a hitch rack, of course there will be some normal wear and tear on your hitch itself.
What do I need to know about hitch sizes and bike racks?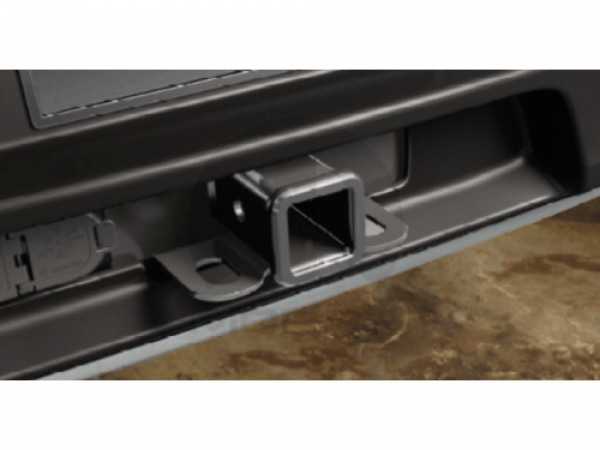 This is actually very important. If you go with the hitch-mounted option, which is what we clearly recommend, the entire bike carrier will be designed for either a smaller (1 1 1/4 inch) or larger (2 inch) hitch receiver.  That is the thing on the back of your vehicle that is built for adding a hitch, bike rack, or other accessories.  Not all vehicle come with receivers  You can always have an aftermarket one installed, at a local auto shop or even a UHaul dealer.
Your vehicle specs will determine if you have the option of the 2″ or 1 1/4″ option, and if you have the choice, always go with the 2″ option.  It will give you access to far superior bike carriers.  If 1 1/4 is your only option, that will work, but you will need to get a smaller rack.
We don't think that installing an aftermarket hitch receiver is a DIY job.  Have a pro do it, and then just leave it on forever, throwing your bike rack on when you need to.
Can you Carry Electric Assist or Kids Bikes on a Bike Rack?
If you have a newer electric assist bike, they should fit on a typical rack, that but is going to be a factor of bike design.  If your bike has an abnormally small area to loop the arms of a "hanging" style rack through it due to the motor or assist, you may want to go with a wheel-mount style.  That is just one more reason to like the wheel-mount, hitch-based style.
Kids bikes work great on a wheel-mounted style rack.  As for the hanging style, a kids bike can sometimes have too small or compressed of a frame to hang on a hanging rack.  If the bike is light enough, you can still secure it using the rubber cords and bands that come with the rack.  Just be sure it is secure.  We do not want you to be the cause for a dangerous accident out on the road, and the only way to safely use any rack is according to the manufacturer's directions.
How should I secure a bike to my rack or carrier?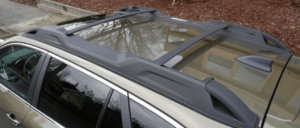 It is very important to secure your bike to the rack using more than just the straps provided, unless your carrier comes with a locking mechanism.  The straps or brackets are there to keep your bike stable, but on many models they are not designed to actually secure your bike from thieves.  If you don't get a locking rack, buy a simple coil or cable bike lock to add to the mix.  It will be enough of a deterrent so that someone doesn't steal your bike while you are pulled-over for a quick break at a gas station or rest stop.
Do I need additional car parts to mount a bike rack?
Probably.  The inexpensive trunk-based racks are meant to go on your vehicle with no additional parts.  The hitch-base racks will require a hitch receiver, standard on many but not all vehicles.  The roof-based racks will require roof bars, again, standard on some vehicles but not all.  These parts — the roof bars and the hitch receiver, do not come with the bike racks and are considered things you would have a car shop install for you.
Are bike racks and carriers universal
Generally speaking, yes.  There are not specific bike racks make for road bikes vs. mountain bikes, for example.  Racks are all meant to accommodate all types of bikes.
With that said, some bikes have weirdly-shaped frames that don't work so well on a hanging-style bike rack, the one where the frame mounts to the rack.  For odd-shaped bikes, it is more a problem with the bike than the rack.  Consider a wheel-mountain rack for the most compatibilty.
How do I get a hitch installed on my car?
We recommend that you have a shop do it.  This is not a good DIY job, considering that you might also try to pull a boat or trailer with the hitch.  Make sure it is done right.
A hitch receiver actually mounts to your frame, so it is pretty involved.  Go to a repair shop, a body shop, or a Uhaul dealer. All typically sell and mount car hitches.
Where are These Bike Racks Built?
Depends on the brand.  Thule racks are made in the USA.  Yakima racks are made in China.  Saris are made in the USA.  Rockymounts is made is China.  All information is subject to correction, manufacturers are constantly adapting their manufacturing location / processes.
Summary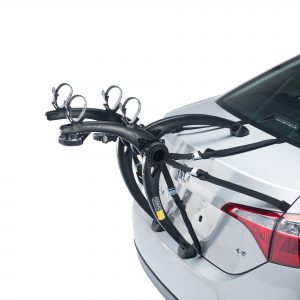 As you have read, there are many models of bike racks, of different prices and sizes. We recommend that before purchasing yours, know what your vehicle can handle, and what you want to use the rack for.  That way you'll make the right purchase. In addition to buying the carrier, be sure to learn how to install the carrier for maximum performance.
If you are just getting into cycling, be sure to check out our other pieces for beginners and intermediates, such as:
Our road bike buying guide for beginners.  Or if you want to go the route of a triathlon bike, we did a piece on that too, here.
Which bike tires are best?  There are dozens of road bike tires to choose from, but we really think there are 3-4 good ones.  Find them here.
We did an extensive, and constantly growing, piece on smart bike trainers.  Sometimes you just want to stay at home and get your ride.  That is where the trainer comes in.
No matter which model of bike rack you choose, or the car you have, having a bike rack is a complete investment in your cycling, your fitness, and exploring.  Not to mention, it will make your triathlon race day smooth as you get your bike to the race in complete safety.