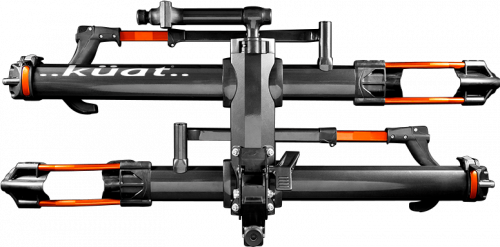 Kuat bike racks are squarely in the high-end, proven category.  Defined as a top-end, sturdy build, and robust hitch mount rack, Kuat NV 2.0 comes equipped with looks, adjustability, versatility, and ergonomics that allow it to deliver optimum performance, making it one of the better car bike racks you are going to find on the market. So let's dig right in and see what makes Kuat NV 2.0 a solid choice among portable bike racks.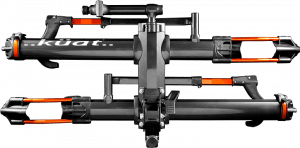 Kuat NV 2.0 vs. Kuat NV Base

There seems to be a bit of confusion surrounding NV 2.0 and NV Base, so let's get that cleared up right away. With both the racks offering the capacity of holding two bikes 60 lbs. each,  the NV 2.0 has a higher price point than the Kuat NV Base. You can also expect the signature Trail doc repair stand, which is not offered with the NV Base. Also, when installed in the hitch, NV 2.0 will sit closer to your vehicle when folded down and has a glossy powder finish instead of a matte black finish like the Base. Besides that, there aren't many other differences.
See the specs and price on the Kuat NV 2.0 here
See the specs and price on the Kuat Base here
Kuat Market Position
Most people who follow the cycling equipment market know that Kuat NV 2.0 is among the most expensive brands on the market. By comparison, the Thule T2 Pro XT and Yakima Tray each come in at slightly lower price points respectively, depending on discounts at the time. 
For a discerning buyer, there are some things that separate the Kuat NV 2.0.
The first key difference is in the visual aesthetics: Kuat NV 2.0 may be more visually appealing and stylish in comparison to the other two, depending on your tastes. Secondly, other racks don't quite have the strength-to-weight ratio that you find in the Kuat NV 2.0. I mean, weighing in at only 52 pounds, it allows you to carry two bikes, and with its adjustable front tire cradle system and fully integrated hitch locks and cable locks, you can bet your bike is not going anywhere once mounted. It is basically a "no-tool install" as well with a tight hitch cam system and numerous other features that justify its hefty cost.
Let's have a detailed look at some more of its key specs to develop a better understanding of how it is better than any other bike rack presently available in the market.
Key Kuat Benefits
Kuat has delivered a bike rack that is at the top of the market when it comes to its features, whether that be its ease of use, the security it offers, or its style. Its sturdy design allows it to be used for long hauls.
Regarded as one of the most user-friendly bike racks on the market, it is easy to both snug up and release the ratcheting arm. It is equally easy to use the rear-wheel straps while the main mast pivot contains a lever for easy lowering and raising of the rack, which can be operated with the foot, so no need to bend down and operate the lever with hand.  That is nice when you have your hands full while cycling solo.
The adjustable tire cradle at the front and the rear ratcheting strap make it easy to load a bike on the beam. Also, the cradle can be adjusted such that it minimizes the contact between the bikes, and the ratcheting strap can be adjusted to accommodate wheelbases of different sizes.  That is nice for those who are biking as a family, or perhaps have two bikes of wildly different sizes (like a fat bike and a road bike).
As for the locks, expect nothing but the best from Kuat NV 2.0 as it comes equipped with multiple. This includes:
Burly cable locks (one for each end of the tray) to be looped through the rear triangle of the frame, so bikes can't be easily taken when on the rack.

A hitch pin lock (for securing the rack onto the vehicle), so the Kuat rack itself can't be easily removed while you aren't looking.
All the locks share the same key, which is convenient. Then there's the powder-coated finish of Kuat NV 2.0, which is also more durable in comparison to paint finish; not only does it retain its fresh looks for a longer period, but also, it is scratch resistant.
Assembly is ideally a two person job, but is easy and can be completed with the help of clear and concise directions and tools provided by Kuat. The best approach to this is bolting the main support mast with the two sections of the tray. The main support mast can then be easily connected to the rack by aligning their holes and bolting them tight.  As with any self-assembly job, we always recommend checking the unit after the first and second uses to be sure that it is all holding together as intended.
Kuat User Experience
Users are rating the Kuat NV 2.0 all over the scale, but the majority of the users that were satisfied with the product said that in comparison to cheaper racks that are made for lightweight bikes (45 lbs. or less), NV 2.0 offers the relief of remaining sturdy and easily handling bikes that weigh as much as 60 lbs. Secondly, customers also applauded Kuat for the "bang-up job" they did for shipping a product that weighs as much as it does without being damaged during the transit.
For most people who purchased this product after research, they were mostly down to two products, Kuat NV 2.0 and Thule T2 Pro XT. Those who went with NV 2.0 have expressed a great degree of satisfaction with their purchase, citing the two separate integrated locking cables and  the same key for all the supplied pin locks as big pluses. People have reviewed it as a very secure and reliable product that is supplemented by its convenience of use. Given that it is a bit heavy, it is equally sturdy and built to last and withstand the elements. The rack can be tilted with the handle/pedal easily so that the backdoor of the car can easily be opened. Although, some people have reported that when it is folded up, the bike stand can block the license plate.
Some users who ha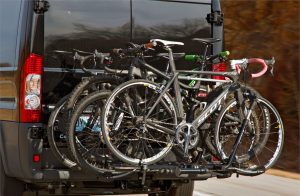 d the previous version of the same rack had a number of their concerns addressed with the new version of Kuat NV 2.0: molded wheel cups to fit wheels of different width, integrated steel security cord being double the length in comparison to the previous version, molded rear cap elbow, and a convenient step locking mechanism for folding the rack.
It can be said without a doubt that Kuat NV 2.0 is one of the best presently available bike racks in the market. A sleek finish, stylish design, and premium features make it truly stand a class apart. Few if any negative reviews in terms of functionality exist with seldom objections upon specifications that don't sit well with certain customers. That aside, it is truly a king among hitch mount racks and is preferred by bikers all over.