Your bicycle is made up of moving parts, and, over time, especially if you're cycling in difficult or rough conditions, it can wear down your bike. It's important to take steps to prevent wear and tear from reaching your gear. Bike lubricant is a great example of this and can help ensure you're experiencing a great cycle each and every time you go out, no matter where you go or what the weather is like.
So which lubricant should you go with?  We did an entire piece on bike chain lubricants, but there was one we wanted to do a standalone piece on because of the questions we were getting. Tri-Flow is sworn by by many cyclists. Have you given it a try yet? Here's what you need to know about lubricant, Tri-Flow's various products, and how you can choose the right one for your bike.
Why Do You Need Lubricant for Your Bicycle?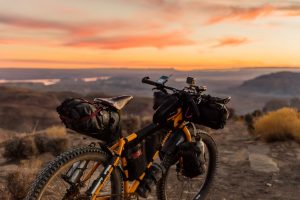 When it comes to your bicycle, lubricant is a must have part of your kit. It will help you:
Extend the lifespan of your bike
Protect your bike from the elements, such as mud, sand, rain, snow, road, and salt
Extend the lifespan of your chain
Protect your chain, bearings, and cables from the elements
Reduce friction
Prevent rust on your bike and chain.  You can notice rust after just 1 week if you rode in wet conditions without adding lubrication!
Protects from corrosion
Keeps dust and dirt away
Lowers the noise the chain will make (nobody likes riding with someone who doesn't keep their chain and bike lubed).  The dryer the chain, the louder it will be
Experience better shifting
There's no doubt about it: lubricant is a must and it extends the lifecycle of your bicycle.
And it's important not to use just any lubricant. Many beginners will reach for that WD-40 but it will not last under outdoor conditions for long!
Dry vs Wet
There are differences between dry and wet lubricants you should note. Dry lubricants will start off wet but after a few hours will dry. It works to keep dirt off and should be reapplied if you were out in wet conditions.
Wet lubricants are wet when applied and stay wet. They're great for conditions like rain, but they can collect dirt over time, so it will require cleaning.
Wet lubes are for wet months and winter, while dry lubricants are generally perfect for summer. However, which one you use will actually depend on your own location, the climate, and weather conditions!
The most important thing though, as many bike mechanic will tell you, is to be consistent about lubricating your bike parts. Consistency is more important than using the perfect lube or oil.
What Lubricants Does Tri-Flow Offer?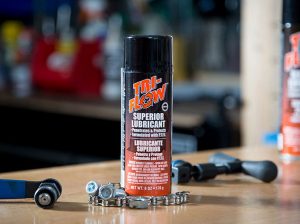 Tri-Flow has been around for a long time and is well-known in the cycling community.  It is on the lighter side of lubricants, making it a nice choice for those harder-to-reach places where you might not be able to wipe the excess easily off.  Tri-Flow offers a number of lubricants for cyclists to choose from. We have used the variety of formulas, finding they provide deep penetration for bike chains, bearings, and cables, reducing rust and corrosion while also getting rid of moisture. Even if you're riding through mud, snow, or worse, Tri-Flow is a good lube that has all-around utility.  We like lubes that can be pretty much used anywhere on the bike.
Each of the six products comes with a unique formula and
Clings to vertical or horizontal surfaces
Penetrates all parts
Comes with a banana smell
Many can stand up to the challenge of extreme conditions, including high temperatures and humidity. The six products are: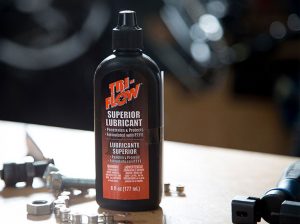 Tri-Flow Foaming Superior Foam Lubricant
Comes in a 10oz aerosol can
As the name suggests, it is a foaming lubricant which provides a nice visual on where you've already been, and it is going to hang on the chain or component for a bit longer than a straight oil.
Many like using the foam when lubricating an indoor bike, such as a bike setup on a smart bike trainer during winter. The foam clings to the chain a bit better than thin oil, allowing you to wipe excess before it drips on to your indoor floor or carpet.
Tri-Flow Pin Point Lubricator
Refillible .25oz "pen"
Perfect for getting into those harder to reachspots
Comes with a pocket clip and protective see through cap
Can be used on other items including fishing reels, skateboards, and cars
Don't use this as your primary, it is meant for those tough spots
Contains PTFE
Tri-Flow Superior Dry Lubricant (here)
This is the most common tri-flow products that cyclists use
2oz drip/squeeze bottle
Ideal for dry, dusty climates or weather conditions
Has paraffin wax and high-grade petroleum oil
Good against extreme pressures
Won't immediately wash off in water
Small 2oz size is nice for taking along on rides, such as on a gravel bike where the components can get dirty fast
Tri-Flow Superior Lubricant Trigger Spray
18oz trigger spray can
Can help remove dirt, dust, and other items
Removes moisture and prevents rust
Tri-Flow Superior Lubricant Aerosol (here)
Comes in three sizes: 4oz, 6oz, and 12oz
Can help remove dirt, dust, and other items
Removes moisture and prevents rust
Provides a fine but direct spray onto your bike
Tri-Flow Superior Lubricant Drip Bottle
Comes in two sizes: 2oz and 6oz
Easy to use
Light viscosity
What Are People Saying About Tri-Flow Lubricants?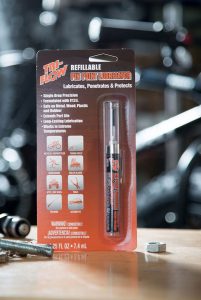 People really do swear by Tri-Flow and it remains a top choice among cyclists. Many claim it's their "go-to" and the standard in the industry. We have tested tri-flow alongside our other bike lubes, and find it to be an excellent lube, although it is "thinner" than some others (runnier).  Here is how we would size it up for you"
Affordable
Works very well on chains and other moving parts
It is thin, so you will want to wipe excess with a rag.  Others are thicker and tend to stay put a little better.
You don't need to use much
Lasts a while.  Because it is thinner, one drop usually covers more surface.
Easy to identify where the lube is on your bicycle
Fits easily into tool bags
Great for other needs around the house, including squeaky locks and door hinges
Others in our circle have commented that the liquid options from Tri-Flow may be a better choice than the aerosol. While it works well, the aerosol can has the ability to make a bit of a mess and that you can better control where you want the lubricant to go with the pin point or squeeze bottles.
Lubricant is a must-have for any cyclist, and Tri-Flow options are a great thing to have whether you cycle during the day or go on longer trips. Have you used Tri-Flow lubricants on your bike? What did you think? Let us know in the comments below!
Jim is an accomplished triathlete and endurance cyclist, and has raced in more than 3 dozen USAT-certified races.  He is also an avid trail runner and gravel bike rider.
His areas of expertise are in endurance training, cycling, triathlon technique, race direction, and training plans.  In addition to writing extensively about the endurance world, he has managed gyms and fitness centers in the US.  Jim is a longtime writer for Complete Tri, Compression Design, and his work can be found on the resource pages of many triathlon and cycling clubs in North America.