Winter is a slower time of year for many triathletes.  The A races are either five months behind us or seven months ahead of us, depending on how you look at things.  If you live in a Northern climate, you are adjusting to snow-filled running trails and some days that make cycling prohibitive.  Your tri bike may just be on the bike trainer for the season as you spin to get your cardio base back in shape.  If you have taken our advice, you are using your triathlon offseason to take stock of where you are, set goals for next year, and begin mitigating some of the things that made you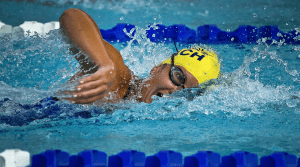 slower than you wanted to be last year.
When it comes to swimming, winter need not hamper your workout efforts, and it can in fact be a great time to get in the pool multiple times per week to work on your stroke.  The only things you won't get are those confidence-building open water swims.  Everything else, including some great technique and lung capacity work, can be done as effectively in the pool in winter (if not more effectively) than in the open water during the summer.
If you are looking for a few goals to focus on this winter in the pool, here are some things to set your sights on that will translate well to your summer races and be things you can continue to build on once back in open water.
Develop the Ability to Breathe Bi-Laterally
If you don't breathe bi-laterally (off of either side of your body) already, practice doing this while in the pool this winter.  You may have a preferred side to breathe off to (mine is the right) but creating the capacity to breathe in both directions will provide many benefits on race day.  Open water can present wind and waves, which can make it easier to breathe off of one side or another, and having the flexibility to adapt can be very important.  You may find yourself in traffic during the swim that makes it better to breathe on one side versus the other.  And we have all been in those races where the buoys are hard to spot unless you are looking squarely in one direction.  In these cases, it can be useful to have the ability to focus on breathing just on that side of your body.
Work on Your Lung Capacity
An expert swimmer once reminded me to use my lap pool sessions as an opportunity to build my lung capacity, by doing exercises focused solely on controlling my breathing.  Mixing in sets of breathing every fourth, sixth, or eighth stroke, or trying to do a pool length on just one or two breaths can do wonders for your lungs.  In the summer, you are typically more focused on speed and endurance, so winter is a great time to give the lungs some TLC.

Simulate a Race Start
This was a tip given by an experienced triathlete when I was just starting the sport, and it has been effective.  Think about the start of a race – chaos, crazy, and very anaerobic.  Part of the challenge on race day is simply calming yourself down and getting into a groove.  This is where you can simulate the process through some deliberate practice.  Practice swimming a couple pool lengths all-out, as fast as you can, until you are short of breath.  Then, in the same manner you would in a race, keep swimming but focus on calming your breathing down, helping you relax in the water while swimming.  It may seem a little odd, but this kind of set will help you overcome the anxiety at the outset of a swim start in a race.
Think About Fundamentals
It might seem like you are taking a step back, but there is never a time as a swimmer when you can forget about fundamentals.  Are you taking long, full strokes?  Are your fingers closed together?  How is your kick?  These are all things that we might lose sight of when the season begins, but winter is a great time to brush up on your form.  Swimming, more than any other tri sport, is about technique, and constantly refining yours will do wonders when it is actually race time.  Getting great technique will not only make you faster, but will help you swim longer with less effort and prevent the chances of a swimming-related rotator cuff injury.
Assess Your Gear
Offseason is a more relaxed time to examine your gear and buy new equipment if you need it.  Much better than frantically doing it the night before your first race.
Take a good look at your triathlon wetsuit, if you use one, to be sure the zipper is working well and that the seams are all intact. Patch any holes in the neoprene with a simple neoprene patch filler.
Stock up on goggles while you are at it. Most swimmers like a certain goggle, and it makes sense just to keep a few pair in stock.  Order 3-4 and they should get you through the upcoming year.
Resources
In addition to sites like this one, consider gaining the expertise of a Masters swim group at a local health club or swim club, or gain the benefit of video swim instruction.  We have tried them all and are big fans of Total Immersion.  It can provide great swim tips whether you are just starting out or are already highly proficient.  Best of all, it focuses on the basics.  If you decide to use Total Immersion as a resource, keep in mind that you can get a discount by using our code, TWSTI, when buying on their website www.totalimmersion.net.