When I am shopping for the perfect indoor exercise bike, there are some non-negotiables. The ride has to be smooth and feel as close to my real bike as possible, the gears have to change seamlessly, the software must include ANT+ to connect to my heart rate monitor and Zwift, and the full setup must be unobtrusive in my home. When I got the Wattbike Atom to review, I focused on those non-negotiables as a serious cyclist but also carefully considered how the bike would feel for the average consumer. Let's break down why I found the Atom to be the pinnacle of indoor bike training and why it outshines the oft-promoted Peloton in some aspects of ride experience. 
The Wattbike – What you Get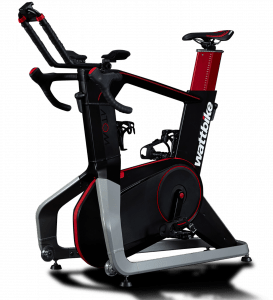 When you first open the surprisingly compact box, you immediately notice that the Atom comes already mostly assembled. From the outside, it seems impossible that this trainer could be nearly ready to ride. It just looked and felt too small. All I had to do, though, was get it out of the box and into my training space. This was easy enough to do on my own, as I just had to cut out the sides of the box, lean the bike (just less than 100 pounds) onto the skater wheels built into the front, and roll it out of the box itself.
There were only some pieces requiring minor assembly: the optional aerobars (with tablet holder attached) and pedals. An Allen key was included and I was ready to ride in less than 5 minutes after attaching my preferred clips and the aerobars and adjusting the seat and handlebars to my own measurements. Knowing my own measurements made my setup quick and easy, and even if you need to find your own measurements, Wattbike makes it easy on their website. They also email you instructions after you purchase the bike, which is even more convenient. There were no unnecessarily long cables that I would need to tape down or cover to prevent tripping, so the last thing for me to do was to connect to Zwift, which was incredibly simple with the Wattbike's built-in ANT+. If you do not use Zwift, Wattbike also has their own app with some impressive stats available during your ride. We'll get to those later.
What We Like About the Wattbike
Some of the nice things about a Wattbike are the general benefits of cycling indoors.  You don't have to worry about traffic or weather, you aren't going to get a flat tire, and you don't even have to throw on a helmet or cycling glasses.  But what, specifically, makes a Wattbike Atom a bike worth riding?
We liked many things about the Wattbike itself upon examination.  The aluminum frame, 97 pounds, up to 22 gears, and only 100 inches long, I found to be sleek in its gray, black, and red palette and blends into the background of my office. I can easily wheel it out of its corner when I am ready to train, and I don't have to break my back to get it out of the way when I'm wiped out from a ride.
We noticed that most of the Wattbike's features are highly-customizable, which is important because riders are obviously of different sizes.  One of the only non-customizable aspects is the crank length which is a 'standard' 170 cm. For many that is shorter than usual, but currently I have seen a trend toward shorter crank shafts. That being said, 170 could actually still be too long for some, but the difference should be miniscule. You'll have to judge for yourself whether that's a deal breaker, but I doubt it will be for anyone.  I also noticed that the power cord was not as long as it would need to be if I wanted the bike in the center of a large room, but it was perfect for my own needs.
The bike is advertised as being able to adjust easily for at least four multiple users, and if you were to take advantage of this opportunity, it would require only a minor change for each individual training session. Another change that may be necessary is that you may want to swap out the seat and handlebars for your own, and this is easy enough to do with an Allen key (although you likely wouldn't want to have to switch back and forth every time.) Wattbike also boasts its state of the art electromagnetic resistance gear shift system with the Atom and for good reason: the changes are seamless whether you're adjusting manually on the handlebars or through the Zwift or Wattbike app.
Wattbike Connectivity and Ride Experience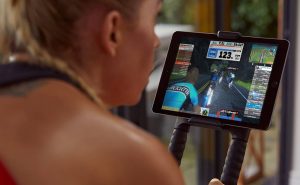 Speaking of Zwift – connecting to the Atom was as simple as any device connection I've seen, and I was ready to ride my favorite course within a minute of opening the app — so the Wattbike is a viable contender when it comes to your ideal Zwift setup.  Wattbike also saves you money by allowing use of your own device rather than a built-in screen (which would have potentially fewer compatible apps), but that also means you don't have a built-in USB port to charge whatever device you're using. Something I didn't expect was how much I would enjoy using Wattbike's own app to track things like pedaling efficiency.
So once the bike is plugged in, seats and handlebars are adjusted, your iPad is fit securely into its holder, you'll be ready for your first Atom ride! The first thing you'll notice when you start your first ride (which I did through the Wattbike app in a 'quick ride') is, of course, the sound. Wattbike's website states the Atom runs at about 70 decibels, and I was pleasantly surprised by how quiet it was compared to previous indoor trainers.  While new trainers like the Tacx Neo 2T and Saris H3 re uber-quiet, this is just a tick louder and much quieter than spin bikes of old.  I was able to listen through headphones without needing to crank up the volume to ear-splitting levels, and I even turned on the TV without subtitles and was able to follow along easily.
 The riding feel of the Atom was the most pleasant surprise of the experience. Compared to any other indoor trainer, it is easily the closest experience to an actual ride out on the road, and I felt better on the Atom then I do on my road bike! It is a perfectly static ride, with no flexibility or movement of the bike. I also appreciated having two water bottle holders for longer rides and so I can have a bottle each for electrolytes and water. It is a simple feature, but makes a difference!
One comfort item to note: when I use the tri-bars, my hands reach past the handles under my iPad, so I cannot comfortably hold onto anything when riding in that position. Not a deal breaker, but something to point out for those who frequently utilize aerobars. Additionally, as a heavier rider than the average cyclist, I did notice some very subtle slippage of the seat as I rode. It was not so severe that I needed to stop my ride and raise the seat, but I noticed afterward that the seat had lowered a millimeter or so.
The buttons on the front right handlebar to change gears were easy enough to use and figure out during my initial ride, though I did notice that the changes were not instantaneous, and were not accompanied by any sort of vibration or noise to indicate they registered. That seems like a minor adjustment that could be added in a firmware update, so we will see if Wattbike gets other reviews of that manner.
Wattbike Downsides — What We Don't Like
The Wattbike is an impressive piece of engineering, but there were some things that we were not huge fans of.  Here are some things we would improve if we could:
Wattbike has a decided UK feel.  This is not a bad thing if you are in the UK, but if you are in the US or other parts of the world, some of the other alternatives may be easier to find and use than Wattbike.
The fitting of the Wattbike for many riders, especially when down in the tuck or aero position — doesn't not simulate a real ride experience well.  It just feels a little off.  I guess with some tinkering, this could be improved, but it did not feel natural compared to the riding position we were used to.
The Wattbike network of users is still smaller than someone like Peloton, but given that most users will hook in to an app like Zwift or Trainerroad, this downside is quickly mitigated.
Wattbike vs. Peloton vs. Wahoo Kickr Bike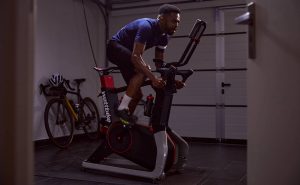 So how does the Wattbike Atom compare to the more familiar Peloton? Peloton has amassed a cult-like following because of its ease of use and popular workout trends, but the Wattbike Atom is here
for those who need something more when it specifically comes to cycling. As stated before, the bike arrives very nearly ready to ride, so I was able to put it together with minimal effort. For the Peloton, I would have likely had to pay for the costly setup fee for assistance. When purchasing, you're going to pay a bit more for the Wattbike, but over time you'll save money without the expensive monthly Peloton membership costs. I never found myself wishing for a built-in screen like the Peloton has because I could customize my riding experience much more with my own device. Wattbike also provides more post-workout stats for you, which is appealing for serious cyclists and athletes.
A more recent entrant to the comparable market is the Wahoo Kickr Bike. Wahoo has been making smart trainers for years, but with the entry into the stationary bike market, they make a high quality bike that really mimics the ride feel of a high-end road bike.  But, it is quite expensive.
And that's what the comparison comes down to really:  For cyclists who want the closest thing they can get to feeling like they're out on the road, without any extra bells and whistles, the Wattbike Atom is absolutely the indoor training bike you need.
Amanda Whittington is an accomplished adventure cyclist, having done some of America's iconic bike races, century rides, gravel grinders, cross-country races, and is currently training for track racing.  A ride leader and organizer, Amanda is passionate about cycling and teaching others, and works with beginner riders, teaching them group riding and bike safety as well as basic bike know-how.