I'm kind of a pushover for Wahoo cycling equipment. Last year, when I upgraded to the Wahoo Kickr Axis, I knew I would never want to go back to another brand of trainer. It does exactly what I need it to do on top of being extremely reliable.
Wahoo products as a whole are well-designed and worth the investment.  We have been loyal fans of the Core Kickr, it's entry-level smart bike trainer, for years. But at first, I wasn't totally sold on the Wahoo Kickr bike. I expect it to be the same quality and awesomeness as my other Wahoo products, but is it worth the investment? Let's take a look.
What Is the Wahoo Kickr Bike?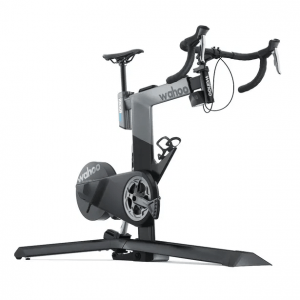 Price Check the Kickr Bike Here
To put it simply, the Wahoo Kickr Bike is an indoor training bike that measures speed, cadence, distance, gradient, and power. You'll find it can max out at a whopping 2200 watts with an accuracy of +/- 1 percent. This bike easily trumps your typical stationary bikes, bike trainers, and spin bikes with its technology, fit, connectivity, and ease of use.
First of all, you might not recognize it as a bike except for the handlebars, saddle, and pedals. It has a futuristic appeal, with no tires to speak of, a broad 3-legged base, and a neat little spot for your water bottle. It's a sleek-looking machine built to give you an incredible indoor riding experience.
Ride Feel
Wahoo worked really hard to create this superior indoor ride experience. I think they accomplished their mission with their unrivaled flywheel technology, which is just one of the factors that make the Kickr Axis and the Kikr bike so good at creating and maintaining a sense of momentum.
The Kickr Bike also incorporates everything the Kickr Climb has accomplished with real-time gradient simulation on 20% inclines and -15% declines. In other words, when your software sends you uphill, the bike tilts to give you – and your muscles – the actual sensation of going uphill. So not only does it feel more realistic, it challenges your muscles as if you were really outside climbing a hill.
Shifting and Braking Experience
Another incredible feature of the Kickr Bike is the programmable shifting. It doesn't have any physical gears, cassettes, or even a chain. Instead, it's all virtual, which means you can set it up to match your favorite manufacturer's shifting experience, such as SRAM, Campagnolo, or even Shimano. Don't forget Wahoo's use of haptic technology, which makes shifting and braking feel real.
Gear ratios are also fully customizable. This means you can match the gear ratios on your favorite climbing bike if you're heading up ADZ on Zwift or make the gears match your race bike for the next excursion in Crit City. You can customize the number of speeds and the tooth count on your virtual cassette.
And don't forget the brakes! While you don't really need to use brakes in games such as Zwift and Rouvy, at some point, braking might be included as these platforms continually add and upgrade their routes. Wahoo already thought of this and put virtual brakes on their Kickr Bike.
Customizable Bike Fit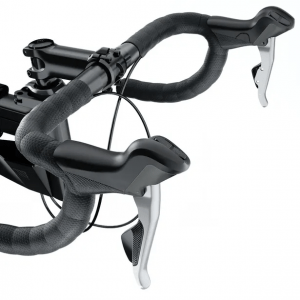 Another unique feature of the Kickr bike is its customizable fit. First of all, you can change out the bars, saddle, and pedals to whatever you find comfortable. Move the pedals to simulate different crank lengths.
You can make all kinds of adjustments, including reach, stack height, standover height, saddle height, setback, and crank length on the Kickr bike. There's an included app that will help you find just the right fit, or if you've already had a professional bike fit, you can input those numbers into the app, and it will tell you how to adjust the fit. In addition, you can save different user profiles, so if you are sharing the Kickr bike with your family, it is quick and easy to pull up your settings and make the necessary adjustments each time you use it.
Another cool thing here is that you can play with the fit on the Kickr bike as if you were going to a shop to try out different-sized bikes, bars, or cranks. So you can really use the it to dial in your fit, and then you can transfer those measurements to your IRL bike if you choose.
Connectivity
Recently, Peloton bikes shot up in popularity with more and more people working out at home. But Peloton bikes are only good with the Peloton app. The Kickr bike, on the other hand, works with many different platforms, including Zwift, Rouvy, RGT, TrainerRoad, not to mention your cycling computer and the recently released Wahoo SYSTM app. You can connect via Bluetooth and Ant+.
Ease of Use
Personally, if setup is cumbersome or takes too long, I probably just won't do it. And that's why I have a dedicated bike on my Kickr Axis. I don't ever have to move it or remove it. It just works. And that's part of the beauty of the Kickr Bike, too. It just works.
When you pull it out of the rather large box, you'll notice it's mostly put together already. You'll need to attach the bars, saddle, pedals, and flywheel, and you'll need to plug it in. But other than that, it is ready to go in just a few minutes of setup time.  Note that you can use any pedals you want with the Kickr bike, which is one advantage it has over the Peloton bike.
Price
Price check here.  Honestly, the price is the real, um, kicker here. It just isn't cheap, and if your budget is tight, this might not be the best way to go. At $3.500, you want to make sure you're not just buying an overpriced clothes hanger. But if you've got the coin to drop and you are a dedicated indoor rider, this machine is definitely worth the money.
One way to justify the savings is if you plan to compare it to the Peloton.  The Peloton bike is about $1,500 less, but the monthly subscription options for the Wahoo are about $250 a year less.  So, if you ride the bike for six years, you will be money ahead on the Kickr.  But yeah, the price tag is hefty!
Disadvantages of the Wahoo Kickr Bike
Other than price, there aren't too many disadvantages here. However, the Kickr bike does take up a lot of space. You'll need a dedicated area to use it in since you can't just fold it up and slide it under a bed.
Rider height might be a consideration if you're extra small, too. The Kickr Bike isn't designed for riders under 5 feet tall. If you're considering this for teenagers or a more petite adult, you might want to make sure they are tall enough to be comfortable riding it.
Lastly, although a digital display shows you gearing and grade, it's in an awkward spot on the bike. However, you can probably access this information in-game or on your cycling computer anyway.
Wahoo Kickr Bike Alternatives
Given the price tag of the Wahoo Kickr bike, there is a good chance you will want to explore some alternatives before plunking down this kind of cash.  Here are a few of the more common alternatives people consider.
Wahoo Kickr Bike vs. Kickr Trainer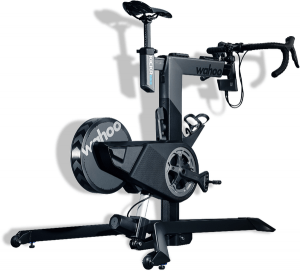 Clearly, the Kickr Bike represents the best technology that Wahoo has to offer. With fully customizable virtual and physical features, you really can create an exceptional indoor riding experience. Bonus, you don't have to bring a dirty outdoor bike inside and attach it to your trainer on a rainy day, nor do you need to swap out bikes to share training space with your housemates. Instead, the Kickr Bike makes it so you can just hop on the bike and go!
The Wahoo Kickr trainer, on the other hand, requires you to put your own bike on the trainer.  This can be a messy job, and one that is a bit of a hassle as you have to remove the rear wheel.  But in return, you save a pile of money — the Kickr trainers are much cheaper than the Wahoo bike.
The Wahoo Kickr Bike is the better choice if, say, you have 2 or 3 people using the same trainer.  Just note where everyone's settings are, adjust the bike, and 3 different people can ride the bike in 3 hours.  When using a trainer, switching bikes in and out would make this a difficult process.
Wahoo Kickr Bike vs. Peloton
Perhaps the real comparison is between the Wahoo Kickr bike and the Peloton bike.  Both are high-end, premium products.  Both are built with lots of hi-tech engineering.
The Kickr Bike is probably more geared to the avid, or even competitive, cyclist, whereas the Peloton is more built for all-around fitness enthusiasts.  The Kickr bike is going to be a simulation for riding hard, and riding on a road bike or tri bike.  You are probably going to pair it with Zwift, Trainerroad, Sufferfest, or Rouvy.  The Kickr bike allows you to crank out at a whopping 2,200 watts (we have never actually seen anyone get that high), so it is built for cyclists.
The Peloton is a little more mainstream.  It is intended for people who want to take full advantage of Peloton's group fitness offerings.  It will whip you in to shape, but might not be the same road or tri bike simulation.  You will actually save money on the Peloton's initial purchase, but note that the monthly subscription fee for the Peloton will gradually offset the bike's savings (apps like Zwift are less than half the monthly cost of Peloton).
Wahoo Kickr Bike vs. Wattbike
Especially for those in the United Kingdom, the Wattbike is a popular option.  The UK-based company has a strong presence up and down Great Britian, whereas Wahoo and Peloton tend to be much strong in the US.
The Wattbike is a great piece of equipment, especially if you plan to use it with Zwift or Trainerroad.  However, we like the Kickr Bike better because to us, it more-closely resembles the natural body positioning involved in aggressive road or triathlon cycling.  The riding posture feels like a higher-end road bike, especially when down in the aero bars or drops.
The Wattbike is a high-end product that can certainly whip you in to shape, but we give the nod to the Kickr bike.