"Hole!" I heard it, loud and clear, yelled by the riders in front of me. But I never saw it coming until it was too late. I hit that darned pothole dead on. It was jarring and painful, but somehow I managed to keep the rubber side down and navigate my way through. Unfortunately, I was wearing the wrong cycling glasses, and the holes in the road blended into the shady spots as we rode through the woods. A few circled back to check on me when they heard my yelp, but I learned just how valuable a good pair of glasses can be.
I was wearing a pair of Tifosi Alpe 2.0 with polarized lenses. The glasses are comfortable; they stay right where they are supposed to and fit my small face. The trouble is that the polarized lenses – great for clear, bright days with lots of sun glare – can smooth out how a surface appears, making potholes in shady spots easy to miss.
The key point of my story is that cycling glasses — along with a helmet and cycling gloves — are just as much about safety as they are about comfort or style.
So if you, like me, are searching for the next best pair of cycling sunglasses, you're going to want to check out the Tifosi Tyrant, the Tifosi Jet, the Suncloud Slant, and the Oakley Radar.  We tested many glasses over the past couple years, but kept coming back to these four. They are easy to find, fit well on most faces, and durable enough to survive a rough ride on your gravel bike, or even being stowed away in your cycling jacket for a few hours.
Tifosi Tyrant

Tifosi Tyrant glasses are a win for the best all-around glasses. The Tyrant line is perfectly stylish with lightweight half frames and plenty of color options to choose from. You can select Tifosi's color schemes or create your own customized color options. Feel free to purchase extra lenses for extra colors, or if you prefer polarized for the sun's glare, Fototec, which changes color depending on the sun's brightness.
The Tyrant lenses help your eyes focus on what's important and are vented to help prevent fogging, especially if you are wearing a mask. In addition, this wrap style gives your eyes extra coverage from the sun, wind, and debris. A great pair of shades when you are on a long road bike ride and don't want the various elements and wind angles to dry your eyes out.
Tifosi Tyrant frames are made of strong but bendable nylon so you can adjust the fit to your face. The ear and nose pieces are also adjustable, so you can create a customized, comfortable fit that is highly slip-resistant. A protective case and bag are included.
I love the Tyrant line because you get a lot of customizable features, protective glasses, and great style at a reasonable price. The only downside is that this line is intended for more average or medium-sized faces, so if you have a larger shaped head, you might need to look at different pairs of glasses.
Tifosi Jet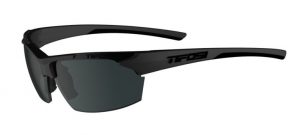 Sticking with the Tifosi line, let's take a look at the Tifosi Jet glasses. These glasses will give you shatterproof eye protection and great style at a very reasonable price. In addition, Jet lenses are designed to reduce distortion so you can see more clearly while providing both UVA and UVB protection.
Think of the Jets as the more affordable Tifosi.
Jet frames are made of the same sturdy nylon that you can bend slightly to adjust to your face. In addition, the nose and earpieces are made of specialized rubber designed to stay put no matter how much you might sweat.
I personally love the Jet line for the excellent eye protection and cool sporty style at such a budget-friendly price. Unfortunately, there aren't as many color options to choose from like you find in the Tyrant line, and you can't customize your ear and nose pieces, either. But you can purchase multiple lenses, colored lenses, and clear reader lenses. Replacement nose and earpieces are available if needed, and a protective case and bag are included with your purchase.
These frames are designed for medium-sized faces, so just like the Tyrant line, if you have a larger face, you might need to consider a different brand of glasses altogether.
Suncloud Slant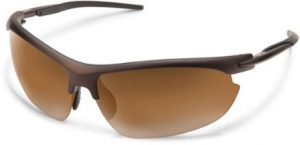 The Suncloud Slant is another reasonably priced pair of sporty glasses. They come standard with 100% UV protection and a zippered case. Suncloud lenses are polarized to reduce glare, but the glasses come with an extra pair of lenses designed to be used in low light conditions.  Many cyclists in our circles think that the combination of a reasonable price point and great fit and performance makes these the go-to glasses on the market today.
What's unique and different about the Slant line is that you can choose between a 6 or 8 Lens Curvature. What does that mean? The 6 lens curvature is a flatter shape across the front of your face. The 8, on the other hand, is more rounded, which provides a little more of a wrap style to protect your peripheral vision.
The best thing about the Slants is that you can decide if you want a flatter-shaped pair of sunnies or a more rounded, wrap look. Keep in mind that the standard lenses are polarized, which could cause trouble in areas of dappled shade and lower light. Thankfully, Suncloud is prepared for this by including that extra set of lowlight lenses.
We are fans of the rose-colored lenses (there must be a joke in there somewhere), and like that you can ride with these glasses and not have as much of a sweat issue due to the constructions and where the lens sits on your face relative to a helmet.
Oakley Radar

If style, brand, and coolness are critical factors, then you might want to invest in a luxurious pair of Oakley Radars. Although these glasses cost significantly more, they also come with plenty of options.
There is an ongoing argument in the cycling community on if Oakleys are worth the cost, or if you are just paying for the name. Others suggest that the more comfortable design and excellent lens quality makes them a cut above. We are definitely Oakley fans.
With the Oakleys, you can choose your lens shape to cover different areas of your face. You can select color-enhancing, polarized, and even prescription lenses. Oakleys are made with extra impact protection to keep your eyes as safe as possible. And of course, these high-end glasses are durable and come with a protective case, so they don't get broken when you aren't wearing them. You don't have to cringe when stuffing them into that pocket on your bike shorts during a long ride.
The frames are lightweight and designed to be extra comfortable without slipping off your face, even at high speeds.
Honestly, Oakley's have been the epitome of high-class sport glasses for as long as I can remember. If you wanted to be cool, you spent your last dollar getting your hands on a sweet pair of these bad boys. But Oakley is more than just a pretty pair of glasses. I love that you can choose from two different shaped lenses (longer for more coverage or shorter if you hate when lenses touch your cheeks). I really love the EV, which gives you extended vision above your eyes so you can look up when your head is angled down.
Oakleys are designed more for larger faces. However, if you're small, like me, you can go with the youth version. Not only are they smaller in design, but they're also lower in price.