There are many reasons cyclists might wear gloves.  They can help cushion your hands and prevent callouses.  Some cycling gloves are designed to keep your hands warm. Other gloves can give you protection against a spill.  The best cycling gloves can do a little of everything.
Finding the right glove depends partly on the type of riding you do.  A century (100 mile) road rider might want different gloves than a mountain biker.  Still, there are some gloves that are just superior to others, and the good news is that they don't change that much.
Cycling gloves differ from running gloves in that they have some padding.
Here are our 5 favorite cycling gloves right now
Gloves
Pros
Check Price
Garneau Biogel RX-V
-Consistent
-Durable
-Plenty of ventilation
-Ideal for road biking
Here, on Amazon
Pearl Izumi Elite Gel Gloves
-Best for road or singletrack trails
-Gel padding
-Silky smooth fit
-From a reliable company
Here, on Amazon
Castelli Arenberg Gel
-Great for mountain and road cycling
-Great price point
-Fits well
-Mesh top for breathability
Here, on Amazon
Pearl Izumi Cyclone Gel Gloves
-Plenty of warmth for the cold
-Plenty of padding
-Great for spring and fall
-Wrist protection
Here, on Amazon
Sealskinz All Weather XP Gloves
-Great performance
-Waterproof
-Perfect for cooler weather
-Great for bad weather
Here, on Amazon
Open Finger Bike Gloves
Garneau Biogel RX-V
When it comes to cycling gear, we have always trusted the LG brand.  The Garneau gloves reflect the design and construction of all of their other gear — consistent, durable, and functional.  The RXV gloves have enough palm padding to provide comfort while cycling, but enough ventilation so your hands will not be overheating.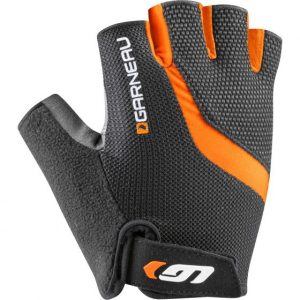 The LG Biogel gloves work well for both road and mountain biking, but we think they are probably ideal for road biking.  The gloves are open-finger, a favorite for summer riders.  They provide enough padding to take pressure off the shoulder, elbow, and wrist.  Durability seems very good, both in terms of longevity but also the ability to withstand a scrape or two.
While the gloves are technically not waterproof, they dry out quickly and hold up well when machine-washed between rides.
Highly breathable
Comfortable – quickly molds to your hand's shape
Many Color Choices
Great for road cyclists
Pearl Izumi Elite Gel Gloves
The honor roll of great cycling gear companies continues with Pearl Izumi, which is right up there with LG.  Pearl Izumi is a lock on nearly every "best of" list we have for cycling gear, because their products are just that good.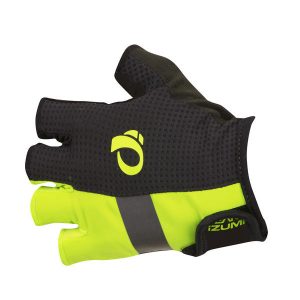 Whenever we see the combination of "Pearl Izumi" and "Elite", we know that it is likely a very good product line.
Equally suited for the road or the single track trails, the Pearl Izumi open-finger Elite gloves are unisex and come in four color options. We like the bright yellow for our road rides, as we try hard to make everything as visible as possible.
The Pearl Izumi Elite gloves have gel padding in the palms, probably a bit more substantial than the Garneau gloves above. If your attitude on cushion is "the more the better", you will probably like these.  Pearl Izumi has worked hard to minimize the number of seams on the glove, resulting in a silky smooth fit.
They tend to run a bit tight, so choose a size up if in doubt. They come in five size options.
Heavier padding
Bright colors
Nearly Seamless
Great value
Castelli Arenberg Gel
Castelli makes some of our favorite and good-value bike shorts, and they also have gloves that have stood the test of time.  The Arenberg model has been beloved by both mountain and road cyclists for years.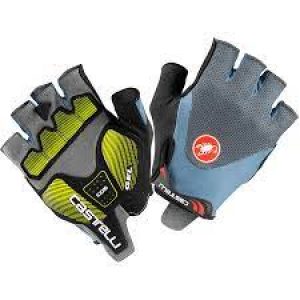 One thing we have always liked about Castelli has been their price points.  They make good gear that is going to get good use, but they keep the price ranges reasonable.  You can get higher-end gloves, but you will have to pay for them.  The Arenberg is a glove that will do a great job for many.
Fit is normally spot-on, and the gloves are very comfortable once broken in.  The heavier gel is strategically placed so your pressure points during a ride, and likely contact points during a fall, are reinforced.
While the Castelli gloves seem to excel for mountain bikers, these gloves should work well for any type of cycling.
Not as bulky
Great padding on palms
Versatile
Mesh top for better breathability
Closed Finger Bike Gloves
Pearl Izumi Cyclone Gel Gloves 
For a good pair of closed-finger gloves, you really can't go wrong with the Pearl Izumi Cyclones.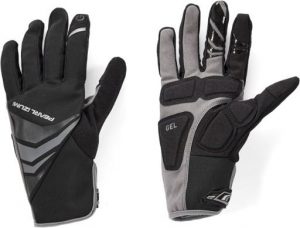 The Cyclone gloves provide just enough warmth to be a difference-maker on those colder days.  Full-finger coverage and a nice wrist gusset help keep skin from the wind and cold.  They are rated for 40 to 60 degrees, but we've used them in the 30s and they worked well.
At the same time, the Cyclones have gel padding in the palm, to offer all of the benefits you would normally find in the open-finger Pearl Izumi gloves.  The padding is throughout the front of the glove, focused on the palm and the base of the fingers.
Because of all of the gel padding, it takes a little while to break them in.  Once you do, though, they will form-fit well. It just gets a little tricky if you switch bikes and postures a lot.
We think these gloves work well between about 35 and 50 degrees, so a great option for fall and spring riding, and winter riding in areas where the mercury doesn't dip too low.
Great shoulder season gloves
Covers the knuckle, protecting you on those single track rides
Nice padding
Good finger length for riders with longer fingers
Excellent wrist protection
e-tip so you can use touch screen devices w/ gloves on
Sealskinz All Weather XP Gloves 
The Sealskinz gloves hit the scene several years ago, but really did not hit our radar until more recently. An entire lineup of clothing made for inclimate and wet weather, the Sealskinz gloves are great performers if you expect to be riding in cool, wet weather.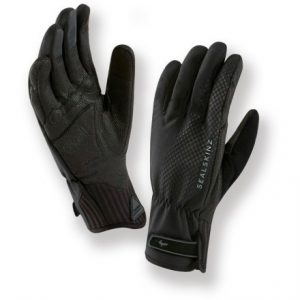 The full-fingered gloves are the only on this list that boast full waterproof-ability.  How? They actually are made with a dose of rubber — 4% to be exact. That is just enough rubber to make these gloves waterproof while still breathable, which is no small feat.  These might be good gloves if you are riding in colder or ugly conditions.  Perhaps you move your cycling to your fat bike in the winter, cruising across frozen lakes and snowy trails — these are good gloves to have around.
The gloves come in a couple colors, and have some reflective elements on them as well.  The padding is on par with the medium-padding gloves on this list.
They are a warmer glove, the warmest on this list, so you may not want to go with them if what you really need is a dry-weather, 45 degree farenheit glove.  But if you think you will find yourself in rain on cool days, or in colder weather and in need of some real warmth, the Sealskinz are an intriguing choice.  They are surprisingly light for how warm they keep you.
While they are not cheap, they are definitely worth having in your arsenal.  
Warmest – great on those chilly, early-or-late season road rides
Waterproof
Best for really bad weather
Might be a little overkill for warmer mountain biking
The Benefits of Cycling Gloves
We are surprised how many cyclists we see without gloves. We think they are essential for a few reasons.
Warmth.  An obvious benefit of wearing cycling gloves is warmth.  If warmth is your true goal, go with the full-finger gloves.  The open-finger gloves are really not intended so much for warmth as they are for other things.  When you are cruising along at 20mph on a cool fall day, you will be surprised at what temps your hands will start wanting some gloves.  It is much higher than you might assume, just like with winter running gear.
Breathability. The other side of the temp coin is breathability.  You might be wearing the gloves for reasons that have nothing to do with keeping your hands warm, like protection against twigs or falls. If so, you will want something that is highly-breathable.  Open-finger gloves are inherently more breathable, if they work for your planned type of riding.
Cushion.  For those who might be setting out to do a century ride or other longer rides, the contact point between your hand and the handlebar can become sore and tender, and can actually cut a ride short in some situations.  A good glove will add a layer of padding to that contact point, removing one of the obstacles for your new longest-ride-ever.
Protection.  For mountain bikers who are routinely on single track trails and may have the occasional spill, or the unplanned encounter with a tree branch against your knuckle, a pair of gloves can make the difference between a cut hand or not. If you know that you will be hitting many branches and limbs as you ride, you might want to go with a padded, full-finger glove.  Branches tend to surprise you, and you often don't have time to move your hands and avoid the swat.
All-Purpose.  Gloves make lots of things just a little easier on the bike.  For example, if you ride over a bunch of broken glass on the road, your first instinct might be to brush the glass off of your wheel.  Without gloves? You are asking for it. With gloves? Easy. Just let the wheel roll by your glove, and after a rotation or two your tire is glass-free.
Bike Glove FAQs
Are there Different Gloves for Road and Mountain Bike Riding?
Not really.  Sure, there are some gloves advertised as road gloves and others at MTB gloves, but in reality they aren't very different.  Most experienced cyclists you ask will tell you just to find a few pairs of gloves that you like — ones for different temps — and then just use them regardless of which bike you are riding.  Unlike other gear, such as bike cleats and shoes where there is a decided difference between what road and mountain bikers normally use, gloves are more universal.
Can you Wash Cycling Gloves?
Yep.  Well, let's rephrase that.  We are not the manufacturer of your gloves, and you should always read the manufacturer's directions for how to wash and care for them.  There, with that out of the way, we wash ours.  We know some people who throw theirs in the washing machine after almost every use, but we don't take it that far — it surely would shorten the lifespan of your gloves.  We like to hand wash the gloves in a sink of warm, soapy water, approximately every 250 miles or so.  Maybe a little more in the heat of the summer when our hands sweat more. Let them air dry, and consider wearing them for a few minutes while they are still damp to re-stretch them to their original shape.  Shrinkage is a risk, but so is a terrible, foul stench if you never wash your gloves. We say wash them when you need to and just know that they won't last forever.
Should You Go With Fingerless Cycling Gloves?
It obviously comes down to when you plan to be riding.  For winter or cold-weather riders, fingerless gloves would be crazy and defeat the purpose.  But for summer rides or mountain bike riding, we really like fingerless gloves.  The objective of wearing gloves in summer is to a) protect your hands (especially if you are off-roading it) and b) allow you to wipe debris of your tires while moving.  Fingerless gloves work great for that.
Some people like the tactile feeling of having the fingers exposed, for things like shifting, braking, and generally feeling the bike a little better.
If you go with fingerless, just be sure they provide some knuckle protection.  Everything we recommend above does.  You will undoubtedly get punched by the surprise tree on the single track trail, and a glove will make the difference between a sore hand or not.
What is the Right Temp for Full-Finger Bike Gloves?
We find that full-fingered bike gloves are comfortable to temps higher than people would assume.  Because you are often moving at 15 to 20 mph while cycling, and your hands are breaking the wind, and your fingers can have low circulation due to the cycling posture, they can get cold faster.  We have no problem wearing our thin full-finger cycling gloves to up 60 degrees, or even a little higher if it is a windy or raw weather day.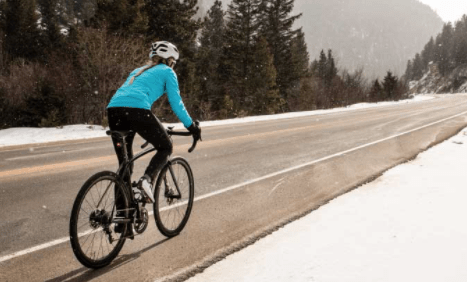 Keep in mind, there will be many days when you begin riding at, say, 42 degrees but finish at 60 degrees.  For those days, having some gloves for the first hour can be really nice.
Generally speaking, we tend to put cycling gloves on a few degrees warmer than the point where we put cold weather tights on, but the those points are pretty darn close to each other.
Can you layer cycling gloves on top of each other?
Yes, and we recommend it in cold conditions.  Because your body warms during a ride, and the air temp might get warmer as you ride, it can be nice to be able to peel one pair of gloves off while keeping another thin pair on.  Heavy gloves can be too bulky on the ride, they are more clumsy to ride with, and you don't have the option of taking part of the glove off.
Have a few pairs of bike gloves around, and layer them when needed.  It is a good strategy, and they are thin enough so that you can easily pull one layer off and stick it in your pocket.
Do Bike Gloves Help with Numbness?
They can, yes.  There are two ways they often help.  The first is by reducing vibration on your arms, shoulders, and wrists, thereby decreasing the chances of numbness setting in.  The second is by creating a cushion that helps relieve pressure from your hands and wrists, which often leads to numbness.
Keep in mind, though, that gloves will only help with mild numbness or arm pain.  If you are having acute numbness on every ride, or developing the bikers equivalent of tennis elbow, then you should get your bike re-fitted.  A professional bike fitting will do wonders to adjust your riding position and remove pain and numbness.
How Are Cycling Gloves Sized?
You are typically going to see most makers selling five glove sizes – XS, S, M, L, XL.  Bike gloves run notoriously small in their sizing, it is almost a running joke with cyclists.  You don't want the gloves to be baggy when riding, but if you have fatter or more muscular, meaty hands, you will probably want to go a size larger than you assume.  The last thing you want is your glove creating discomfort on your rides.
Can you Wash Cycling Gloves in the Washing Machine?
Yes.  At least, you should be able to.  We do not recommend buying cycling gloves that require more maintenance than a quick wash in a machine.  Your gear not only needs to work well, but everything needs to be low-maintenance. Always factor that in to your buying decisions.
Von Collins is an accomplished triathlete and cyclist, and the author of four fitness and training books: Smarter Running, Your First Triathlon Guide, Fit Foods, and 30 Rut-Busting Workouts.
Von has been cited as a triathlon, cycling, and fitness expert by Healthline, CNET, Forbes, Eat This, Not That and other major outlets.
Von has done dozens of triathlons and endurance bike races, coaches, and is an avid part of the cycling and triathlon community.