Fat biking (or fat tire biking) was invented, you could say, in Alaska back in the late 1900s, but it really started to become popular in the early 2000s. Since then, the number of fat bikes you see on the trails, even when the weather is just fine, has really grown. The bar for what we consider to be the best entry level bikes fat bikes has really been raised.
Fat bikes give cyclists a way to get outside and ride in terrain that would stop most other bikes in their tracks, including most mountain bikes. Fat tire bikes have been known to cruise for miles on a frozen lake, a sandy beach, or along a rural bike trail that might not be cleared for weeks. No problem if you are on a fat bike.
For many Northerners, the fat bike is an alternative to moving indoors and mounting your road bike on an indoor bike trainer. Bike trainers are great, and there is an important place for them (I will probably hop on mine in about an hour!), but we talk to many diehard cyclists who swear that they would rather ride outdoors whatever the weather. We can't blame them.
Today, cyclists from the original fat bike diehards to committed road riders and commuters enjoy fat biking. The right fat bike with the right tires can expand the riding season by months in some places, and good quality fat bikes compete on price with some high-end indoor training solutions. Not only are fat bikes popular with the cold weather set when they are trying to avoid being relegated to the smart trainer, but they are also catching-on for beach and desert bike riders because of their proficiency on sand.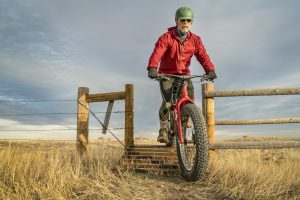 Read on for everything you need to buy your first fat bike, and look out for our detailed look at fat bike tire selection coming soon.
How is a Fat Bike Different?
Fat bikes and mountain bikes share some designs and components, but some unique features are unmistakably fat bike, including:
Wider tires.

The hallmark of any fat bike, fat bike tires have grown over the years, from around 4 inches wide to a whopping 5 inches in some cases. In comparison, mountain bike tires now range from 2 to 3 inches. Many road bikes sport tires of less than 1 inch!

Fat-specific frames

. Frames and forks need space for huge rubber, and anything else in the way is moved too: fat bike wheels are wider at the axle and even the pedals on fat bikes can be further apart than other bikes. So, it is not as simple as slapping wide wheels on that mountain bike you have in your garage — the frame design is fundamentally different.

Wider wheels (and other components).

Wider tires need a wider rim for the whole wheel and tire to stay hooked together. Wheels with wide rims must be wider still in the center, with a wide hub and axle to cut down on flex.

Much Lower Tire Pressure

. Tire retention is especially important with low tire pressures in mind, and no tire rides as soft as a fat bike tire. This gives the rider more grip and an ability to really "float" along in snow or sand. The high grip creates more drag or rolling resistance on pavement, so fat bikes are unlikely to replace your time trial bike or summer commuter.

Road bike tire (L) vs. Fat bike tire (R)
What to Look for in an Entry-Level Fat Tire Bike
If you are looking for a fat bike, you will want to search for many of the same things you would in your other bikes. The differences involved can be intimidating at first, but this guide makes choosing a new fat bike quick and easy.
Frame
Like today's common road or mountain bikes, fat tire bikes can be made of aluminum or carbon fiber for light weight and strength. Some fat bikes are steel for maximum longevity at the expense of weight. Even the highest performance fat bike frame is designed for some durability and versatility, while utilitarian models support huge loads on racks or in bags. As with almost any bike, lightweight frames can make for a quick, responsive feel. However, performance comes with a cost, and components such as wheels and tires are a big part of overall weight. Fat bike frames are also specific to one of two wheel sizes, 26" or 27.5". The difference in wheel sizes is small in practice, but newer 27.5" bikes may hold more value in the short term.
Tires
We did a whole guide on fat bike tires, so check it out if you wanted a deep-dive.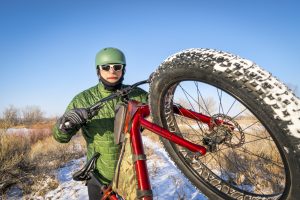 Tires are easy to change out if you need new ones, but the amount of rubber involved means the right tires on a bike could save hundreds of dollars. Much like our advice on gravel bikes, match the tire aggressiveness to the type of riding you need to do. Fat bike tires inherently have quite a bit of tread and tend to be a bit knobby. Go with a plenty knobby tire if you think your riding will involve soft surfaces like loose snow, dirt or mud. Width of the tires is an important factor as well, ranging from less than 4 inches on the low end to more than 5 inches on the high end. Generally speaking, narrower tires are better for riding on hardpacked snow or terrain where you know the surface will at least be solid. If you run the risk of sinking into snow or sand, go with a wider tire that can be ridden at quite low PSI. Many fat bike riders will ride "tubeless," removing the fragile inner tube from their tires and replacing it with a combination of tape and liquid tire sealant to use lower pressures. Both systems have ups and downs, but a factory tubeless bike can save time and money for tubeless fans while easily accepting a tube.
Suspension
Some fat bikes have suspension, others don't. Having the right suspension can be important depending on the type of terrain you plan on riding your bike. If you are riding steep and challenging trails with features like rock gardens or large ruts, then suspension will help keep the bike under control and the ride comfortable. Rear suspension is rare in fat bikes, but suspension forks are increasingly common. Suspension adds up-front and maintenance costs to any bike, but gritty and slushy winter conditions make fat bike fork and shock maintenance particularly important. Rigid forks are the most popular choice for fat bikers, since the large tires give enough cushion for comfort on most surfaces.
Where to Buy a Fat Bike?
There are really three options for buying your fat bike:
Buy new at a local bike shop
Buy new from a national or online retails
Buy used
Local Bike Shop
Buying a new bike avoids all the risks of ending up with a bike that someone else broke but didn't disclose, so we recommend most first-time shoppers go with a new bike. A local bike shop is always a good place to begin, and we love when our readers support their important local bike shops. These shops keep the cycling industry going. There is a chance that your local bike shop doesn't carry fat bikes, and you will likely need to buy the lines they carry. But they probably carry those lines because they believe in them! Plus, establishing a relationship with your local bike shop is invaluable when it comes time to have repairs done, or simply get advice.
Large Retailer or Online
You can also buy from a larger retailer, or chain. This can be a good option if you know pretty much what you want, and if your local bike shop doesn't really carry the fat bike that you have zeroed-in on. Where possible, we provide some ideas for you as we outline our favorite entry-level fat bikes on the market today.
The one we like is REI, because they stand behind their bikes and have enough stores so a large portion of the US population could get to one if needed. They carry the Salsa brand which we are fans of. You can see their fat bikes here.
Buying a Used Fat Bike
Choosing a second hand bike could shave 50% or more off the cost of a fat bike, but there is plenty of risk involved. Frame damage is the biggest danger, so look carefully for corrosion, cracks or dents. Less critical issues can still cause headaches, and test riding is a good idea, but even an experienced mechanic could miss some expensive issues on the horizon. Fat tire bikes experience particularly hard miles and accelerated wear in particularly hard-to-see places. With that said, though, far bikes are often made of steel, which is a pretty bulletproof material. If considering a used carbon bike, have a bike mechanic look at it, or buy from someone like the Pros Closet who inspects all of their bikes before they sell them.
When buying a used fat bike, look in particular at the frame for hairline cracks – especially if it is a carbon frame – and at the drivetrain components for corrosion, as fat bikes are often used in winter and experience some road salt.
Our Picks: The Best Entry-Level and Mid-Range Fat Tire Bikes
Before we get in to our picks, a note. Just because these bikes are "entry-level" doesn't mean they are cheap. Several of these fat tire bikes cost as much as a road bike or good gravel bike. We wanted to pick bikes that were accessible to many, but that also earn the distinction of being best-in-class. Sorry, no sub-$1,000 bikes here, but you can always look for good used ones, here.
Trek Farley 5
Trek made a large and controversial splash into the fat bike market with its Farley line of fat tire bikes. Family of the late comedian Chris Farley filed suit in 2017, alleging infringement, and the matter was settled out of court. Legal issues and questions of taste aside, the Trek Farley speaks for itself as a leader among "big three" fat bikes.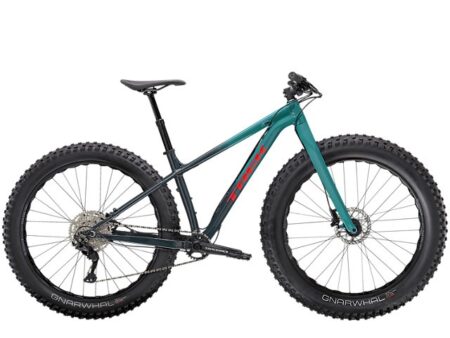 Trek makes 3 varieties of the Farley, but for this entry-level piece, we are focusing on the lowest-priced Farley 5.
The Farley 5's MSRP is a little higher than the Giant Yukon 2, and a little on the high side for lowest model in the range but with plenty of modern features. Trek kept the Farley simple with only water bottle mounts, which may restrict some adventures. However, the sleek aluminum frame and carbon fiber fork keep the weight low for a claimed 32.33 lbs in size M. While L and XL models feature a full 4.5" tire front and rear, the Trek website and buyer reports are unclear if S and M rear tires run 4.5" or 3.8". Any question should be easy for a Trek dealer to answer definitively. Tire knobs are substantial in either size, and tires are listed as tubeless and studdable.
Pros:
27.5" wheel size

Studdable tires

Good geometry

Carbon fiber fork

Dropper seatpost
Cons:
Limited versatility

Potential 3.8" maximum tire on S/M
Worth an upgrade?
The Farley 7's MSRP is more like $2,500 (here), with changes including a different drivetrain and a suspension fork with 80mm of air-sprung travel. With a retail value over $600, the suspension fork alone helps justify the $800 difference. That makes the upgrade worth the cost for any Farley rider with suspension in their future.
Surly Ice Cream Truck
Long synonymous with "fat bike," Minnesota-based Surly might be the biggest small brand in cycling. Surly is one of several brands owned and operated by Quality Bicycle Products, the largest distributor in the United States for everything except bikes. Surly is widely considered both a pioneer of the fat bike concept and the first to make it rideable in practice. The Ice Cream Truck is a staple of Surly's fat bike lineup and highly sought after in their home state.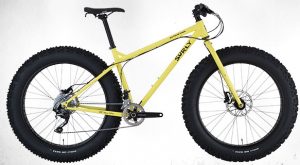 Surly's Ice Cream Truck may raise eyebrows with its price of around $2,00 for a heavy steel construction, limited dealer network, crass webpage and lack of suspension or dropper post. Some of that price is justified by the riding experience, with some of the best handling on or off-road of any fat bike, only recently matched by some competitors. The Surly's steel frame is favored by some riders for its many mounting points and heavy-duty load carrying ability. Surly's "ICT" does feature the highest quality drivetrain and the largest tire clearance on this list, albeit using the 26" wheel size now dropped by some brands. Tires are Surly's own with large, aggressive knobs. Overall, the ICT is a poor value for some riders but the only game in town for others. Surly owners can expect better than average resale value due to the brand's status and infrequent model year changes.
Hits:
Huge 5" tire clearance

Tubeless tires

Great geometry

High quality drivetrain
Highly versatile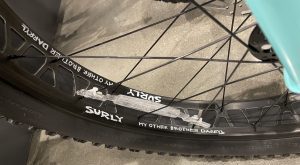 Misses:
Price

26" wheels

Heavy frame
Worth an upgrade?
Surly only offers one ICT configuration. However, the ICT is Surly's top model to the Wednesday. The Wednesday shares the ICT's disadvantages with 26" wheels and a heavy frame, but loses out on tire clearance and premium drivetrain, making the ICT well worth the upgrade. Keep the Wednesday in mind, especially if shopping used.
Giant Yukon 2
True to its name, Giant is a major name in cycling internationally. Alongside Specialized and Trek, Giant makes up the "big three" brands which dominate bike shop inventory in the United States. All three now offer a range of fat tire bikes refined through multiple generations, putting fat tires firmly in the mainstream. Giant is known for its in-house manufacturing and refined designs, which show in its single fat bike model, the Yukon.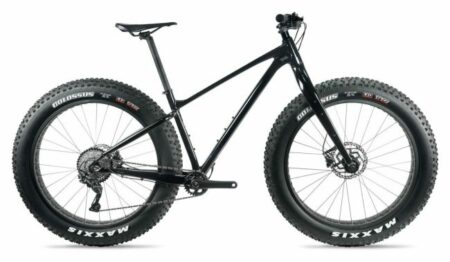 Not inexpensive, the base Yukon 2 retails for a little over $1,500, undiscounted. The Yukon's frame design and angles show a trail focus, with a tucked-in front end and plenty of space to move around with the top tube sitting low and out of the way. That front end features a carbon fiber fork for weight savings, while the rest of the frame uses Giant's signature aluminum construction. Mounting points include the usual water bottle bosses but little else. The fork does provide additional points, but its carbon fiber construction may not suit heavy loads. Giant does not provide an overall weight, but relatively low-profile tire knobs should help the Yukon's pace, and at least 4.5" of clearance offers plenty of options.
The Yukon 2 is a solid all-around bike and one that will let you hang with your riding friends in many situations (assuming you have the engine for it).
Hits:
Competitive price for what you get

Versatile bike

27.5" wheel size

Great geometry

Carbon fiber fork
Misses:
No available suspension

Some may want to upgrade the seat
Worth an upgrade?
The Yukon 1 retails for a little over $2,000. This near $500 upgrade changes the drivetrain and brakes, and adds a dropper seatpost. The frame and wheels appear unchanged, while the drivetrain and brakes are an incremental change. A dropper seatpost is handy but affordable and easy to install. We say pass.
Other Fat Bike Gear
In addition to the bike itself and some good tires that will suit your type of riding, you will want some other gear. As a cyclist, you probably have a helmet, cycling shorts, and basic apparel, but you might want to reevaluate your wardrobe given that you may be riding in harsher conditions. If you are buying your bike for winter riding, you will want to invest in everything from warm cycling gloves to perhaps even ski goggles for super cold conditions.
Many people who plan to ride in winter conditions also add everything from fenders to gaiters to help make riding more comfortable in cold conditions.
Fat Bike FAQs
How Fat Should my Bike Tire Be?
Most fat bike tires are anywhere from 3 to 4 inches, but those who will be riding on snow may go wider, up to 5 inches. Be sure that the width of your tire will work with both your bike's wheel rim and your frame (you don't want it to scrape anywhere). Keep in mind that the more width you have, the lower the tire pressure and the more rolling resistance. It is a tradeoff of whether you want the performance in the tough, muddy spots or on the hardpack, nice trail.
We did a deep dive on fat tires, where you can get more info.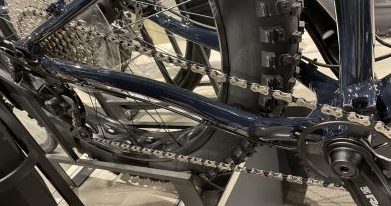 Can a Fat Bike be my Primary Bike?
At first glance, a fat bike can do it all — it is built to go where other bikes cannot, such as on loose sand, snow, or bumpy rocks. But the rolling resistance of a fat bike is not ideal, you will be working a lot harder on those smooth trails than someone on a gravel bike or even a mountain bike. Best to have a fat bike mainly for use in certain conditions.
The other option would be to have two separate wheelsets, both with hubs and rotors, ready to swap out whenever you need to. I did this with my gravel bike, and it really helps me adjust to conditions and weather. It would be easy to do with a fat bike as well. Perhaps you have one wheelset with 4.5 inch tires, and another with much thinner 2.75 inch tires.
Are Fat Bikes Harder to Pedal?
Perhaps a little, but what a fat bike adds in rolling resistance, it makes up for in gearing. It is all about what kind fo gearing your legs need to push, and a typical fat bike has very low gearing. The typical chainring (front sprocket) of a fat bike has perhaps 28 teeth instead of more like 54 on a road bike. The cassette (rear sprocket) probably has between 11 and 42 teeth, versus a road bike's cassette that maxes out around 30. This means that the ratio of teeth between front and back in much close to 1:1 on a fat bike, making it easier to pedal (but slower to ride).
Are Fat Bikes Just for Snow?
Not at all. While many fat tire bike riders have a primary goal of staying outside in the winter and not being confined to an indoor bike trainer, others use their fat bikes year-round, or even in warmer climates.
The wider the tire, the lower the tire pressure and more shock absorption you get from the rubber. To put it in perspective, a road bike often as a tire pressure of 100 pounds-per-square-inch (PSI), while a fat bike might be as low as 10 PSI. That means the tires make it much easier to roll over rocks, rough gravel, cobblestone, or any uneven surface.
Fat bikes are also popular in beach areas, as they can roll over sand just as they can do on snow.
Can you get electric fat bikes?
You sure can. They are a whole different segment of bike, but they are available and you see them around quite often. Purists might scoff at the idea of riding an eBike, but for folks who want fat tire functionality with a bit of an assist, we think eBikes are great, especially if they get someone outside who otherwise would not have been. We did a piece on the best ebikes under $2,000, a couple of which can be fat tire style.
Are there any fat bike disadvantages?
If you plan to do lots of your riding on dry, smooth trails or on roads, a fat bike might not be for you. Fat bikes, with their gearing and huge tires, have a slower default speed and more friction on a firm surface. The same tire contact that makes them so great on sand or snow really slows them down on pavement. If you plan to be doing just a little riding on tough surfaces, but most of it on nice smooth surfaces, consider a gravel bike or mountain bike.
Conclusion
With major manufacturers firmly stuck in to the fat bike market, the sub-$2000 entry-level offers better value and more "dialed-in" performance than ever before. We particularly recommend that shoppers looking for value try a Giant dealer with the Yukon 2 in stock. For riders planning to hit the trails, the extra jump to a Trek Farley is worth the money in either the rigid Farley 5 or the suspension fork Farley 7. And for the adventurer, Surly is still the last word in the biggest tires.
Von Collins is an accomplished triathlete and cyclist, and the author of four fitness and training books: Smarter Running, Your First Triathlon Guide, Fit Foods, and 30 Rut-Busting Workouts.
Von has been cited as a triathlon, cycling, and fitness expert by Healthline, CNET, Forbes, Eat This, Not That and other major outlets.
Von has done dozens of triathlons and endurance bike races, coaches, and is an avid part of the cycling and triathlon community.