Cycling can be a notorious rabbit hole for those easily taken with marketing claims.  Admittedly, it is a past time that attracts gear junkies.  The vast options for fat bike tires is no exception.
The newest bikes, parts, and accessories offer competitive cyclists a leg up, and even tempt recreational riders with promises of a revolutionized riding experience. For most of us with finite budgets and lives beyond bicycle technology, value is the name of the game: which investments offer real and noticeable improvements?
Tires — in this article, specifically those for fat bikes — are the common answer, for an undeniable reason: no other part of a bike should touch the ground. Of course, even a bald and fraying tire might serve for grocery-getting, and its replacement could cost little more than an inner tube. It's the extremes of bicycle performance where advanced designs, quality construction, and hefty price tags can come into play. High speeds, long distances, and challenging terrains can all make tire choice critically important.
Fat biking is certainly an extreme, with tires to match. Ranging from just under 4" to over 5" wide, in 26" and 27.5" diameters, fat bike tire sizes alone can disorient a shopper more used to dry roads. Other factors are hardly simpler. Tread patterns vary in knob shapes, sizes, patterns and densities. Technical designators from "EXO" to "TRS" create a letter-and-word salad that varies from brand to brand. And brands themselves might be unfamiliar, with household names like Continental and Michelin replaced by such niche brands as Surly and Terrene.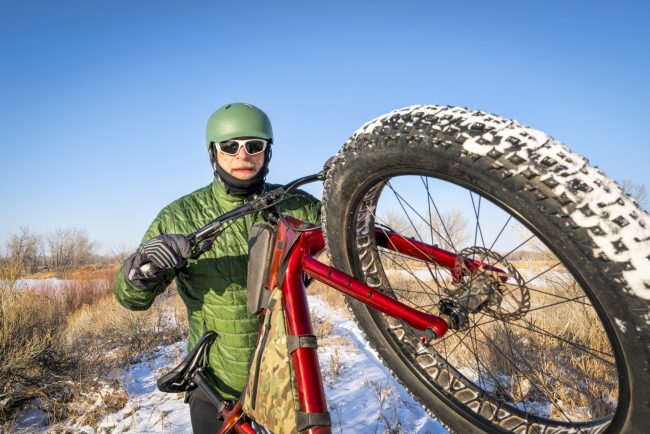 If your head is spinning by your fat bike tire options, you are not alone.
Don't worry – this guide makes picking the right tire for your fat bike a breeze. We'll move step by step through the key features of your ideal tire. Then, we'll highlight a few tire brands with particular strengths in the fat tire market, and discuss how specific models line up.
What to Look for in Fat Bike Tires
Diameter
This is an area that is evolving.  In general, older fat bike models use 26" diameter wheels and tires while newer models use 27.5". Some 27.5" models could fit 26" rubber, but interchanging the two sizes means new wheels and numerous pitfalls. We recommend sticking with what already works: 26" or 27.5" should be clearly marked on the sidewall of a tire, unless the respective metric numbers of 559 or 584 are used instead. 
It is important to note that this is not simply about slapping wider tires on your mountain bike rims.  See the next section for fat tire width considerations.
Width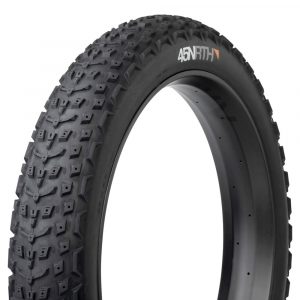 Tire width is really where fat bike tires become their own thing, as opposed to the mountain bike market. Tire width is usually measured in inches, but consider it more of a guideline than a precise specification. That's why it's important to use tires only as wide as a fat bike's manufacturer (and just as importantly, the rim maker) recommends. The factory tire width has the right amount of space figured in for muck, sticks, and differences in size between makers. Go bigger at your peril: tires that don't fit can be difficult to return, and it's possible for even a tire that physically "fits" to cut into a bike frame over time!
Most fat bike riders will seek the widest tire possible for grip, but what about smaller widths? The biggest tires are most capable in sand and snow, but carry a penalty in weight and drag. Fat bike riders with experience mountain biking may prefer the feeling of smaller tires on the trail. Tire "width" really means height too: a large change could feel more stable but may put pedals perilously close to the ground.
What is confusing for many entry-level fat bikers is that the rims/wheel widths are usually measured in millimeters, while the tires are almost always marketed in terms of inches of width.  An 80mm rim is pretty standard for stock fat bikes these days.
If there is a "standard" fit tire width, we'd say it is in the 3-to-4-inch range.  The equates to roughly 80-100mm tire, as you might often see them referred to.  This also goes for ebikes that call for fat tires, too.
What is the widest fat tire width?  We see a couple models that are just over 5″, a width that usually is advertised as a specialty snow tire.
Tread
Bicycle tire tread is broadly misunderstood, and busting tread myths fill an entire article. Line up a half dozen knobby tires side by side and relatively few cyclists could correctly match the tire design to the intended terrain. Even worse, tire designers and manufacturers themselves have been known to mislead or misunderstand. Did you know that the most effective road or commuter bike tire for riding in the rain is completely smooth? The majority of new bikes for sale tell a different story, with numerous small channels or "sipes" in their tires even for pavement duties.
The truth is, taking away material on the surface of a road tire means less area to contact the ground and less grip, plus a waste of energy if deep, wide sipes let a tire squirm on hard ground. Mountain bikes and fat bikes obey the same rules but ride on tall, thick knobs. These knobs mean more area to contact, and so more grip, because they dig into soft surfaces. The effect is proportional: the hardest surfaces like pavement are best ridden with completely smooth tires, while the softest surfaces like mud are the focus of extremely knobby tires sometimes called "spikes." Somewhere in the middle, hard-packed dirt and snow have enough give for small knobs to add grip, without needing heavy and slow-rolling spikes.
Speaking of spikes, "studded" tires bear mentioning: small metal points in these tires provide a dramatic increase in traction on slick, glassy ice. However, studs range from useless to harmful in other conditions. On pavement, studs make a distinct popcorn-popping noise as they suck energy and even tear free from tires. The extra material and labor make studded tires expensive and rarely necessary outside of northern winters. Fat bike riders in these climates are known to justify the cost of studs through comparisons to dental and medical treatment.
Seasonal and Terrain Factors
That last point on tread raises an important consideration:  The type of riding you do, or season of riding, makes a huge impact on your tire choice.  It is certainly not a one-size-fits-all decision.
If you will be owning a fat bike mainly to winter ride, so you can stay off the indoor trainer in a snowy climate, then you need a tire that either has or accommodates studs. On the other hand, you might be buying a tire for riding on a sandy beach.  If that is the case, studs are irrelevant but a wide floating tire is key.  But you might simply be buying the fat bike for that gravel trail near your house, so you can tackle any mud or loose sand that you encounter. In that case, you can go with a tamer, narrower tire.
In many cases, the same tire is offered with different features.  For example, one of our favorites, the Terrene Wazia, comes in a studded and non-studded version.
Congratulations: you too can now read the tire tread tea leaves! Let's try picking our way through a few different brands' fat bike tire lines.
4 Great Fat Bike Tire Brands
Tire Line
Pros
Check Price

Maxxis Minion

Maxxis
-Covers a wide range of needs
-Wide selection of options
-Great for off-road
Check Price

Terrene Johnny

Terrene
-All-season
-All-surface
-Tubeless ready
-Available with or without studs
Check Price
45NRTH
-Range of widths and trend patterns
-Great for soft and loose trail riding
-Additional grip
-Tubeless compatability
Check Price

Surly Bud

Surly
-Modest knobs
-Balanced design
-Snow and mud capability
-Tubeless ready for newer productions
Check Price
Maxxis:  Best for Selection
Find Maxxis here on Amazon.  Taiwanese mega-maker of bicycle and off-road vehicle tires, Cheng Shin, sells premium bike (and other) tires under its Maxxis brand. Best known in mountain biking for the legendary Minion downhill and trail tire, Maxxis is one of the most comprehensive tire lines in cycling. Fat bike tires are no exception: the Minion FBF, Minion FBR, Recon, High Roller, and Chronicle tires cover a range of fat bike needs.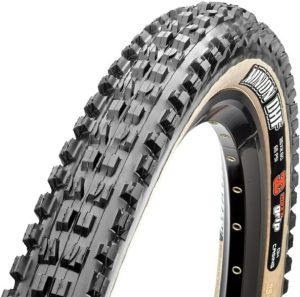 All five of Maxxis' fat bike tires are available in 26" and 27.5" diameters, except for the Chronicle which is just 27.5. Widths are model-specific without much choice, so some fat bike owners will find the right Maxxis tire for their terrain is not available in a size appropriate for their frame.
Available treads show Maxxis' off-road focus, with Minion FBF and FBR models borrowing names and tread patterns from their well-known mountain bike counterparts. The Minion FBR should suit most riders looking for a tall tread in soft terrain such as mud in snow, with higher speed trail riding in mind. The Minion FBF is a bit extreme, and only the most aggressive riders in the most challenging conditions will benefit from its massive knobs for use as a front tire. The Colossus' knobs are shallower than either Minion model but tall by any other standard, making it a good all-around at home in the flat but capable of tackling some trails.
New in the lineup is the intriguing Chronicle tire, intended to be an all-around fat tire for multiple riding conditions.  It is a 30-inch tire and only made for a 27.5″ rim.
Buyers looking for a tubeless Maxxis tire should make sure that "TR" is prominently featured in product descriptions or packaging, as well as on the tire itself.  Find Maxxis tires here on Amazon.
Terrene:  Most Versatile
Terrene offers a highly focused selection of mountain bike, fat bike, and gravel tires. Based in Montana, the brand was launched by a small handful of cycling industry veterans looking to fill gaps in the tire market. True to their northern roots, the Wazia studded fat bike tire was one of three models available at Terrene's launch. That lineup now includes Wazia, Cake Eater, and Johnny 5 fat bike tires.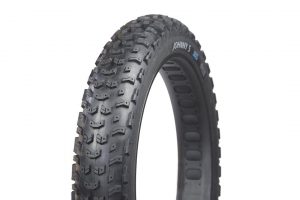 26" sizes are represented in all three of Terrene's fat tire models, but 27.5" riders are currently limited to the cake eater in 4.0" and 4.5" widths. True to its name, the Johnny 5 is a 5.0" width not suitable for many bikes with more limited clearance. The Wazia's 4.6" width should comfortably suit most 26" fat bikes.
Terrene describes the original Wazia as "all season, all-surface, go anywhere," and its tread design shows that versatility. Moderately-sized knobs with moderate spacing could lack grip in the loosest, muckiest terrain but should grip with reduced drag in most loose conditions. Shorter knobs are available in the Cake Eater for fast-rolling efficiency in hard packed conditions or the occasional pavement. Riders with trails in mind should consider the Wazia or similar Johnny 5 depending on available space.
All of Terrene's tires are tubeless ready to eliminate any confusion, and each of their fat bike models is available with or without studs. "Light" and "Tough" variants are also available: the heavier and thicker "Tough" models should only be necessary for rocky trails or riders using inner tubes.  See the time-tested CakeEater lineup here.
45NRTH:  Best for Extreme Performance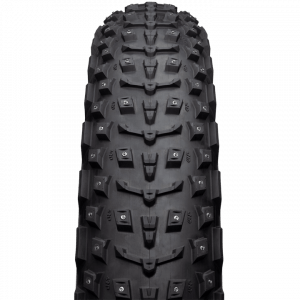 Cold weather is the specialty of Minnesota-based 45NRTH, as even their name is keen to stress: the 45th north parallel intersects Minneapolis, Green Bay, and Ontario, roughly halfway from the equator to the north pole. 45NRTH cements their Minnesotan pride with fat bike tires named "Dillinger 4 (and 5)" and "Hüsker Dü." However, even fat bike riders without a palate for geography or punk rock will find plenty of options among a wide range of fat bike tires, with the Wrathchild, Wrathlorde, and Vanhelga rounding out the mix.
Owners of 27.5" fat bikes can choose from 4" Dillinger 4 and 4.5" Dillinger 5 models, studded or studless, plus the studded 4.5" Wrathchild. 26" Wrathchilds are available in a studded 4.6" width, while the 4.2" Vanhelga and 4.8" Hüsker Dü are strictly studless 26" tires.
The range of widths and tread patterns on offer cover a variety of riding styles and conditions for the majority of fat bikes. At the most extreme end, 45NRTH bills the Wrathchild as "the ultimate studded fat bike tire." With huge, widely spaced knobs and numerous studs, the Wrathchild is arguably the ultimate in soft and loose trail riding, but could also make for the ultimate in drag on harder surfaces. The Wrathlorde wears shorter knobs for faster rolling but keeps a huge number of studs, perfect for ice riding on a 26" fat bike with limited tire width. The Vanhelga splits the difference in tread between Wrath-tires while dropping the studs, for a trail-focused option where tire width is restricted. In 26" frames with lots of room, the Hüsker Dü's short knobs without studs could save on drag if fast trail riding or slick ice aren't in store.
The Dillinger lineup is probably the best on the market for ice and hardpack snow.  The Dillinger 4 features similar short knobs in a narrow 27.5" package and would be a good choice for hard packed snow or even pavement with available studs for ice. The Dillinger 5's additional grip is worth a look for fast trail riding and fresh snow.
45NRTH's fat bike tires all claim tubeless compatibility, but other tires in the 45NRTH range are explicitly not tubeless: check tire packaging and labels to be sure. 45NRTH also offers black and tan color options in some models, and a choice of 60tpi or 120tpi casing: lower "tpi" numbers make a thicker and heavier tire more suitable for use with tubes.  Find the lineup here.
Surly:  Best Value
Surly is unusual for a number of reasons, and in particular it's unusual for a low-volume bike brand to offer their own design and brand of tires. In Surly's case, taking control of tire design allowed the brand to design new and sometimes groundbreaking bikes – like fat bikes, often credited as a Surly first. The current Surly range features the Edna, Nate, Bud and Lou. Surly tires are generally affordable, with solid design and few high-tech features, making them a great value option and favorite of high-mileage fat bike riders.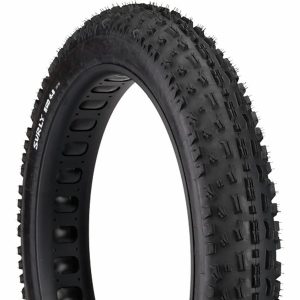 27.5" fat bike owners, not so fast – Surly offers 26" fat bike tires only. Widths are one per model: 3.8" Nate, 4.3" Edna, and 4.8" Bud or Lou.
All of Surly's models sport modest knobs and a balanced design, at least compared to the most trail-oriented models offered by other brands. The Bud and Lou claim snowy, muddy trail capability and reasonable rolling ability. Surly prescribes a front Bud and rear Lou combination for best results. The Edna, described as "ultra-versatile," is also a balance of moderately sized knobs in a relatively smooth rolling arrangement, not too different from the smaller Nate. Width will be a much more significant difference between Surly tires than tread pattern.
Surly's fat bike tires are all described as "tubeless ready," but older production without tubeless compatibility may show up from time to time. Double-check the part number with Surly's website to be sure. Otherwise, few decisions are necessary, with no available studs. 45NRTH, with its premium products and huge variety, shares its Quality Bicycle Products parent company with Surly.  See the wide Surly Lou.
Fat Bike Tire FAQs
What PSI Should My Fat Tire Be?
Air pressure in a fat tire is an important factor, and will greatly affect your ride.  Unlike road tires, or even gravel tires, fat tires are meant to be ridden at LOW pressure.  Many who ride in snow, and therefore want to be able to float over the looser parts, set their PSI as low at 4-6.  Taking a fat bike on gravel will require a bit firmer tire, maybe in the 12 range or as high as 15.  But you rarely are pumping your fat tire up to 20 PSI or more.
You also need to check your pressure before each ride.  Fat tires tend to fluctuate and you want to start each ride with the right PSI.
Can I Ride My Fat Bike on a Trainer?
Even though fat bikes are ideal for winter riding, there just might be some days when you need to ride indoors.  Maybe it is pouring, or you don't have time to bundle up.
We do not recommend riding normal fat bike tires on a regular friction bike trainer, but you can do it on a direct-drive smart trainer.  On an old-fashioned trainer, the friction from the tire on the drive creates heat and it will wear out your fat tire way too fast.
Instead, we suggest throwing an old road bike on the trainer and using that for your indoor riding.
Should I Put Studs on my Fat Bike Tire?
Depending on the model, you can, but there is a good chance you don't need to.  Studs should be used when you expect to go on uneven ice, or if you will be riding in areas where you can't afford to slip and slide at all (icy roads with traffic, mountain cliffs, etc.).  For most people, the width and traction of a nice 4″ or more fat bike tire will provide plenty of grip, even on flat ice.  Plus, studs increase your rolling resistance so riding on good surfaces will be made harder by studs.  Still, if you need the traction for safety, many fat tires can accommodate studs.
What is the widest a fat tire can be?
Typically, any tire over about 4.5 inches is considered on the extreme wide side.  We have seen fat bike tires measuring over 5 inches wide, but at that width you really need to make sure that both your rim and your bike can handle it without comprising the ride or wear.
What is the skinniest a fat tire can be?
Any fat bike tire that is under 3.9 inches wide is considered to be a narrow one.  There is another category emerging, the semi-fat or mid-fat, which is more like a 3 to 3.5 inch width.  These almost look a bit like an oversized mountain bike tire.  Sometimes, all-terrain riders like this option because the wheels roll better than a true fat, but are still very high-performance on loose dirt and on uphills.
Conclusion
Fat bike tire shopping is much easier with a basic understanding of the decisions to make. Knowing the correct wheel size and an appropriate tire width narrow options considerably. Tire doesn't have to be a mystery either, and a careful look tells most that can be learned without riding. Brand is one of the bigger factors to consider, but any of the brands on this list provide great tires. Consider Maxxis for trail-focused tires, Terrene for versatility, 45NRTH for extreme performance and snow, and Surly for value.
Von Collins is an accomplished triathlete and cyclist, and the author of four fitness and training books: Smarter Running, Your First Triathlon Guide, Fit Foods, and 30 Rut-Busting Workouts.
Von has been cited as a triathlon, cycling, and fitness expert by Healthline, CNET, Forbes, Eat This, Not That and other major outlets.
Von has done dozens of triathlons and endurance bike races, coaches, and is an avid part of the cycling and triathlon community.