E-bikes are more popular than ever! E-bikes help people ride further, faster, make riding more fun, and help people get on a bike who otherwise couldn't. And with more manufacturers making e-bikes than ever before, the cost of an e-bike has become much more accessible, as well.
We are going to take a look at the three best e-bikes under $2000. We'll talk about each bike and who it's best for. We'll also talk about some important information, such as battery life and bike design so you can choose the best e-bike for your ride. Let's get started.
Best eBikes Under $2000
Coop City e2.1
Coop City e2.1 is easy and comfortable to ride. You'll find it has a multimode pedal assist, an upright riding position that still allows for some aggressiveness when you need it, and a factory a rear rack.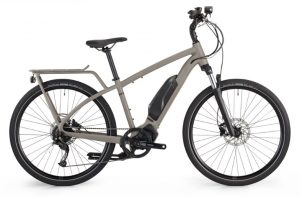 Offers Class 1 pedal assist up to 20mph

Up to 50 miles of pedal assist

418-watt hour battery capacity

Bike weight of 50.5 pounds

Low stand-over height

Upright riding position with adjustable stem

Three pedal assist modes

Front suspension

Shimano hydraulic brakes

The rear rack can accommodate a kid carrier, pannier, or trunk bag

Front and rear lights run on the battery

The total weight limit is 300 pounds
We love this bike for daily commutes and fun weekend rides. The rack holds up to 59 pounds, so it's suitable for a child seat or to get groceries, making it perfect for commutes or family fun rides. The upright position with an adjustable stem means you can adjust the height of the handlebars to whatever comfort level you need.
Pros
Coop is REI's inhouse brand, so if you live near a store you can get easy access to service and parts
Best battery assist life of the 3 options
Good size range. Sizes accommodate both larger and smaller riders
Cons
Some riders might be looking for a more aggressive, mountain-bike fit
Cannondale Treadwell Neo2
This bike is lightweight and fun to ride. Since it is lightweight and snappy, this is a great bike if you want to be able to turn off the battery and get a little extra exercise. And the rear hub drive is barely visible, so it won't be evident that you're riding an e-bike, and the upright position makes it very comfortable no matter how you ride. Plus, Cannondale is one of our favorite bike brands for road bikes and gravel bikes, so they likely figured out eBikes too.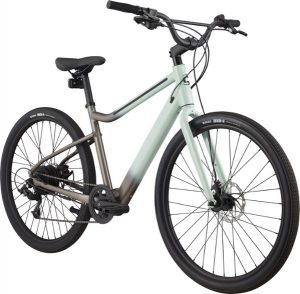 Offers class 1 pedal assist up to 20 mph

Up to 47 miles of pedal assist per charge

250 Wh battery

Just 34 lbs

Free Cannondale app works with the bike to track speed, distance, calories, and reminds you of service needs

Great for in-town rides and crowded streets

7-speed drivetrain / Tektro mechanical disc brakes
This bike is great for anyone looking to use their e-bike for both exercise and assisted riding. It's the perfect bike for Sunday brunch and ice cream Sunday runs! You can do unassisted interval training and get your workout in, too.
Pros
Super lightweight as far as ebikes go
Concealed battery – bike looks like a normal bike
Cannondale brand — timeless and trusted
Most drivetrain range of the 3 options
Cons
Stock tires are not that tough. May want to upgrade if riding on rough surfaces.
Wing Freedom Street
If rough roads are on your horizon, the Freedom Street by Wing is a great choice. It has extra-wide puncture-resistant tires, making your ride feel smoother and lessening your chances of a flat tire.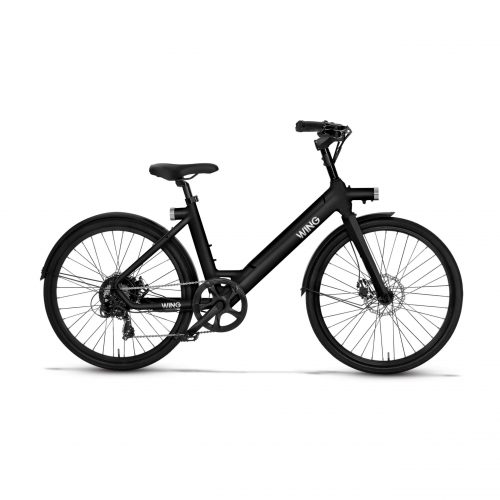 Up to 43-mile range on a single battery

Up to 20mph pedal assist

Optional second battery for an extra 25 miles of run time.

A brushless gear hub motor gives you plenty of power for urban streets and challenging hills

Hydraulic disc brakes for excellent stopping power
This bike is perfect for in-town roads. If you've got a long urban commute or some steep hill climbs, you'll love the extra distance you can get from the dual battery.
Pros
Easy online buying and shipping process
Lowest-priced option
Lightweight for an eBike
Great anti-theft system
Cons
Newer brand (but it doesn't concern us)
Battery life is in the expected range but on the short side
Aventon Aventure E-Bike
Rugged and comfortable is the name of the game with the Aventure E-Bike. It's got plenty of tech, a bit of sophistication, and terrific handling. You have probably seen a lot of Aventon bikes around, they have established themselves as a market leader. One of their other models, the 500, is one of our favorite ebikes for older riders too.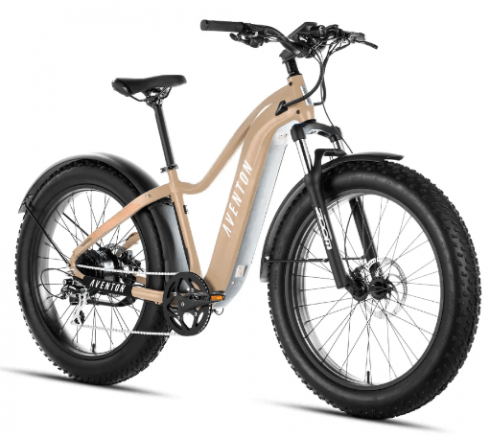 Front suspension fork

Extra cushy fat tires

Exceptional handling

Built in fenders

Integrated front and rear lights

Backlit LCD

Class II Ebike, but can be reconfigured to be Class III

Top Speed of 28mph

45 mile battery range

Weight limit of 400 pounds
We found this bike suitable for both urban errands and country terrain! With 5 levels of pedal assist, you can maximize battery power or go throttle only if you prefer.
Pros
Long battery range

Various levels of pedal assist, including throttle only

A complete package of power, comfort, and sophistication

Great bike for larger riders
Cons
A much heavier e-bike

Standard E-bike gear ratios combined with a heavy bike might lag on hill climbs
What to Expect From a $2000 e-bike
Rear hub motor
Mid-drive motors are pretty expensive, so most $2000 e-bikes will have a rear hub motor. A rear hub motor will easily get you around town and even up and over some minor hills, too. While they aren't as smooth or as powerful as a mid-drive motor, they'll still get you were you want to go.
Battery life
The Ebike battery is a big deal when it comes to your Ebike. An average $2000 e-bike will give you 40 to 50 miles of battery use, depending on a few variables. Rider weight, terrain, and even the weather can have an effect on how hard your motor has to work and how much battery power it will use. Some bikes have easily swappable batteries, so you can bring a spare if you need more power.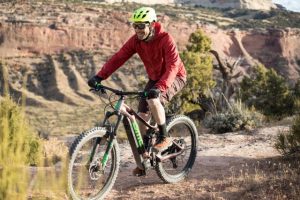 Class
Most e-bikes in this price range will likely be Class 1 e-bikes. This means that the bike can give you pedal assist up to 20pmh. Class 2 e-bikes can give you throttle assist up to 20pmh, meaning you don't have to pedal. And class 3 e-bikes will provide you with pedal assist up to 28mph.
Mid-level components
You'll find midrange components on these moderately-priced bikes. You'll typically have hydraulic disc brakes, a mid-range rear hub motor, flat bars, and a nice cushy seat. They won't be the high-end components you would find on a very expensive bike, but they'll give you a comfortable and fun ride. Components can have a huge impact on a bike's price — by many times — and are a main reason why bikes cost so much these days.
Weight
It wouldn't be a bike if you didn't obsess about the weight of a bike. eBikes are a little different than road bikes or gravel bikes, as the higher-end models often get a little heavier instead of lighter. Why? The components, especially the motor and battery, are not light but are very important parts of what make those bikes higher-end.
With an eBike, you are not going to be stump-jumping or trying to set new Strava records, so don't obsess about the weight. However, you will want to be sure you can maneuver it around at stops and in your garage.
Tires
The tires on a $2,000 eBike might be mid-range, as that budget doesn't allow the maker to put super high-end tires on every bike. Expect a tire that can handle paved trails and relatively tame gravel trails. Beyond that kind of terrain, you might want to upgrade to a tire that is rugged, and more resembles a fat bike tire.
Conclusion and Recommendation on the Best E-Bike Under $2000
Purchasing an e-bike for under $2000 doesn't mean you're going to get a low-quality bike. Instead, you'll get a great bike with a sturdy rear hub motor that can tackle some hill climbs and last around 40 to 50 miles with the pedal assist.
If you need field potholes or steep climbs, lean towards the Freedom street. If you want to get some exercise without the pedal assist, go for the lightweight Cannondale Treadwell Neo2. And lastly, if you want a fun, easy-to-ride commuter or family bike, you'll probably be happiest with the Coop City e2.1.
Entry-Level eBike FAQ
How long should the battery last on your e-bike
?
Battery life on e-bikes is dependent on a number of variables. The bikes on this list range from 40 to 50 miles of pedal assist on a single charge. However, if you are a heavier rider or you are riding on very hilly terrain, you might not be able to get as far on one battery. In many cases, you can upgrade to a bigger battery or purchase a second battery to carry with you in case your battery runs out. Finally, if all else fails, you can simply pedal your bike!
What is a low-step design?
A low-step design is sometimes called a step-through design. This means the top tube of the bike is very low or removed altogether. It makes it easy to get on the bike without having to throw your leg over the top of the seat.
Are eBikes allowed in races – like triathlons or century rides?
Definitely not in triathlons or other shorter-competitive races. The advantage that an eBike gives a rider in terms of exertion and uphill speed would be an unfair advantage compared to riding a normal bike. You can ride a road bike, gravel bike, mountain bike, commuter bike, whatever, but it just can't have an engine.
Some more casual long rides (versus races) might allow eBikes, as they are just for fun and nobody is trying to be competitive.
Are eBikes allowed on trails?
It depends on the trail, so check first. Many trails have made no determination on if eBikes are allowed or not, which means they are probably OK as long as they are used responsibly. Other governing bodies, like the Bureau of Land Management, have left the decision to local managers based on the specifics of the trail. In such cases, the manager often authorizes a certain class of eBike (1, 2, or 3) that may be used there.
Most cyclists and trail managers are find with eBikes that give someone a little extra boost on an uphill, for example. Where the rub comes is in is when an eBiker is riding the trail at a high speed, without pedaling. At that point, is more resembles a small motorcycle and safety issues with other riders arise.
Why are Ebikes so heavy?
E-bikes are surprisingly heavy when you compare them to other types of bikes. A road bike may only weight around 18 or 20 pounds, while a mountain bike could weigh around 30 pounds, and a beach cruiser a little more, depending on what the frame is made of, the types of tires, and whether or not the bike has suspension.
E-bikes weigh more because they also have a motor and a battery. The motor alone can weigh around ten pounds. Add to that weight of the battery, which could be 10 or 20 pounds, depending on its size and range. E-bike frames also tend to be a little bit heftier to hold the weight of the motor and battery, as well, making the entire bike 30 or 40 pounds heavier than an average bike.
Can you convert a regular bike to an ebike?
Yes, you can convert a standard bike to an e-bike with an e-bike conversion kit. You can purchase a friction kit, which is the easiest to install, or a front or rear hub motor, which is more difficult to install. The trouble here is that standard bike frames just weren't meant to be e-bikes, so you'll be putting added pressure on areas of the bike that weren't designed to take it.
For example, a friction kit attaches to the rear seat tube. The roller puts pressure from the seat tube onto the rear tire. As the roller spins, it makes the wheel spin. However, your seat tube wasn't designed to withstand force from that angle (especially if it is a carbon seat post). And your wheel wasn't made to absorb the pressure of the roller, either, which can make it wear out or blow out much more easily.
You just might be best off buying an Ebike and keep your other bike the way it is.
Are eBikes safe?
Ebikes are safe when they are used safely! You should never ride an e-bike faster than you are comfortable riding and make sure you always have control of the bike. Always follow traffic laws and wear an appropriate helmet.
That being said, eBikes do seem to carry more inherent risks than a standard bicycle. Typically, this has to do with the higher speeds. If the average bike rider typically rides at 15 mph, an ebike can go anywhere from 20 to 28 mph. The higher the speed, the greater risk of more severe injuries.
Where to Buy Ebikes
Ebikes are becoming increasingly popular and easier to find. But where should you get yours? Let's take a look.
Bike shops
Bike shops are the best place to get e-bikes because you'll get one on one support. First of all, you local bike shop can put the bike together for you. They'll probably offer you a free standard bike fit as well as a one month tune-up just for purchasing the bike through them. You'll be supporting a local business and getting lots of support in return. If you purchase the bike through your LBS, they'll most likely know how to service it, as well, so you won't be hunting for help if something does go wrong.
On the other hand, your local bike shop prices might be a bit higher than purchasing a bike online, but you get a lot in return for that extra cash. However, the hardest pill to swallow about purchasing from your LBS is the trouble with inventory. It might be hard to find the bike you want in the size you want. Your bike shop might be able to order it for you, but if the inventory isn't available, they won't.
Online Dealers
Online dealers, such as Aventon, can save you money (or help you get more for your money) because they ship direct to consumer. Cutting out the middleman saves you some cold hard cash — everyone who touches the bike needs to mark it up a bit. There is one caveat, though. You might have to assemble the bike yourself
If you're mechanically inclined, this might not be an issue at all. But if you struggle with the most basic bike maintenance, you might end up paying your neighborhood bike mechanic anyway.
Inventory online is hit or miss and you might have to wait awhile for you new bike to come in.
Used (buyer beware)
If you're really hard up for cash, you might want to purchase a used e-bike. This is risky, of course, because there are just too many unknowns. For example, was the bike ever in a crash? Was the drivetrain well maintained? Was the bike stored inside or outside? How many times was the battery charged (batteries have a shelf life and you might need to replace it right off the bat.)?
If you're confident in your abilities to spot a good bike, then this might be a good way to save money. And if you're a capable mechanic, even better. But for many of us, the risks of buying a used bike may outweigh the benefits. You can find used bikes on places such as ebay, Craigslist, and Facebook marketplace, but even better if you spot one at a bike shop.
Amanda Whittington is an accomplished adventure cyclist, having done some of America's iconic bike races, century rides, gravel grinders, cross-country races, and is currently training for track racing.  A ride leader and organizer, Amanda is passionate about cycling and teaching others, and works with beginner riders, teaching them group riding and bike safety as well as basic bike know-how.