Bike Training Travel: Tips and Tricks for Cycling While Traveling
Keeping your cycling conditioning up while on vacation or traveling can be a challenge, especially on longer trips like vacations. Unlike running, where you can just pack some running shoes, preparing for bike training requires many more steps. I've been training for triathlons while doing longer vacations, and can tell you it requires a little planning.
Whether you're going on a vacation or traveling for work, there are many ways to incorporate bike training into your trip. From renting a bike and exploring the local area to joining a guided cycling tour, there are plenty of options available to suit all levels of fitness and experience. Not only does bike training travel allow you to keep up your fitness levels, but it also gives you the opportunity to explore new places and meet like-minded people along the way.
Travel with your bike
The ideal bike training to do, in terms of your training plan, would be to train on your bike outdoors. The wrinkle is that traveling with your bike can be a challenge, but if you are able to pull it off, this can be the best way to keep your training going.
Shipping your bike
If you are going to be traveling by air and need your bike at the destination, consider shipping it to your destination. This option is ideal for people who are traveling long distances or internationally. Some key things to remember when shipping your bike: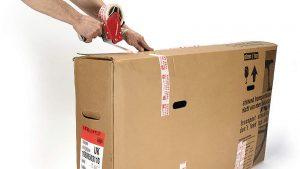 Research shipping companies: Look for companies that specialize in bike shipping and have experience with handling bikes. BikeFlights is our preferred way to ship a bike.
Pack your bike properly: Use a sturdy bike box and plenty of padding to protect your bike during shipping.
Plan ahead: Shipping can take several days, so make sure to plan accordingly and allow enough time for your bike to arrive before you do.
Transporting Your Bike
Another option for traveling with your bike is to transport it yourself. This is a good option for shorter distances and iyou are traveling by car. Here are some tips for transporting your bike: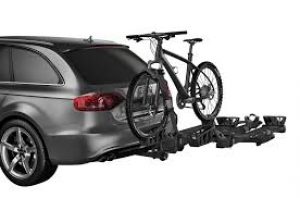 Use a bike rack: Invest in a sturdy bike rack that can be attached to your car. We did an extensive piece on bike racks, and there are many to choose from. My personal advice is to not skimp on a rack, especially if you might use it repeatedly. Flimsy bike racks just don't protect your precious bike very well.
Secure your bike: Make sure your bike is securely fastened to the rack and won't move during transport. Using a wheel-mount bike rack, where the bike wheels are fixed into place on a tray, is the best in my assessment.
Protect your bike: Consider using a bike cover to protect your bike from dirt and debris during transport. Not so important if you are just driving a couple hours on a nice day.
Consider a travel bike trainer
If you are not sure about what kind of roads or routes you will have access to at your destination, consider a travel bike trainer. It is basically an indoor bike trainer, but one designed to be a bit more portable. They aren't nearly as nice as a big smart trainer, but those big heavy units don't travel well.
Probably the best one on the market, in terms of combining function with portability, is the Travel Trac Comp. It is lightweight and will work in a pinch, but you don't want it to be your primary everday trainer.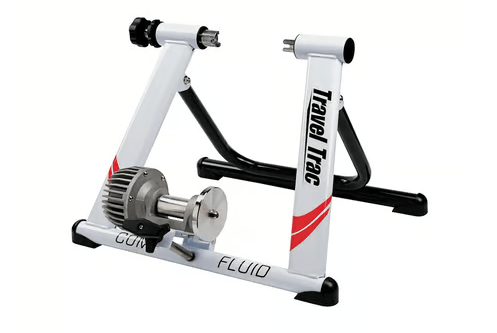 Rent a bike at your destination
If you're traveling and don't want to bring your own bike, renting one at your destination can be a great option. It allows you to explore the area on two wheels without having to worry about transporting your own bike. I've rented bikes in mountain towns, coastal towns, and everywhere in between, and it can be a good option. A few tips:
Find a high-end bike shop
When renting a bike while on vacation, it's important to find a bike shop that offers high-end bikes. The last thing you want is to show up and realize you have a single speed, all-purpose bike as your trainer. Call ahead, make sure they have the style bike you need. There is a good chance you will need to reserve it in advance!
Know your bike measurements
If you don't have detailed geometry and measurements from a professional bike fitting, at least measure your current bike setup down to the millimeter. This will allow the rental shop to set your bike up as close as possible to your preferred geometry. Key things to know are your distance from the seat to the pedal, seat to the bars, height of the bars, and angle of your seat.
When renting a bike, it's also a good idea to bring your own bike pedals and cleats to be sure you can clip-in. Not every rental shop carries every type of pedal. More than one cyclist I've been riding with has been spurned by not bringing pedals or cleats.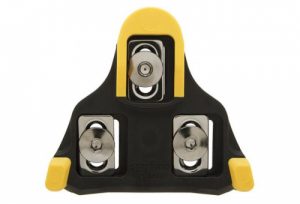 Find Spin Classes at Your Destination
If I am going to be in a place with fitness clubs, I can often get by for a few days by hitting some local spin classes. It won't exactly simulate your hard outdoor training rides, but absolutely can keep you in bike shape until you get back home. A few tips:
1. Check with Local Fitness Clubs or Cycling Studios
One of the easiest ways to find spin classes is by checking with local fitness clubs. Most clubs offer spin classes as part of their group fitness schedule. Good option if you will be near a larger city with fitness clubs. Expect to pay by session.
2. Use Fitness Apps
There are several fitness apps that can help you find spin classes in your area. Apps like ClassPass and Mindbody allow you to search for classes based on location and class type. You can also read reviews from other users to find the best classes.
Stay at a Place with Peloton
When it comes to doing cycling workouts at your hotel or AirBnb, finding a place to stay that has a Peloton has become much easier. Not only does it allow you to continue your training routine, but it also saves you the hassle of finding a nearby gym or cycling studio.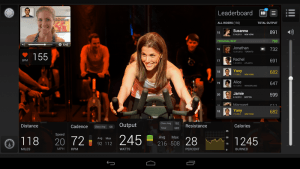 Fortunately, higher-end hotels and some vacation rentals offer Pelotons as part of their amenities. I always make sure to check for this when booking my accommodations.
One of the benefits of staying at a hotel with a Peloton is the convenience. You don't have to worry about transporting your bike or finding a gym, and you can easily fit in a workout before or after your day's activities. Plus, the Peloton allows you to access a variety of classes, so you can mix up your training routine.
If you're traveling with a group, a vacation rental with a Peloton can be a great option. You can split the cost of the rental and have access to a private workout space. Plus, you can enjoy the other amenities that come with a vacation rental, such as a full kitchen and living room.
Last Resort: Run
If you find yourself in a situation where you just cannot ride a bike, running can be a great alternative to maintain your fitness. While it may not be as specific to cycling as other forms of cross-training, running can still provide a good cardiovascular workout and help maintain your overall endurance.
As someone who has incorporated running into my bike training travel, I can attest that running conditioning translates to cycling conditioning. Studies have shown that running translates to cycling much more than vice versa. Running can help improve your aerobic capacity, leg strength, and mental toughness, which are all important qualities for cycling.
Von Collins is an accomplished triathlete and cyclist, and the author of four fitness and training books: Smarter Running, Your First Triathlon Guide, Fit Foods, and 30 Rut-Busting Workouts.
Von has been cited as a triathlon, cycling, and fitness expert by Healthline, CNET, Forbes, Eat This, Not That and other major outlets.
Von has done dozens of triathlons and endurance bike races, coaches, and is an avid part of the cycling and triathlon community.